Fri 6 Jan 2023 - Filed under: Not a Journal., Bestsellers, Naomi Mitchison, Nathan Ballingrud, Sarah Rees Brennan| Posted by: Gavin
2022 was an odd year for the press. I am working at 1/4-speed, we published fewer books and while we did 2 issues of LCRW the mailing has been delayed into the new year as the Book Moon peeps are doing inventory.
In BookScan news — the BS above — here are our top 14 bestsellers of 2022. I imagine many readers of this post will have read a good number of the books on this list. Sometimes our books hit right away (In Other Lands), sometimes they grow and grow (North American Lake Monsters), sometimes they go away and come back (Travel Light). 
2023 will be a good book year. Looking forward to it.
---
Mon 12 Oct 2020 - Filed under: Not a Journal., Elizabeth Hand, events, Nathan Ballingrud| Posted by: Gavin
Good news for those enjoying visiting the literary part of October country, we have an online event coming up with two favorite authors whose books are definitely on the darker and spookier part of the spectrum.
Join us on Wednesday, Oct. 21, at 7 p.m. EST  as we welcome Nathan Ballingrud, author of North American Lake Monsters (aka Monsterland, a new TV series available now on Hulu) & Elizabeth Hand, author of many fabulous books including her new novel, fourth in the Cass Neary series (which begins with Generation Loss), The Book of Lamps and Banners to the online space occasionally generated on this planet by the gravity of Book Moon for a reading and discussion of their latest books.
Register for this Book Moon event HERE — and please do help spread the word. See you there!
---
Sat 3 Oct 2020 - Filed under: Not a Journal., Hulu, Monsterland, Nathan Ballingrud, TV tie-in| Posted by: Gavin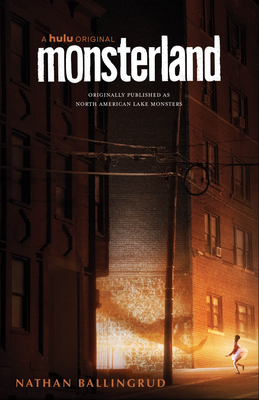 Catch Monsterland on Hulu and get the book right here from the publishers.
Monsterland? What's that?
So glad you asked. Here's a lovely article from Saturday's Daily Hampshire Gazette.
---
Wed 16 Sep 2020 - Filed under: Not a Journal., Elizabeth Hand, Elwin Cotman, Karen Lord, Nathan Ballingrud| Posted by: Gavin
There are a few online events featuring Small Beer authors planned in the next couple of weeks and there are more TK but here are the first few:
September 16, 7 p.m. PST
Elwin Cotman (Dance on Saturday)
Register here.
September 24, 7:30 p.m. EST
Pre-register for the inaugural event of the Strange Light Reading Series (originally planned to take place at Book Moon) hosted by Alexandra Manglis & Yvette Ndlovu with Karen Lord (Redemption in Indigo 10-year anniversary reading) & Tess
a Gratton (Night Shine).
October 18, 6:30 p.m. EST
Elwin Cotman (Dance on Saturday)
The Ivy Bookshop, 5928 Falls Road, Baltimore, MD 21209
Register here.
---
Mon 11 Feb 2019 - Filed under: Not a Journal., film, Kelley Eskridge, Nathan Ballingrud, Ted Chiang| Posted by: Gavin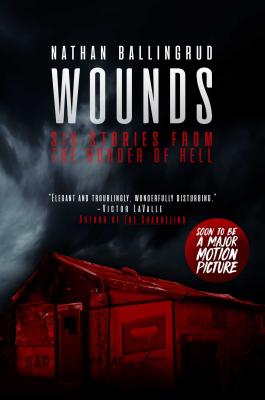 Speaking of film and TV adaptations (as I sort of was a few days ago), I'm looking forward to seeing Babak Anvari's new film Wounds which is based on Nathan Ballingrud's story "The Visible Filth." (Nathan is in the audience in the video from the Sundance film festival linked there.) Ok, so part of me can very much wait to see it. There's a lot I don't really like about horror movies; there are all these monsters and the insides of people keep getting moved to the outside, ugh.
For a hot second, before Saga/Simon & Schuster swooped in and scooped it up, it looked like we'd be publishing Nathan's forthcoming second collection, Wounds: Six Stories from the Border or Hell (previously titled The Atlas of Hell) which includes "The Visible Filth." I do like that new subtitle. Nathan is a tremendous craftsman building horrifying palaces of terror. May the book and the film terrify millions of people!
If we had published that book, it would have been the third film or TV adaptation from a book we've been associated with that actually made it to film. Curiously enough, the two previous films were both books that came out in 2002 and which we reprinted within three months of one another:
— Kelley Eskridge's Solitaire, (the basis for the film OtherLife). This was Kelley's first novel which came out in 2002. Our paperback & ebook edition came out in January 2011.
— Ted Chiang's Stories of Your Life and Others (the title story being the basis for Arrival). This was Ted's first collection. It was first published in 2002. We picked up the rights and had it in print for about five years from October 2010 before Vintage took it off our hands so that they could very quickly sell a couple of hundred thousand copies when the film came out. Nice. After a seventeen-year wait, Ted's second collection, Exhalation, comes out later this year.
There are two more books we've published (that we know of) which are being worked up into adaptations. Fingers crossed! As ever, I believe a film or TV show will happen when I'm sitting in front of the screen watching it. Up until then there are too many random factors which may make it all fall apart.
There are so many ones-that-got-away stories of stories of books we've published almost being adapted. I don't know how many times I picked up the phone to someone asking me about Ayize Jama-Everett's Liminal books. Maybe once the fourth book comes out. But still, two films and almost a third, it's a hell (cf Wounds) of a lot more than I ever expected when we started out. Here's to more in future years.
---
Wed 19 Sep 2018 - Filed under: Not a Journal., Abbey Mei Otis, Nathan Ballingrud, readings| Posted by: Gavin
Do you live in Asheville or Minneapolis and just read Gary K. Wolfe's review column and were wondering what Abbey Mei Otis's stories sounded like? Good news pour vous! We've just added two more readings for Abbey Mei Otis in those very towns! The first is on Sunday, September 30 at 3 pm in the afternoon, where Abbey will be in conversation with Nathan Ballingrud, author of North American Lake Monsters.
Sun., 9/30, 3 p.m. In conversation with Nathan Ballingrud
Malaprop's
55 Haywood St., Asheville, NC
828-254-6734
And the second reading is at Moon Palace (yes, the store that just added LCRW!), where Abbey will read with Anya Johanna DeNiro:
10/23, 7 p.m.
Moon Palace Books
3032 Minnehaha Ave., Minneapolis MN  55406
612.454.0455
Recent Reviews
"Otis actually belongs with writers like Kelly Link, who freely borrow genre materials to construct elegant literary fictions far more about character than spectacle. . . . As odd as these worlds are, they are populated by sharply drawn characters we come to care about through Otis' luminescent prose." — Gary K. Wolfe, Chicago Tribune
"Otis doesn't use science fiction to lift the veil of the familiar and peer at what's beneath. Instead, with great shrewdness and courage and originality, she reveals that the veil was itself an illusion, and the familiar a construct of anything but." — Alvaro Zinos-Amaro, IGMS

"Dreamy but with an intense physicality that belies the violence behind the longing."— Everdeen Mason, Washington Post Book World
"It's a collection that will keep your heart half in your throat and half in your toes, and I recommend it." — Tor.com
"In these stories, yes, there are aliens, robots, sex dungeons, chicken puppets, ghosts, and blobs of unknown origin and nature. But there is also tenderness and the absence of it. There is prose that delights. There are plastic people, and people not sure if they can bleed. What these stories do best is sci-fi. What these stories do best is love. And if you need to distinguish between the two, then Abbey Mei Otis is here to deny you. For if barriers between what is 'science fiction' and what is 'literature' haven't already broken down, then this collection is Abbey Mei Otis burying a glowing-neon hammer into that tired beige wall."— Columbia Journal
"Many of the stories share an emphasis on physicality and embodiment, whether it be bodies distorted by alien environments or artifacts or people thrown into their own bodies through suffering at other, human hands. . . . highly recommended for anyone interested in weird fiction, sf, or just a breathtaking reading experience." — Booklist (starred review)
"Abbey Mei Otis's stories are incandescently dark, if you can imagine such a thing (but maybe only she can). Full of danger and strangeness, but written in carbonated and astounding prose that is all her own, these stories create worlds and will make you contemplate (and worry about) our own." — Elizabeth McCracken, author of Thunderstruck & Other Stories
"These are amazing, electric stories—you can feel the live wire sizzling in them from the first sentence, and you know you're about to take a wild, unforgettable trip. Abbey Mei Otis is my favorite kind of writer: her worlds are uniquely strange yet eerily relatable, and she knows how to make you laugh and weep at the same time." — Dan Chaon, author of Ill Will
"Abbey Mei Otis deposits the reader in bargain bin worlds remaindered from the near futures of the more fortunate, worlds filled with space junk and toxic glitter, gel candy and gutted elk. These are stories for the many, for lovers and mourners, for those who want to split their minds from their bodies and those who know how to merge their organs in a single skin. In Alien Virus Love Disaster, language itself is in phase change. This book is a volatile, dangerous gift." — Joanna Ruocco, author of Dan
"After I read this book, I woke up with bumpy, reddish growths along my spine. They burst, releasing marvels: aliens, robots, prefab houses, vinyl, chainlink, styrofoam, star stuff, tales from the edge of eviction, so many new worlds. Alien Virus Love Disaster is a super-intelligent infection. Let Abbey Mei Otis give you some lumps." — Sofia Samatar, author of Tender
"Abbey Mei Otis speaks for a generation of people with fractured futures and complicated hopes. It is a collection about right now." — Maureen F. McHugh, author of After the Apocalypse
"The aliens have already arrived in 'Blood Blood.' Abbey Mei Otis has them visiting in a way we've seldom seen before in genre science-fiction: Not as hunters, conquerors or even ambassadors, but as wildlife observers. . . . As brilliant as this cosmos and narrative is, Otis also manages to supply rich characterizations. It's a concept sci-fi piece that tries something new and succeeds on every level." —Matt Funk, Full Stop
---
Sat 31 Dec 2016 - Filed under: Not a Journal., Greer Gilman, LCRW, Nathan Ballingrud, Nicole Kornher-Stace, Ted Chiang, Ursula K. Le Guin| Posted by: Gavin
On the last day of the year: a quick fly-by on Small Beer books. In 2016 we (on purpose) published the fewest number of books we've done for a while and an unusual ratio of hardcovers to paperbacks — it's also hard to properly count them. We published two trade paperbacks (Jeffrey Ford's A Natural History of Hell and John Crowley's The Chemical Wedding) but did we put out three hardcovers (Joan Aiken's The People in the Castle, Sofia Samatar's The Winged Histories, and Ursula K. Le Guin's Words Are My Matter*) . . . or four or seven — including the Kickstarter there were three hardcover editions of The Chemical Wedding. . . .
All but The Chemical Wedding received starred reviews and ended up on Best of the Year lists and I toast each and every author. (Or, I will tonight!)
* A moment to celebrate: Words Are My Matter was our third title with Ursula K. Le Guin after her translation of Angélica Gorodischer's Kalpa Imperial and her two volume The Unreal and the Real.
And even though we only published five titles (plus that fun but total time sink Kickstarter) I manage to be behind with so many things. Even when I reduced the number of books we published, I'm still behind. But! There are so many things to fill me with despair! So many interesting people on twitter! So many leaves to pick up on the walk to school. So many books to reprint — sneaked that last one in. I don't think I've ever gathered in one place which books we reprinted in one year so here goes:
Nathan Ballingrud's first collecton, North American Lake Monsters. Third printing — this book has legs! (Horrible things happen to those legs in at least one of the stories, but, still, legs!) The good news: Nathan is working on his next collection.
Naomi Mitchison's novel Travel Light. Second printing. I read the first part of this to our 7-year-old who is part dragon herself and she really enjoyed all the parts with Uggi and the other dragons. She has the proper disregard for heroes, at least sometimes.
Ursula K. Le Guin, Words Are My Matter. The first printing was in October and the second in December — could I have increased the first print run? Yes. But I am so good at overprinting, so ordering a print run that was 220+% of the initial orders seemed like a solid call. Ordering another 50% of that first run was fun.
— A reprint not of our own: The Unreal and the Real in one volume, not two, with one extra story by Joe Monti at Simon & Schuster/Saga as part of a raft of Le Guin titles that they will publish including at some point a Charles Vess illustrated Complete Earthsea book I am very much looking forward to.
Another reprint not our own: Ted Chiang's collection Stories of Your Life and Others (aka Arrival) by Vintage. The movie of the title story has made $90 million in the USA alone and the paperback edition was on the New York Times bestseller lists for four weeks which translates into thousands and thousands more readers for Ted's fabulous stories. Sometimes, no, wait, very infrequently, things go right.
Nicole Kornher-Stace's YALSA Best Fiction for Young Adults 2016 novel Archivist Wasp. Third printing, May 2016. A book that blew out the door and keeps on going. As with Nathan above, Nicole is working on her next book.
Greer Gilman, Cry Murder! in a Small Voice. Second printing, March 2016. The first of Greer Gilman's Ben Jonson, Detective novellas. Dense, bloody, funny, fantastic. Wait, I see a pattern here: Greer is also working on her next book. Writers write!
I think that's it: five new titles and five reprints plus the de rigueur two issues of LCRW — thank you writers, subscribers, and booksellers for getting behind the only zine named after a Brooklyn girl who moved to London, married a Lord who probably had the syph, and published her own fancy fancy literary journal.
Sometimes in the past I've posted year end Small Beer bestseller lists but I find them oddly hard to do: should I list books shipped from our lovely distributor, Consortium (now owned by Ingram)? But what about website and bookfair sales? Books shipped out from Consortium, can and will be returned, sometimes months later. Should I post Bookscan rankings? Bookscan only seems to capture about 30-50% of actual sales — which I always forget when I look at their reports, oops, but is very clear when I look at sales/return numbers from Consortium.
Either way, we sold a lot of books in 2016: thank you. In 2017 we have many books planned and — if all goes well — more reprints. No Kickstarter, at least, I don't think so right at this moment in the middle of inventory and preparing for 1099s and so on. There is a Howard Waldrop project kicking around…. We'll see. Two more issues of LCRW FTW. We will go to AWP in Washington, DC, in February and Kelly is teaching at Tin House in Portland in July. I just received an update (no real movement, but the possibility of movement) on a secret project we've been slowly trying to make work for at least five years — it may not work, c'est la vie in publishing: try and make something happen for years, sometimes it flames out, disappears, or ends up elsewhere but if it ever did come together, wow, what fun.
And at the very end of this year I signed a contract and sent of a check for a short story collection that has been a long time in the making — but more on that in the new year: more books, more cheer, and of course: more fighting for freedom, equality, and justice for all. Happy new year to you and yours.
---
Mon 5 Oct 2015 - Filed under: Not a Journal., Holly Black, Kelly Link, LCRW, Mary Rickert, Nathan Ballingrud, Owen King, Paolo Bacigalupi, Sofia Samatar, year's bests| Posted by: Gavin
Out there in the world, the peoples they reads the books. What do they say? They like 'em! Just wait to see what's going to be reviewed next week. Oh? Oh yeah, mmmhmm.
But I am meanwhiling here first about Sofia Samatar who has two stories in the inaugural edition of HMH's latest addition to their Best American series: Best American Science Fiction and Fantasy 2015. Also: are there more SBP authors  in this book? Yes! See Nathan Ballingrud,  Kelly Link, and two stories (Holly Black's and Paolo Bacigalupi) from Monstrous Affections received honorable mentions.
It's interesting to look at the list of stories passed on to Joe Hill by series editor John Joseph Adams to see where they were first published.
You can read Joe Hill's introduction to the book on Entertainment Weekly where he calls Sofia " a rising star in the genre" and "a young she-can-do-anything star" and describes her two stories as "incredibly different and equally breathtaking stories." Absolutely!
More fun Best American fun news? Yes! Owen King's story "The Curator" from Lady Churchill's Rosebud Wristlet 31 got a honorable mention nod in T.C. Boyle's Best American Short Stories 2015.
Meanwhile over in bookland, Mary Rickert's You Have Never Been Here: New and Selected Stories received two lovely trade reviews from PW and Kirkus. We're sending out our last few galleys now and fingers crossed we will have the book on hand at World Fantasy Con in Saratoga Springs in a month or so! Mary will be there and we will not be running out of books the way we did with Archivist Wasp at Readercon. Dammit! (Sorry again, Nicole!) See below for links to the reviews. Suffice to say if you've enjoyed collections we've published by Elizabeth Hand, Nathan Ballingrud, Kelly Link, etc., etc., this one is for you.
And we are working on another collection, this one for July of next year by none other than Jeffrey Ford. But, hey, enough for today. More on that manana!
"Beautiful, descriptive prose enriches tales of ghosts, loss, and regret in this leisurely collection. . . . Fans of Neil Gaiman and Kelly Link will appreciate Rickert's explorations of myth and memory."
— Publishers Weekly
"Short stories about people haunted by loss and transformed by grief. Ghosts walk through this collection. Witches are rumored. People collect bones, sprout wings, watch their feet turn into hooves. Above all, people tell stories—stories that cast spells, stories that change the world. In "Journey into the Kingdom," a tale about ghosts who walk out of the sea has a powerful effect on a young widower. In "Anyway," a mother asks herself what she would sacrifice to save her son's life. In the collection's longest story, "The Mothers of Voorhisville," a group of women are drawn together when they realize their newborn babies have something very strange in common. Not every piece sings, but those that do have a powerful, haunting effect. As the mother of a dead girl puts it in "The Chambered Fruit," the best of these stories show how "from death, and sorrow, and compromise, you create," how "this is what it means…to be alive." Rickert's (Holiday, 2010, etc.) writing is crystal-clear, moody, occasionally blood-chilling. Her characters maneuver through a world where strange, troubling transformations are possible, but they live and breathe on the page, fully human. The worlds Rickert creates are fantastical, but her work should appeal not just to fantasy fans, but to anyone who appreciates a well-told tale."
— Kirkus Reviews
---
Fri 3 Oct 2014 - Filed under: Not a Journal., Nathan Ballingrud, second printings, yeah!| Posted by: Gavin
Good news: the printer is about to ship us the second printing of the paperback Nathan Ballingrud's Shirley Jackson award winning debut collection North American Lake Monsters.

And: the hardcover is about to be declared out of print, so get it while you can. We will have some here for a little while longer and are hoping to bring some to the World Fantasy Convention in DC where Nathan can sign them.
Also, should you already have devoured the book and now be demanding more Ballingrudian fiction, why, I am very happy to be able to help you with that. Check out Monstrous Affections (for which sometimes I affeckt an extra k), dig around, and you'll find Nathan's um, diabolical?, "The Diabolist."
Get it from Powell's here or your local bookshop here. More stories by Nathan is always a good thing.
---
Thu 10 Jul 2014 - Filed under: Not a Journal., Awards, Nathan Ballingrud, Sofia Samatar| Posted by: Gavin
What great news! Congratulations to both Sofia Samatar and Nathan Ballingrud who last night received the lovely news that their books were both finalists for the World Fantasy Award. Yay! Sofia is also a finalist in the short story category for her Strange Horizons story, "Selkie Stories Are for Losers."
It is an honor to have books nominated and we will be celebrating this weekend at Readercon, and, hey, why not, all the way to November when the awards will be given out at the World Fantasy Convention in Washington, D.C. And, as always, congratulations to all the finalists!
---
Mon 9 Jun 2014 - Filed under: Not a Journal., Awards, Nathan Ballingrud, Sofia Samatar| Posted by: Gavin
Congratulations to all the nominees for the British Fantasy Awards, especially to our two debut authors: Nathan Ballingrud, whose collection North American Lake Monsters is a nominee in the collection category and Sofia Samatar whose A Stranger in Olondria is a nominee in the novel/Robert Holdstock Award category.
The awards will be "announced at an awards ceremony at FantasyCon 2014 in York on 6 or 7 September 2014, depending on the convention's scheduling."
---
Sun 11 May 2014 - Filed under: Not a Journal., Awards, Greer Gilman, Nathan Ballingrud, Shirley Jackson Awards| Posted by: Gavin
Congratulations to all the finalists for the Shirley Jackson Awards, especially to Nathan Ballingrud whose debut collection, North American Lake Monsters, is a nominee in the single author collection category, and to Greer Gilman whose Cry Murder! in a Small Voice, is a nominee in the novelette category.
The awards will be presented on Sunday, July 13, 2014, at Readercon 25, in Burlington (outside Boston), Massachusetts. Kelly was one of the jurors this year, so, as the site says: "Where a conflict of interest arises for a juror, the juror recuses himself/herself from voting for the particular work."
Come say hello if you're at Readercon! We will have stacks of these books — and more goodies, of course. And by the end of the week we should have another piece of very exciting news for fans of Greer Gilman!
ETA: Susan Stinson and Bob Flaherty ("My god, Susan! What you have you done to me!") talk about North American Lake Monsters during their monthly bookswap on WHMP.
---
Mon 3 Feb 2014 - Filed under: Not a Journal., Angelica Gorodischer, Bestsellers, Elizabeth Hand, Howard Waldrop, Kij Johnson, Nathan Ballingrud, Sofia Samatar, Susan Stinson, Ted Chiang, Ursula K. Le Guin| Posted by: Gavin
Here are two different views of 2013 in SBP books. What will 2014 bring? Droughts! Witches! Yetis! More and more weird fun!
Congratulations to all the authors on the 2013 Locus recommended reading list. It's always fun to peruse the list and see, for whatever reasons, what rose up and what didn't. It's especially nice to have links to all the online short stories and novellas and so on, thanks Mark et al!
In 2013, we published 2 Peter Dickinson reprints, one chapbook, and six new titles, and of those six, four titles are on the list:
Sofia Samatar, 

A Stranger in Olondria
Nathan Ballingrud, North American Lake Monsters: Stories
Angelica Gorodischer (trans. Amalia Gladhart), Trafalgar
Howard Waldrop, Horse of a Different Color: Stories
And you can go and vote in the Locus awards poll here. I have some reading to do before I vote. Votes for Small Beer authors and titles are always appreciated, thank you!
In sales, once again our celebration of Ursula K. Le Guin's fantastic short stories were our best sellers for the year. However, if we split the two volumes into separate sales, Ted Chiang's Stories of Your Life and Others would climb a notch to #2. But! Counting them as one means we get another title into the top 5: Elizabeth Hand's late 2012 collection Errantry: Strange Stories. We really should release more books at the start of the year, as those released at the end have much less chance of getting into the top 5.
According to Neilsen BookScan (i.e. not including bookfairs, our website, etc.), our top five bestsellers (excluding ebooks) for 2013 were:
Ursula K. Le Guin, The Unreal and the Real: Selected Stories of Ursula K. Le Guin
Ursula K. Le Guin, The Unreal and the Real: Selected Stories of Ursula K. Le Guin
Ted Chiang, Stories of Your Life and Others
Kij Johnson, At the Mouth of the River of Bees
Susan Stinson, Spider in a Tree
Elizabeth Hand, Errantry: Strange Stories
Last year it was all short stories all the time, this year Susan Stinson's historical novel Spider in a Tree jumped in (I'd have said sneaked in if it was #5, but since it's at #4, that's a jump!). Susan's book is still getting great reviews, as with this from the Historical Novel Review which just came out this week:
"The book is billed as "a novel of the First Great Awakening," and Stinson tries to do just that, presenting us with a host of viewpoints from colonists to slaves and even insects. She gives an honest imagining of everyday people caught up in extraordinary times, where ecstatic faith, town politics and human nature make contentious bedfellows. Although the novel was slow to pull me in, by the end I felt I had an intimate glance into the disparate lives of these 18th-century residents of Northampton, Massachusetts."
As ever, thanks are due to the writers for writing their books, all the people who worked on the books with us, the great support we received from the independent bookstores all across the USA and Canada, and of course, the readers. We love these books and are so happy to find so many readers do, too: thank you!
---
Tue 14 Jan 2014 - Filed under: Not a Journal., Julie C. Day, Julie Day, Nathan Ballingrud, North American Lake Monsters, Podcastery, small beer podcast| Posted by: Julie
Nathan Ballingrud is one of those authors who should be far better known. Hopefully, this collection will do something to bridge that particular gap.
I don't write fan letters and I don't read stories that sometimes fall across the border into grotesque, but then Nathan Ballingrud's North American Lake Monsters came along. Immediately after I finished the collection, before I even knew I was going to record this podcast, I had messaged Nathan directly to tell how how I felt. The thing is—I don't do things like that.
Even as I type this blog entry, I am holding back my over-eager fangirl. Ballingrud's stories are that good. They are dark and unique and beautifully written. The prose is Ballingrud's alone, but it reminds me of Raymond Carver after Gordon Lish had cleaned up his work. (Here's a link for those of you who don't know that particular story. It is a psychological horror story all its own.)
Ballingrud's stories blur that artificial line between psychological, supernatural, and physical horror. But they do more than that. These are stories about people who make hard and, often morally uncomfortable choices, and yet remain emphatically human. We may not approve of what they do, but we damn well understand it. In the end, after traveling through Ballingrud's world, I didn't feel anxious or scared, I felt lighter, as though his stories had carried off some darkness within myself. Best of all, I felt entertained.
Episode 19: In which Julie C. Day reads Nathan Ballingrud's "You Go Where It Takes You" from North American Lake Monsters.
Podcast: Play in new window | Download
Subscribe to the Small Beer podcast using  iTunes or the service of your choice:
---
Fri 8 Nov 2013 - Filed under: Not a Journal., Kelly Link, Nathan Ballingrud, Sofia Samatar, Susan Stinson| Posted by: Gavin
Since Sherman Alexie first threw the Indies First idea out into the world, more than 375 authors have signed up to try their skills at handselling books at 300 bookstores.
Sofia Samatar, author of A Stranger in Olondria, will be Borderlands Books in San Francisco from 1-4 pm and Kelly Link will be at the Harvard Book Shop in Cambridge (where you can get Three Zombie Stories).
Some companies want to be your always and everything, these shops want to find you a good book. Ok, maybe sell you a mug, too!
Why are we posting this? Because we love the indie bookshops!
More here.
ETA: And Nathan Ballingrud will be at the excellent Malaprop's in Asheville!
---
Thu 31 Oct 2013 - Filed under: Not a Journal., Kelly Link, Nathan Ballingrud, Susan Stinson| Posted by: Gavin
We hear there's an excellent review of Nathan Ballingrud's book coming up in Locus which reminded me that a great interview (and a story) with Nathan just went up. Which reminded me about two more good interviews. Luckily it's lunchtime here on the East Coast (today aka the East Ghost), a great time to sit down and enjoy an interview with your brains/candy/sweets/actual lunch:
Nathan Ballingrud at the Weird Fiction Review:
I think of horror as the literature of antagonism, and this is why it's so valuable to us. For me – and of course I speak entirely of my own preferences – a good horror story is upsetting. It does not reinforce the status quo. It's an act of hostility to some cherished assumption, whether it's the durability of familial bonds, the presumed benevolence of God, or even the basic decency of our own hearts. Horror fiction should harshly interrogate everything that makes us feel content. It's the devil's advocate of literature. We absolutely need that, and that's why it abides, whether we call it horror, or Gothic, or strange, or weird. It's all an interrogation.
Kelly Link at Gigantic:
I think I've hit a point with TV shows, maybe less so with books, where as soon as I have an idea of where the show is going, I would rather be doing something else. I'm not really so interested in shows that are realistic, or what passes for realistic depictions of how men are figuring out to be men, if the women are secondary characters: which rules out Mad Men, Breaking Bad.
Susan Stinson at Lambda Literary:
All of the characters in the book are outside of my time. As a white woman writing across lines of racial identity, I know that I have built-in biases that I've acquired from the culture. I think we all do, and that's one of the legacies of slavery. I didn't know when I started writing the book that Jonathan Edwards was a slave owner. Once I knew that, it became clear that I needed to enter as deeply as I could into the minds and lives of the characters who were slaves in the household. Anything else would be a terrible omission based on fear. Several characters in the book are slaves. Jonathan Edwards owned slaves, a historical fact that Edwards enthusiasts sometimes ignore. So, I did my best.
---
Fri 13 Sep 2013 - Filed under: Not a Journal., Eileen Gunn, indie bookstore exclusives, keep it indie, Nathan Ballingrud| Posted by: Gavin
It's true: tomorrow at the Harvard Book Store Warehouse Weekend we'll be giving away a free chapbook to those who take full advantage of our pile-them-high-and-sell-the-cheap sale!
The two story chapbook, North American Monster Stories, will never be for sale. The stories are the title story from Nathan Ballingrud's collection, North American Lake Monsters, and "Up the Fire Road," a story from Eileen Gunn's collection Questionable Practices. 
The whole weekend looks like fun. There are tons of great journals and publishers—as well as MBTA gifts and the all important food truck: Fugu Truck.
Here's the whole list from the Harvard Book Store site:
Black Ocean – In addition to showcasing some of their stunning books, this press will host author signings and meet & greets throughout the day.
Boston Review – You can't beat free issues of a great literary magazine with an email newsletter sign-up, and that's just what you'll get at Boston Review's booth today.
Cervena Barva Press –  Founded in 2005, Cervena Barva Press ("Red Color" in Czech) publishes poetry, fiction, plays, translations and memoir from writers all over the world.
Fugu Truck – This awesome local food truck will be serving up Asian street food beloved by Bostonians.
Harvard Review – Calling all writers of short fiction, poetry, and non-fiction: Bring a few pages of your submission and get an on-the-spot assessment by Harvard Review Editor Christina Thompson (from 12:00 P.M. – 2:00 P.M.).
Inman Review – A local literary journal with a great reputation, Inman Review will be discussing (and maybe even accepting) submissions today in addition to selling current and back issues.
MBTAgifts – Always a favorite, MBTAgifts offers old MBTA signs and memorabilia.
Ploughshares – This literary heavyweight offers up discounts on back issues and a free digital solo when you sign up for their newsletter.  They also promise to be charming and personable. No blank stares. EVER.
Q's Nuts – A Somerville favorite, this artisan nut company will have you giving in to tempation once you try their line of sweet, savory and exotic flavors.
Rose Metal Press – Learn about hybrid genres when you visit the booth of this Brookline-based press, and pick up a book, button, or bookmark while you're at it.
Small Beer Press – All the way from western Mass., this smashing husband and wife duo is planning to offer a very special giveaway, a great selection of remainders and zines for sale, and maybe even mugs!
Ward Maps – Harvard Book Store's Park Street neighbor will feature antique and rare maps for sale.
Wilderness House Press – An imprint of Ibbetson Street Press, Wilderness House Press will feature books for sale as well as author booksignings and giveaways.
Our Warehouse is located at 14 Park St. in Somerville, between Somerville Ave. and Beacon St., just outside of Union Square. The closest T stop is Porter Square, on the Red Line, and bus lines #83 and #87 have stops on Somerville Ave. near Park St.
And unlike at most parties… friends of friends are definitely encouraged to bring friends! See you there!
---
Tue 16 Jul 2013 - Filed under: Not a Journal., Nathan Ballingrud| Posted by: Gavin
Well, much to my regret I did not get to buy Nathan Ballingrud a tea or a beer at Readercon this past weekend. I saw him here and there, he looked pretty happy and I hope he is as this weekend we celebrated—a couple of days early—the publication of his first short story collection, the bleak, terrifying, heartrendingly brilliant North American Lake Monsters. We did manage to get him by the table to sign some copies of his book, so order soon if you'd like one. (We shipped out the personalized copies today.) Nathan is reading at the KGB Bar in New York City tomorrow night with his good friend, Dale Bailey—not coincidentally the co-author of one of the stories in his book, "The Crevasse."
Early reaction to the book is strong, not surprising given the strength of the stories here. There's an interview and a story coming up on Weird Fiction Review and reviews coming in some major newspapers and sites and we're always curious to hear what readers think of our books. This one is excellent, but, oh so harsh!
Here's where you can see and hear Nathan in the next month or two:
July
28 – Aug. 3, Shared Worlds, Wofford College, SC
August
3, 7 pm, Quail Ridge Books, Raleigh, NC (Bull Spec 3rd annual summer speculative fiction event)
28, 7 pm, Malaprop's, Asheville, NC
"Ballingrud's work isn't like any other. These stories are full of sadness and sorrow, but they're not merely sad. Like Tom Waits, Ballingrud is an expert at teasing out every delicious shade and nuance, every fine gradation of misery and pain. It's a heady and fantastic cocktail mixed from roughnecks and down-and-outers and flawed people who find in their ordinary and terrible world monsters, magic, and the strange. Ballingrud's fantastic elements are never seen full on, but always out of the corner of your eye, and it makes them all the more haunting."
—Cory Doctorow, BoingBoing
"A good horror story stays with you long after reading it. A great horror story doesn't simply stay with you, it haunts you, and Nathan Ballingrud's fiction does just that. He breathes life into rough, blue-collar characters and places them in some of the best dark fiction being written today. Every single story in this collection is an emotional gut punch.  The despair that saturates these tales is rich, and often it is not the supernatural elements in these tales that is horrific."
—Arkham Digest
"For those willing to go down the dark road that's laid out here, and those willing to feel complex patterns of sympathy, disgust, and horror for (often bad) people, this is an interesting collection. Uncomfortable a read as it is, it has the tinge of reality to it: a reality that often we'd rather not look at."
—Brit Mandelo, Tor.com

---
Fri 5 Jul 2013 - Filed under: Not a Journal., Cons, Nathan Ballingrud| Posted by: Gavin
Nathan Ballingrud will be at Readercon next weekend in Burlington, Mass. (Additional readings are also scheduled, see below.)
If you'd like a signed or personalized copy of North American Lake Monsters (publication date is July 16th), we'll take orders until this Thursday, July 11th, and then mail copies out the next week.
July
11 – 14, Readercon, Boston, MA
17, 7 pm, KGB Bar, NYC
28 – Aug. 3, Shared Worlds, Wofford College, SC
August
3, 7 pm, Quail Ridge Books, Raleigh, NC (Bull Spec 3rd annual summer speculative fiction event)
28, 7 pm, Malaprop's, Asheville, NC
---
Fri 5 Jul 2013 - Filed under: Not a Journal., Nathan Ballingrud| Posted by: Gavin
Cory Doctorow wrote about Nathan Ballingrud's debut collection today on BoingBoing:
Ballingrud's work isn't like any other. These stories are full of sadness and sorrow, but they're not merely sad. Like Tom Waits, Ballingrud is an expert at teasing out every delicious shade and nuance, every fine gradation of misery and pain. It's a heady and fantastic cocktail mixed from roughnecks and down-and-outers and flawed people who find in their ordinary and terrible world monsters, magic, and the strange. Ballingrud's fantastic elements are never seen full on, but always out of the corner of your eye, and it makes them all the more haunting.
This slim volume traces the fine veins of unhappiness in a way that no other writer of science fiction or fantasy I know of can match. If you've ever enjoyed a long cry, or come out of a deep funk to discover the joy of the contrast of the light and the sun, then you know why these stories are so powerful and moving.
---
Wed 3 Jul 2013 - Filed under: Not a Journal., Elizabeth Hand, Nathan Ballingrud| Posted by: Gavin
You know, with Errantry and Nathan Ballingrud's North American Lake Monsters, we are definitely getting our share of the darker books out there. Both authors are nominees for this year's Shirley Jackson Awards which will be presented in a week or so at Readercon, where you can meet both authors! Should be a busy con, and a laugh.
Nathan's book, being a fab piece of work, is about to see some nice reviews and mentions, more on those later. In the meantime it's great to see a couple of nice reviews of Elizabeth Hand's Errantry: Strange Stories popping up recently. Nic Clarke at Strange Horizons wrote
". . . Hand's strangeness is redolent of the sort of disturbing, uncanny children's books that gave you nightmares at the age of nine (for me, Alan Garner): books with malevolent forces lurking under sunny hillsides, where adults aren't going to save our heroes, and whose endings are staggeringly bleak."
and Helen McCrory on Pank said
"Hand's stories here are more expansive, yet have that undercurrent of a formless force closing in, be it weather, or birds gathering in a falling evening sky."
which both capture something of the disturbing nature of Liz's stories. Shiver me timbers!
---