Tue 13 Nov 2018 - Filed under: Not a Journal., Art, Laurie J. Marks| Posted by: Gavin
Laurie J. Marks's final Elemental Logic novel will be going out to reviewers by the end of the month — reviewers who like electronic versions can go right now this very instant directly to Edelweiss.
And: Here's Kathleen Jennings's near-final cover for Air Logic. This series just knocks me over every time I go back to it. If it's new to you, you have a huge immersive compulsively readable story to dig into. As Delia Sherman says,
"If you've been looking for an exciting, thoughtful, queer, diverse, politically aware, complex, timely, beautifully written saga of a fascinating world and set of characters, here it is."
The ebooks of the first 3 books are available now and the reprint dates (at last!) for the first two books, Fire Logic and Earth Logic, are below.
Reviewers, booksellers, librarians, lend me your ears! We are going to make a fuss about this series and this book!
Book 1 Fire Logic — January 22, 2019 — Edelweiss
Book 2 Earth Logic — February 19, 2019 — Edelweiss
Book 3 Water Logic — Edelweiss
Book 4 Air Logic —June 2019 — Edelweiss
And, fingers crossed, Laurie will be at WisCon to launch it!
---
Wed 2 May 2018 - Filed under: Not a Journal., Art, covers, Sarah Pinsker| Posted by: Gavin
Tomorrow morning on Tor.com there will be a cover reveal of Sarah Pinsker's forthcoming debut collection, Sooner or Later Everything Falls into the Sea, at which point we will open up preorders for print and ebooks here and on Weightless.
Who is
Here's a bio:
Sarah Pinsker's award winning fiction has appeared in Asimov's, F&SF, Uncanny, Strange Horizons, as well as numerous other magazines, anthologies, year's bests, podcasts, and translation markets. She is also a singer/songwriter who toured nationally behind three albums on various independent labels. She has wrangled horses, taught advocacy and SATs to teens (two different jobs), and tended bar badly. She lives with her wife in Baltimore, Maryland. Find her online at sarahpinsker.com and on Twitter @sarahpinsker.
See you tomorrow!
---
Mon 5 Jun 2017 - Filed under: Not a Journal., Art, LCRW| Posted by: Gavin
We're working on LCRW 36 and I just love this cover, "I Was Raised By The Forest" by kAt Philbin, so much I had to post it.
(Get LCRW delivered just for you.)
---
Tue 13 Sep 2011 - Filed under: Not a Journal., Art, Big Mouth House, Lydia Millet| Posted by: Gavin
We've just gotten a near final cover from Sharon McGill for Lydia Millet's second middle grade novel, The Shimmers in the Night—the second book in the Dissenters series after The Fires Beneath the Sea. BTW, Lydia will be on a blog tour later this fall for Fires. Anyway: jacket!
---
Wed 21 Jul 2010 - Filed under: Not a Journal., Art, call for submissions, Working Writer's Daily Planner, workshops| Posted by: Gavin
We're in the final stages of our new Working Writers Daily Planner and I thought I'd throw out a last minute call for for photos or art. We pay $10 + 1 copy for print + electronic rights. Please post links in the comments but only to art/photos you have rights to, thanks!
Also just added the multiple copy discounts for this one. These were very popular last year as whole workshops and bookclubs and all kind of book-related groups planned out their year together.
---
Wed 10 Mar 2010 - Filed under: Not a Journal., Art, Publishing, YouTube| Posted by: Gavin
Don't know who sent me here but it's great (although so tempting to slow down!):
---
Wed 2 Dec 2009 - Filed under: Not a Journal., Alan DeNiro, Art, Greer Gilman, Vincent McCaffrey, Working Writer's Daily Planner, YouTube| Posted by: Gavin
so on. Wait: aren't all stories made up? No! Because, wait for it, some of them are True. Riiiight, on with the show.
We added a short intro video (see below) to the Writer's Daily Planner since it is so late to hits stores — managed to post it on Facebook and IndieBound, not sure if it will end up on Powell's. Used the Flip camera, then upped the sound. Need a better mic!
And: we've added discounts! (Not sure if we will get organized enough to do a sale before the year ends. Hmm.)
Alan DeNiro chats up LibraryThing. And, he has a new story on Strange Horizons.
Adam Roberts's idiosyncratic take on Cloud & Ashes—he likes the story, not the dialog. (Do read his Kevin Anderson review as well, it's v. v. funny.)
And: Greer gets some fan art.
Nice review of Hound @ Fictionophile: "If bibliophilia is an illness, then Henry Sullivan is terminal!"
Ed Park pulls a thread and finds a story in American Fantastic Tales.
And, you know, other stuff.

Many 'ands make light work?

---
Mon 16 Nov 2009 - Filed under: Not a Journal., Art, Interstitial Arts| Posted by: Gavin
Check out the art inspired by stories from Interfictions 1 and 2 here — you can make it yours, too, if you want. And today Publishers Weekly says of the book:
Interfictions 2: An Anthology of Interstitial Writing
Edited by Delia Sherman and Christopher Barzak.
This anthology celebrates its cross-genre concept as much as its content, with a lengthy introduction, contributor notes, and afterword. Will Ludwigsen's lovely, melancholy "Remembrance is Something Like a House" combines paranormal and true crime elements. Alaya Dawn Johnson's dystopian "The Score" reads like a post-9/11 Twilight Zone episode. A scientist tries to prevent a world war in Elizabeth Ziemska's winsome "Count Poniatowski and the Beautiful Chicken." Stephanie Shaw's strong and earthy writing grounds her story of dragons and a four-headed obstetrician in "Afterbirth." . . .  Fans of the first Interfictions anthology will dig it."
---
Mon 2 Nov 2009 - Filed under: Not a Journal., Art, auctions, Free books, Interfictions 2, Interstitial Arts| Posted by: Gavin
Now is probably a good time to mention that we have 5 free copies of the snazziest mind-poppingest new anthology of short stories out there, Interfictions 2, to go out to readers in the USA + Canada who will review it on blogs, websites, etc., etc.
If you live outside these two countries, we'd be happy to send you a PDF.
Drop us a note in the comments box and we'll contact you to get your address.
Interfictions 2 comes out tomorrow so preorders are shipping and events are starting to happen: today the IAF are launching their online auction of pieces inspired by the stories in the book—this is just fantastic stuff, check it out.
—
Later this week there will be more free Super Special Books (!) offered up of so do come back.
---
Sun 9 Aug 2009 - Filed under: Not a Journal., Art| Posted by: Gavin
Easthampton is having an artbear invasion and it is really cheery to look down from the 11.05 morning zeppelin ride into the office (can't quite get there for elevensies) and see all the people taking their pictures, reading the signs, sitting on their knees, and so on. They're really well done—although don't think we will get one for the office at the auction. Who'd a thunk they'd be so popular?
---
Tue 28 Jul 2009 - Filed under: Not a Journal., Art, Holly Black| Posted by: Gavin
Here's something fun: an early shot of the front cover of Holly Black's creepy and wonderful first short story collection The Poison Eaters and Other Stories which Big Mouth House will publish in February 2010:
And here's the table of contents with the place of first publication in (parenthesis):
"The Coldest Girl in Coldtown" (Eternal Kiss)
"A Reversal of Fortune" (The Coyote Road)
"The Boy Who Cried Wolf" (Troll's Eye View)
"The Night Market" (The Faery Reel)
"The Dog King"
"Virgin" (Magic in the Mirrorstone)
"In Vodka Veritas" (21 Proms)
"Coat of Stars" (So Fey)
"Paper Cuts Scissors" (Realms of Fantasy)
"Going Ironside" (Endicott Journal)
"The Poison Eaters" (The Restless Dead)
+ one more story.
---
Fri 12 Jun 2009 - Filed under: Not a Journal., Art, Greer Gilman| Posted by: Gavin
It took a while to organize but we've just posted Michael's great picture of Greer Gilman's Cloud & Ashes. These angled shots give a much better idea of what one of our books look like and this, thanks to Kathleen Jennings' wonderful cover, is one of the more beautiful ones we've put out:
---
Wed 27 May 2009 - Filed under: Not a Journal., Art, Carol Emshwiller| Posted by: Gavin
In all the excitement of the new year (cough), we forgot to point our Japanese readers to Carol Emshwiller's novel Carmen Dog which came out recently from those magnificent people at Hayakawa.
That cover is just genius. We haven't seen copies of it yet — they are usually shipped by slow boat, literally, but when we do, give it 4-5 more months and we'll post pics up here.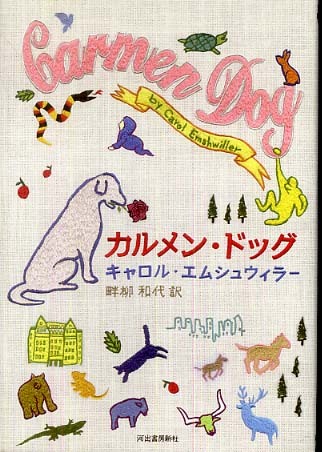 ---
Wed 20 May 2009 - Filed under: Not a Journal., Art, Cons| Posted by: Gavin
He's the one at the Small Beer Press tables! Meet David J. Schwartz who has a fantastic series of pictures on Flickr: it is well worth digging in to see what he's been up to all winter. We just love these pics and love going back to see faves. A few are here, but really, if you have a minute, go check out the rest.
Dave (and, your goodself, if you want) will be personing the Small Beer tables at Madison, Wisconsin's amazing alternaworld convention, WisCon, this coming weekend and he will have most of our books in the dealers' room including Greer Gilman's new Cloud & Ashes (Although sadly neither we nor Greer will be there) as well as Guest of Honor Geoff Ryman's The King's Last Song (get it, get it signed!). Despite our best intentions, there will not be a new issue of LCRW until summer.
There will be copies of Dave's dark and thoughtful novel, Superpowers, and, hopefully, many other things of interest. Many of which will appear throughout the convention as people wander up and drop stuff off to sell (got a book or a zine? Bring it along!). In the meantime: Dave!
---
Thu 23 Apr 2009 - Filed under: Not a Journal., Art, Greer Gilman| Posted by: Gavin
We just got a note that Greer Gilman's (awesome) second novel Cloud & Ashes will ship soon from the printer, Thomson-Shore in Dexter, Michigan. That is one Michigan company who do great work and we doubt they need any bailout. Also, we're very happy to be working with an employee-owed company. So, Cloud & Ashes will  be in stores within a couple of weeks. If you'd like yours faster, order it here.
You can see the amazing front cover by Australian artist Kathleen Jennings at Powell's or on Indiebound, what you can't see is the full wraparound effect of it which is pretty pretty. Here's a little note from the artist abut it.
Thanks again to those readers who pre-ordered the book—you can find their names in the old-fashioned subscription list on the inside of the dustjacket.
"Sublimely lyrical Jacobeanesque dialect . . . readers who enjoy symbolism and allusion will cherish Gilman's use of diverse folkloric elements to create an unforgettable realm and ideology."—Publishers Weekly
---
Tue 21 Apr 2009 - Filed under: Not a Journal., Art, Interstitial Arts| Posted by: Gavin
From the Interstitial Arts Foundation who are going to have a lot of fun with their next anthology before, during, and after it comes out. These are the people, after all, who're interested in skipping and slipping along between the cracks, so read on if you like the weird mixed with the weird:
——–
Dear lovers of Interstital Arts,
We are proud to announce the publication of our second volume of Interfictions, edited by Delia Sherman and Christopher Barzak.
To celebrate the release of this unique anthology we are delighted to present our second annual Interfictions auction. Like all interstitial arts, this auction is more than the sum of its parts. Artists participating in this year's auction may draw their inspiration from the first anthology or will be allowed to have first look at a story from the new book. This means that the 2009 auction is in the unique position of being an artistic fan celebration for an anthology that does not yet technically exist. We invite you to add your voice to this synthesis of words and imagination.
The first auction featured jewelry artists from across the country participating in a collaboration across mediums. The artists' imaginations, triggered by words and images, produced over a dozen magnificent pieces of art. This year we're expanding the focus beyond jewelry to music and wearable/portable art in any medium.
From April 20 to September 20, 2009 the Interstitial Arts Foundation invites artists and musicians of all genres and mediums (interstitial or not) to participate in the Interfictions 2 auction.
How It Works:
On the Call to Artists page you will find short excerpts from the stories in Interfictions 2. As you click through them, we hope that at least one will immediately call to you. Choose a story you'd like to read in full, then fill out the form at the bottom of that page. Alternately, artists may also choose to submit work based on the first Interfictions volume, available in bookstores.
Within 7 days we will send you a confirmation of receipt and, barring any questions we may have, you will receive the story you chose in email as a PDF. Then read, enjoy, and be inspired!
Completed pieces are due by September 20. The auction begins in November!
To read the excerpts and express your interest, please click here.
Have questions? Check out the FAQ. Still have questions? Email us here:
---
Wed 15 Apr 2009 - Filed under: Not a Journal., Art, LCRW, picture books, Publishing, To Read Pile| Posted by: Gavin
One of our favorite writers has her first book out: and this one comes with pictures. Mabel, One and Only is by Margaret Muirhead who long time readers will recognize as a contributor of some great and hilarious poetry as well as an early nonfiction piece. Some of these pieces can be found (or rediscovered) in The Best of Lady Churchill's Rosebud Wristlet.
When we saw Mabel, One and Only was coming out (and it should be in your local store now), we tracked down Margaret and got her to sit still long enough to answer a few questions. Of course, we very much recommend her book:
We just loved reading your new picture book, Mabel, One and Only. Can you tell us about it?
Mabel is the story of a girl who is the only kid on her block. Usually she can convince her grown-up neighbors into playing a game or two, but one afternoon, she finds they're all busy. So Mabel and her canine sidekick, Jack, set about to find their own fun.
Mabel is a great, lively kid. Do you have more stories for her planned?
---
Thu 2 Apr 2009 - Filed under: Not a Journal., Art, Interstitial Arts| Posted by: Gavin
Don't know if you got a beer and put up the slideshow of the Interstitial Arts Foundation cover pool on Flickr on your computational device — it was great fun to do, highly recommended for passing a good amount of time.
The IAF have pulled (ouch) out a winner, "e" by Alex Myers, which will be used for the cover of their next antho, Interfictions 2. And, natch, it was painted on the back of a cereal box. Or maybe the inside. Which side is the inside if the box is flat? Hmm. (More about Alex and the cover).
Interfictions 2 comes out in November. Keep up with it here. Check out that ToC, should be a great book!
---
Thu 18 Dec 2008 - Filed under: Not a Journal., Art, LCRW| Posted by: Gavin
The first story in the new ish of LCRW is "The LoveSling" by newish writer Nick Wolven. Nick's sold a couple of stories here and there, including Asimov's and Paradox. One of the things we liked about this story was that it was weird and somewhat cheery—seems like most stories are about the ends of things, and things have, you know, gone badly. This story's about the end of something and the start of something else, and it's fun. And, we have a couple of spot illustrations from a Jack of All Trades and Master of More Than You Could Ever Imagine, Chris Nakashima-Brown:
The package was larger than they had expected.
It took up nearly the entire foyer: a battered cardboard box sealed with packing tape. They had to push it down the hall to the bedroom, sliding it over the wood floor. In the bedroom, Andrew cut the packing tape with a key. He reached into the box and drew out a card.
"The LoveSling," he read. "A dramatic new tool for mega love increasement. For bringing couples together and aggrandizing overall joy. Hooks into most things with facile assembly." He lowered the card. "It must be from a foreign country."
"They had a picture in the catalog," Amy said. "It looked kind of like a spider."
"And why do we need this thing, again?" Andrew said.
"To give the bed a rest, stud." Amy knelt by the box. "I thought it would be fun. A new house. A new spouse. A new suite of romantic positions. We've worked through three books and two foreign DVDs; we've even taken tips from your perverted crew of friends. We've exhausted the potentialities of all level surfaces." She pushed her hair back. "I thought we should effect a comprehensive paradigm shift."
"I love it when you talk dirty," Andrew said, and kissed her ear.
Read the rest in LCRW #23.
---
Mon 24 Nov 2008 - Filed under: Not a Journal., Art, LCRW| Posted by: Gavin
Given the happy events of November 4th, we asked one of our favorite artists, Kevin Huizenga, if he could come up with a suitably celebratory cover for the next issue of LCRW—which goes to the printer right soon now, subscribe and this could be Your First Issue! Here's what's on the insides, and what's on the outside:
Fiction
Nick Wolven, "The LoveSling"
Kat Meads, "The Emily(s) Debate the Impact of Reclusive on Life, Art, Family, Community and Pets"
Susan Wardle, "The Chance"
Alex Wilson, "A Wizard of MapQuest"
Jodi Lynn Villers, "In the Name of the Mother"
Daniel Lanza, "Holden Caulfield Doesn't Love Me"
Kirstin Allio, "Marie and Roland"
William Alexander, "Ana's Tag"
Mark Rich, "The Leap"
Angela Slatter, "The Girl With No Hands"
Nonfiction
Ted Chiang, "The Problem of the Traveling Salesman"
Poetry
Kim Parko, "Sailor," "Shiny Hair," "Schoolgirl"
Christa Bergerson, "Heliotrope Hedgerow"
Comics
Abby Denson, "Jingle Love"
---
Thu 6 Nov 2008 - Filed under: Not a Journal., Art| Posted by: Gavin
Blogged at Bookslut about David Erik Nelson's fabby stickers and now Move On are giving some away:
Want a free Obama sticker to celebrate our victory? It's designed by Shepard Fairey, the artist who created the iconic HOPE poster. And MoveOn's giving them away totally free–even the shipping's free. I just got mine. Click this link to get your free Obama sticker:
http://pol.moveon.org/shepstickers/?id=-8902779-LAKJEZx&rc=
---
Thu 30 Oct 2008 - Filed under: Not a Journal., Art, blind consumerism, Pop| Posted by: Gavin
Chuck Taylor has inspired two feelings in me with their latest anniversary shoes: a weird blind consumerist lust as well as a mild case of self-loathing for feeling same. The shoes are either truly inspired or incredibly goofy. Wait, they're both that and more (and less).
I'm discounting the leather pair because they are ugly but mostly because at this point in the decadent western world there is no reason to kill animals for clothing. "Fairies Wear Boots" is the nominal inspiration for the yucky strappy leathery shoes. It's such a weird great happy song, I loved it as a kid—it is awesome (and I am awed) that I can watch it on YouFabbyTube now. Luckily everyone else at the office today enjoyed it (a couple of times), too.
Now the other two designs. First is really number four and features Ozzy from the cover of Sabbath's fourth album, the brain shaker* and intellectually-titled Volume Four. If I wear these, will I be cool? No. I might wonder if Ozzy is going to climb up my trousers and bite my head off. So these are probably out. Unless they are under the xmas tree on Dec. 25th when I will dance into the snow with them on.
The third pair are even goofier. Demon logos (designed by…?) are cool but still: "Inspired by 1978 World Tour T-shirt featuring the demon logo, Distressed print on cotton to replicate vintage tour t-shirt"—which just says lazy designer to me. And the '78 tour (which I'd have loved to see but while my parents were ok on sending 8-year-old boys off to the beach they weren't so much into sending us off to see stuff like this), well, it's not exactly Sabbath at the top of their game is it? Ozzy's almost able to stand but none of the rest can stand him and soon he's out to be replaced by Mighty Mouse. (We still love you RJD!)
So: lust, self-loathing. Got to give props to a company who can create and exploit a need (Black Sabbath . . .  shoes!) from absolute zero. Giving into that blind lust? Hopefully not. But don't hold me to that if they turn up in the Vegan Store.
Oops. Made a mistake. Googled "1978 black sabbath tour demon logo design" to see if I could find out whether it was designed for them or ripped off. Decided I should stop and go back to work (pitch, pitch!) but not before finding that teenagers of all ages can get as much Sabbath merch as their wallet and fashion sense (and spouse) will allow here.
*This is misleading. Sabbath sound so happy and occasionally even poppy now (especially AOR hymn-to-pubescence "Changes") compared to all those Masters of Modern Metal Mayhem.
---
Thu 30 Oct 2008 - Filed under: Not a Journal., Art, bookshops, Pop| Posted by: Gavin
That Sam Phillips link reminded us to go check the All Songs Considered Podcast. Up until now there was one show in the list that had been downloaded: Jenny Lewis a while ago. Today, went to iTunes, chose Refresh after making sure the Preferences were to include all the missed shows. Rather than download them all, they all came up as a choice to download: plethora of riches! Right now being downloaded: Antony and the Johnsons, Byrne & Eno (should we go see them on December 2 here?), Tilly & the Wall, Circulatory Sustems, Thom Yorke's guest dj spot (listening to a Radiohead concert, although it's not on the auto-download list), Dengue Fever, Iron and Wine, Robert Plant & Alison Krauss, Rilo Kiley, Bjork, and a Few More.
Jens Leckman is doing a solo show at Northampton High School on Saturday November 1 as a fundraiser to help with costs not covered for a local teenager who was hit by a drunk driver.
---
Fri 29 Aug 2008 - Filed under: Not a Journal., Art, the world| Posted by: Gavin
3 years since Hurricane Katrina and Hurricane Gustav is on a maybe/maybe not course for New Orleans. Which is sort of akin to the US Government's approach to the disaster. Maybe we'll help you. Maybe not. Which is one reason they will be voted out in November.
Over at Smith Mag they just posted the Epilogue of A.D.: New Orleans After the Deluge, an amazing comics narrative that has been picked up by Pantheon and which will be published as a graphic novel at some point. But if you have a moment, try starting from the beginning.
---