Fri 9 Nov 2012 - Filed under: Not a Journal., Ig Publishing, Publishing, Small Beer Press, To Read Pile, Two Dollar Radio| Posted by: Gavin
Did you see the huge lovely article by Michael Bourne featuring family-run presses in the current issue of Poets & Writers? There's a big old photo of Kelly and me (we're the stern ones!). The article features Ig, Two Dollar Radio, and Small Beer, and looks at the joys and sorrows (er, pros and cons?) of running a publishing house together. First up: Ig Publishing, run by Robert Lasner and Elizabeth Clementson (their photo is nice and cheery!). Ig have a nice line of Dive Bar books but are perhaps best known for their popular politics titles. Next: Two Dollar Radio, run by Eric Obenauf and Eliza Wood-Obenauf—who have a fab, informal photo!—who published Grace Krilanovich's The Orange Eats Creeps along with other books you may know. You may want to get your Two Dollar tattoo now—they'll send you free books for life. But seventeen people have already done it and they are capping the offer at 25!
It was fun to be interviewed for the article. I always want people to talk about the books, not the press—Wait, what's that you said about us? Oh, do tell! Let me not protest too much—and it's hard to talk about the press without talking about our lives since the public/private split in indie press publishing can be near nonexistent.
That said, there was a fabulous article written in alternating first person by two poets, Brenda Shaughnessy and Craig Morgan Teicher, in the summer issue, "Enduring Discovery: Marriage, Parenthood, and Poetry." The couple are married and are both published poets with new books out this year. Everything went well until:
"After a healthy pregnancy with no complications, our son suffered a catastrophic brain injury at delivery…. Our beautiful, amazing boy is now five years old and he has severe cerebral palsy. He's nonambulatory, nonverbal, and has a smile that lights up a room like nothing else. Yes, we've been through hell, but we've had this angelic, loving, marvelous child with us the whole time."
Both poets speak about their own lives, their family, and their work so clearly and strongly that I had to stop and read the whole article at once and then put their new books on the To Be Read list. So I like other people talking about their lives! Thanks for the write-up, Poets & Writers!<
---
Mon 29 Oct 2012 - Filed under: Not a Journal., Hurricanes, To Read Pile| Posted by: Gavin
Here's a scary comparison pic on the WSJ of Hurricane Irene (2011, $15bn damage) and Hurricane Sandy (2012, flooding NYC and surrounds already; picture below from the NYT live update feed).
How big is Sandy? It's bigger than the Random Penguin merger. Boo merger! Wonder who HarperCollins will merge with now? They were thinking $1.6bn in cash for Penguin and you know how it is when you go shopping but they don't have the publisher you wanted in stock, might as well see who else is up for sale . . .
I love Penguin books and all the tat that they sell: we have the mugs and cards and tea towel and are quite happy to keep stacking the shelves with those old and new classics. And, they published Kelly's YA collection, Pretty Monsters. But! I also love the name Random House. It was (was? erk.) one of the best names for a publishing house. What's coming next? A cookbook? A collection of poetry? A science fiction novel? Yes to all of the above! And, one of their imprints published The Best of Lady Churchill's Rosebud Wristlet. RHP? Meh. And, only 1 letter away from RIP. (Hmm, that's a bit too much reading the bones, methinks.)
While Random Penguin is a publishing behemoth in the making (they'll be awaiting government approval: Obama says, "Hmm, maybe." Romney says, "Merger? Assets stripped, jobs outsourced, big dividend to stockholders? Do it!") they're fleas on the back of the other players in publishing, as someone tweeted today:
Interesting context RT @arhomberg Market value of Apple $567 billion, Google $221 billion, Amazon $108 billion, Random Penguin ~ $3 billion
Anyway.
Recommended reading for the next few days: Kim Stanley Robinson's Forty Signs of Rain wherein Washington DC is flooded and the politicians (and the taxed-but-not-represented locals) are the ones who have to deal with the Katrina-like events. I reviewed it tho those many years ago for BookPage:
There are flood warnings throughout (beginning with the Biblical reference in the title) but the blinkered D.C. politicians won't pay attention until the rising water is lapping at their doorways. Robinson skips between the domestic, scientific and political spheres without missing a beat and delivers a hot-topic page-turner that leaves the reader gasping and stranded at high tide, eager for the next book from this science fiction master.
Once you've read that you're going to want the sequel, Fifty Degrees Below, ("an intensely positive book, brimming with ideas and hope for the future real or imagined." Review), and the final one: Sixty Days and Counting. ("Every senator, especially the ones with presidential aspirations, should read Kim Stanley Robinson's Sixty Days and Counting." Review).
These books should be on the must-read list for all politicians, but then again I think Robinson's books should be on everyone's to-be-read stack.
Be safe.
---
Tue 20 Sep 2011 - Filed under: Not a Journal., awesome videos, Publishing, Small Beer Press, To Read Pile, YouTube| Posted by: Gavin
Been meaning to post something in response to this guest post by Rachel Manja Brown and Sherwood Smith at Rose Fox's Publishers Weekly Genreville blog "Say Yes to Gay YA." To get to the essence of it: yes, we are open to all kinds of books with all kinds of characters.
To answer a few follow on questions:
Yes, we are open to submissions from anyone. (Hence we are always behind on reading, sorry.)
No, we don't take electronic submissions—with only Kelly and I reading if we took electronic submissions all we would do is read, we wouldn't ever have time for anything else.
Yes, I and/or Kelly read everything that comes in.
Yes, we publish first time authors, old hands, well known and unknowns. We love books, we love the books we publish. If we love your book, we'll publish it. We are constrained by time and budget to 10-12 books per year. (Buy our books and help us publish more!)
Yes, we pay advances. The highest we've paid is in the low five figures, so, no, you are not going to get a huge offer from us.
Yes, we pay industry standard royalties (although our ebook royalty is twice industry standard: 50% of net receipts).
Yes, our books are for sale everywhere through the good people at our distributor, Consortium.
Yes, all our books are available in print and ebook editions: although no doubt soon we will start adding some ebook only titles.
But all that is by the by: mostly I just wanted to make it very open and obvious that we are open to submissions from everyone.
Posted this morning after watching this video (link from Metafilter):
---
Mon 30 May 2011 - Filed under: Not a Journal., Cons, events, Publishing, readings, Small Beer Press, To Read Pile, Ursula| Posted by: Gavin
But we don't take any pictures. Not true. More like: we haven't yet uploaded any. Soon(ish).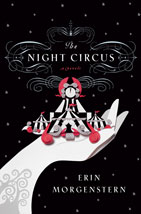 We're back from BookExpo (BEA) where we missed more than ever. At a convention that big you always know there's something you're missing. This time, even with lower attendance and fewer exhibitors than in the past, I missed more due to our own little chaos field: our 2-year-old daughter, Ursula. To a 2-y.o. kid, BEA is: lights, balloons, not a great place to nap, full of strangers—some are nice (some will give you books!), some scary. And unlike her parents, she did not want to be tethered to one spot, meet people, and talk about books. She wanted to go go go. So go we went. Which was great for catching up with other exhibitors and occasionally picking up a book: thanks to Frazer & Sally of Park Road Books in Charlotte we got a couple of indestructible books from Workman which, true to their name, have yet to be destroyed. Amazing how many books fall apart if they're read every day.
The one outside event I went to was an sf reading/q&a I MC-ed which was organized by Gina Gagliano of First Second Books and the New York Public Library. It was a fun night with readings by Lev Grossman, John "William Shatner" Scalzi,  Cat Valente, and Scott Westerfled. Brian Slattery and three other musicians accompanied the readings and there was a q&a afterward. I made a few mistakes: I thought it was the year 2911 and this was 1000th anniversary of the Stephen Schwarzman building and that I was introducing historians, not futurians. But it all seemed to work out ok. I don't know how the afterparty went as I had to slope off and put the kid to sleep. New Yorkers who like the sci-fi: NYPL has you covered this summer.
---
Wed 2 Mar 2011 - Filed under: Not a Journal., Freebies, Karen Joy Fowler, Maureen F. McHugh, To Read Pile| Posted by: Gavin
Just sneaking this in before the end of . . .
Woot! And I am not even a player of said game but I sure am going to read that book.
Also: Carrie Frye is the new editor of The Awl! (Ok, so this is last week's news, but the internets, they don't always work around here.) Magnificent!
Holy crap: we've had bagels for breakfast with an Oscar winner! Congratulations to Shaun Tan et al! ((Locus says: "The film can be viewed in its entirety at www.indiemoviesonline.com.")
Go join Karen Joy Fowler and the Tiptree Bookclub talking about Maureen F. McHugh's excellent story "Useless Things" from Eclipse 3 (edited by Jonathan Strahan).
A new book award voted on by indie booksellers: could be fun. Also: any suggestions for a name for the award are welcome. Could be more fun!
Two nontraditional places to find our books (and we have a cool announcement about that very thing coming here soon, too): a fundraiser and an awareness raiser!
Con or Bust is expanding and they are having a huge fundraiser. We're offering Small Beer Sixpacks (if you go up to $200, they come with your own engraved, wooden sixpack holder!), LCRW subscriptions (—Avec chocolat? —Mais oui!) and advanced reading copies of some sekrit yet-to-be-published books! Bid here please!
The Ranting Dragon is running a huge giveaway to encourage/challenge more readers (especially younger readers) to vote in the Locus poll. Seemed like a good idea to us (and to many other publishers!) so there are tons of books being given away including all of our included titles—including 5 copies of LCRW 26. Freebies! Tons of them!
---
Sat 27 Nov 2010 - Filed under: Not a Journal., To Read Pile, YouTube| Posted by: Gavin
Hmm. This was meant to go up a week or two ago!
Tom Canty made a quiet, almost spooky trailer for M. Rickert's new collection, Holiday. Which, you know: want! Interesting to see some of the behind the scenes work on the cover. Looks like a great book for  . . . the holidays!
There's a great article in the El Paso Times on the good Byrds of El Paso, Cincos Puntos who:
". . . fell in love with the wide-open spaces, the barren desert landscape, living at the base of a mountain, living five minutes from another country, living in a neighborhood with a little bit of everyone, where everyone belongs," Susie Byrd said. "They fell in love with the confusion of the border, a place American but not quite, a place Mexican but not quite.
Claudia Gonson (of the Magnetic Fields) writes about her reading life on the New York Review blog—they have a good post on a new book about yon lovely design mannie (and his most excellent wife, Frances), Charles Rennie Mackintosh by James Macauley. Ha, added it to my wishlist. Which is more a piece of external memory than anything else. For some odd reason I'm happier adding books there than as To-Read on Goodreads.
No one quite knows why the National Book Awards disses fairy tales. Hope they will stop now that this oddity has been brought to their attention.
From The Atlantic: The 12 Timeless Rules for Making a Good Publication.
---
Fri 23 Apr 2010 - Filed under: Not a Journal., Interviews, LCRW, To Read Pile| Posted by: Gavin
A while ago we published a lovely short piece of fiction (or poetry, as we listed it in LCRW 19!) by Katharine Beutner. Earlier this year we noticed that her debut novel, Alcestis, was about to be published by the good folk at Soho Press. All excited, we quickly dashed off some questions for Katharine and in the middle of her debut book launch and doing readings and so on she sent back her answers.
Then we brought punnet after punnet of pomegranates and honeycrisp apples into the office and everyone tried to decide which side they were on. To choruses of "Apples!" "Pomegranates!" (and the occasional "Beer!)" we decided that, yes, we like fruit, but if we were more specific than that it seemed we might be tempting the gods and, really, how foolish could we be? (Moving quickly on.)
Anyway, Katharine's first novel is in stores now so why not add it to your reading pile? In the meantime, that interview:
SBP: First, what attracted you to the story, or: Why a historical novel? Why Ancient Greece? Why a dead girl?
Katharine Beutner: When I was little, I read and reread the D'Aulaires' Book of Greek Myths, which has beautiful Blakean illustrations that are cheery and brutal, just like the myths themselves.
I remember reading a prose translation of the Odyssey when I was maybe ten or eleven, and reading Sophocles and Aeschylus in high school. I majored in classical studies in college (at Smith, yay Northampton!). I've always been more attracted to Greek mythology than to any other kind.
As for "why historical fiction," I like the way that historical fiction foregrounds the process of approximation that all fiction engages in. I have a favorite bit by Samuel Johnson that I sometimes drag out to explain this, from the Preface to Shakespeare, the same essay in which Johnson says that Shakespeare "holds up … a mirror" to nature:
"Shakespeare approximates the remote, and familiarizes the wonderful; the event which he represents will not happen, but if it were possible, its effects would be probably such as he has assigned; and it may be said, that he has not only shewn human nature as it acts in real exigences, but as it would be found in trials, to which it cannot be exposed."
He's talking about the fantastical elements of Shakespeare's work, but I love historical fiction for the same reasons. All historical novels are fantasy, in a way. We can't ever truly understand the past, but we can create art about the past that allows us to tell ourselves truths, even if we can't reconstruct the truths of other time periods as citizens of the past would have done.
Regarding Alcestis's story in particular, my question was actually "Why didn't she *stay* a dead girl?" Sacrificing your life for someone else is a grand gesture, and I was frustrated that the traditional version of the myth reversed it and brought her back to life. So I set out to write a version of her story in which her time in the underworld would still have profound meaning for her, no matter what Heracles did.
Are pomegranates really your favorite fruit?
I like them, but I think apples are my favorite now, which is odd because I used to despise them for textural reasons. Then I discovered Honeycrisps a few years ago and became a convert. Still Greek myth-appropriate, though I always thought Paris should've given the apple to Athena.
Did you go to Greece for research?
I wish. I looked at lots of lucky tourists' photos of Bronze Age ruins online, though! The Mycenaean period is still pretty mysterious, but I read some archaeological studies of particular sites and researched lots of other little pieces of information — what asphodel looks like in its various life stages, homeopathic treatments for asthma, what sorts of snakes are native to central Greece, that kind of thing.
Did you go to the underworld for research? If so, what brought you back?
Sheri S. Tepper's The Gate to Women's Country and Connie Willis's Passage and Tom Stoppard's Rosencrantz & Guildenstern Are Dead were my underworld research.
The gender relations in the novel are not exactly equal. How did you get your head around them?
I was reading a lot of eighteenth-century fiction and Victorian fiction while I worked on Alcestis — my dissertation focuses on eighteenth-century women writers. There's nothing like reading Samuel Richardson's Clarissa to give you an immersive sense of how alien men and women can appear to one another when they exist within a culture of restrictive gender relations. (Or for a far more light-hearted version of this divide, see Fanny Burney's Evelina, which was one of Jane Austen's favorite books and has a monkey melee scene at the end. I like to think that Jane Austen loved it even more because of that.)
Is this your first novel, or your first published novel?
First published novel. My actual first novel was fairly traditional second world fantasy, written in slapdash fashion my first year after college. I might overhaul it some day — I still think the central relationship in the book is interesting — but for now it's trunked.
Did you find being in a writing program helped?
It helped a great deal, even though writing program workshops are designed for short fiction, not for novels. (I fantasize about teaching a novel-workshopping class someday.) But I had great friends in the program and an excellent thesis adviser who helped guide me through my first revision of the novel. And I had two years to write, which is the best part of any writing program, I think.
What has the publishing experience been like for you? Did you find it hard to find an agent and publisher?
I was lucky — a number of my friends have become writers or agents, including Diana Fox, who represents me. She'd liked my first novel, unbelievably enough, and was encouraging about Alcestis from the beginning. Over about a year and a half, we collected a reasonable number of rejections from publishers, some just polite, some complimentary but unsure how to sell the book. Then Soho made an offer, which Diana called to tell me about twenty minutes after I'd finished defending my dissertation prospectus. (It was an exciting day.) So far, the experience has been great. Soho has been just wonderful, especially my editor Katie Herman and Justin Hargett, the director of publicity. I love getting to hear what people think about the book. And I'm usually busy with grad school work, which keeps me from obsessing too much about the many elements of publishing I can't control.
Are you working on something else/taking a break/moving to LA with a screenplay in your pocket/disappearing never to be heard from again?
I'm currently being squashed under the weight of my dissertation, like Atlas. After I finish it, I'll begin writing the novel I've been researching, which is about the disappearance of a Mt. Holyoke College student in 1897. I doubt I'll ever move to LA, but the slightly too-long Hollywood elevator pitch for that novel is "Alias Grace meets The Prestige meets Fingersmith meets The Secret History" — it'll be New England gothic, weird and twisty.
---
Wed 24 Mar 2010 - Filed under: Not a Journal., Ben Parzybok, Mark Rich, Pop, To Read Pile, translations, YouTube| Posted by: Gavin
And a short tab closer:
The Spec Lit Foundation Older Writers Grant ($750) is open to applications until the end of the month. Apply here.
Reading Local Portland has an interview with our favorite furniture mover, Ben Parzybok—and, bonus, Laura Moulton.
Reading has been somewhat scattershot between Steampunk stories (latest in is from Ysabeau Wilce, yay!) and the old submission pile but Suzy McKee Charnas's "Lowland Sea" is a fantastic start to Ellen Datlow's new The Best Horror of the Year, Volume 2.
Also very much enjoying Mark Rich's collection, Edge of Our Lives, which you can get direct from the publish RedJack Books.
3% announced the winners of their Best Translated Book Awards:
—Elena Fanailova for The Russian Version, translated from the Russian by Genya Turovskaya and Stephanie Sandler and published by Ugly Duckling Presse.
—Gail Hareven for The Confessions of Noa Weber, translated from the Hebrew by Dalya Bilu and published by Melville House Press.
Our local copy shop (and LCRW maker) Paradise Copies in Northampton, MA, have a groovy new site.
Fred Pohl keeps a fascinating blog and the other day he posted about a couple of books, The Ground Truth by John Farmer and Zeitoun by Dave Eggers.
And Alan DeNiro, whose blog is sometimes abstruse but is on the must-read list, writes on the continuing tension between the book as a social object versus the book as a thing produced by one person alone.
The one and only Libba Bray and Tiger Beat at Books of Wonder:
---
Fri 26 Feb 2010 - Filed under: Not a Journal., Delia Sherman, steampunk, To Read Pile| Posted by: Gavin
Kelly and I are having fun editing an anthology of YA steampunk stories for Deborah Noyes and the lovely people at Candlewick. The stories are beginning to arrive on our doorstep (that was one very expensive telegram) and Delia Sherman just sent us a great ghosts-and-machines story set in Wales and Cory Doctorow has started podcasting his story, "Clockwork Fagin." More, as they say, TK, as more come in!
---
Fri 19 Feb 2010 - Filed under: Not a Journal., Alasdair Gray, Big Mouth House, Cons, Holly Black, Interstitial Arts, Jedediah Berry, John Kessel, Kelly Link, To Read Pile| Posted by: Gavin
Today's the day when The Poison Eaters should be showing up the office. Dum-de-dum (waits, impatiently). Nice reviews have recently shown up in School Library Journal ("Although they are often centered on bleak, dark characters, the pieces inspire hope, are touching and delightful, and even turn the most ghoulish characters into feeling beings.") and in BookPage (she shows "amazing range"—yes indeed she does!).
Update: Powell's say they have it in their remote warehouse! Any remote viewers who can see it?? Maybe they mean Ingram, as they have it.
So in the meantime a few things:
Alasdair Gray (Old Men in Love) writes about the importance of place. Consider, he suggests, Dumbarton (which means "fortress of the Britons").
We dropped the price of last year's hottie The Baum Plan for Financial Independence to $9.95.
Fantasy Magazine reviews Interfictions 2 and suggests it's an "anthology of literary fantasy." Yours to agree or disagree about. Get your copy.
Con or Bust is running a fundraiser auction to assist people of color who want to attend WisCon from Feb. 22—Mar. 13. They're looking for donations and buyers! Any suggestions for what we should donate??
BTW, if you're going to WisCon, I'll see you there! Sans baby, sadly (will try not to whine too much. But will some, so there). Maybe 2011.
We just signed up another book. Well, verbally. Will wait for the contracts (always good to have it on paper before announcing things) and then spring it upon the world. Fun fun fun!
The post office just delivered an empty envelope that should have been full of zines. Woe is me.
Past-LCRW contributor Katharine Beutner who is "currently being squashed under the weight of my dissertation" slipped out from underneath it to do an interview with us about her Ancient Greek underworld novel Alcestis which is out this month. Interview will go up next week or so.
Joe Hill's second novel Horns just came out. Read the first chapter here. There's also an app for it. Phew. He's on tour now.
Kelly's contributor copies of Ellen Datlow's new anthology, Tails of Wonder and Imagination just came in—her story is "Catskin" is one of many many other stories about cats. Who knew people wrote so much about the little beasties?
Might be imagining seeing a copy of The Best Science Fiction and Fantasy of the Year, Vol. 4.

Jed is back from tour — he managed to write that floaty bike all the way to the west coast and back and even managed to escape Chicago despite its many charms and massive amounts of snow.
Tra la la la la. Wait. Dum-de-dum. Wait some more.
---
Tue 19 Jan 2010 - Filed under: Not a Journal., Books, Interviews, LCRW, To Read Pile| Posted by: Gavin
Computer troubles and the new year intervened but, here, at last, gingerbread and tea at the ready, is our promised interview with past-LCRW contributor Daniel Rabuzzi whose first novel of The Choir Boats, Volume One of Longing for Yount, was recently published by Chizine Publications. The Choir Boats is great fun: Rabuzzi's characters are original and as the book leaves London behind the reader is off into a fresh and lively new world.
Daniel keeps a blog where he interviews artists and writers, reports on readings (and what he's reading) and what he and his wife, wood carver Deborah Mills, are up to so it only seemed fair to put him on the other side of the paper:
Let's start with the basics: how long did it take you write The Choir Boats?
Bits of The Choir Boats come from my journals and sketchbooks going back as far as junior high school. Then, one Sunday in May, 2002, I sat down to write my brother a letter and instead Barnabas, Sanford, Sally and Tom appeared in the house on Mincing Lane… quite unforeseen, I must tell you, but very welcome!   I delivered final edits on the manuscript in May, 2009, so I needed seven years for The Choir Boats.
You live in NYC, why did you set the novel in London?
Ah, a great question…I think of NYC and London as half-twins: we have a Chelsea and a Soho, they have a Chelsea and a Soho, and so on (alike, and yet so very different).  I have spent about a year in total in London over the past few decades: on business in the City, researching at the British Library, visiting friends, spending hours in the Charing Cross bookstores and at the V & A…and always tramping around the quirkiest precincts I can find– small streets in Lambeth or Maida Vale, a prospect from Chalk Farm, lanes in Whitechapel, and so on.  Always I find in London a sense of secrets– some good, some less so– marshalled behind the facades, tucked away just around the corner of the mews…whereas here in NYC, what you see is usually what you get, for better or worse we are much more "in your face."  For me, fantasy is about sensing and pursuing the hidden, the secretive, so London feels much the b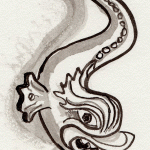 etter fit for converse with Yount.  (Also, I fell in love in London with my wife and creative partner, Deborah Mills, who was at the time studying there.)   Having said that, NYC makes a cameo appearance in The Choir Boats (as a waystation for Maggie and her mother), and might just play a more central role in later books about our world and Yount.  Delia Sherman has certainly shown how effectively NYC can serve as a portal for fantasy in her Changeling books!
What kind of research did the novel involve?
I earned my PhD in modern European history…the research for The Choir Boats stems largely from my doctoral work on 18th- and 19th-century merchants in northern Europe.  I often feel like Pierce Moffett, the idiosyncratic historian in John Crowley's Aegypt Cycle, asking whether the world has more than one history.  Or the protagonists in the works of Umberto Eco and of A.S. Byatt, hunting for clues in a rebarbative and ever-branching history.
You obviously love playing with language. Who are your favorite writers and what stream of fiction do you think influenced your novel?
Austen,  Blake, Dickens, Hesse, Borges and Mann are deep influences, as are Meryvn Peake and Ursula K. Le Guin.  Pope, Dickinson, Hopkins, Moore, Hughes, Heaney.  Lately I have been reading Z. Z. Packer, Elise Paschen, Sarah Lindsay, Alice Oswald, Nathaniel Mackey, Andrea Barrett, Nnedi Okorafor.  I especially like the writers I loosely call 'the New Stylists": Theodora Goss, Cat Valente, Sonya Taafe, JoSelle Vanderhooft, Sandra Kasturi, Naomi Novik, Susanna Clarke.  "Neo-Romanticists" might be a better label, as their various uses of language evoke Endymion, Alastor, Tieck's Fantasus and Novalis's search for the blue flower.  Greer Gilman and Ellen Kushner are the pioneers here, their wordplay (simultaneously lush and incisive) an inspiration to the most recent cohort.  Sarah Micklem and D.L. Cornish are two other writers whose prose sings to me.
As the book goes on you include an increasing number of literary characters and play more with the idea of stories. Will these characters ever cross over from story to our world?
Yes, though precisely how is still being marinated in my night-kitchen.  I do know that a certain Elizabeth Darcy (born Bennett) will play a minor but necessary role in The Indigo Pheasant, or, A Tax from Heaven, the sequel to The Choir Boats. Careful readers will recall that Elizabeth is a friend of Sally's through Elizabeth's City relatives.
What beverage and snack should readers have ready to read your book?
A rich black tea with lots of milk and sugar, and gingerbread or almond cookies.  The Dutch and Flemish make a ginger-cinnamon-nutmeg cookie for the winter holidays called speculaas that would be particularly appropriate.
Mmm. Thanks Daniel!
---
Fri 13 Nov 2009 - Filed under: Not a Journal., To Read Pile, YouTube| Posted by: Gavin
Go read Going Bovine. But first, watch this (old but excellent short):
---
Sat 7 Nov 2009 - Filed under: Not a Journal., food, the world, To Read Pile| Posted by: Gavin
Jonathan Safran Foer's new book Eating Animals is causing a nice ruckus on the Huffington Post — and lots of other places. Nice to see people thinking about their impact on the world. I think it would be a great bookclub pick. For those interested in the numbers, United Poultry Concerns posted a list of the numbers of animals slaughtered for food (US only):
Chickens
Total number died for food: 8.13 billion (7.67 billion for meat, 458 million for eggs)
Average number killed per American meat-eater: 27.5 (26 for meat, 1.5 for eggs)
Average number consumed per American lifetime: 2,147 (2,028 for meat, 120 for eggs)
…
ALL ANIMALS
Total number died for food: 80 billion
Average number consumed per American meat-eater: 270
Average number consumed per American lifetime: 21,000
---
Tue 6 Oct 2009 - Filed under: Not a Journal., Dear Aunt Gwenda, LCRW, To Read Pile| Posted by: Gavin
2 LCRW things (make that 4) about the next LCRW which is apparently number 25. Which, if we were numerically inclined would be yet another reason to celebrate. But we are too busy cutting lead type (um, no, not really) and then these:
We are collecting questions for Dear Aunt Gwenda. Please send us yours!
We just bought a couple of stories and if we are lucky we will have a translation (of an award winning story!) in the next issue and, separately, maybe more from a different country in the future.
We are catching up a little with submissions but in the pile there are even yet and still some submissions from at least as far back as February and March of this year. Darn.
I just read former LCRW contributor Daniel A. Rabuzzi's debut novel, The Choir Boats, (Indiebound/Powell's) a huge, inventive fantasy about 19th century London and Yount, another place,  and hope to post an interview here with him soon.
---
Tue 28 Jul 2009 - Filed under: Not a Journal., Books, To Read Pile, YouTube| Posted by: Gavin
The Times just did a piece on the history of Bookcourt in Brooklyn, a great place where we had Carol Emshwiller and others read, including a slideshow of the family's apartments above the bookshop — not enough books! But then, they have a store full of them.
One of our long-time volunteers, Sara Majka, recently read there on at the launch party for the latest issue of A Public Space and you can see her, Samantha Hunt, and editor Brigid Hughes in this taping of the evening:
---
Tue 7 Jul 2009 - Filed under: Not a Journal., To Read Pile| Posted by: Gavin
Kelly is currently hooked on Sarah Rees Brennan's The Demon's Lexicon (Gwenda has promised a post on it later this week) and says, "It's very Buffy-like. In fact, like Diana Wynne Jones crossed with Buffy. Your mileage with the cover may vary, but everybody ought to love this book."
---
Mon 29 Jun 2009 - Filed under: Not a Journal., Kelly Link, Publishing, To Read Pile| Posted by: Gavin
Excellent news! Kelly's story "Pretty Monsters" received a Locus Award this weekend:
which is awesome!
Cutting and pasting from the gender and country breakdown of previous posts: who are they, where do they come from?
Winners (if a person is in a category twice they were counted twice. Numbers are hopefully accurate):
10 men (USA)
3 women (USA)
Nominees:
50 men (32 USA, 9 UK, 6 AUS, 3 CAN)
16 women (14 USA, 1 UK, 1 AUS)
---
Thu 18 Jun 2009 - Filed under: Not a Journal., Publishing, To Read Pile, Zines| Posted by: Gavin
Steve Berman has put out the first issue of a new magazine, Icarus, through Magcloud, one of those Web 2.1 long tail site thingies where you can publish what you like on any scale. Since niche mags are dying off like dinosaurs after a meteor crash, it will be interesting to see how this develops.Not sure if we will put out LCRW through them the way we did with Lulu; the ebook + zine format ($5 vs. $13) works quite well at the moment.
Not sure if you can subscribe or not, but you can preview and order the first issue here:
Icarus is the first magazine devoted to gay-themed speculative fiction and writing – from fantasy to horror to science fiction, and all the weird tales that fall between the cracks. Our first issue features short stories by Jeff Mann, Joel D. Lane, Jameson Currier and Tom Cardamone; interviews with Dan Stone and graphic artist Peter Grahame; poetry by Lawrence M. Schoen; plus book reviews, an article about the Gaylactic Network, and brief happenings in gay publishing. Icarus is published by Lethe Press.
---
Mon 15 Jun 2009 - Filed under: Not a Journal., To Read Pile| Posted by: Gavin
Michael Northrup's firstnovel, Gentlemen, just got a review in the NYTimes and Michael, well, he's a funny guy, so: lifted from his site:
I am having a contest on my website to celebrate the review of Gentlemen in today's New York Times Book Review. The money line of the review is the last one: "Northrop's first novel is creepy, yet it has what can pass for a happy—or at least satisfying—ending." Yet it could be so much moneyer! That's where you come in.
Simply write your own ending to the sentence: "Northrop's first novel is creepy, yet…"
For example, Northrop's first novel is creepy, yet so is Northrop. So much fun! So much easy! Just leave your entry as a comment on my site. The winner will be picked by a celebrity guest judge and will receive amazing prizes! (You know, kind of.)
---
Fri 5 Jun 2009 - Filed under: Not a Journal., To Read Pile| Posted by: Gavin
but zombies, "talking animals, mermaids, a book that writes itself, a race of tiny people — whose lives are filled with pathos and tragedy — searching for their lost homeland, the ancient and massive ship of the series title; myths and legends from all and sundry, and haunting them all, a mad king who once declared himself a god. . . .
I reviewed Robert V. S. The Red Wolf Conspiracy for the Los Angeles Times and really enjoyed it. If you're looking for a big, smart, summer read, try this.
---
Fri 5 Jun 2009 - Filed under: Not a Journal., the world, To Read Pile| Posted by: Gavin
When GM goes into bankruptcy hope someone fires the people in the US who decided that is ok to make cars for Europe that get 71/59 mpg but not sell them here…. Autobloggreen reports on the latest Vauxhall Corsa:
It's not a hybrid and it doesn't have a plug, but Vauxhall's new Corsa ecoFLEX is the company's most fuel efficient production vehicle ever: on the UK's extra urban fuel cycle the car is rated at 71 mpg (U.S.); the combined rating is 59 mpg (U.S.). This is a boost of 13 percent compared to the previous high-mpg Corsa….
Want to go work on an indie film in Canada? Jim Munroe's latest project sounds fantastic—and you can be a part of it—a movie of a documentary series from 2040 when:
a generation of Torontonians have grown up after the economic collapse of the west. The movie consists of episodes of a documentary series popular in mainland China about the bad jobs some white people have — the plucky and resilient souls unlucky enough to be born into the slums of North America.
Follow the link for the casting call.
Add your memory object to Laura Moulton's new project Object Permanence which has an actual real world component as well the webpage. The Object Mobile is on the ground in Portland: track it down and add your own object.
Henry Wessells's Temporary Culture is producing another beautiful book:
HOPE-IN-THE-MIST
The Extraordinary Career & Mysterious Life
of Hope Mirrlees by Michael Swanwick
Hope-in-the-Mist is the first book-length study of British author HOPE MIRRLEES, whom Virginia Woolf described as "her own heroine — capricious, exacting, exquisite, very learned, and beautifully dressed." Raised in Scotland and Zululand, Mirrlees studied with the great classical scholar Jane Harrison and later lived with her in Paris and London. Mirrlees wrote one major poem, Paris (1920), the missing link between French avant-garde poetry and her friend T. S. Eliot's The Waste Land (1922) ; her novel Lud-in-the-Mist is an acknowledged classic of fantastical literature. An earlier version of Hope-in-the-Mist was published in the journal Foundation in 2003.
We're down for a copy. Maybe the trade paperback, but we're open to receiving copies of this edition:
30 copies, hand bound in chartreuse Asahi book cloth with Ann Muir marbled endsheets, signed by Michael Swanwick and Neil Gaiman, and with the frontispiece signed by Charles Vess.
Five copies lettered A – E, for presentation.
Subscribers issue, 25 numbered copies : $300 in U.S. ; foreign $325 (includes shipping and a copy of the trade issue).
And, Fred Pohl (on his great blog) outs himself as a photic sneezer. How about you?
---
Mon 18 May 2009 - Filed under: Not a Journal., Pop, To Read Pile, YouTube| Posted by: Gavin
Here's an interview with David Suisman just in time for his reading this Thursday at Barnes & Noble (105 Fifth Ave. at 18th St., New York, at 6pm) in NYC:
---
Thu 14 May 2009 - Filed under: Not a Journal., Audio out, John Crowley, John Kessel, To Read Pile| Posted by: Gavin
Karen Joy Fowler has a great essay about writing Wit's End on Powell's blog (Wit's End is just out in paperback, read now!). She does life in the connected (pre-collapse? c-cough) 21st century very well:
A lot of my novel is focused on privacy, and what that means in the age of the internet. This includes things like the creation of the author persona, the mediated fake intimacy of the net, and a new kind of accessibility of writer to reader.
John Crowley in The Believer (Four Freedoms coming soon):
"IT'S PROBABLY CENTRAL TO THE NATURE OF FICTION ALTOGETHER, TO TRY TO ENTER INTO LOST WORLDS OR ENTER INTO 'THE LOST' IN SOME WAY."
Reasons to get involved with the science-fiction crowd:
They speak Latin
They respond promptly to blogs
Their untamed romantic impulse
John Kessel on the podcastery and the radio:
In the first week of May I've had two interviews that are now available for your listening.  In the first, by Douglas Lain, author of LAST WEEK'S APOCALYPSE, we talk about science fiction, politics, utopia, some of my short fiction, and my twenty-year-old novel GOOD NEWS FROM OUTER SPACE). It's available at Dietsoap, Doug's quirky website, along with other recent podcasts.
The second interview was on the May 7 edition of "The State of Things" with Frank Stasio on WUNC radio, 91.5 FM in the Research Triangle. We talk about "Pride and Prometheus", Mary Shelley, and Jane Austen. Here's the link.
And another thing worth reading on Powell's, this time an essay by Lisa M. Hamilton, author of Deeply Rooted: Unconventional Farmers in the Age of Agribusiness:
Writing about farmers has taught me a lot about how to be a witness. In simplistic terms, it's because not much actually happens on the farm. Most days in the lives of farmers I know are composed of unremarkable tasks repeated over and over: milking one cow after another, weeding up this row and then down the next. Any writer who expects to swoop in, get a hot story, and then swoop out, will likely come away empty-handed.
I've learned that, to write about farmers, one must instead slow down to that rhythm of repetition. The writer must sit in the combine as it chugs along in concentric circles, taking hours to close in on the center of the field, only to pick up, move to the next field, and do it all over again. Being witness means a willingness to pass the same barn or tree or fencepost two dozen times and continually try to learn something new about it.
And Hannah Tinti (The Good Thief) gets an in-depth interview on Bookslut that goes well beyond the usual questions:
Women in this time period were almost always buried in their wedding dresses, because these were the nicest pieces of clothing they owned. I grew up in New England surrounded by old graveyards, and often picnicked and played in them. For this book I went back and spent time there and took many names for characters from the headstones.
---
Tue 12 May 2009 - Filed under: Not a Journal., To Read Pile| Posted by: Gavin
Holy crap, look at the size of that . . . review! The Wall Street Journal spends some time reading Selling Sounds, David Suisman's first book. You might know him from his old radio show on WFMU, or, you might not know him! Selling Sounds is about to come out and David's got a reading in NYC in a week or two (ok, details: Thursday, May 21, 6 PM, Barnes & Noble, 105 Fifth Ave. @ 18th Street) where you too can be wowed.
We'll have a little something from David in a week or so. In the meantime, maestro!
From Tin Pan Alley to RCA Victor: shaping musical taste, profiting from it.
In 1888, the music publisher M. Witmark & Sons opened an office near Union Square in New York, not long after the fledgling company had enjoyed success selling sheet music for a song penned by one of the Witmark boys, "President Cleveland's Wedding March." Witmark would go on to play a major role in the commodification of music from the late 19th century to the Depression — the subject of David Suisman's "Selling Sounds." As the author notes in an epilogue, the Witmark building was just a few doors away from a contemporary bastion of what the commercialization of music wrought: a Virgin Megastore. Now, in an epilogue to his epilogue, Virgin's music emporium will soon become a thing of the past: Like so many other retail music stores of late, it has announced that it is going out of business. The story of "Selling Sounds," then, is especially timely.
---