Mon 4 Feb 2019 - Filed under: Not a Journal., Bestsellers, Books, ebooks, Publishing| Posted by: Gavin
While collecting info and working on 2018 taxes and royalties, I thought it would be fun (for me at least) to look at some 2018 sales numbers — or at least some relative numbers. This is still true:
Congratulations to my friend @cassieclare whose new book QUEEN OF AIR AND DARKNESS just sold more copies in one week than we've sold all year! (SO FAR! You never know, right?) What fun—can't wait to read: https://t.co/olnLAe9NCa pic.twitter.com/vQy2Ac2Oxo

— Small Beer Press (@smallbeerpress) December 17, 2018
In terms of sales, 2018 seems to have been our best year yet — thank you authors, booksellers, and writers! And since 2017 when we raised LCRW pay rates to $0.03/word for fiction subscriptions have started going up again. Subscription choices R us.
What had been a resurgence of print sales in the last few years dropped off a little as ebooks rose to just less than a third of total sales. Here's a chart comparing our print to ebook sales from 2010 to 2018. We've been selling ebooks since at least 2005 and you can see that in 2010 print still held about 90% of sales. That dropped to 50% by 2014 — which is why lots of people were very worried about the future. I'm glad to see the rebalancing that's happened in the last couple of years. However, I don't think too much can be made from this chart as Small Beer sales aren't a good snapshot of publishing in general: our sales volumes are too low, publishing schedules too irregular, and too easily impacted by variations in the sales of one or two books.
Of those books sold, here are our 2018 Top 10 Bestsellers

Notes:
This bestseller list is made up of net sales (gross sales minus returns) of our print and ebook editions.
These are not NPD/Bookscan figures or sales from Consortium our distributor.
This list does not include any ebooks that were included in Humble Bundle or StoryBundles.
This list does not include copies sold to book clubs.
I've put a * by the five 2018 titles that made this list: new books keepin' the lights on!
Hey, doubters: short story collections sell.
Our 2018 bestseller came out in 2017: Sarah Rees Brennan's In Other Lands is a powerhouse. We have a paperback coming in September which I expect will be our 2019 bestseller.
Kij Johnson's collection At the Mouth of the River of Bees came roaring back in at #2 due to thousands of copies being picked up to go with a textbook which contains her unforgettable story "Ponies."
#3, ach.
Nathan Ballingrud's North American Lake Monsters continues to do well — I imagine partly because of the upcoming film based on one of his stories (not included in this book) and partly because NALM has scared the heck out of a reader they then pass it on to scare the heck out of a friend.
And coming in at #10 is the first book we published and one of the main reasons we get to keep publishing books, Kelly's perennially solid selling debut Stranger Things Happen.
I saw that in a previous post like this [2011 · 2012 · 2013 — I know I was too depressed in the last couple of years to do these] I'd also noted which books were included in the annual Locus Recommended Reading list, so here are our 2018 titles on the just-released list, alphabetically by title:
Did we really just publish 3 collections all beginning with A? Weird. And look at all that black and orange below.
Not everything we published made the list, but it was a good showing none the less. Congratulations to all the writers on the list, it is a great thing to be read. Feel free to vote for these books and any other faves in the Locus survey. And to those authors not on the list, next time.
Here's our plan for 2019 and 2020, should we all survive, is looking good. Thanks for reading this and any (or all!) of the books and zines we published in 2018.
---
Sun 31 Mar 2013 - Filed under: Not a Journal., Books, keep it indie, the world| Posted by: Gavin
Goodreads tells me I joined the site in December 2008 and that, weirdly, in 2009, 2011, and 2012, I added 70 books to the read shelf. (If I didn't know myself better I'd think I was messing with the numbers!) I added older titles and then settled in to mostly keeping it up to date. I friended people I knew, some people I knew and didn't friended me back, and I was fascinated to see what people were actually reading. I really enjoyed it and I'd been so proud to keep some of the Goodreads books in their database when they stopped using Amazon's data!
And then last week Goodreads announced that Amazon had bought them. I was completely scunnered by the sale. Like Rob Spillman of Tin House I figure it's kind of too late, Amazon have just bought the last 5 years of my reading history, but I'm deleting my account this week. (Already added my books to my LibraryThing account as a stopgap) I didn't do it straight away as I wanted to think through my gut reaction of: "Oh No!" But a couple of days later, it's still the same. So this week all the Goodreads widgets will be cut from the site. Through our distributor, we sell books through Amazon and in turn they'd like to run us and all other publishers into and under the ground for daring to publish books instead of all authors signing their horrible print contract. So for many years it has been our policy not to link to Amazon or (when I can keep all of them in mind, any of their many subsites, see next para) and the only time I pay for anything through Amazon is for Kickstarter.
Amazon own (bold = book related): Amazon Publishing, Amazon Web Services, Abebooks, Audible, Book Depository, BookSurge, BoxOfficeMojo, Brilliance Audio, CreateSpace, Diapers.com, Goodreads, IMDB, Lexcycle, 40% of Library Thing (through Abebooks—although this is apparently complicated), Mobipocket, Shelfari, Woot, Zappos. Etc.
Wikipedia notes: "In August 2005,[110] Amazon began selling products under its own private label, "Pinzon" . . . . AmazonBasics is a private-label consumer electronics product line."
Amazon positives: their data mining is intellectually fascinating. They give out tiny halo-effect grants to literary organizations (so that everyone has to pay lip service to them). Their BreakThrough Novel Award (which is now their in house publishing competition). They pay sales tax in a few states now. Jeff Bezos, as millionaires have always done, follows his own weird (Blue Origin) with his investments.
But. Amazon wants to be everything to everyone. Some people have suggested they want to kill off public libraries (because kids need tablets instead of storytime and parents don't need any free places to take their kids . . .) They want to make the product (cup, book, sheets, cable, movie, whatever) and sell it to you. Instead of inefficient towns and shopping centers, they'd rather everyone ordered online and got stuff delivered to them and in the end it will be Amazon and the delivery company left standing.
Sounds utterly vapid and uninspiring to me.
We spend our time publishing books we love and trying to get them into the indie bookstores we love so that readers can find them there. It mostly works. We expect we'll be doing it for a while.
And then there is temptation. On Metafilter Open Library was mooted as an alternative user George_Spiggott posted "I would seriously pitch in time and technical effort to building a new site that everyone could simply pick up and move to. Because that would be a frickin' brilliant outcome. Especially if the ToS at signup committed the site to remain nonprofit and to have no exclusive marketing agreements."
Which is where temptation lies. I mentioned earlier today on Weightless that Michael and I were tempted to build an alternative to Goodreads:
" … building a new community reading site with books, reviews, comments, forums, all the things we liked about Goodreads, but without the all-encompassing Univac behind it. To keep it independent I figure we should make it a $4.99 annual subscription built along the lines Flickr uses: you could add up to 500 books for free then the oldest ones would disappear (from public view, not to you) unless you subscribed. Maybe there could be other subscriber only features, not sure, the site would do best if people use it for a while for free. If you're seriously interested in kicking this idea around, email me!"
Kickstarter might be the way to fund it: obviously we'd need to pay for data feeds, storage and usage, and coding, coding, coding. Again, Wikipedia: "In December 2007, the site had over 650,000 members[3] and over 10,000,000 books had been added.[4] As of July 2012, the site reported 10 million members, 20 million monthly visits, and 30 employees.[5]" That's a lot of data going back and forward.
Goodreads was seven years old, ancient!, and had a lot of bells and whistles and if we do take this on, the new site should get out the gate as an attractive site that's worth joining early and taking part in.
What I'd love to do is kick the idea around some more, hear what readers want, and see if this seems possible for a small group of underfunded readers. Internets?
---
Thu 7 Oct 2010 - Filed under: Not a Journal., blind consumerism, Books, bookshops| Posted by: Gavin
Well, here's one reason we mull over now and then:
After various discounts and our excellent distro's cut, Small Beer Press usually receives 33.375% of the cover price when you buy a book from RudeGorilla.com.
So: should we cut the author's royalty in half the way our contract says we can? (The way other publishers do for books we've sold them.)
On a paperback the author royalty would be 4-5%. ($0.64 – $0.80 on a $16 paperback.)
On a hardcover the author's royalty would be 5-7.5%. ($1.20 – $1.80 on a $24 book.)
Sucks, doesn't it?I don't think we should do it but 33.375% doesn't give us a hell of a lot of money to pay everyone else with. Ho hum, on with the show.
And, in the meantime: not so random Powell's link!
---
Tue 19 Jan 2010 - Filed under: Not a Journal., Books, Interviews, LCRW, To Read Pile| Posted by: Gavin
Computer troubles and the new year intervened but, here, at last, gingerbread and tea at the ready, is our promised interview with past-LCRW contributor Daniel Rabuzzi whose first novel of The Choir Boats, Volume One of Longing for Yount, was recently published by Chizine Publications. The Choir Boats is great fun: Rabuzzi's characters are original and as the book leaves London behind the reader is off into a fresh and lively new world.
Daniel keeps a blog where he interviews artists and writers, reports on readings (and what he's reading) and what he and his wife, wood carver Deborah Mills, are up to so it only seemed fair to put him on the other side of the paper:
Let's start with the basics: how long did it take you write The Choir Boats?
Bits of The Choir Boats come from my journals and sketchbooks going back as far as junior high school. Then, one Sunday in May, 2002, I sat down to write my brother a letter and instead Barnabas, Sanford, Sally and Tom appeared in the house on Mincing Lane… quite unforeseen, I must tell you, but very welcome!   I delivered final edits on the manuscript in May, 2009, so I needed seven years for The Choir Boats.
You live in NYC, why did you set the novel in London?
Ah, a great question…I think of NYC and London as half-twins: we have a Chelsea and a Soho, they have a Chelsea and a Soho, and so on (alike, and yet so very different).  I have spent about a year in total in London over the past few decades: on business in the City, researching at the British Library, visiting friends, spending hours in the Charing Cross bookstores and at the V & A…and always tramping around the quirkiest precincts I can find– small streets in Lambeth or Maida Vale, a prospect from Chalk Farm, lanes in Whitechapel, and so on.  Always I find in London a sense of secrets– some good, some less so– marshalled behind the facades, tucked away just around the corner of the mews…whereas here in NYC, what you see is usually what you get, for better or worse we are much more "in your face."  For me, fantasy is about sensing and pursuing the hidden, the secretive, so London feels much the b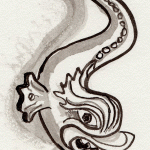 etter fit for converse with Yount.  (Also, I fell in love in London with my wife and creative partner, Deborah Mills, who was at the time studying there.)   Having said that, NYC makes a cameo appearance in The Choir Boats (as a waystation for Maggie and her mother), and might just play a more central role in later books about our world and Yount.  Delia Sherman has certainly shown how effectively NYC can serve as a portal for fantasy in her Changeling books!
What kind of research did the novel involve?
I earned my PhD in modern European history…the research for The Choir Boats stems largely from my doctoral work on 18th- and 19th-century merchants in northern Europe.  I often feel like Pierce Moffett, the idiosyncratic historian in John Crowley's Aegypt Cycle, asking whether the world has more than one history.  Or the protagonists in the works of Umberto Eco and of A.S. Byatt, hunting for clues in a rebarbative and ever-branching history.
You obviously love playing with language. Who are your favorite writers and what stream of fiction do you think influenced your novel?
Austen,  Blake, Dickens, Hesse, Borges and Mann are deep influences, as are Meryvn Peake and Ursula K. Le Guin.  Pope, Dickinson, Hopkins, Moore, Hughes, Heaney.  Lately I have been reading Z. Z. Packer, Elise Paschen, Sarah Lindsay, Alice Oswald, Nathaniel Mackey, Andrea Barrett, Nnedi Okorafor.  I especially like the writers I loosely call 'the New Stylists": Theodora Goss, Cat Valente, Sonya Taafe, JoSelle Vanderhooft, Sandra Kasturi, Naomi Novik, Susanna Clarke.  "Neo-Romanticists" might be a better label, as their various uses of language evoke Endymion, Alastor, Tieck's Fantasus and Novalis's search for the blue flower.  Greer Gilman and Ellen Kushner are the pioneers here, their wordplay (simultaneously lush and incisive) an inspiration to the most recent cohort.  Sarah Micklem and D.L. Cornish are two other writers whose prose sings to me.
As the book goes on you include an increasing number of literary characters and play more with the idea of stories. Will these characters ever cross over from story to our world?
Yes, though precisely how is still being marinated in my night-kitchen.  I do know that a certain Elizabeth Darcy (born Bennett) will play a minor but necessary role in The Indigo Pheasant, or, A Tax from Heaven, the sequel to The Choir Boats. Careful readers will recall that Elizabeth is a friend of Sally's through Elizabeth's City relatives.
What beverage and snack should readers have ready to read your book?
A rich black tea with lots of milk and sugar, and gingerbread or almond cookies.  The Dutch and Flemish make a ginger-cinnamon-nutmeg cookie for the winter holidays called speculaas that would be particularly appropriate.
Mmm. Thanks Daniel!
---
Mon 14 Dec 2009 - Filed under: Not a Journal., Books, Carol Emshwiller, Interstitial Arts, Vincent McCaffrey| Posted by: Gavin
Thanks to everyone who blogged and tweeted and got the word out on our sale, it continues apace. The Mike FM radiothon raised $93,700 for Franciscan, which is just amazing. Yay and yay and yay!
And, nice segue, there's a good review of Interfictions 2 here from King Rat, who, awesomely, donated the cost of the book to Franciscan Hospital for Children. Another review. And David Soyka @ Black Gate.
List-lovers, here's a good one: io9.com included Carol Emshwiller's novel The Mount in their 20 Best Science Fiction Books of the Decade. It's another interesting list (of sf+f) and of course works as a great conversation starter. The Mount received the Philip K. Dick Award and is indeed a
deceptively simple story about humans revolting against a group of alien conquerers who love humanity – as pets they can ride on.
Hound is 20% off at RiverRun and so are all of their Forty Favorite Books of 2009—great list of books; we advise stocking up.
Nancy Pearl always has some good reading recommendations.
Rain Taxi are having their annual auction which is always good for a pressie … or maybe something for yourself.
Kaleidotrope subscriptions are on sale—grab one before Fred changes his mind!
io9 links to the must have squid + owl.
---
Thu 19 Nov 2009 - Filed under: Not a Journal., 51%, Books, national book awards, the world| Posted by: Gavin
1 guy, 2 guys, 3 guys, 4 guys. Plus: 2 extra guys.
---
Wed 4 Nov 2009 - Filed under: Not a Journal., Books, Karen Lord| Posted by: Gavin
That's what Nalo Hopkinson says of Karen Lord's debut novel: "The impish love child of Tutuola and Marquez. Utterly delightful." Yes it is, yes it is!
---
Tue 3 Nov 2009 - Filed under: Not a Journal., Books, Interstitial Arts, readings| Posted by: Gavin
It's publication day for Interfictions 2 (yay!) and there's a lot going on:
There's a reading tonight at 7 PM at Borderlands Books in San Francisco, CA

What could be a better match for Borderlands than a collection celebrating art that crosses borders?

Amazon.com selected Interfictions 2 as one of the Best Books of 2009!
(And if you're not sure where this interstitial book belongs, Amazon says science fiction & fantasy. But you might want to look for it in fiction or anthologies as well.)
A second piece of art has been posted to the auction.
There are more free stories in the Interstitial Annex:
"Quiz" by Ellis O'Neal
"Some Things About Love, Magic and Hair" by Chris Kammerud
"For the Love of Carrots and The Luxembourg Gardener" by Kelly Cogswell
"Stonefield" by Mark Rich
Keep an eye on the Library Thing blog as they will have 15 copies of Interfictions 2 going out to their Early Reviewers.
Pre-orders have shipped out and the book should be in stores and libraries this week.
Don't despair ebook readers: the book is available as a DRM-free PDF directly from us or in many formats on Fictionwise.
This week there are readings all across the country: drop in and join the fun! These are events you won't want to miss—readings, music, light shows, unicyclists (maybe), and so on:
NEW YORK
Friday, November 6 at 7:00 p.m.
Housing Works Bookstore Cafe
126 Crosby Street
LOS ANGELES
Tuesday, Novemberr 10 at 8:00 p.m.
M Bar
1253 Vine (at Fountain)
BOSTON
Friday, November 13 at 7:30 p.m.
The Lily Pad
Inman Square
1353 Cambridge Street
---
Sun 25 Oct 2009 - Filed under: Not a Journal., Books, internets, Publishing, stock market| Posted by: Gavin
So why isn't there something like Fantasy Football or the Hollywood Stock Exchange for books? Wouldn't it be fun to bet who was going to be #1 next week, which house would have all the NBCC winners, etc., etc.? And if game-theory peeps are to be believed, wouldn't the simulacrum give us some sense of the real world?
Anyway, some techy-programy-bookie-type person out there: please go and make millions on this now, please, thank you.
---
Tue 28 Jul 2009 - Filed under: Not a Journal., Books, To Read Pile, YouTube| Posted by: Gavin
The Times just did a piece on the history of Bookcourt in Brooklyn, a great place where we had Carol Emshwiller and others read, including a slideshow of the family's apartments above the bookshop — not enough books! But then, they have a store full of them.
One of our long-time volunteers, Sara Majka, recently read there on at the launch party for the latest issue of A Public Space and you can see her, Samantha Hunt, and editor Brigid Hughes in this taping of the evening:
---
Wed 8 Jul 2009 - Filed under: Not a Journal., Books| Posted by: Gavin
We are pleased to announce after, oh, a brief delay, the winners of the The Manual of Detection Mystery Contest we instigated some time back. Many fine mysteries were submitted, and we'd like to coat each of them in gold and jewels and stage heists around them, but we promised only five winners, each of whom will receive a signed copy of Jedediah Berry's novel. Here are answers to the mysteries they posed:
Sue asked: Every time I take the subway, I always notice a cluster of pigeons hanging around. However, all of these pigeons are fully grown. Whatever happen to the baby pigeons? Why don't we or I see them anywhere? Does the pigeon self replicate? Or is the answer to my question so mundane that my brain cannot grasp it?
All pigeons send their children away to act on soap operas. How else to explain the phenomenon described by Marta, below?
Marsha: Are there more teapots or people?
If we knew the answer to that question, we would have retired by now. Why do you taunt us?
Kaethe: Why did my grandfather carefully pull back his suit coat before he shot himself in the heart through his vest and shirt?
Because he was a gentleman, and because he was carrying the gun in the inner pocket of his coat.
Marta: When soap opera children go upstairs and come back down in a month and they are adults….WHAT HAPPENS UP THERE?
All children on soap operas are played by pigeons.
Keith: Why is it that, in the movies, vampire hunters always hunt vampires at night? Why don't they wait until dawn and do it during the day?
Members of the Vampire Hunters Labor Union must abide by a number of strict rules. Hunting vampires at night, despite rumors to the contrary, is not one of these rules. They hunt at night because that is when they choose to hunt.
So, Marta, Marsha, Kaethe, Sue, and Keith: thank you and congrats! Please claim your prize by sending your mailing address to smallbeerpress@gmail.com.
---
Mon 6 Jul 2009 - Filed under: Not a Journal., Books| Posted by: Gavin
We interrupt this silence to note that the invisible chickens on the green green grass roof of the Small Beer Press office building in New York City have begun pecking out the first stories of the new issue of LCRW.
Invisible chickens are one of the ways we are getting around the new economic straits (invisible dhow Jones are another): so much cheaper than typesetters. We do not think that most "readers"* of the zine will notice the difference in layouts.
Who are the writers in this issue? They are (depending on how you prefer these things) world famous writers whose work we are just so happy to publish. Or, they are new writers hungry for your open hearts (and eyeballs). Or, invisible chickens on the green green grass roof. Or, some regulars, some irregulars, some real, some imaginary, some magic, some dead, some dreamy, some dusking.
*we know that most of our "readers" actually subscribe so that they can enjoy the stenographic treats hidden within the covers.
---
Wed 27 May 2009 - Filed under: Not a Journal., 51%, Award Season, Books, Kelly Link, Year's Best Fantasy & Horror| Posted by: Gavin
Almost forgot one of the award lists that came out recently: way back in April (where's the telescope? Who can look back that far?) the finalists for the Locus Awards were announced. A bit of a disappointment in the collection department that John Kessel or Ben Rosenbaum didn't get nominated, c'est la vie with awards seasons though.
Here's the Small Beeriana-connected stuff (a bit of a reach, but Kelly still works here) and it was nice that the final Year's Best volume received a nod:
Carrying on from the gender and country breakdown of previous lists: who are they, where do they come from?
Finalists (if a person is in a category twice they were counted twice. Numbers are hopefully accurate):
50 men (32 USA, 9 UK, 6 AUS, 3 CAN)
16 women (14 USA, 1 UK, 1 AUS)
SCIENCE FICTION NOVEL
5 men (2 UK, 3 USA)
FANTASY NOVEL
3 men (3 USA)
2 women (2 USA)
FIRST NOVEL
4 men (1 UK, 3 USA)
1 woman (1 USA)
YOUNG-ADULT NOVEL
4 men (1 CAN, 1 UK, 2 USA)
1 woman (1 AUS)
NOVELLA
4 men (2 UK, 1 USA, 1 CAN)
2 women (2 USA)
NOVELETTE
4 men (1 UK, 2 USA, 1 CAN)
1 woman (1 USA)
SHORT STORY
3 men (3 USA)
3 women (3 USA)
ANTHOLOGY
5 men (3 USA, 2 AUS)
2 women (2 USA)
COLLECTION
4 men (4 USA)
1 woman (1 USA)
EDITOR
4 men (3 USA, 1 AUS)
1 woman (1 USA)
ARTIST
5 men (4 USA, 1 AUS)
NON-FICTION/ART BOOK
4 men (2 USA, 1 UK, 1 AUS)
2 women (1 USA, 1 UK)
---
Tue 28 Apr 2009 - Filed under: Not a Journal., Books, John Kessel| Posted by: Gavin
The Nebula Awards were given out this weekend at the LA Times Book Festival and it's a great slate of winners, including many Small Beer authors and friends including Kate Wilhelm who received one of the inaugural Solstice Awards, John Kessel, whose story "Pride and Prometheus" is getting nominated for every award there is and which received the award for Novelette, and Ursula K. Le Guin, who received the Best Novel for Powers. (Powers is a really good book, but Voices, the middle of the three Western Shore novels, is fantastic.)
Carrying on from looking at the gender breakdown of the Tiptree list: who are they, where do they come from?
Winners: 1 man; 4 women
Nominees*: 16 women; 14 men
* includes Norton Award but not script.
And here's the reading list:
---
Tue 28 Apr 2009 - Filed under: Not a Journal., Books| Posted by: Gavin
I don't like guns. 30,000 people are killed every year with guns in the USA. That's only 0.01% of the population but it's thousands more than would be killed if guns were illegal. It's really, really hard to carry out a massacre at your local school without guns. How is it that we even have the recognizable catchphrase "school shooting"? Why doesn't that phrase make the NRA spin in their spinning suits?
However you or I feel about owning guns, former President and proud gun owner Jimmy Carter calls it on assault weapons:
I have used weapons since I was big enough to carry one, and now own two handguns, four shotguns and three rifles, two with scopes. I use them carefully, for hunting game from our family woods and fields, and occasionally for hunting with my family and friends in other places….
But none of us wants to own an assault weapon, because we have no desire to kill policemen or go to a school or workplace to see how many victims we can accumulate before we are finally shot or take our own lives. That's why the White House and Congress must not give up on trying to reinstate a ban on assault weapons, even if it may be politically difficult.
Please write to your representative to support the ban on assault weapons.
---
Mon 27 Apr 2009 - Filed under: Not a Journal., Books, John Kessel| Posted by: Gavin
I'm very happy to see that the Tiptree winners and honor list have been announced. I was the chair of the jury this year and we very much enjoyed reading the recommended work. As with my experience on the World Fantasy Award jury, I can highly recommend the reading list and hasten to point out that an appearance there is a rare and wonderful honor. I can't wait to see the art that each of the winner's will receive (and hear about the song…). I recused myself from discussions of any Small Beer Press or Kelly's stories so it is great to see John Kessel's great story, "Pride and Prometheus," made it onto the list anyway.
It never struck me to do this while the jury were working but just now I looked at the winners and honor list in the way I normally look at winners: who are they, where do they come from?
Winners: 1 man (UK); 1 woman (USA)
Honor List: 7 women (4 USA, 2 Australia, 1 UK); 5 men (4 USA, 1 Sweden)
Here's the whole list: how many have you read?
2008 Tiptree Award Winners Announced!
The James Tiptree, Jr. Literary Award Council is pleased to announce that the 2008 Tiptree Award has two winners: Patrick Ness's young adult novel, The Knife of Never Letting Go (Walker 2008) and Nisi Shawl's short story collection, Filter House (Aqueduct Press, 2008). Read more
---
Fri 3 Apr 2009 - Filed under: Not a Journal., Books| Posted by: Gavin
We just read the program guide for the Mass. Library Association's annual conference and found it is full of fabulous things to do and people to see (Lynda Barry!). So our question to any librarians in Massachusetts is: can you help us get in?
---
Mon 9 Mar 2009 - Filed under: Not a Journal., Books, Writer's Daily Planner| Posted by: Gavin
In August we're going to publish something different: the first in what we're hoping will be an annual series of . . . desk calendars(!) with
A Working Writer's Daily Planner 2010: Your Year in Writing. (You can preorder it using that Paypal link or here.) We figured there was a gap for something like this, so why not go for it.
The calendar will be published in August so we're almost finished putting it together and we've been having great fun adding all the things we would like to be in a calendar.
And then we thought: there's a whole big internet of people who might, just might, have some opinions on this, too, so here we go: what are you looking for in a planner/calendar/diary? What is the killer app (as it were, this is a book, there may be an online component of it later, we're not sure) that would make this irresistible to you—or for someone else as a gift? Is it phases of the moon? Birthdays of interesting people? Converter tables between liters and pints, inches and centimeters, parsecs and kilograms?* Market information? Blank space?
Some of these will be in the calendar, some won't. We're looking for your help to make this better and we're looking forward to your suggestions. So, please, send in what you'd like in it and feel free to repost this on anywhere else.
* That's a tough one. May need a physicist or two to help us there.
---
Thu 19 Feb 2009 - Filed under: Not a Journal., Books| Posted by: Gavin
Jedediah Berry's awesome first novel, The Manual of Detection, is out Today! Today! Run to your local bookshop and if they don't have it firebomb them, er, ask politely when they will have it in. If they do have it, what are you reading this for? Go read the book.
Or, maybe you will win a free copy!
We were going through Jed's desk the other day and found a few lonely and unread copies so we decided that we should find them good homes. First, we made him sign them, and now, clearly, it's time for a contest.
To enter, leave a comment on this post with a mystery in need of solving. Personal or historical, major or quotidian, real to everyone or just to you. We'll choose five of the most strange and intriguing mysteries and those folks will get a copy of The Manual of Detection. They may even get their mysteries solved. (Please don't wait around for that to happen.)
Submit conundrums and enigmas within a week or so. And in the meantime, you may want to read up on the Manual over here: www.manualofdetection.com.
---
Tue 13 Jan 2009 - Filed under: Not a Journal., Books, Publishing| Posted by: Gavin
Here's a book we've been looking forward to publishing for a while: Hound, the debut mystery from long-time Boston bookseller, Vincent McCaffrey, which we'll be putting out in hardcover in September.
Vincent is working on the on the final draft (as well as a follow-up novel, always good news for mystery readers), then there'll be review copies going out, at some point there'll be a cover—maybe even by BookExpo in May, hey, you never know—then he'll meet some other booksellers at the New England Indie Bookseller Association trade show in September, and the book will come out (set in Baskerville type, as requested by the author!), and readers everywhere will get to enjoy this slow-burning mystery.
Vincent owns the Avenue Victor Hugo Bookshop (AVH) and has a great new website where he's posting good pieces on the state of publishing, bookselling, and all those good things. AVH is now an online bookshop and we still get to see Vincent when he comes out to the Northampton book auction (a dangerous place). We (Gavin & Kelly) met while working there. Long before our time he had published a series of magazines, Fiction, Gallileo, even managing one issue of Galaxy, with help from writers and editors such as Charlie Ryan, Floyd Kemske, and contributors such as Connie Willis and John Kessel.
In the last couple of years, since moving the bookshop out of Boston, Vincent has been writing up a storm and we've been enjoying reading his novels as they've been sent out our way. It's been good to work with Vincent again and we're looking forward to getting his old-fashioned mystery out there to readers.
---
Sat 20 Dec 2008 - Filed under: Not a Journal., Books, Publishing| Posted by: Gavin
The latest issue of Poets & Writers has a great, solid, seitan-y* conversation between four agents, "The New Guard," as they're deemed: Julie Barer (Barer Literary), Jeff Kleinman (Folio Literary Management), Daniel Lazar (Writers House), and Kelly's agent, Renee Zuckerbrot (Renee Zuckerbrot Literary Agency) where the four of them were given plenty of space to talk.
It's like reading the transcript of a focused panel (with a skilled moderator) where everyone got to say everything (or almost everything, no doubt) that they wanted to say. There is a lot of really useful information for writers—and anyone with any interest in the business of publishing:
ZUCKERBROT: The point is, how do we create a new generation of readers? That's one of the many reasons why Harry Potter has been so fabulous. We have to grow new generations of readers. And technology can help. I'm a dinosaur. I grew up with books and typewriters. But this new generation wants all the gadgets. They want to be able to play with it and they want to be nimble.
BARER: I have to say, I really hate this debate of either/or. That we're either going to become this electronic world or we're going to be dinosaurs. Hopefully we will continue to grow readers, and people will read in several mediums, whether it's on their computers or on their e-book-version whatevers or on the printed page. The goal of agents and publishers is to keep finding ways in which we can reach as many of those readers as possible and provide as many opportunities for them to read our books as we can. Not just one way, but many ways.
KLEINMAN: That's the problem. I don't think that's what publishers are doing now. They are going by the same old Paleolithic ways of doing things. They are translating this ancient technique of reading into the Kindle. But it's the same thing. And I think it needs to be something different.
And once there, you might dig around, like the other PW, Poets & Writers don't skimp on the online material. (You know, that stuff you're skimming instead of reading a book.)
*it's like meaty without increasing your chance of colorectal cancers.
---
Mon 24 Nov 2008 - Filed under: Not a Journal., blind consumerism, Books| Posted by: Gavin
Apparently One lucky driver in the US will be going around in a Mitsubishi i MiEV! Here's what it looks like (and a pic of the toy one we have to content ourselves with until this country is lucky enough to get some for actual people to drive):
---
Mon 24 Nov 2008 - Filed under: Not a Journal., blind consumerism, Books| Posted by: Gavin
Apparently One lucky driver in the US will be going around in a Mitsubishi i MiEV! Here's what it looks like (and a pic of the toy one we have to content ourselves with until this country is lucky enough to get some for actual people to drive):
---
Fri 14 Nov 2008 - Filed under: Not a Journal., Benjamin Parzybok, Books| Posted by: Gavin
Alan has a hilarious AP piece that might have run in the NYTimes the other day:
WASHINGTON–House Speaker Nancy Pelosi called for "emergency and limited financial assistance" for the battered U.S. independent bookstore industry today, and urged the outgoing Bush administration to join legislators in reaching a quick compromise….
Just found a piece on PW about Obama and Chicago bookshops:
57th Street's most famous customer, who's been a member of the three-store consumer cooperative since 1986, was elected president of the United States last night.
More books for the holidays stuff: Bookselling This Week reports:
More than 70 alternative newspapers are encouraging their readers to spend at least $100 at locally owned businesses in their communities this fall … according to the Association of Alternative Newsweeklies, a trade organization …  which developed the project with … the Business Alliance for Local Living Economies (BALLE) and the American Independent Business Alliance (AMIBA).
They use some specious math to come up with some huge amount of cash that could be circulated into local economies. At least some of those readers don't have $100 to spend on books and some other proportion will be spending at least that amount but, sure: why not use hyperbole to get coverage of a good idea: buy books and buy them locally.
---