Mon 11 Feb 2019 - Filed under: Not a Journal., film, Kelley Eskridge, Nathan Ballingrud, Ted Chiang | Posted by: Gavin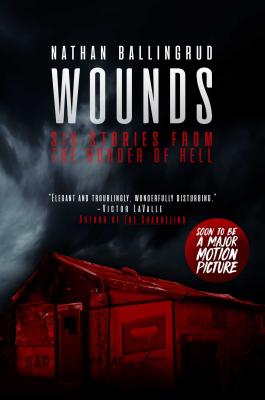 Speaking of film and TV adaptations (as I sort of was a few days ago), I'm looking forward to seeing Babak Anvari's new film Wounds which is based on Nathan Ballingrud's story "The Visible Filth." (Nathan is in the audience in the video from the Sundance film festival linked there.) Ok, so part of me can very much wait to see it. There's a lot I don't really like about horror movies; there are all these monsters and the insides of people keep getting moved to the outside, ugh.
For a hot second, before Saga/Simon & Schuster swooped in and scooped it up, it looked like we'd be publishing Nathan's forthcoming second collection, Wounds: Six Stories from the Border or Hell (previously titled The Atlas of Hell) which includes "The Visible Filth." I do like that new subtitle. Nathan is a tremendous craftsman building horrifying palaces of terror. May the book and the film terrify millions of people!
If we had published that book, it would have been the third film or TV adaptation from a book we've been associated with that actually made it to film. Curiously enough, the two previous films were both books that came out in 2002 and which we reprinted within three months of one another:
— Kelley Eskridge's Solitaire, (the basis for the film OtherLife). This was Kelley's first novel which came out in 2002. Our paperback & ebook edition came out in January 2011.
— Ted Chiang's Stories of Your Life and Others (the title story being the basis for Arrival). This was Ted's first collection. It was first published in 2002. We picked up the rights and had it in print for about five years from October 2010 before Vintage took it off our hands so that they could very quickly sell a couple of hundred thousand copies when the film came out. Nice. After a seventeen-year wait, Ted's second collection, Exhalation, comes out later this year.
There are two more books we've published (that we know of) which are being worked up into adaptations. Fingers crossed! As ever, I believe a film or TV show will happen when I'm sitting in front of the screen watching it. Up until then there are too many random factors which may make it all fall apart.
There are so many ones-that-got-away stories of stories of books we've published almost being adapted. I don't know how many times I picked up the phone to someone asking me about Ayize Jama-Everett's Liminal books. Maybe once the fourth book comes out. But still, two films and almost a third, it's a hell (cf Wounds) of a lot more than I ever expected when we started out. Here's to more in future years.