Mon 11 Feb 2019 - Filed under: Not a Journal., film, Kelley Eskridge, Nathan Ballingrud, Ted Chiang| Posted by: Gavin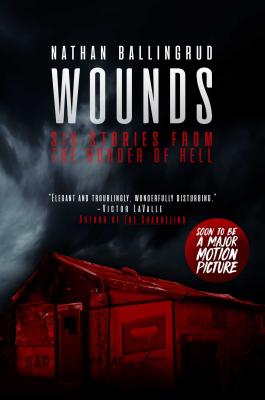 Speaking of film and TV adaptations (as I sort of was a few days ago), I'm looking forward to seeing Babak Anvari's new film Wounds which is based on Nathan Ballingrud's story "The Visible Filth." (Nathan is in the audience in the video from the Sundance film festival linked there.) Ok, so part of me can very much wait to see it. There's a lot I don't really like about horror movies; there are all these monsters and the insides of people keep getting moved to the outside, ugh.
For a hot second, before Saga/Simon & Schuster swooped in and scooped it up, it looked like we'd be publishing Nathan's forthcoming second collection, Wounds: Six Stories from the Border or Hell (previously titled The Atlas of Hell) which includes "The Visible Filth." I do like that new subtitle. Nathan is a tremendous craftsman building horrifying palaces of terror. May the book and the film terrify millions of people!
If we had published that book, it would have been the third film or TV adaptation from a book we've been associated with that actually made it to film. Curiously enough, the two previous films were both books that came out in 2002 and which we reprinted within three months of one another:
— Kelley Eskridge's Solitaire, (the basis for the film OtherLife). This was Kelley's first novel which came out in 2002. Our paperback & ebook edition came out in January 2011.
— Ted Chiang's Stories of Your Life and Others (the title story being the basis for Arrival). This was Ted's first collection. It was first published in 2002. We picked up the rights and had it in print for about five years from October 2010 before Vintage took it off our hands so that they could very quickly sell a couple of hundred thousand copies when the film came out. Nice. After a seventeen-year wait, Ted's second collection, Exhalation, comes out later this year.
There are two more books we've published (that we know of) which are being worked up into adaptations. Fingers crossed! As ever, I believe a film or TV show will happen when I'm sitting in front of the screen watching it. Up until then there are too many random factors which may make it all fall apart.
There are so many ones-that-got-away stories of stories of books we've published almost being adapted. I don't know how many times I picked up the phone to someone asking me about Ayize Jama-Everett's Liminal books. Maybe once the fourth book comes out. But still, two films and almost a third, it's a hell (cf Wounds) of a lot more than I ever expected when we started out. Here's to more in future years.
---
Sat 31 Dec 2016 - Filed under: Not a Journal., Greer Gilman, LCRW, Nathan Ballingrud, Nicole Kornher-Stace, Ted Chiang, Ursula K. Le Guin| Posted by: Gavin
On the last day of the year: a quick fly-by on Small Beer books. In 2016 we (on purpose) published the fewest number of books we've done for a while and an unusual ratio of hardcovers to paperbacks — it's also hard to properly count them. We published two trade paperbacks (Jeffrey Ford's A Natural History of Hell and John Crowley's The Chemical Wedding) but did we put out three hardcovers (Joan Aiken's The People in the Castle, Sofia Samatar's The Winged Histories, and Ursula K. Le Guin's Words Are My Matter*) . . . or four or seven — including the Kickstarter there were three hardcover editions of The Chemical Wedding. . . .
All but The Chemical Wedding received starred reviews and ended up on Best of the Year lists and I toast each and every author. (Or, I will tonight!)
* A moment to celebrate: Words Are My Matter was our third title with Ursula K. Le Guin after her translation of Angélica Gorodischer's Kalpa Imperial and her two volume The Unreal and the Real.
And even though we only published five titles (plus that fun but total time sink Kickstarter) I manage to be behind with so many things. Even when I reduced the number of books we published, I'm still behind. But! There are so many things to fill me with despair! So many interesting people on twitter! So many leaves to pick up on the walk to school. So many books to reprint — sneaked that last one in. I don't think I've ever gathered in one place which books we reprinted in one year so here goes:
Nathan Ballingrud's first collecton, North American Lake Monsters. Third printing — this book has legs! (Horrible things happen to those legs in at least one of the stories, but, still, legs!) The good news: Nathan is working on his next collection.
Naomi Mitchison's novel Travel Light. Second printing. I read the first part of this to our 7-year-old who is part dragon herself and she really enjoyed all the parts with Uggi and the other dragons. She has the proper disregard for heroes, at least sometimes.
Ursula K. Le Guin, Words Are My Matter. The first printing was in October and the second in December — could I have increased the first print run? Yes. But I am so good at overprinting, so ordering a print run that was 220+% of the initial orders seemed like a solid call. Ordering another 50% of that first run was fun.
— A reprint not of our own: The Unreal and the Real in one volume, not two, with one extra story by Joe Monti at Simon & Schuster/Saga as part of a raft of Le Guin titles that they will publish including at some point a Charles Vess illustrated Complete Earthsea book I am very much looking forward to.
Another reprint not our own: Ted Chiang's collection Stories of Your Life and Others (aka Arrival) by Vintage. The movie of the title story has made $90 million in the USA alone and the paperback edition was on the New York Times bestseller lists for four weeks which translates into thousands and thousands more readers for Ted's fabulous stories. Sometimes, no, wait, very infrequently, things go right.
Nicole Kornher-Stace's YALSA Best Fiction for Young Adults 2016 novel Archivist Wasp. Third printing, May 2016. A book that blew out the door and keeps on going. As with Nathan above, Nicole is working on her next book.
Greer Gilman, Cry Murder! in a Small Voice. Second printing, March 2016. The first of Greer Gilman's Ben Jonson, Detective novellas. Dense, bloody, funny, fantastic. Wait, I see a pattern here: Greer is also working on her next book. Writers write!
I think that's it: five new titles and five reprints plus the de rigueur two issues of LCRW — thank you writers, subscribers, and booksellers for getting behind the only zine named after a Brooklyn girl who moved to London, married a Lord who probably had the syph, and published her own fancy fancy literary journal.
Sometimes in the past I've posted year end Small Beer bestseller lists but I find them oddly hard to do: should I list books shipped from our lovely distributor, Consortium (now owned by Ingram)? But what about website and bookfair sales? Books shipped out from Consortium, can and will be returned, sometimes months later. Should I post Bookscan rankings? Bookscan only seems to capture about 30-50% of actual sales — which I always forget when I look at their reports, oops, but is very clear when I look at sales/return numbers from Consortium.
Either way, we sold a lot of books in 2016: thank you. In 2017 we have many books planned and — if all goes well — more reprints. No Kickstarter, at least, I don't think so right at this moment in the middle of inventory and preparing for 1099s and so on. There is a Howard Waldrop project kicking around…. We'll see. Two more issues of LCRW FTW. We will go to AWP in Washington, DC, in February and Kelly is teaching at Tin House in Portland in July. I just received an update (no real movement, but the possibility of movement) on a secret project we've been slowly trying to make work for at least five years — it may not work, c'est la vie in publishing: try and make something happen for years, sometimes it flames out, disappears, or ends up elsewhere but if it ever did come together, wow, what fun.
And at the very end of this year I signed a contract and sent of a check for a short story collection that has been a long time in the making — but more on that in the new year: more books, more cheer, and of course: more fighting for freedom, equality, and justice for all. Happy new year to you and yours.
---
Tue 14 Jun 2016 - Filed under: Not a Journal., Ted Chiang| Posted by: Gavin
Today is publication day for the latest edition of Ted Chiang's first and — until at least next year — only collection of short fiction: Stories of Your Life and Others — the title story of which is being made into a movie I'm very much looking forward to seeing starring Amy Adams, Jeremy Renner, and Forest Whitaker.
Ted has won just about every award going for his incredibly compassionate stories of us poor humans and our interactions with our own technologies. Amazingly, for someone who is obviously brilliant and widely recognized for it, he is also one of the nicest people I've ever met.
Stories of Your Life was first published by Tor in 2002 and was reprinted by Small Beer in 2010. Last year Penguin Random House bought the rights from us as part of a larger deal that included Ted's next as-yet-untitled collection — which perhaps is burying the lede if you hadn't heard that part. Can't wait to read that book when it comes!
In the meantime, congratulations to Ted and a hat tip of respect to everyone at PRH who bought the books and at Vintage where they must be celebrating having this book as part of their list.
---
Wed 17 Feb 2016 - Filed under: Not a Journal., Ted Chiang| Posted by: Gavin
Good news/bad news! I don't know if you read Locus or Publishers Marketplace but if not I'm happy to pass on the news that Ted Chiang's Stories of Your Life and Others plus his as-yet-untitled next book have been picked up by Random House. This might have something to do with the film of the title story which has wrapped filming and is scheduled to come out this summer. The Knopf edition can be preordered at all your fave indie bookstores and here.
I have a little bit of mixed feelings about this as it was pretty fabulous to have Ted's book as part of our list but mostly I am very happy that Ted's stories will have this great chance at a very wide readership.
---
Fri 11 Sep 2015 - Filed under: Not a Journal., Kelley Eskridge, Ted Chiang, the movies| Posted by: Gavin
Right now it knocks me over to write that two Small Beer books are being filmed: the title story of Ted Chiang's Story of Your Life and Others and Kelley Eskridge's Solitaire.
Story of Your Life is being filmed in Montreal, Canada, with Amy Adams, Jeremy Renner, and Forest Whitaker, and Solitaire is being filmed as OtherLife in Perth, Australia, with Jessica De Gouw, Thomas Cocquerel, and TJ Power.
There are always books and stories being optioned (recent film interest has centered on two novels: Ayize Jama-Everett's forthcoming The Entropy of Bones and Carol Emshwiller's Philip K. Dick award winner The Mount) and some of it pans out and much of it doesn't so it's a total thrill that these two stories are actually on their way to the silver screen. Many things will happen between then and now but I'm just going to take this moment to celebrate. Whoopee!!
---
Mon 24 Nov 2014 - Filed under: Not a Journal., Eileen Gunn, Ted Chiang| Posted by: Gavin
This weekend both Ted Chiang and Eileen Gunn were featured on WPR's To the Best of Our Knowledge. Both were interviewed about their collections (Stories of Your Life and Others and Questionable Practices) and both read excerpts from their stories: lovely!
---
Mon 3 Feb 2014 - Filed under: Not a Journal., Angelica Gorodischer, Bestsellers, Elizabeth Hand, Howard Waldrop, Kij Johnson, Nathan Ballingrud, Sofia Samatar, Susan Stinson, Ted Chiang, Ursula K. Le Guin| Posted by: Gavin
Here are two different views of 2013 in SBP books. What will 2014 bring? Droughts! Witches! Yetis! More and more weird fun!
Congratulations to all the authors on the 2013 Locus recommended reading list. It's always fun to peruse the list and see, for whatever reasons, what rose up and what didn't. It's especially nice to have links to all the online short stories and novellas and so on, thanks Mark et al!
In 2013, we published 2 Peter Dickinson reprints, one chapbook, and six new titles, and of those six, four titles are on the list:
Sofia Samatar, 

A Stranger in Olondria
Nathan Ballingrud, North American Lake Monsters: Stories
Angelica Gorodischer (trans. Amalia Gladhart), Trafalgar
Howard Waldrop, Horse of a Different Color: Stories
And you can go and vote in the Locus awards poll here. I have some reading to do before I vote. Votes for Small Beer authors and titles are always appreciated, thank you!
In sales, once again our celebration of Ursula K. Le Guin's fantastic short stories were our best sellers for the year. However, if we split the two volumes into separate sales, Ted Chiang's Stories of Your Life and Others would climb a notch to #2. But! Counting them as one means we get another title into the top 5: Elizabeth Hand's late 2012 collection Errantry: Strange Stories. We really should release more books at the start of the year, as those released at the end have much less chance of getting into the top 5.
According to Neilsen BookScan (i.e. not including bookfairs, our website, etc.), our top five bestsellers (excluding ebooks) for 2013 were:
Ursula K. Le Guin, The Unreal and the Real: Selected Stories of Ursula K. Le Guin
Ursula K. Le Guin, The Unreal and the Real: Selected Stories of Ursula K. Le Guin
Ted Chiang, Stories of Your Life and Others
Kij Johnson, At the Mouth of the River of Bees
Susan Stinson, Spider in a Tree
Elizabeth Hand, Errantry: Strange Stories
Last year it was all short stories all the time, this year Susan Stinson's historical novel Spider in a Tree jumped in (I'd have said sneaked in if it was #5, but since it's at #4, that's a jump!). Susan's book is still getting great reviews, as with this from the Historical Novel Review which just came out this week:
"The book is billed as "a novel of the First Great Awakening," and Stinson tries to do just that, presenting us with a host of viewpoints from colonists to slaves and even insects. She gives an honest imagining of everyday people caught up in extraordinary times, where ecstatic faith, town politics and human nature make contentious bedfellows. Although the novel was slow to pull me in, by the end I felt I had an intimate glance into the disparate lives of these 18th-century residents of Northampton, Massachusetts."
As ever, thanks are due to the writers for writing their books, all the people who worked on the books with us, the great support we received from the independent bookstores all across the USA and Canada, and of course, the readers. We love these books and are so happy to find so many readers do, too: thank you!
---
Fri 17 Jan 2014 - Filed under: Not a Journal., Bookslinger, Ted Chiang| Posted by: Gavin
New this week on Consortium's Bookslinger app is Ted Chiang's Asimov and Hayakawa award winning story "Understand."
Previous Small Beer stories on Bookslinger:
Kelly Link, "The Specialist's Hat"
Bernardo Fernandez, "Lions" (translated by Chris N. Brown)
John Kessel, "Pride and Prometheus"
Kij Johnson's "At the Mouth of the River of Bees"
Georges-Olivier Chateaureynaud's "Delauney the Broker" (translated by Edward Gauvin)
Ray Vukcevich, "Whisper"
Maureen F. McHugh, "The Naturalist"
Karen Joy Fowler, "The Pelican Bar"
Kelly Link, "The Faery Handbag"
Benjamin Rosenbaum, "Start the Clock"
Maureen F. McHugh, "Ancestor Money"
Download the app in the iTunes store.
And watch a video on it here: http://www.youtube.com/watch?v=ySL1bvyuNUE
---
Thu 10 Jan 2013 - Filed under: Not a Journal., Ted Chiang| Posted by: Gavin
I missed this (as with so many things) while mostly offline over the new year. Neither did I vote as I always forget things I wish I had included. But maybe if I had Maureen F. McHugh, Alice Sola Kim, and some others would appear. Also there are two Karen Joy Fowler stories and I think seven Ursula K. Le Guin's. And we published one of the top ranked stories and reprinted two in Ted's mighty and fabulous Story of Your Life and Others. Yay, indeed!
20th Century Novella:
| | |
| --- | --- |
| Rank | Author : Title (Year) |
| 1 | Chiang, Ted : Story of Your Life (1998) |
21st Century Novella:
| | |
| --- | --- |
| Rank | Author : Title (Year) |
| 1 | Link, Kelly : Magic for Beginners (2005) |
21st Century Novelette:
| | |
| --- | --- |
| Rank | Author : Title (Year) |
| 1 | Chiang, Ted : Hell Is the Absence of God (2001) |
---
Mon 7 Jan 2013 - Filed under: Not a Journal., Bestsellers, Kij Johnson, Maureen F. McHugh, Ted Chiang, Three Messages, Ursula K. Le Guin| Posted by: Gavin
According to Neilsen BookScan, our top five Small Beer Press bestsellers (excluding ebooks) for 2012 were:
All short story collections or anthologies! Our publication dates all crept into the latter half of the year, really the last couple of months, so books such as Errantry and Earth and Air didn't get much time out there in the world to see how they'd do. Also #6? Stranger Things Happen, #7? The Serial Garden. Short stories!
---
Tue 4 Dec 2012 - Filed under: Not a Journal., Kelly Link, Lightspeed, Ted Chiang, the movies| Posted by: Gavin
The new issue of Lightspeed Magazine just went out and besides all that new and shiny stuff it includes Kelly's story "Catskin" and Ted Chiang's "Story of Your Life." Kelly's story will go live on December 18th but Ted's is exclusive to the ebook—which of course you can get on Weightless.
The other big news for Ted Chiang fans was last week's announcement that "Story of Your Life" has been optioned for film. The source material is about as good as it gets, so fingers crossed that it will be made and be great.
---
Wed 21 Nov 2012 - Filed under: Not a Journal., Gwenda Bond, movies, Ted Chiang, to be watched| Posted by: Gavin
Ok, so Gwenda Bond's book Blackwood is (ok: may be) going to be made into a TV series! Cool? Cool! . . .
. . . and our neighbor one-town-over Cassandra Clare's bestselling Mortal Instruments series breaks into movieworld next summer in The Mortal Instruments: City of Bones! ("Everything you've heard about monsters . . .  all the stories are true . . . ")
We went to see Cloud Atlas the other night. I think it was the first good film I've seen in ages. Ok, so I might not have seen anything in the cinema since The Avengers, but have I missed anything good? I'm glad we made the trip out to see Cloud Atlas. Even with the weird and bad choices (and I'm not just talking casting Tom Hanks here) the producers made, they did a good job of making a big, complicated book into a big, complicated film.
Meanwhile over in Chicago, The Chicago Nerd Social Club (what a great name!) are featuring Ted Chiang's Stories of Your Life and Others at their next book club meeting:
When: Monday, December 10, 2012 – 6:30pm-7:30pm
Where: Filter, 1373-75 N Milwaukee Ave Chicago, IL
Cost: Free
And in Uppsala, Sweden (hello everyone in that lovely city!), Wired's Noah Schachtman unwinds a fabulous story of a philologist who, gifted with a mysterious manuscript, eventually helps decode it:
. . . in January 2011, Schaefer attended an Uppsala conference on computational linguistics. Ordinarily talks like this gave her a headache. She preferred musty books to new technologies and didn't even have an Internet connection at home. But this lecture was different. The featured speaker was Kevin Knight, a University of Southern California specialist in machine translation—the use of algorithms to automatically translate one language into another.
Then, down in North Carolina, the Charlotte Observer has a great story on Kelly's cousin Bryan Jones who with his friend Mark "Hootie" Bowman (I never knew his name was Mark, I've only ever heard of him mentioned as Hootie!) are selling "interactive hardbacks that introduce children to popular colleges and universities." In other words, if you have a sports-obsessed parent in your life, hie thee to Collegiate Kids Books and get them a book now.
Action movie!
---
Thu 9 Aug 2012 - Filed under: Not a Journal., Ted Chiang| Posted by: Gavin
Just a quick note to note that we would like to note that, wait. Start again:
We just got copies of the third printing of Ted Chiang's excellent debut collection, Stories of Your Life and Others. Thanks to Ori Avtalio and other sharp-eyed readers for helping us with typos. This is a book that I can honestly give to just about anyone and say, "Read the title story," and know they will love it.
---
Wed 4 Jan 2012 - Filed under: Not a Journal., Bestsellers, Karen Joy Fowler, Kathe Koja, Kelly Link, Maureen F. McHugh, Ted Chiang| Posted by: Gavin
Bookscan says our bestsellers were:
1) Kathe Koja, Under the Poppy
2) Ted Chiang, Stories of Your Life and Others
3) Kelly Link, Stranger Things Happen
4) Maureen F. McHugh, After the Apocalypse
5) Karen Joy Fowler, What I Didn't See and Other Stories
I know other things happened this year. We published one issue of LCRW with a lovely cover by Kathleen Jennings:
A. D. Jameson · Jessy Randall · K. M. Ferebee · Karen Heuler · M. K. Hobson · Carol Emshwiller · David Rowinski · Joan Aiken · Sarah Harris Wallman · Gwenda Bond · David Blair · Sarah Heller · Nicole Kimberling
And here are the books we published.
First Small Beer Press titles:
After the Apocalypse
Maureen F. McHugh
"Incisive, contemporary, and always surprising."—Publishers WeeklyBest Books 2011: The Top 10
A Slepyng Hound to Wake
Vincent McCaffrey
"Henry is a character cut from Raymond Chandler: a modern knight on a mission to save those, and what, he loves."—Barbara Peters, The Poisoned Pen
Paradise Tales
Geoff Ryman
* "Often contemplative and subtly ironic, the 16 stories in this outstanding collection work imaginative riffs on a variety of fantasy and SF themes"—Publishers Weekly (*Starred Review*)
The Child Garden
Geoff Ryman
Winner of the John W. Cambell and Arthur C. Clarke Awards.
The Monkey's Wedding and Other Stories
Joan Aiken
* "Wildly inventive, darkly lyrical, and always surprising . . . a literary treasure."—Publishers Weekly (starred review)
Solitaire: a novel
Kelley Eskridge
A New York Times Notable Book, Borders Original Voices selection, and Nebula, Endeavour, and Spectrum Award finalist.
And one Big Mouth House title:
The Freedom Maze
Delia Sherman
"Adroit, sympathetic, both clever and smart, The Freedom Maze will entrap young readers and deliver them, at the story's end, that little bit older and wiser."
—Gregory Maguire, author of Wicked and Out of Oz
---
Tue 9 Aug 2011 - Filed under: Not a Journal., Clarion, Geoff Ryman, Karen Lord, Kelly Link, Ted Chiang, Vincent McCaffrey| Posted by: Gavin
Time for some updates before we shut down for the August recess. First a few quick reviews:
Ok, so the last two weren't reviews, but go on, open up some tabs and read them.
Next: a reading! Vincent McCaffrey will read from A Slepyng Hound to Wake at the Brookline Booksmith at 7 PM on Thursday August 25th. We love Vince and we love the Booksmith (and their reading series, they have Lev Grossman there this week) so we are very sad we won't be there. Slepying Hound is shipping out very nicely. If you want a signed copy, the Booksmith, Poison Pen, or Avenue Victor Hugo are your choices. (On AVH's site on Biblio.com you can see what else Vincent has published . . . )
Next: Locus! The August issue has:
an interview with Karen Lord—who can be heard on the Locus roundtable podcast here.
a review of Geoff Ryman's collection (ok, that one's linked above, but I liked having all this stuff together)
a review by Rich Horton of The Monkey's Wedding and Other Stories
and includes Lydia Millet's The Fires Beneath the Sea in the Notable Books
and at some point soon, Locus will become available on Weightless
Next: travel! Next week Kelly will be at the Edinburgh Book Festival—apparently their website is down due to a lightning strike on their servers in Ireland!—where she and Audrey Niffenegger will have a lively chat at 8:30 PM on Tuesday, August 16th, and then Kelly will be part of what sounds like a great shindig of a night from 9 PM onward on Thursday the 18th. And since they are very sensibly headquartered in Edinburgh, we also get to go visit Kelly's UK publisher for Pretty Monsters, Canongate!
Last! Clarion West. Kelly and I are excited to be among next year's instructor's at Seattle's Clarion West:
We are very happy to announce that our instructors for the 2012 Clarion West Writers Workshop are Mary Rosenblum, Hiromi Goto, George R.R. Martin, Connie Willis, Kelly Link and Gavin Grant, and Chuck Palahniuk, the 2012 Susan C. Petrey Fellow.
Although with that line-up, we might just see if we can sit in from week one . . .
Bye! We're also off to visit family in Scotland, so will be offline for most of this month. We'll be back—and starting to do events for Steampunk!—at the start of September.
---
Sat 4 Jun 2011 - Filed under: Not a Journal., Joan Aiken, Ted Chiang| Posted by: Gavin
@ Beaverton Powell's, Portland, OR
Mon, June 6, 7pm – 8pm
| | |
| --- | --- |
| Where | Powell's Books at Cedar Hills Crossing 3415 SW Cedar Hills Blvd., Beaverton, OR 97005 map |
Ted Chiang, Nancy Kress, Ursula K. Le Guin @ McMenamins Kennedy School,
Tue, June 7, 7pm – 8pm
| | |
| --- | --- |
| Where | 5736 N.E. 33rd Ave. Portland, OR 97211 map |
(Keep up with all our authors here.)
Locus reviews The Monkey's Wedding and recommends you read it.
Added 2 new books to Scribd—and half a dozen other ebook sites(!)—so now you can directly preview these two books. The Child Garden is shipping out soon (pre-orders will go out this coming week) and The Fires Beneath the Sea has been delayed until July (sorry!):
and
---
Thu 13 Jan 2011 - Filed under: Not a Journal., Ben Parzybok, bookshops, Geoff Ryman, Karen Lord, Kelley Eskridge, LCRW, Ted Chiang| Posted by: Gavin
Borders have about 3,500 copies of our books in stock. Hmm. Selfish wonderings: if they go under, will we get those books back? Will we get paid for the lovely numbers of Under the Poppy, Stories of Your Life, The Poison Eaters, and some backlist books such as Poppy Brite's Second Line, they've been selling? I really hope they don't close. I can't imagine all those booksellers and so on being chucked out of work right now. Yes, ebooks are the future, but we need all kinds of bricks and mortar (or mall and strip mall) in the meantime to remind people that there are books out there to be read, not just shoes and gadgets and food court lunches.
So, we, along with all the other publishers who have shipped books to them, await the outcome of today's meetings with baited breath!
Besides wondering about that we've been enjoying the lovely busyness of Weightless and adding new titles for the next season—Fall 2011! I've hardly wrapped my head around last year never mind this spring or summer—we have tons of new books to publish before Fall comes rolling around. But that's the book biz, so we're adding away. What are we adding? Some of the books are Super Sekrit (as in: we have no contracts yet) but others . . . ok, this isn't the place for that.
But I did sign two contracts today: the first was a contract for Turkish rights for Couch. It will no doubt be an age until the book comes in, so something to look forward to. And the second was for the audio rights to Redemption in Indigo. Although that contract still needs to come back to me countersigned, so maybe those chickens should not yet be counted.
And we heard from the printer that the second printing of Ted Chiang's Stories of Your Life and Others will ship at the end of the month—go Ted! It's such a fabulous book and we are so happy to see it being picked up by a whole new generation of readers.
We haven't managed to send Paradise Tales to the printer yet so it looks very doubtful that that will be out on time. Boo! Is it our most complicated book yet? (That anthology we're doing later this year might give it a run for its money.) Geoff did let slip that he's just finished a new novel. Not sure if we'll get a peek at or not. Of course we want!
The latest LCRW (#26) received a couple of nice reviews recently on  SF Revu & Rise Reviews, although, come on, since when was LCRW (or Small Beer) noncommercial?
Lady Churchill's Rosebud Wristlet is certainly a horse of a different color. I can't think of where else I'd be able to read and assembly of stories so diverse. Though some were not to my particular taste, I applaud the editors for their fearless inclusion of some pieces that would otherwise not see the light of day simply due to their noncommercial nature. Any fan of speculative fiction, or simply good writing, will find something to like in LCRW.
Reviews of our new edition of Solitaire are popping up everywhere including Future Fire which has reminders that this is SF, not contemporary literature, "Questions concerning sexual equality and sexuality are not discussed and this invisibility is genuinely innovative and refreshing." Can't wait for the day when sexual equality and sexuality not being discussed is run of the mill rather than innovative.
What else? The Working Writer's Daily Planner is our bestseller so far this year—that should last until the end of the month. It's now $7.95.
And Paolo Bacigalupi's Ship Breaker won the Printz Award. Wow. That guy is unstoppable! And now's a good time to pimp last year's most excellent winner, Going Bovine.
BTW, we're giving away copies of Solitaire on both Library Thing and Goodreads. Of course, you or your friend may neeeed a copy for yourself, too.
---
Fri 10 Dec 2010 - Filed under: Not a Journal., bookselling, Erica Harris, Publishing, Ted Chiang| Posted by: Gavin
Today's the annual 93.7 Mike FM Request for Help to benefit Franciscan Hospital for Children! Donate here and listen here.
Go read now: Gwenda Bond interviews Ted Chiang! This is part of the WBBT—get the whole schedule (and clear your afternoon!) here on Chasing Ray.
Onnesha Roychoudhuri's article on RudeGorilla.com's impact on the publishing industry is the cover story for this month's Boston Review magazine—and is now up on Alternet. (When Amazon start being nice, we'll be nice to them, too.)
And Amazon just opened up BookScan access (which means they can see their actual sales numbers on a weekly basis) to any authors who are willing to sign up with them. This is going to ensadden many people! Will be fascinating to see what people do with it though.
There's a short interview and a piece on Erica Harris (who did the cover for Karen Joy Fowler's new book) in the new issue of Bomb (as well as a slideshow):

By way of international travel, service, and hoarding, Erica Harris uses collage to translate a universal language.
Good piece on UK publisher Dedalus—we have some of their books on the shelf. Used to love going through their catalog when we were editing the Year's Best Fantasy & Horror. Their experience certainly rings a bell:

"These are not sensible commercial decisions but they are culturally the correct decisions."
Don't expect to be in NYC until next May but when I go I'm taking the Zinester's Guide to New York City—"Bars! Pizza! Historic buildings! Veggie options! Open mics! Craft supplies!"
---
Thu 11 Nov 2010 - Filed under: Not a Journal., ebooks, LCRW, Ted Chiang| Posted by: Gavin
LCRW 26 is at the printer. At some point soon we will have a mailing party. You bring the envelope-stuffing ability, we'll bring the tea and biscuits and zines. (Also: added more subscription options.)
Meanwhile we just contacted five writers with variations on this email: Your Story Is Lovely! We would like to publish it (but not until next year). Sorry it took us so long to get back to you (since the stories were sent in January/February/July/September!). Much reading still to be done.
Also just sent another DMCA takedown notice—why is Ted Chiang's book so popular with pirates? Sure, it's excellent and was out of print for a while but now it's available in all kinds of formats.
Then I posted on a free ebook trading site asking people not to add our books. So depressing and a little silly to post but I think it's worthwhile now and then. I don't think every illegal download is a lost sale (and I understand that readers abroad might have trouble getting their hands on books they want) but we try and go the extra mile to make our books available everywhere. Oh well.
Later today I'm hoping to take Ursula out for a walk. I was hoping to make it to a war memorial for Veterans/Remembrance Day but since I can't drive with her in the car alone (there needs to be 2 people with her in a car) maybe we will just go to a local cemetery and have a wander. Right now she is fighting off 2 therapists and a nurse. Strong kid.
---
Wed 3 Nov 2010 - Filed under: Not a Journal., bookshops, chocolate, John Kessel, Karen Joy Fowler, Kathe Koja, Ray Vukcevich, Ted Chiang| Posted by: Gavin
What up? Many things. Visitors, busyness, to and froings in the oncoming weeks. The permanence of change. Catch up, link dump, tab closer, recent reads and more:
A few books are appearing which you may enjoy: Ray Vukcevich's new collection Boarding Instructions is just out. Go get from Powells.
Also to get: Sarah Smith's first YA novel which is out this week: The Other Side of Dark. It's about ghosts, treasure, and two teenagers and life, art, madness, love, and more and it's set it this here fair city of Boston.
One of our great local-ish bookshops, Food for Thought in Amherst—one of those places that just makes you happy to walk into—is in a moneycrunch. If you did you next book buy here, it would be much appreciated. Biased suggestions for starting places: Under the Poppy, Stories of Your Life, What I Didn't See, The Poison Eaters, Meeks. And, as of this writing, these books are all in stock: what an awesome place!
Another non-local fave bookshop is Subterranean in St. Louis and there's a lovely little piece in the local student paper about it. They have signed copies in stock of a certain 1,000 page McSweeney's brick as well as excellent Africa-supporting lit-shirts. It's a lovely shop from which we walked away with a nice bagful of books. (via)
Really enjoyed the current issue of the Harvard Review. Got it because Georges-Olivier Châteaureynaud has a story in it but there were a couple of excellent stories and essays as well as a good range of poetry in it.
Jay Baron Nicorvo has an excellent essay about re-roofing the family house with his two teenage brothers on Guernica.
Apex just published a special Arab/Muslim themed edition.
Chocolate: want. (Difficult to acquire as $$$ and in the UK.) Next time we do have $$$ to burn, maybe we will play fill-a-box-o-chocs here.
How does a book signed by Betty Ann Hull, Fred Pohl, and Gene Wolfe sound? Sounds good!
Thanks to Susan for this. Go read, but not while eating cake.
And Congratulations to Susan and to Niall: we love Strange Horizons and are both selfishly sad and very happy to hear about the transition.
Awards: John Kessel's story "The Invisible Empire" received an Ignotus Award, "Spain's equivalent to the Hugo." (via)
More on the World Fantasy Awards at some point soon. Mostly: yay!
Reviews. What?
Belletrista looks at What I Didn't See and likes what they see, "Fowler's stories are gripping and surprising, with multiple pleasures awaiting the reader." The San Francisco Chronicle also published a good review: "Fowler understands how disappearances heighten suspense. And she's equally skilled at weaving mystery from the unknown."
Karen's final reading of her mini-California tour is this Friday at 7 PM at Vroman's in Pasadena.
Under?
One of our fave bloggers, The Rejectionist, read Under the Poppy and calls it a winner at Tor.com.
You can see Kathe read in Ann Arbor next Wednesday night at the Blackbird Theatre where there will be delightful and scary sexy puppets. Thanks to Scott Edelman (having more than either of us right now) you can also see her reading on the youtubes. More on those readings TK.
Great review also in the Ann Arbor Chronicle—and Kathe's on WCBN Ann Arbor radio today at 4:30 PM—listen here.
Life?
A couple of readers discover Ted Chiang's Stories of Your Life and Others for the first time. The sound of their heads exploding echoes through the intertubes. 1) Ed Park @ the LA Times ["patient but ruthless fascination with the limits of knowledge."] 2) Dreams & Speculations 3) Stefan @ Fantasy Literature.
---
Tue 20 Jul 2010 - Filed under: Not a Journal., Karen Joy Fowler, Kathe Koja, readings, Ted Chiang| Posted by: Gavin
Today is publication day for Julia Holmes's excellent debut novel Meeks! If you're in NYC or environs, there's an awesome launch party happening at WORD tonight. Do not say we did not warn you! Julia's reading all over the place (Portland, OR! Boston, MA! More!) and you should attend in your bachelor suit.
Other updates: Kathe Koja and Holly Black are reading in South Carolina this week.
You can now preorder our fall books direct from us! We ship preorders out asap. Those books include Ted Chiang's Stories of Your Life and Others (just got an amazing blurb for that!), Kathe Koja's Under the Poppy, A Working Writer's Daily Planner, and the book that we are just about to send to the printer: Karen Joy Fowler's stunner of a collection, What I Didn't See and Other Stories. Ouch, that's a good one.
We have one more title, a November book, which we haven't announced yet even though it is getting really damn close but the contract, it could not be agreed upon. But, news should come on that soon, so: yay. And: phew.
Then we have new books which are coming next year all of which will be world-bestriding green-energy fueled juggernauts. Or, at least, great books. Because why do anything else?
---
Thu 28 Jan 2010 - Filed under: Not a Journal., Small Beer Press, Stories of Your Life, Ted Chiang| Posted by: Gavin
Working back from January 2011, we're exceedingly happy to announce that in October 2010 we will bring Ted Chiang's first collection, Stories of Your Life and Others, back into print. The title story alone is a knockout and then there are those seven other stories, which together have received a ton of awards and make this one of the strongest collections ever published.
Stories of Your Life and Others has been out of print for a couple of years so we are very excited to bring it back. Don't go paying $100 for it now, wait until October and pay $16! Stories will be published in trade paperback and the table of contents is:
Tower of Babylon
Understand
Division by Zero
Story of Your Life
Seventy-Two Letters
The Evolution of Human Science
Hell is the Absence of God
Liking What You See: A Documentary
Story Notes
And for those readers (us!) waiting for new stories from Ted, the good news is that he just handed in a longish story to Bill Schafer at Subterranean Press. So, two books to look forward to!
ETA: That long story has now been published.
---