Tue 31 Mar 2015 - Filed under: Not a Journal., Marina and the Diamonds, Pop, YouTube| Posted by: Gavin
Dropping this here in case you want some big dancy music — and some quiet stuff, too ("I go home and lock the doors, and I hear the sirens . . . I'm in love with the ice-blue, gray skies of England. And I'll admit all I want to do, is get drunk and silent") and what's spending about 50% of the time on all the virtual turntables around here:
---
Wed 20 Nov 2013 - Filed under: Not a Journal., Pop, YouTube| Posted by: Gavin
From an ad on this video (17-year-old Biggie Smalls freestyling) linked from here (17-year-old LL Cool J plays a Maine gymnasium in 1985: rap! beatbox! sing! snap! ping! pow!) both from Kottke, via Eileen Gunn:
---
Tue 11 Jun 2013 - Filed under: Not a Journal., Neko Case, Pop| Posted by: Gavin
---
Mon 13 May 2013 - Filed under: Not a Journal., Pop, space| Posted by: Gavin
Is Col. Chris Hadfield the geekist astronaut ever? Has there ever been an astronaut who sang and played guitar? Do all the astronauts enjoy themselves this much? I don't know, but this is fantastic! I think the best part are his special effects, which are just shots of his normal everyday life. I've enjoyed a bunch of his videos, some with our 4-year-old daughter, but today's (via Amal, thanks!) is a headexplody pop culture mashup. Thanks Col. Chris!
---
Wed 3 Apr 2013 - Filed under: Not a Journal., Pop, YouTube| Posted by: Gavin
---
Fri 17 Jun 2011 - Filed under: Not a Journal., audio books, Karen Lord, Pop, YouTube| Posted by: Gavin
We recently watched the last episode of the British TV series Downtown Abbey which was a hit earlier this year. It was a fun soap, but the last episode was such a big soft pudding that my strong recc. (for those with the stomach to watch Edwardian-era upper class goings-on) drops to: Meh, maybe, but go walk the dog instead of watching the last episode. Blech. Wikipedia says there's another season being made. Wonder if it too will be full of people holding themselves stiffly away from one another, doing the right thing, and jolly well getting what they deserved. Especially as this season ended with the Great War being declared. Hmm.
On the other end of the spectrum I was searching on YouTube for sign language videos (I am learning a tiny bit of sign language, but sooo slowly!) and found this Pearl Jam concert video of "Given to Fly" filmed in St. Louis in 2000, where, apparently to Eddie Vedder's surprise, there was a sign language interpreter signing the songs. I am a casual fan of theirs (never seen them live) and can't really say if this is a good rendition of the song (musically or ASL-ly) but every time I watch it I'm moved to tears. Silly me. Even Vedder's silly dancing with her at the end isn't enough to break it. Whoever set that up, I love the idea. Anyone who ever wants to sign any reading or panel of ours: you're on. Video pasted in below.
Guess what showed up at the office? (Not me, sorry!) The absolutely new and shiny Recorded Books audiobook edition of Karen Lord's Redemption in Indigo. Heartily recommended!
You can hear Karen herself here: Jonathan Strahan and Gary K. Wolfe have a nice thing going with their weekly podcast. A couple of weeks ago they talked with Karen Lord and even though Skype dropped the call a few times it was still lovely to hear them talking about Redemption in Indigo and much more.
---
Fri 21 Jan 2011 - Filed under: Not a Journal., Pop, YouTube| Posted by: Gavin
(Via)
---
Wed 24 Mar 2010 - Filed under: Not a Journal., Ben Parzybok, Mark Rich, Pop, To Read Pile, translations, YouTube| Posted by: Gavin
And a short tab closer:
The Spec Lit Foundation Older Writers Grant ($750) is open to applications until the end of the month. Apply here.
Reading Local Portland has an interview with our favorite furniture mover, Ben Parzybok—and, bonus, Laura Moulton.
Reading has been somewhat scattershot between Steampunk stories (latest in is from Ysabeau Wilce, yay!) and the old submission pile but Suzy McKee Charnas's "Lowland Sea" is a fantastic start to Ellen Datlow's new The Best Horror of the Year, Volume 2.
Also very much enjoying Mark Rich's collection, Edge of Our Lives, which you can get direct from the publish RedJack Books.
3% announced the winners of their Best Translated Book Awards:
—Elena Fanailova for The Russian Version, translated from the Russian by Genya Turovskaya and Stephanie Sandler and published by Ugly Duckling Presse.
—Gail Hareven for The Confessions of Noa Weber, translated from the Hebrew by Dalya Bilu and published by Melville House Press.
Our local copy shop (and LCRW maker) Paradise Copies in Northampton, MA, have a groovy new site.
Fred Pohl keeps a fascinating blog and the other day he posted about a couple of books, The Ground Truth by John Farmer and Zeitoun by Dave Eggers.
And Alan DeNiro, whose blog is sometimes abstruse but is on the must-read list, writes on the continuing tension between the book as a social object versus the book as a thing produced by one person alone.
The one and only Libba Bray and Tiger Beat at Books of Wonder:
---
Fri 19 Mar 2010 - Filed under: Not a Journal., events, Pop, Publishing| Posted by: Gavin
Here's looking forward to some fun. What you going to do the night before BookExpo in NYC in May? There is no choice: there's only Wrrrrrrock Onnn!?!
The mighty people at Two Dollar Radio have put together a fan-tastic sounding event and all proceeds benefit Girls Write Now. When they pinged us and asked "So, you up for this?" we immediately flew the torn black t-shirt of approval. The show features Care Bears on Fire and Japanther and maybe a few other things, and the more monies spent, the more Girls Write Now.
See you there!
---
Mon 8 Mar 2010 - Filed under: Not a Journal., Pop, YouTube| Posted by: Gavin
Neko dresses up for Dave TV:
---
Tue 16 Feb 2010 - Filed under: Not a Journal., Pop, YouTube| Posted by: Gavin
before, as they say, they disappear:
---
Tue 15 Dec 2009 - Filed under: Not a Journal., Pop, YouTube| Posted by: Gavin
(via)
---
Tue 10 Nov 2009 - Filed under: Not a Journal., Greer Gilman, Kelly Link, Pop, Publishing, writing| Posted by: Gavin
BSCreview has 3 free copies of A Working Writer's Daily Planner 2010 to give away.  Want Want Freebies?
Lev Grossman included Kelly's Magic for Beginners in a list of "the six greatest fantasy books of all time." Ladies and Gentlemen, start your arguments.
Richard Nash calls out BEA (via Shelf Awareness) on their rather silly decisions not to have a big party and not to let in the grand reading public. BEA is dying and no one seems to care. The American Booksellers Association has sensibly started a new thing, the very successful Winter Institute where publishers and booksellers get to meet in peace. Book fairs (hello Brooklyn!) do tremendously. ComicCon is spinning off secondary fairs like no one's business. Kids are lining up to get into manga fairs. Someone else is going to take up the slack (hello again, Brooklyn, LA, Washington DC, Miami). Putting publishers in front of the public is no bad thing. We went to a huge indie book fair in Italy that was 4 days long and bigger than the Javits Center. People love that stuff — come on BEA, get like AWP and other smarter conferences, let the people in.
Hal Duncan has songs (with Neil Williamson) and a successful pay-per-view (or whateveryoucallit) going on on his site.
There have been two fascinating reviews (one website, one blog—there are many on the blogs but I just happen to be posting right now) of Greer Gilman's Cloud & Ashes: Paul Kincaid on SF Site,
Time and again, in innumerable different ways, we see hints about the ways that the stories we tell shape the actions we take…. This is where the circle is broken, and if events drive us incessantly towards tragedy as stories must, it is a very different tragedy from what has gone before.
Cloud and Ashes is not an easy book to read, but it is incredibly worth while making the effort. Any sense I have given of what goes on here is inevitably only partial, there is so much I have had to omit, major characters, significant plot lines. Above all, I have barely hinted at how much it plays with gender roles, how much it has to tell us about the role of women in shaping the world, indeed how every potent active character is female. It is a book you will barely grasp, but it is a book whose hold on your mind, on your memory, is assured. It is a story about story, and stories are what we are all made of. Abandon hope all ye who enter here.
And She Who Must on LJ:
I loved it, and it still took me about a month to read it; it's quite long, and very, very rich. After a few pages I'd have to stop and digest what I'd read. I don't think that's a bad thing – indeed, I was in no hurry to reach the end, I didn't want it to be over.
---
Wed 5 Aug 2009 - Filed under: Not a Journal., Pop| Posted by: Gavin
Gillian Welch will release another CD and we will get the drinks in and crank up the music player (pre-apocalyse: some kind of electronic music machine; post-apocalypse: add some time for winding up the Victrola).
Until that long awaited day—and, hey, Gillian, if records and CDs and so on are no longer your thing, no worries!—NPR have posted a recording of her set at the Newport Folk Festival. No cover of "Black Star" this time, but enough to keep us happy. Besides, at the other end of the spectrum, the cover of "White Rabbit" is pretty decent.
Also available on that site: a whole lot of good stuff (surrounded by many so-so's. No doubt YMMV).
Neko Case, aw. Also: Mavis Staples, Iron and Wine, Sonic Youth, Metric, many more.
---
Mon 18 May 2009 - Filed under: Not a Journal., Pop, To Read Pile, YouTube| Posted by: Gavin
Here's an interview with David Suisman just in time for his reading this Thursday at Barnes & Noble (105 Fifth Ave. at 18th St., New York, at 6pm) in NYC:
---
Wed 18 Feb 2009 - Filed under: Not a Journal., Pop| Posted by: Gavin
Lev Grossman and Sophie Gee recently posted their playlist on the NYT Paper Cuts blog. This is a guy who outnerds most of the readers of this blog, seriously—although his list may overlap with yours more so than it might with ours. It's somewhat like reading what Junot Diaz's playlist might have been before Oscar Wao came out would be like. Every time it looks like he's hit nerdvana, he ratchets it up again.
There is also lite (sic) jazz and a book with a scientist falling in love with a ghost:
…the book I'm working on now, "The Magicians," which you could glibly but not inaccurately describe as Harry Potter meets "The Corrections" for shots of synthohol in Ten Forward….
Palmcorder Yajna, the Mountain Goats…. the mental soundtrack that I wrote to. I used to picture a scene of torch-lit close-quarters sword-and-ax combat with this song in the background. Dwarves, orcs, elves, no heroics, no speeches, just sweat and dirt and blood in their beards. Like, as if Tarantino filmed the "The Lord of the Rings" instead of Peter Jackson. That's what the past sounds like to me. You know — the past that never happened….
Unlike Dylan, as far as I know, T.D.O.T.H.T. mostly do pop-metal songs about the works of H. P. Lovecraft….
---
Mon 9 Feb 2009 - Filed under: Not a Journal., Benjamin Parzybok, Pop| Posted by: Gavin
A bookseller asked, since we now have an interest in all things couchy, if we'd heard Camille Bloom's CD Ten Thousand Miles. Seems Ms. Bloom has many shoes and a couch (more of a Big Chair, there) and is taking at least some of those things on tour this month. Even to . . . Easthampton! Maybe we can get a day-release from the head bampot and go see the show:
---
Tue 27 Jan 2009 - Filed under: Not a Journal., Hope, Pop| Posted by: Gavin
Neko Case has a new album* coming out on March 3rd and a single, "People Got a Lotta Nerve," (opens iTunes/whatever you have) out now. On her myspace page there's this:
PEOPLE GOT A LOTTA NERVE" – Blog It For A Worthwhile Cause Today, we are especially happy to bring you "People Got A Lotta Nerve," the first single from Neko Case's forthcoming album Middle Cyclone (out March 3), because for every blog that reposts the song and/or iLike user who adds it to their profile, Neko Case and ANTI– will make a cash donation to Best Friends Animal Society.
But the imeem thing seems to be blocked by many blog host sites. So, anyway, new Neko and some support for animals. Seems worth it. Good song, great cover.
Order it from your local indie record* store now.
* Album and record still seem like useful terms for a group of songs all released at the same time. The latter especially as vinyl sales keep rising.
---
Fri 19 Dec 2008 - Filed under: Not a Journal., Pop| Posted by: Gavin
A couple of days ago we had this lovely little practice snowfall: about 2-3 inches (that's 5-7 cm, for the rest of the world), enough to shovel in 15 minutes or so before heading into the office. Shovelling got the blood going—and the shovels had to be gotten from the basement and sand picked up from the recycling depot, so everything is ready for today, when, to the joy of TV weatherfolks everywhere, an actual storm has actually arrived.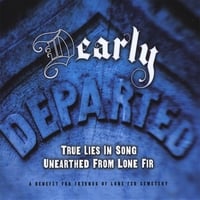 There were some other people at the office this morning and we shipped out some last minute orders and got somewhat ready for end of the year financial reports (what recession? Oh, that one), how exciting. And then at some point Kelly called and pointed out that the snow had started. So I skidded home, got the woodstove going in the back room, and now there's some work being done here (reading, editing, tea drinking) and soon there will be a fully-fledged expedition into the snow to acquire some fresh air, red cheeks, and a thirst for hot cider.
In the meantime, here's a strong music rec for y'all: Dearly Departed: True Lies In Song Unearthed From Lone Fir, a slow-building addictive collection of "Original ballads, songs and waltzes, by Portland musicians, of the untimely demise of some of Lone Fir cemetery's more famous residents." Get yer dancing shoes on, get ye a partner, get ye's to the cemetery, and get ready to cry, drink, and dance yourselves to death.
---
Thu 30 Oct 2008 - Filed under: Not a Journal., Art, blind consumerism, Pop| Posted by: Gavin
Chuck Taylor has inspired two feelings in me with their latest anniversary shoes: a weird blind consumerist lust as well as a mild case of self-loathing for feeling same. The shoes are either truly inspired or incredibly goofy. Wait, they're both that and more (and less).
I'm discounting the leather pair because they are ugly but mostly because at this point in the decadent western world there is no reason to kill animals for clothing. "Fairies Wear Boots" is the nominal inspiration for the yucky strappy leathery shoes. It's such a weird great happy song, I loved it as a kid—it is awesome (and I am awed) that I can watch it on YouFabbyTube now. Luckily everyone else at the office today enjoyed it (a couple of times), too.
Now the other two designs. First is really number four and features Ozzy from the cover of Sabbath's fourth album, the brain shaker* and intellectually-titled Volume Four. If I wear these, will I be cool? No. I might wonder if Ozzy is going to climb up my trousers and bite my head off. So these are probably out. Unless they are under the xmas tree on Dec. 25th when I will dance into the snow with them on.
The third pair are even goofier. Demon logos (designed by…?) are cool but still: "Inspired by 1978 World Tour T-shirt featuring the demon logo, Distressed print on cotton to replicate vintage tour t-shirt"—which just says lazy designer to me. And the '78 tour (which I'd have loved to see but while my parents were ok on sending 8-year-old boys off to the beach they weren't so much into sending us off to see stuff like this), well, it's not exactly Sabbath at the top of their game is it? Ozzy's almost able to stand but none of the rest can stand him and soon he's out to be replaced by Mighty Mouse. (We still love you RJD!)
So: lust, self-loathing. Got to give props to a company who can create and exploit a need (Black Sabbath . . .  shoes!) from absolute zero. Giving into that blind lust? Hopefully not. But don't hold me to that if they turn up in the Vegan Store.
Oops. Made a mistake. Googled "1978 black sabbath tour demon logo design" to see if I could find out whether it was designed for them or ripped off. Decided I should stop and go back to work (pitch, pitch!) but not before finding that teenagers of all ages can get as much Sabbath merch as their wallet and fashion sense (and spouse) will allow here.
*This is misleading. Sabbath sound so happy and occasionally even poppy now (especially AOR hymn-to-pubescence "Changes") compared to all those Masters of Modern Metal Mayhem.
---
Thu 30 Oct 2008 - Filed under: Not a Journal., Art, bookshops, Pop| Posted by: Gavin
That Sam Phillips link reminded us to go check the All Songs Considered Podcast. Up until now there was one show in the list that had been downloaded: Jenny Lewis a while ago. Today, went to iTunes, chose Refresh after making sure the Preferences were to include all the missed shows. Rather than download them all, they all came up as a choice to download: plethora of riches! Right now being downloaded: Antony and the Johnsons, Byrne & Eno (should we go see them on December 2 here?), Tilly & the Wall, Circulatory Sustems, Thom Yorke's guest dj spot (listening to a Radiohead concert, although it's not on the auto-download list), Dengue Fever, Iron and Wine, Robert Plant & Alison Krauss, Rilo Kiley, Bjork, and a Few More.
Jens Leckman is doing a solo show at Northampton High School on Saturday November 1 as a fundraiser to help with costs not covered for a local teenager who was hit by a drunk driver.
---
Tue 14 Oct 2008 - Filed under: Not a Journal., Pop, YouTube| Posted by: Gavin
It's drop day for the new Winterpills CD, Central Chambers so one more video. This is the last song on the CD and it is just gorgeous. "You were born immortal and you'll die immortal" is one of the most beautiful, wise, and sad lines, and Flora's singing matches it perfectly.
The band will be playing two local shows coming up: a pre-debate fundraiser tomorrow night at the Apollo Grill in Easthampton (7-9 PM, see you there) and then at the Iron Horse in Northampton on Oct. 25. Yes, they might be out there closer to you sometime, too.
---
Sat 11 Oct 2008 - Filed under: Not a Journal., Pop, YouTube| Posted by: Gavin
and didn't bring any kind of recording device, still or motion. Woe. (Well, a phone, but that doesn't count, right?) This was after we'd gone up to the Bookmill for a short set by the Winterpills, whose new CD comes out on Tuesday. But we got a copy, yay! (It is fabby. More TK on that—they play the Iron Horse on Oct. 25th if you're in the area, see you there.)
Bird is (previously unbeknownst to us) a star. People went nuts when he whistled(!), played the glockenspiel, violin, and occasionally, a(n often tuned) guitar. Those big triffid things behind him are the speakers ("spinny," "stripey," and the two large unnamed ones). He'd pluck out a loop on the violin then another then another then add in some whistling, and sometimes singing to get a one-man wall of sound. It was music, Bob, but not as we know it. There were a couple of new songs (see below), and, he gave a shout out to the cave episode of Blue Planet.
Fortunately for us someone else up there in the balcony was recording:
You can see spinny at work in "Sectionate City" (Section 8 City?), Kelly's new favorite Andrew Bird song:
---
Mon 29 Sep 2008 - Filed under: Not a Journal., Pop| Posted by: Gavin
One of our fave local bands are on a short tour with Cake—although I think they're headlining ye olde Iron Horse here themselves.
And there's more Winterpillian good news: there's a new album on the way, Central Chambers, only a couple of weeks away. Kelly heard them playing on the radio the other day so you can probably find that somewhere. The whole album seems to be online at Virb, although it will sound so much better live or at least on decent speakers.
---