Wed 23 Nov 2016 - Filed under: Not a Journal., keep it indie, Susan Stinson| Posted by: Gavin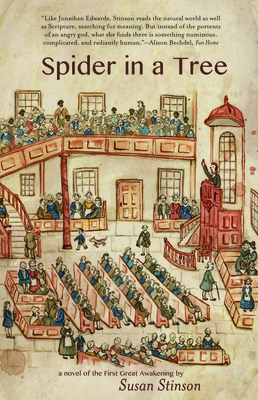 This Saturday when you drop by your local bookstore you may run into your favorite (or new favorite or not!) author when millions of happy authors get to be booksellers for a bit. Here in Northampton Susan Stinson will be guest bookselling at Broadside Books — who have sold a couple of hundred copies of her historical Northampton novel Spider in a Tree.
Who's coming to your store?
Indiebound has the whole list:
— Nov. 26, 2016 activities by state
— Nov. 26, 2016 activities by store
---
Mon 20 Apr 2015 - Filed under: Not a Journal., events, Greer Gilman, keep it indie| Posted by: Gavin
Tomorrow night, meet at a crossroads on a windy night, the moon in tatters and the mist unclothing stars, and make your way clear to Porter Square Books in Cambridge for Greer Gilman's first reading from the shiny new paperback edition of her Tiptree award winning novel Cloud & Ashes: Three Winter's Tales.
Sonya Taaffe (who re-read Cloud & Ashes with a fabulous eye for detail, thank you!) will also be reading. She is celebrating the publication of her new collection of 36 poems and 1 story, Ghost Signs.
It will be a night of language explored, stretched, and broadened: don't miss it!
Tuesday, April 21, 2015 – 7:00pm
Porter Square Books
25 White St.
Cambridge, MA 02140
When a star falls, we do say: the Nine are weaving. Look!  The Road's their skein, that endlong from the old moon's spindle is unreeled. Their swift's the sky. O look! says Margaret. The children of the house gaze up or glance. The namesakes. Look thou, Will. Look, Whin. They stitch your daddy's coat. The twins, still whirling in the meadow, seem as heedless as the light, as leaves. Now one and now the other one, they tumble down and down the slope, lie breathless in the summer grass. His mantle's of the burning gold, says Whin; and Will, His steed is January. I'm to have his spurs.
Bright-lipped in her bower of meadow, imber-stained, small Annot gazes. She is like bright Annot fled; is like herself. I've counted seven for the Ship. Like cherrystones. I've wished.
What Nine? says Tom.
Why, sisters in a tower—see yon smutch of silver, where it rises? Back of Mally's Thorn?
He studies. Aye. And stars in it. Like kitlins in a basket.
Their house. It is a nursery of worlds.
Is't far? says Annot. Can I walk there?
Not by candlelight, says Margaret. 'Tis outwith all the heavens, sun and moon. I'll show thee in my glass. But she is elsewhere now, remembering the Road beneath her, and the heavens that her glass undid. Remembering the Nine, the sisters at their loom of night.
---
Wed 18 Feb 2015 - Filed under: Not a Journal., Ayize Jama-Everett, bookshops, keep it indie, libraries| Posted by: Gavin
This Saturday in LA at the Southern California Independent Booksellers Association Children's Literacy Day we are very happy to note that Ayize Jama-Everett (The Entropy of Bones, Aug. 2015) will be a panelist on the We Need Diverse Books panel, along with Newbery Award winner Cynthia Kadohata (Kira-Kira) and Sherri Smith (author of the fabulous and weird Orleans). The moderator is debut novelist Stacey Lee (Under a Painted Sky).
Even better news: Fedex is right now delivering advance reading copies of The Entropy of Bones for attendees. Ayize's novels are pretty fast-paced sf thrillers and this one kicks off hard with a young woman out for a run in the Northern California hills getting the drop on some people who expected to surprise her.
Here's a taste:
Chapter One
Last time I'd been this deep in the Northern California hills I was a blood and bar tour in a monkey-shit brown Cutlass Royale with the Raj. Now I was on distance running from the Mansai, his boat, to wherever I would finally get tired. From Sausalito to Napa is only sixty or so miles if I hugged the San Pablo Bay, cut through the National Park and ran parallel to the 121, straight north. About a half a day's run. Cut through the mountains and pick up the pace and I could make it to Calistoga in another three hours. From downtown wine country I'd find the nicest restaurant that would serve my sweaty gortexed ass and gorge myself on meals so large cooks would weep. The runs up were like moving landscape paintings done by masters; deep with nimbus clouds hiding in craggy sky-high mountains. Creeks hidden in deep green fern and ivies that spoke more than they ran.
Narayana Raj had taught me in the samurai style. You don't focus on your enemy's weakness, instead you make yourself invulnerable. My focus was to be internal. In combat discipline was all. But in the running of tens of miles, that discipline was frivolous. My only enemy was boredom and memory. Surrounded by such beauty, how could I not split my attention? Nestled in the California valleys I found quiet, if not peace.
I also found guns. Halfway between Napa and Calistoga, the chambering of a shotgun pulled my attention from the drum and bass dirge pulsing in my ear buds. The woods had just gone dark but my vision was clear enough to notice the discarded cigarette butts that formed a semi-circle behind one knotted Redwood. Rather than slowing down, I sped up and choke-held the red headed shotgun boy hiding behind the tree before he had time to situate himself, my ulna against his larynx, my palm against his carotid. He was muscular but untrained . Directly across from him was an older man, late thirties, dressed for warmth with one of those down jackets that barely made a sound when he moved. His almost fu-manchu moustache didn't twitch when he pulled two Berettas on me. I faced my captive towards his partner.
"Wait . . ." Berettas said, more scared than he meant to sound.
Drop them. I commanded with my Voice. The gun went down hard. I used the Dragon claw, more a nerve slap than a punch, to turn the redhead's carotid artery into a vein for a second. When he started seizing, I dropped him. To his credit, Beretta went for the kid rather than his weapons. I continued my run, mad that I'd missed a refrain from Kruder and Dorfmeister.
. . .
---
Wed 11 Feb 2015 - Filed under: Not a Journal., keep it indie, Nicole Kornher-Stace| Posted by: Gavin
How do we know Archivist Wasp is getting out there?
Because Elliott Bay Bookstore and their lovely bookseller Justus Joseph, all the way over there in Seattle, was tweeting at us today about it, that's how! Yeah! We sent copies out to some of the best indie bookstores around and they are reading it and loving it. The book came to us on a hot tip from Ysabeau Wilce and we are very happy to be sending it out into the world this May.
Also, because we're getting a cracking response from early readers!
"Archivist Wasp is a gorgeous and complex book, featuring a deadly girl who traverses an equally deadly landscape. Wasp won me over, and she's sure to find fans among teens and grown-ups alike."
— Phoebe North, author of Starglass
"A tremendously inventive and smart novel. Archivist Wasp is like Kafka by way of Holly Black and Shirley Jackson, but completely original. Highly recommended."
— Jeff VanderMeer, author of the Southern Reach trilogy
"A gorgeous, disturbing, compelling book with a smart, complicated heroine who bestrides her post-apocalyptic world like a bewildered force of nature. Reading it was a wild ride and a thoroughly satisfying one."
— Delia Sherman, author of The Freedom Maze
"Brutal post-apocalypse meets sci-fi techno-thriller meets a ghost story for the ages in this astonishingly original novel from Nicole Kornher-Stace. You've never read anything like Archivist Wasp, but once you have you'll be clamoring for more."
— Mike Allen, author of Unseaming
"One of the most revelatory and sublime books I've ever read, Archivist Wasp is a must-read for fans of post-apocalyptic fiction. Kornher-Stace is a genius, and I can't wait to see what she does next!"
— Tiffany Trent, author of The Unnaturalists
---
Thu 19 Sep 2013 - Filed under: Not a Journal., bookshops, keep it indie| Posted by: Gavin
We had a ton of fun last Saturday at the Harvard Book Store Warehouse Weekend. Ok, so we only stayed one day, but, we were there the day the Fugu Truck was there. Total win!
There are three more weekends of it and man, I am tempted to go. We walked away with a box of books—and I think we got away lightly. And missed a ton of good books. Argh.
We were also gifted with some home brewed beer (4 different types!) from Thom Dunn, who we met this summer in at Clarion San Diego. That was a lovely surprise—the beer, not Thom. Thanks, Thom!
We were in between the lovely people at Ploughshares magazine and Cervena Barva Press, who were very kind. Of course anyone who compliments the kid is immediately a friend of ours. We had a lovely time, so, Boston area peeps: don't miss out!
Saturday, September 21 and Sunday, September 22 (10am–6pm)
Local Flavors: Food Truck Favorites and Epicurean Treats
Saturday, September 28 and Sunday, September, 29 (10am–6pm)
Local Innovation: From Science Fiction to Science Fairs
Saturday, October 5 and Sunday, October 6 (10am–6pm)
Local Craft: Workshops, Zines, Indie Comics, and more
---
Fri 13 Sep 2013 - Filed under: Not a Journal., Eileen Gunn, indie bookstore exclusives, keep it indie, Nathan Ballingrud| Posted by: Gavin
It's true: tomorrow at the Harvard Book Store Warehouse Weekend we'll be giving away a free chapbook to those who take full advantage of our pile-them-high-and-sell-the-cheap sale!
The two story chapbook, North American Monster Stories, will never be for sale. The stories are the title story from Nathan Ballingrud's collection, North American Lake Monsters, and "Up the Fire Road," a story from Eileen Gunn's collection Questionable Practices. 
The whole weekend looks like fun. There are tons of great journals and publishers—as well as MBTA gifts and the all important food truck: Fugu Truck.
Here's the whole list from the Harvard Book Store site:
Black Ocean – In addition to showcasing some of their stunning books, this press will host author signings and meet & greets throughout the day.
Boston Review – You can't beat free issues of a great literary magazine with an email newsletter sign-up, and that's just what you'll get at Boston Review's booth today.
Cervena Barva Press –  Founded in 2005, Cervena Barva Press ("Red Color" in Czech) publishes poetry, fiction, plays, translations and memoir from writers all over the world.
Fugu Truck – This awesome local food truck will be serving up Asian street food beloved by Bostonians.
Harvard Review – Calling all writers of short fiction, poetry, and non-fiction: Bring a few pages of your submission and get an on-the-spot assessment by Harvard Review Editor Christina Thompson (from 12:00 P.M. – 2:00 P.M.).
Inman Review – A local literary journal with a great reputation, Inman Review will be discussing (and maybe even accepting) submissions today in addition to selling current and back issues.
MBTAgifts – Always a favorite, MBTAgifts offers old MBTA signs and memorabilia.
Ploughshares – This literary heavyweight offers up discounts on back issues and a free digital solo when you sign up for their newsletter.  They also promise to be charming and personable. No blank stares. EVER.
Q's Nuts – A Somerville favorite, this artisan nut company will have you giving in to tempation once you try their line of sweet, savory and exotic flavors.
Rose Metal Press – Learn about hybrid genres when you visit the booth of this Brookline-based press, and pick up a book, button, or bookmark while you're at it.
Small Beer Press – All the way from western Mass., this smashing husband and wife duo is planning to offer a very special giveaway, a great selection of remainders and zines for sale, and maybe even mugs!
Ward Maps – Harvard Book Store's Park Street neighbor will feature antique and rare maps for sale.
Wilderness House Press – An imprint of Ibbetson Street Press, Wilderness House Press will feature books for sale as well as author booksignings and giveaways.
Our Warehouse is located at 14 Park St. in Somerville, between Somerville Ave. and Beacon St., just outside of Union Square. The closest T stop is Porter Square, on the Red Line, and bus lines #83 and #87 have stops on Somerville Ave. near Park St.
And unlike at most parties… friends of friends are definitely encouraged to bring friends! See you there!
---
Thu 9 May 2013 - Filed under: Not a Journal., Awards, keep it indie, Kij Johnson, Locus, Ursula K. Le Guin| Posted by: Gavin
Lovely news from Locus that 2 (or 3, depending on how you count) Small Beer books are finalists for this year's Best Collection Award. Any time something like this happens, I remember what an honor it is to be nominated. It is excellent and reassuring to know that there are readers finding these books. Congratulations to Kij Johnson, Ursula K. Le Guin, and all the nominees in all the categories. (Er, one note: come on world, there are some excellent women artists out there.)
When this month's issue of Locus came in the mail I forgot to say that they have a fascinating indie publishing section where they asked the same couple of questions of many independent presses. I answered for Small Beer and am glad I did because it is awesome to be included with some of my favorite indies out there.  And, for a Locus trifecta, Rich Horton reviews Angélica Gorodischer's Trafalgar and picks "Trafalgar and Josefina" as his favorite. (For instant gratification, you can pick up Locus from Weightless.)
THE SMALL & INDEPENDENT PRESS 
Introduction • Small Beer Press • Lethe Press • PS Publishing • Earthling Publications • Cheeky Frawg Books • Fairwood Press • ChiZine Publications • Twelfth Planet Press • EDGE Books • Prime Books • Aqueduct Press • Tachyon Publications • Ticonderoga Publications • Subterranean Press • Night Shade Books
---
Wed 17 Apr 2013 - Filed under: Not a Journal., Alan DeNiro, Jessa Crispin, keep it indie, Spolia| Posted by: Gavin
Very excited by this. Just got my copy (pdf, for those who like to know: it's also available as an epub or mobi, but I like seeing what the pages look like) of the debut issue of Jessa Crispin's new magazine, Spoila. Alan's story, "A Rendition" will be part of his new collection, Tyrannia and Other Renditions, coming out in October.
The Natalya Goncharova Portfolio is fabulous and I'm also looking forward to checking out the rest, including, bonus points!, two translations. Subscription is coming, here's the manifesto, and please go get your copy here.
Table of Contents
Peter Vermeersch, "Gone" (translated by Florian Duijsens)
Phil Sorenson, "December, December, Night, Night"
Jessa Crispin, Jane Pritchard interview
Leah Triplett, "Filling In the Archive: The Afterlife of Natalia Goncharova"
Natalya Goncharova Portfolio
Greer Mansfield, "A Natalia Goncharova Catalog"
Lightsey Darst, "Living with Art"
Olivia Cronk, "Four untitled poems"
Alan DeNiro, "A Rendition"
Mikhail Shishkin, "Of Saucepans and Star-Showers" (translated from the Russian by Leo Shtutin)
Hoa Nguyen, "Mekong I, Cause the Shine, For Love Red, Hid"
---
Sun 31 Mar 2013 - Filed under: Not a Journal., Books, keep it indie, the world| Posted by: Gavin
Goodreads tells me I joined the site in December 2008 and that, weirdly, in 2009, 2011, and 2012, I added 70 books to the read shelf. (If I didn't know myself better I'd think I was messing with the numbers!) I added older titles and then settled in to mostly keeping it up to date. I friended people I knew, some people I knew and didn't friended me back, and I was fascinated to see what people were actually reading. I really enjoyed it and I'd been so proud to keep some of the Goodreads books in their database when they stopped using Amazon's data!
And then last week Goodreads announced that Amazon had bought them. I was completely scunnered by the sale. Like Rob Spillman of Tin House I figure it's kind of too late, Amazon have just bought the last 5 years of my reading history, but I'm deleting my account this week. (Already added my books to my LibraryThing account as a stopgap) I didn't do it straight away as I wanted to think through my gut reaction of: "Oh No!" But a couple of days later, it's still the same. So this week all the Goodreads widgets will be cut from the site. Through our distributor, we sell books through Amazon and in turn they'd like to run us and all other publishers into and under the ground for daring to publish books instead of all authors signing their horrible print contract. So for many years it has been our policy not to link to Amazon or (when I can keep all of them in mind, any of their many subsites, see next para) and the only time I pay for anything through Amazon is for Kickstarter.
Amazon own (bold = book related): Amazon Publishing, Amazon Web Services, Abebooks, Audible, Book Depository, BookSurge, BoxOfficeMojo, Brilliance Audio, CreateSpace, Diapers.com, Goodreads, IMDB, Lexcycle, 40% of Library Thing (through Abebooks—although this is apparently complicated), Mobipocket, Shelfari, Woot, Zappos. Etc.
Wikipedia notes: "In August 2005,[110] Amazon began selling products under its own private label, "Pinzon" . . . . AmazonBasics is a private-label consumer electronics product line."
Amazon positives: their data mining is intellectually fascinating. They give out tiny halo-effect grants to literary organizations (so that everyone has to pay lip service to them). Their BreakThrough Novel Award (which is now their in house publishing competition). They pay sales tax in a few states now. Jeff Bezos, as millionaires have always done, follows his own weird (Blue Origin) with his investments.
But. Amazon wants to be everything to everyone. Some people have suggested they want to kill off public libraries (because kids need tablets instead of storytime and parents don't need any free places to take their kids . . .) They want to make the product (cup, book, sheets, cable, movie, whatever) and sell it to you. Instead of inefficient towns and shopping centers, they'd rather everyone ordered online and got stuff delivered to them and in the end it will be Amazon and the delivery company left standing.
Sounds utterly vapid and uninspiring to me.
We spend our time publishing books we love and trying to get them into the indie bookstores we love so that readers can find them there. It mostly works. We expect we'll be doing it for a while.
And then there is temptation. On Metafilter Open Library was mooted as an alternative user George_Spiggott posted "I would seriously pitch in time and technical effort to building a new site that everyone could simply pick up and move to. Because that would be a frickin' brilliant outcome. Especially if the ToS at signup committed the site to remain nonprofit and to have no exclusive marketing agreements."
Which is where temptation lies. I mentioned earlier today on Weightless that Michael and I were tempted to build an alternative to Goodreads:
" … building a new community reading site with books, reviews, comments, forums, all the things we liked about Goodreads, but without the all-encompassing Univac behind it. To keep it independent I figure we should make it a $4.99 annual subscription built along the lines Flickr uses: you could add up to 500 books for free then the oldest ones would disappear (from public view, not to you) unless you subscribed. Maybe there could be other subscriber only features, not sure, the site would do best if people use it for a while for free. If you're seriously interested in kicking this idea around, email me!"
Kickstarter might be the way to fund it: obviously we'd need to pay for data feeds, storage and usage, and coding, coding, coding. Again, Wikipedia: "In December 2007, the site had over 650,000 members[3] and over 10,000,000 books had been added.[4] As of July 2012, the site reported 10 million members, 20 million monthly visits, and 30 employees.[5]" That's a lot of data going back and forward.
Goodreads was seven years old, ancient!, and had a lot of bells and whistles and if we do take this on, the new site should get out the gate as an attractive site that's worth joining early and taking part in.
What I'd love to do is kick the idea around some more, hear what readers want, and see if this seems possible for a small group of underfunded readers. Internets?
---
Sun 10 Mar 2013 - Filed under: Not a Journal., AWP, conventions, keep it indie, local power, Publishing| Posted by: Gavin
I never managed to catch up with all the people I hoped to, I enjoyed the bookfair so much I didn't see any panels, I didn't manage to arrive on time 2 out of 3 mornings, but besides all that, AWP was, somewhat unexpectedly, a ton of fun! We have a pile of new books from a few quick trips around the fair—including a new subscription to Tin House and more poetry than I've gotten in ages. It was invigorating to spend three days with 13,000(!) people who care deeply in one way or another about words on pages. (Not as much chat about ebooks as expected, none about the possible horrors of the used ebook market, yay!)
We stayed with friends (to whom we are very grateful!) and Kelly's mom looked after Ursula (and brought her in on Saturday when the fair was open to everyone) which made the whole thing much more relaxed.
Friday there was a snowstorm so I was late. On Saturday morning smoke started coming out of the ceiling of the T at Fenway. "Driver, there's smoke in here," someone shouted. Doors opened: we all trooped out. Looked like a long wait, walked in.
Our neighbors in the fair were the very lively H_ngm_n Books on one side and our real-life near neighbors, the excellent Perugia Press. I am very happy to say that somewhere in that 13,000 people there is a contingent who read books from H_ngm_n, Small Beer, and Perugia.
We talked to hundreds of people and I owe apologies to some people for the times when I could not stop my anti-Am*zon invective: sorry. (They really do want to put everyone else out of business and all the fun out of life. Ya boo sucks to them.)
We sold out of LCRW on the second day: awesome! Wish I had brought more but it was—again—invigorating to meet so many readers.
I can't even begin to list the excellent people I met. Wait, I can. People from: Paris Press, One Story, Milkweed, McNally Jackson, Porter Square Books, Coffee House (got a copy of Raymond McDaniel's new superhero-themed poetry collection(!) Special Powers and Abilities and Geronimo Johnson's excellent sounding New Orleans novel, Hold It 'Til It Hurts—which is one of two Coffee House titles, the other being Laird Hunt's Kind One, up for the Pen/Faulkner Award!), Shape & Nature, Eleven Eleven, Unstuck, Biblioasis, oh, wait, no I can't list everyone. Sore hands and: Lists = I will miss people, sorry friends! And! We just added Puerto del Sol over on Weightless so while I met tons of people from New Mexico State U., I am kicking myself for missing the Puerto del Sol table. Argh, mea culpa. Didn't take photos. Argh x 2.
It turns out tons of our books are being taught in schools around the country, including Karen Joy Fowler's What I Didn't See and Other Stories, Georges-Olivier Châteaureynaud's A Life on Paper, Ted Chiang'sStories of Your Life and Others, and others including pretty much all of Kelly's books. For which I say to all those teachers: it was awesome and heartening to hear that you are reading and teaching and studying these books. Thank you!
And that's it. Thanks to everyone who stopped by to say hi. Hope you got home ok and that you too went home with some books you're looking forward to reading.
---
Tue 26 Feb 2013 - Filed under: Not a Journal., bookshops, keep it indie, LCRW| Posted by: Gavin
Hey, peeps, they are a-reading the new issue of LCRW.
Also, it is now in many shops. Indies bookshops who carry LCRW, listen up: We Love You! We appreciate your mad passions! You are It for us, now and forevers!
"Always happy to see a new issue of this occasional story outburst. I grope for a term to suggest the nature of the highly imaginative fiction here; "weird" will not do; "fabulist" is wrong; "odd" might fit, but I think I'll settle on "strange". Yes, these are strange stories, in which even experienced explorers of genre terrain may occasionally find themselves on uneven footing; there are few overworn trails here."
—Lois Tilton, Locus Online
"The entire issue made me smile. I'm looking forward to the next issue, whenever it may come."
—Fantasy Literature
"Lady Churchill's Rosebud Wristlet is the kind of magazine that you want to read slowly. Read a story. Put the magazine down. Absorb what you have just read. Then, after a while, read another story. Repeat. After more than a year's absence here is issue #28 with more of their very different stories."
—SF Revu
---
Wed 23 Nov 2011 - Filed under: Not a Journal., bookshops, keep it indie| Posted by: Gavin
What with holiday shipping deadlines approaching and all the fuss about Friday, I wanted to put in a word for a fun thing the folks at the Odyssey Books in South Hadley told us about when we did our Steampunk! event there a couple of weeks ago. Apparently this Friday is being relabeled from Black Friday to Plaid Friday!
What?
"Plaid Friday celebrates the diversity and creativity of independent businesses. Plaid Friday is the fun and enjoyable alternative to the big box store "Black Friday", and is designed to promote both local and independently owned businesses during the holidays."
And what are Odyssey Books doing?

"This year Pioneer Valley Local First members are volunteering a portion of their sales to CISA's Emergency Farm Fund that offers loans to local farmers affected by Hurricane Irene."
I always recommend going to an indie store—if possible—for your books. We have links to Powell's on our site and our book pages have links to the Broadside Bookstore here in Northampton. Last year they came to us with the idea of having a Small Beer Press section in their store where we could keep all our titles, including all the backlist, in front of readers: how awesome is that?
Why do we bother fighting the tide of huge big box stores and online behemoths? Because they're intent on being everything to everyone and shutting down all other voices.
"Really?"
I think so, yes. They'd like us to buy one of their machines and then read, listen, and watch everything we want on it. And of course buy everything (from books to washing machines) using it. Just jack me into the mainframe now, thanks.
Every time each of us buys anything we have a choice. Sometimes that's too much to think about. Sometimes it's worth thinking about once and making a decision. We print all our books in the US—or occasionally Canada—on 30% post-consumer recycled paper using one of a few smaller printing firms, often C-M Books or Thomson-Shore. It was an easy decision to print domestically as we can't be sure of the treatment the workers receive nor the environmental standards the companies are kept to abroad. Also, if we want to keep decent jobs available here, it seems worth printing books here.
This Saturday in our hometown, Northampton, was "Bag Day"—a surprisingly fun event where the town distributes a paper shopping bag in the local newspaper (shout out to the Daily Hampshire Gazette*!) and then just about every store in town gives you 20% off one item (or many items . . .). The streets were heaving, there were even more street musicians than usual, people were out doing public art, there was street food, it's great fun as well as getting people in to shop at the local stores and keep the downtown vibrant.
Sure, we all shop at bigger stores and shops in other towns but I buy books at Broadside so that in five years time they will still be there. It's selfish as much as altruistic. (Broadside also have a frequent buyer card which gives you a 10% discount on everything.)
I hope you'll consider doing the same. Thanks for your time.
* Any local reader want a free subscription? I have one available!
---
Fri 29 Jul 2011 - Filed under: Not a Journal., bookshops, keep it indie, Kelly Link, zombies| Posted by: Gavin
in Harvard Book Store newsletter!
"Fabulous local author Kelly Link (Magic for Beginners) has created a special edition book on Paige (our book-making robot) entitled I Don't Know the Author or the Title But It's Red And It Has 3 Zombie Stories In It. The hearts of booksellers and librarians everywhere will immediately be warmed by this title, but here's a little note from Kelly that explains the unusual title choice:  "When you work at a bookshop, hopeful customers sometimes come up to the counter and say, "I don't know the author or the title, but it's red (green, blue, etc) and it has xxxxx in it." (I've said it myself at least once or twice.) Anyway, for a couple of years, my husband Gavin and I have had a running joke about using this as the title of a collection. These three stories have appeared before, in other collections, but we were hoping that an all-zombie mini-book would make a good sampler for new readers. We designed the book and printed it in less than twenty-four hours. How amazing: to see your book made before your eyes! We're now thinking about other projects for Paige M. Gutenborg."  It's a slim and gorgeous new book–and it's currently only available at Harvard Book Store! Order your copy here."
---
Wed 29 Jun 2011 - Filed under: Not a Journal., bookshops, keep it indie| Posted by: Gavin
Celebrate Independents Week with independent businesses across the country—and around the world as the movement grows. Shopping at local independent businesses pays wages to people in your area—who can then afford to buy books: maybe even yours!
Check out the American Independent Business Alliance for more information. In celebration of Independents Week, visit your local bookshop—remember most books are still bought at brick and mortar bookshops. Even chosing to buy one or two more books per year locally will make a difference to the viability of your local bookstore.
We all shape our towns by choosing which stores to shop at: we hope you will choose your local indie bookshop!
If you don't have a great local indie, then here are a few suggestions from our ever-expanding list of favorites (use indiebound.org to find more near you):
Starting in Massachusetts (since that's where we are) in Boston there's the Brookline Booksmith, Harvard Bookstore, Porter Square Books, the Brookline Village Children's Bookshop. Farther out there's Back Pages in Waltham and Storybook Cove in Hanover. In Western Mass., we like Broadside Books (Northampton), Odyssey Books (South Hadley), Amherst Books (Amherst), as well as the utterly unique Bookmill in Montague (converted from an old mill, and gorgeous).
Down south of us in New York City there are fantastic general and specialty bookshops including St. Mark's Bookshop, McNally Jackson, Shakespeare & Co., Hue-Man Books & Cafe, and (especially irresistible with its cupcake cafe!) Books of Wonder, as well as the Drama Book Shop, Asia Store, Idlewild, and Kitchen Arts and Letters—and don't miss Word and Greenlight in Brooklyn. Upstate we recommend the Book House of Stuyvesant Plaza and the Spotty Dog in Hudson—dear to our hearts as they also serve beer.
Since we've already run out of space on this page before we left the northeast (and what about RiverRun in Portsmouth, NH, or all those lovely shops in Vermont?) we obviously can't list every bookshop we've enjoyed visiting here (even those above are heavily edited) so please add your favorite bookshops in the comments.
And if you're in D.C. don't miss Politics & Prose. Or Quail Ridge in Raleigh, N.C., Skylight in L.A., Powell's (or Murder by the Book or Reading Frenzy) in the other Portland . . . you get the idea Keep it indie this week, and every week!
Originally published in A Working Writer's Daily Planner 2011.
---