Fri 20 Aug 2010 - Filed under: Not a Journal., LCRW, Publishing, writing | 19 Comments| Posted by: Gavin
One of the perpetual questions around here is whether to provide feedback to writers when they send us something that's not for us. Some writers love it, some hate it. And everyone knows that our response time has slowed horribly over the last year (sorry) so why spend extra time? Occasionally I'm asking to see another story, sometimes I'm trying to be helpful or useful. I received this email the other day in reply to a note I added about a story I turned down. It's not the first such letter nor no doubt will it be the last (how many rejections-of-our-rejections have we received?) but perhaps I should short circuit them and not include notes at all?
This isn't about this letter in particular (be nice, impolite comments deleted). I'm just curious what people like: comments/no comments; feedback/no feedback.
Thanks for taking the time to make a handwritten note on the rejection letter for my story, "TITLE."  You wrote, "This was fun but a little reminiscent of 'The Cold Equation' or James Patrick Kelly's 'Think Like a Dinosaur.'"
I've never heard of these works. Were they recently published in your magazine? Or were you simply trying to say "TITLE" is derivative and unoriginal?
If it was the latter: I realize there are other stories on the topics of teleportation and genetic engineering, and even more stories involving children. I'm not surprised my story reminded you of others you have read, but I'm not sure why that is a problem. The mere existence of similar works is not a solid rationale for rejecting a story. Literature should be judged on its own merits rather than what others have achieved or—even worse—the arbitrary, preconceived notions of what constitutes "good" writing. Based on your note, it appears that you may want to think more carefully about the basis for rejecting the works you receive.
The collective unconscious runs deep, especially for writers. I recently saw an episode of Star Trek: The Next Generation that was so strikingly similar to "TITLE," it gave me chills. The episode was called "The Masterpiece Society" if you want to look it up. I don't feel threatened by the similarities because I know "TITLE" is different. I wrote "TITLE" when I was 20 years old and saw the Next Gen episode about a month ago (I'm 24 now). In different time periods from different perspectives, the Star Trek writers and I explored the exact same topics. How's that for science fiction!
Just a thought.
Best good wishes,
AUTHOR
---
Mon 21 Jun 2010 - Filed under: Not a Journal., Alasdair Gray, LCRW | 3 Comments| Posted by: Gavin
Everything has slowed down at Small Beer hq due to the summer heat and maybe maybe perhaps that little thing that World Cup. Yay for the future arriving and being able to watch most of the matches on ESPN3—or free at many many bars, mmm. Sadly the White Horse Tavern in Allston was out of Dogfish IPA two days in a row but Troeg's Hopback Amber was a good substitute.
Congratulations to Gerbrand Bakker (and translator David Colmer and Archipelago Books!) whose novel The Twin just won the 2010 International IMPAC Dublin Literary Award. Between that and Tinkers receiving the Pulitzer price it makes for a great year for independent presses!
We have a fun update on Kathe Koja's book coming later this week. Let's just say you should order then, not now. Oooh!
What else we're up to:
Watching the World Cup. No, really, there are 3 games a day at the moment. How is anyone supposed to do anything else but sit in bars, drink, and watch the games? Deadlines? Whoosh!
Also, Kelly's about done with her blogging, although she does promise a couple more posts here and at Gwenda's at a time TBA. Nice to see Gwenda (and some others) poking her head up above the bunkers again. We too watch the True Blood but are a season behind. Ah, DVDs.
Just saw a great review of A Life on Paper on The Agony Column. There's one way to make sure the rest of G.-O. C's work gets translated into English:
Châteaureynaud has a backlist for American readers that this book makes enticingly tangible, almost real. His own work is such that it might be subject of one of his stories. This might be all there is, the rest pure fabrication. The unreal, awaiting translation.
Alasdair Gray is interviewed by Jeff VanderMeer on Gray Week at Omnivoracious:
Gray's new novel, Old Men in Love, is a mash-up of several different voices, creating a narrative through collage. The main text is presented as the posthumous papers of a retired Glaswegian schoolmaster named John Tunnock, seemingly edited by Gray. Tunnock's a rogue whose exploits often backfire on him, and the novel contains everything from historical fictions set in Renaissance Italy to accounts of how his young mistresses take advantage of him.
Also, Will Self's Appreciation of Alasdair Gray's Old Men in Love
And Thursday Extra: Alasdair Gray, Author of Old Men in Love, Recommends Agnes Owens
How awesome was that week? Well, apart from the commenter—who says he's a big fan of the author—who gave the book 1 star because he can't read it in the format he wants. Oh well.
Old Men in Love was also reviewed by a long-time reader of Gray's books, Gerry Donaghy, on Powell's Review-a-Day:
Clear in this book, as in past volumes, is Gray's devotion to the idea of the book as an object. Throughout his career he has designed his own books (usually to either save his publisher some cash or collect a second paycheck), and Old Men in Love is no exception. Poorly suited to a Kindle reading experience, it's filled with various typefaces, ornamental drawings, and Blake-inspired illustrations. Even the boards of the book itself are tooled in silver-looking flake. If eBooks are the future, it looks like Gray is going to go out swinging.
A bit of LCRW news:
Does seem like there was more going on. But somehow the day has passed passed and gone and now it's either time to see Luis Alberto Urrea at the Harvard Bookstore, or not! And, tomorrow: Colson Whitehead. And, in a few weeks, David Mitchell. Ooh, those lit'ry mens.
---
Tue 8 Jun 2010 - Filed under: Not a Journal., ebooks, LCRW, Naomi Mitchison, Weightless Books | 2 Comments| Posted by: Gavin
We've just added LCRW 16, LCRW 17 and LCRW 18 to Weightless and dropped the price of LCRW ebooks to $2.99! Woot! Cough! Exclamation!
Also of LCRW interest: a review of LCRW 24 from Ray Garraty in Russia (and in Russian).
More ebookery: we just added Part 2 of Astrid Amara's The Archer's Heart on Weightless. What are we talking about? Here, go get Part 1: serialized fiction, it's Weightlessed!
Travel Light is now available as an ebook for the very first time. It is an awesome book that you should have read when you're 10. In fact, if you are 10, read it now. If you are not 10, read it anyway. And, isn't that the best title ever of a book to read as an ebook? Oh sure, our paperback has the gorgeous Kevin Huizenga cover but you know, travel light. Of course if you're hauling around some huge ebook reader maybe that isn't travelling so light.
At some point we will probably offload all our ebooks to Weightless—which is growing along nicely. (And we're very happy that those 2 million iPad readers will be able to read PDFs on it now. We make pretty pages and want you to enjoy them as well as the stories on them.) Anyway, so tell us if you think the offloading of ebooks to the other site is s a good or bad idea.
---
Mon 3 May 2010 - Filed under: Not a Journal., Interviews, LCRW, translations, Zhao Haihong | 7 Comments| Posted by: Gavin
In the new issue of LCRW we're very happy to present the first English publication of multiple award-winning Chinese writer Zhao Haihong. Her story "Exuviation" was first published in 2000 in Science Fiction World Magazine and received the Galaxy Award. Zhao Haihong has an M.A. in English literature from Zhejiang University and teaches English literature in Zhejiang Gongshang University in Hangzhou, China. She started writing science fiction in 1996, and has received the Galaxy Award from Science Fiction World Magazine, the Soong Ching Ling Children's Literature Award, and the sixth National Writers Association Award for outstanding children's literature in China. Her first story collection, Eyes of the Birches, was published in 1999.
Fabulous intern Diana Cao (who, coincidentally, will be studying in Beijing for a month later this summer) interviewed Zhao Haihong last week:
Diana Cao: Could you first give some background about how you arrived where you are in your writing today?
I've loved reading and writing since childhood. To me, writing was the only way to prove who I was in my middle school. I tried various kinds of writing in the six years, and some of them were science fiction stories—among them was a story I sent to Science Fiction World magazine and had published. The story "The Rising of the Great Rift Valley" won me the first prize of the Guangya Science Fiction Story Contest for Students (1996) held by the magazine. I was thrilled by the result and that's the real start of my science fiction career. Since then, I have published 21 science fiction stories, mostly in SFW and later collected in two books: Eyes of the Birches and The Other Side of Time. My third collection The World and my first novel Crystal Sky will be published this year. These stories have brought me six Galaxy Awards (1997-2002) by SFW, the Sixth Soong Ching Ling Children's Literature Award (2003) and the sixth National Writers Association Award for outstanding children's literature in China (2004)—the last two are governmental awards, and science fiction is included under children's fiction for governmental awards. Read more
---
Fri 23 Apr 2010 - Filed under: Not a Journal., Interviews, LCRW, To Read Pile | 1 Comment| Posted by: Gavin
A while ago we published a lovely short piece of fiction (or poetry, as we listed it in LCRW 19!) by Katharine Beutner. Earlier this year we noticed that her debut novel, Alcestis, was about to be published by the good folk at Soho Press. All excited, we quickly dashed off some questions for Katharine and in the middle of her debut book launch and doing readings and so on she sent back her answers.
Then we brought punnet after punnet of pomegranates and honeycrisp apples into the office and everyone tried to decide which side they were on. To choruses of "Apples!" "Pomegranates!" (and the occasional "Beer!)" we decided that, yes, we like fruit, but if we were more specific than that it seemed we might be tempting the gods and, really, how foolish could we be? (Moving quickly on.)
Anyway, Katharine's first novel is in stores now so why not add it to your reading pile? In the meantime, that interview:
SBP: First, what attracted you to the story, or: Why a historical novel? Why Ancient Greece? Why a dead girl?
Katharine Beutner: When I was little, I read and reread the D'Aulaires' Book of Greek Myths, which has beautiful Blakean illustrations that are cheery and brutal, just like the myths themselves.
I remember reading a prose translation of the Odyssey when I was maybe ten or eleven, and reading Sophocles and Aeschylus in high school. I majored in classical studies in college (at Smith, yay Northampton!). I've always been more attracted to Greek mythology than to any other kind.
As for "why historical fiction," I like the way that historical fiction foregrounds the process of approximation that all fiction engages in. I have a favorite bit by Samuel Johnson that I sometimes drag out to explain this, from the Preface to Shakespeare, the same essay in which Johnson says that Shakespeare "holds up … a mirror" to nature:
"Shakespeare approximates the remote, and familiarizes the wonderful; the event which he represents will not happen, but if it were possible, its effects would be probably such as he has assigned; and it may be said, that he has not only shewn human nature as it acts in real exigences, but as it would be found in trials, to which it cannot be exposed."
He's talking about the fantastical elements of Shakespeare's work, but I love historical fiction for the same reasons. All historical novels are fantasy, in a way. We can't ever truly understand the past, but we can create art about the past that allows us to tell ourselves truths, even if we can't reconstruct the truths of other time periods as citizens of the past would have done.
Regarding Alcestis's story in particular, my question was actually "Why didn't she *stay* a dead girl?" Sacrificing your life for someone else is a grand gesture, and I was frustrated that the traditional version of the myth reversed it and brought her back to life. So I set out to write a version of her story in which her time in the underworld would still have profound meaning for her, no matter what Heracles did.
Are pomegranates really your favorite fruit?
I like them, but I think apples are my favorite now, which is odd because I used to despise them for textural reasons. Then I discovered Honeycrisps a few years ago and became a convert. Still Greek myth-appropriate, though I always thought Paris should've given the apple to Athena.
Did you go to Greece for research?
I wish. I looked at lots of lucky tourists' photos of Bronze Age ruins online, though! The Mycenaean period is still pretty mysterious, but I read some archaeological studies of particular sites and researched lots of other little pieces of information — what asphodel looks like in its various life stages, homeopathic treatments for asthma, what sorts of snakes are native to central Greece, that kind of thing.
Did you go to the underworld for research? If so, what brought you back?
Sheri S. Tepper's The Gate to Women's Country and Connie Willis's Passage and Tom Stoppard's Rosencrantz & Guildenstern Are Dead were my underworld research.
The gender relations in the novel are not exactly equal. How did you get your head around them?
I was reading a lot of eighteenth-century fiction and Victorian fiction while I worked on Alcestis — my dissertation focuses on eighteenth-century women writers. There's nothing like reading Samuel Richardson's Clarissa to give you an immersive sense of how alien men and women can appear to one another when they exist within a culture of restrictive gender relations. (Or for a far more light-hearted version of this divide, see Fanny Burney's Evelina, which was one of Jane Austen's favorite books and has a monkey melee scene at the end. I like to think that Jane Austen loved it even more because of that.)
Is this your first novel, or your first published novel?
First published novel. My actual first novel was fairly traditional second world fantasy, written in slapdash fashion my first year after college. I might overhaul it some day — I still think the central relationship in the book is interesting — but for now it's trunked.
Did you find being in a writing program helped?
It helped a great deal, even though writing program workshops are designed for short fiction, not for novels. (I fantasize about teaching a novel-workshopping class someday.) But I had great friends in the program and an excellent thesis adviser who helped guide me through my first revision of the novel. And I had two years to write, which is the best part of any writing program, I think.
What has the publishing experience been like for you? Did you find it hard to find an agent and publisher?
I was lucky — a number of my friends have become writers or agents, including Diana Fox, who represents me. She'd liked my first novel, unbelievably enough, and was encouraging about Alcestis from the beginning. Over about a year and a half, we collected a reasonable number of rejections from publishers, some just polite, some complimentary but unsure how to sell the book. Then Soho made an offer, which Diana called to tell me about twenty minutes after I'd finished defending my dissertation prospectus. (It was an exciting day.) So far, the experience has been great. Soho has been just wonderful, especially my editor Katie Herman and Justin Hargett, the director of publicity. I love getting to hear what people think about the book. And I'm usually busy with grad school work, which keeps me from obsessing too much about the many elements of publishing I can't control.
Are you working on something else/taking a break/moving to LA with a screenplay in your pocket/disappearing never to be heard from again?
I'm currently being squashed under the weight of my dissertation, like Atlas. After I finish it, I'll begin writing the novel I've been researching, which is about the disappearance of a Mt. Holyoke College student in 1897. I doubt I'll ever move to LA, but the slightly too-long Hollywood elevator pitch for that novel is "Alias Grace meets The Prestige meets Fingersmith meets The Secret History" — it'll be New England gothic, weird and twisty.
---
Mon 29 Mar 2010 - Filed under: Not a Journal., Georges-Olivier Châteaureynaud, LCRW, translations| Posted by: Gavin
Somewhere out in April or May we can see the new issue of LCRW. It's looks like an LCRW: b&w cover (unveiled herein, ta da!), sixty pages, some color in the pdf version, a picture of Ursula or two, fiction and poetry and a comic from writers you may or may not know, and possibly, delivered to your door with a chocolate bar through hail, kale, ice or snow by the postal service of your country.
One oddity about this issue: there are a few stories about travel and sleep—two of our favorite things. And this issue does indeed as promised include two translations: yay!
The best way to ensure delivery: subscribe!
ToC after the jump: Read more
---
Fri 5 Mar 2010 - Filed under: Not a Journal., Alasdair Gray, Angelica Gorodischer, Geoff Ryman, Interstitial Arts, LCRW | 1 Comment| Posted by: Gavin
Catching up on the open tabs: be gone before the weekend!
Geoff Ryman is interviewed at The Short Review—which is an awesome site that only reviews that most commercial of forms, the short story!
Lois Ava-Matthews and friends have a great new(ish) online zine, Belletrista, whose mission is to Celebrate Women Writers Around the World. Issue 4 just went up and in it Tim Jones reviews Kalpa Imperial:
it stands in the distinguished tradition of fabulation of authors such as Jorge Luis Borges and Italo Calvino, and it is arguably not a novel at all, but a collection of linked stories. As translated by Ursula K. Le Guin from the 1983 original, it reminded me most of a humanist equivalent of Gene Wolfe's science fiction series The Book Of The New Sun.
Diagram has a 10 year antho which is a set of cards. Buy now.
An excellent review of Interfictions 2 by Sue Bond is up at Australian site MC Reviews with a lovely line (at least for interstitial enthusiasts):
I am still left puzzled as to what the deciding factor was for the choice and placement of the stories that are included in this anthology. It doesn't seem to be restricted to particular themes, or to stories that contain an element of fantasy, or even stories that are unusual narratively.
And Erin asks are there interstitial writers in (between) other genres?
Speaking of (potentially) interstitial stuff, our Alasdair Gray book is at the printer and fingers crossed all will go well with all that pretty blue art on the inside. Here's that bottle of whisky that he did the art for. Must try!
Our friends at Zygote games posted about an 11,000 year old site in Turkey.
When the Great Pyramid was built in Egypt, those stones in Turkey were older than the Pyramids are today.
Phew. Also, while you're at it, pick up both their games for only $20!
Zine World reviews LCRW 23 and 24. 23 gets the better response:
Long-running, reliably good lit-zine. . . . There are stories from just about every genre, from fairy tales, surreal stories, and even an essay on logic problems. I enjoyed the bizarre surprise ending of "The LoveSling" and the engrossing story of "The Girl with No Hands. Truly something for everyone.
24 gets a light lambasting:
The bulk of the zine is the fiction pieces. They all seem to have the exact same style.
Eek! But they go on to say "Those who like to discover new writers, check this out."
---
Tue 19 Jan 2010 - Filed under: Not a Journal., Books, Interviews, LCRW, To Read Pile | 4 Comments| Posted by: Gavin
Computer troubles and the new year intervened but, here, at last, gingerbread and tea at the ready, is our promised interview with past-LCRW contributor Daniel Rabuzzi whose first novel of The Choir Boats, Volume One of Longing for Yount, was recently published by Chizine Publications. The Choir Boats is great fun: Rabuzzi's characters are original and as the book leaves London behind the reader is off into a fresh and lively new world.
Daniel keeps a blog where he interviews artists and writers, reports on readings (and what he's reading) and what he and his wife, wood carver Deborah Mills, are up to so it only seemed fair to put him on the other side of the paper:
Let's start with the basics: how long did it take you write The Choir Boats?
Bits of The Choir Boats come from my journals and sketchbooks going back as far as junior high school. Then, one Sunday in May, 2002, I sat down to write my brother a letter and instead Barnabas, Sanford, Sally and Tom appeared in the house on Mincing Lane… quite unforeseen, I must tell you, but very welcome!   I delivered final edits on the manuscript in May, 2009, so I needed seven years for The Choir Boats.
You live in NYC, why did you set the novel in London?
Ah, a great question…I think of NYC and London as half-twins: we have a Chelsea and a Soho, they have a Chelsea and a Soho, and so on (alike, and yet so very different).  I have spent about a year in total in London over the past few decades: on business in the City, researching at the British Library, visiting friends, spending hours in the Charing Cross bookstores and at the V & A…and always tramping around the quirkiest precincts I can find– small streets in Lambeth or Maida Vale, a prospect from Chalk Farm, lanes in Whitechapel, and so on.  Always I find in London a sense of secrets– some good, some less so– marshalled behind the facades, tucked away just around the corner of the mews…whereas here in NYC, what you see is usually what you get, for better or worse we are much more "in your face."  For me, fantasy is about sensing and pursuing the hidden, the secretive, so London feels much the b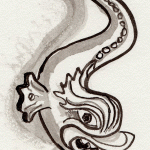 etter fit for converse with Yount.  (Also, I fell in love in London with my wife and creative partner, Deborah Mills, who was at the time studying there.)   Having said that, NYC makes a cameo appearance in The Choir Boats (as a waystation for Maggie and her mother), and might just play a more central role in later books about our world and Yount.  Delia Sherman has certainly shown how effectively NYC can serve as a portal for fantasy in her Changeling books!
What kind of research did the novel involve?
I earned my PhD in modern European history…the research for The Choir Boats stems largely from my doctoral work on 18th- and 19th-century merchants in northern Europe.  I often feel like Pierce Moffett, the idiosyncratic historian in John Crowley's Aegypt Cycle, asking whether the world has more than one history.  Or the protagonists in the works of Umberto Eco and of A.S. Byatt, hunting for clues in a rebarbative and ever-branching history.
You obviously love playing with language. Who are your favorite writers and what stream of fiction do you think influenced your novel?
Austen,  Blake, Dickens, Hesse, Borges and Mann are deep influences, as are Meryvn Peake and Ursula K. Le Guin.  Pope, Dickinson, Hopkins, Moore, Hughes, Heaney.  Lately I have been reading Z. Z. Packer, Elise Paschen, Sarah Lindsay, Alice Oswald, Nathaniel Mackey, Andrea Barrett, Nnedi Okorafor.  I especially like the writers I loosely call 'the New Stylists": Theodora Goss, Cat Valente, Sonya Taafe, JoSelle Vanderhooft, Sandra Kasturi, Naomi Novik, Susanna Clarke.  "Neo-Romanticists" might be a better label, as their various uses of language evoke Endymion, Alastor, Tieck's Fantasus and Novalis's search for the blue flower.  Greer Gilman and Ellen Kushner are the pioneers here, their wordplay (simultaneously lush and incisive) an inspiration to the most recent cohort.  Sarah Micklem and D.L. Cornish are two other writers whose prose sings to me.
As the book goes on you include an increasing number of literary characters and play more with the idea of stories. Will these characters ever cross over from story to our world?
Yes, though precisely how is still being marinated in my night-kitchen.  I do know that a certain Elizabeth Darcy (born Bennett) will play a minor but necessary role in The Indigo Pheasant, or, A Tax from Heaven, the sequel to The Choir Boats. Careful readers will recall that Elizabeth is a friend of Sally's through Elizabeth's City relatives.
What beverage and snack should readers have ready to read your book?
A rich black tea with lots of milk and sugar, and gingerbread or almond cookies.  The Dutch and Flemish make a ginger-cinnamon-nutmeg cookie for the winter holidays called speculaas that would be particularly appropriate.
Mmm. Thanks Daniel!
---
Tue 6 Oct 2009 - Filed under: Not a Journal., Dear Aunt Gwenda, LCRW, To Read Pile | Leave a Comment| Posted by: Gavin
2 LCRW things (make that 4) about the next LCRW which is apparently number 25. Which, if we were numerically inclined would be yet another reason to celebrate. But we are too busy cutting lead type (um, no, not really) and then these:
We are collecting questions for Dear Aunt Gwenda. Please send us yours!
We just bought a couple of stories and if we are lucky we will have a translation (of an award winning story!) in the next issue and, separately, maybe more from a different country in the future.
We are catching up a little with submissions but in the pile there are even yet and still some submissions from at least as far back as February and March of this year. Darn.
I just read former LCRW contributor Daniel A. Rabuzzi's debut novel, The Choir Boats, (Indiebound/Powell's) a huge, inventive fantasy about 19th century London and Yount, another place,  and hope to post an interview here with him soon.
---
Thu 17 Sep 2009 - Filed under: Not a Journal., death and radishes, ebooks, LCRW | Leave a Comment| Posted by: Gavin
LCRW 24 is available at last on Fictionwise.
Which also means it available on Barnes & Noble. Funny. Except, on bn.com it hasn't quite appeared yet. You can get many old issues (LCRW 15, anyone?) so maybe #24 will pop up there one of these days.
Neither is it available on the Kindle.
Happily, it is still available on paper.
---
Sun 30 Aug 2009 - Filed under: Not a Journal., Kelly Link, LCRW, to be read | 6 Comments| Posted by: Gavin
Kelly's Uncle Wes, who long-time LCRW readers may remember as the author of an oatmeal cookie recipe a while back, just had has his first book published and even though it's full of great stories it's in a very different section of the bookstore than Kelly's books!
Wes's book is Cure Constipation Now: A Doctor's Fiber Therapy to Cleanse and Heal (for Kelly this sort of like a real-life version of Mark Leyner's My Cousin, My Gastroenterologist) and it just came out in paperback from Berkley. I'm very glad they chose to use a typographical cover instead of something illustrative.
Dr. Wesley Jones, to give him his full title, believes most people in the USA (and Western world) eat too much refined food and need more fiber. Here's his bio:
He is the founder and senior partner of the Cape Fear Center for Digestive Diseases in Pennsylvania. He is chair of Curamericas Global, Inc., which provides healthcare to Central America, South America, and west African communities. He was awarded the FACP and AGAF awards for his work in the field.
---
Tue 4 Aug 2009 - Filed under: Not a Journal., 51%, John Kessel, Kelly Link, LCRW, Small Beer Press, Year's Best Fantasy & Horror | 1 Comment| Posted by: Gavin
Hey, lovely news today from the World Fantasy Award people. John Kessel's terrific mashup "Pride and Prometheus" from the January 2008 issue of F&SF and reprinted in his collection, The Baum Plan, picked up another award nomination, as did the last volume of The Year's Best Fantasy & Horror, and Kelly & Gavin were nominated for Small Beer & Big Mouth (what a pairing!).
Congratulations to all the nominees! It is an honor to be nominated. Before posting the whole list, here's a quick gender breakdown to follow up on previous award posts:
Novel
The House of the Stag, Kage Baker (Tor)
The Shadow Year, Jeffrey Ford (Morrow)
The Graveyard Book, Neil Gaiman (HarperCollins; Bloomsbury)
Pandemonium, Daryl Gregory (Del Rey)
Tender Morsels, Margo Lanagan (Allen & Unwin; Knopf)
Novella
"Uncle Chaim and Aunt Rifke and the Angel", Peter S. Beagle (Strange Roads)
"If Angels Fight", Richard Bowes (F&SF 2/08)
"The Overseer", Albert Cowdrey (F&SF 3/08)
"Odd and the Frost Giants", Neil Gaiman (Bloomsbury; HarperCollins)
"Good Boy", Nisi Shawl (Filter House)
Short Story
"Caverns of Mystery", Kage Baker (Subterranean: Tales of Dark Fantasy)
"26 Monkeys, Also the Abyss", Kij Johnson (Asimov's 7/08)
"Pride and Prometheus", John Kessel (F&SF 1/08)
"Our Man in the Sudan", Sarah Pinborough (The Second Humdrumming Book of Horror Stories)
"A Buyer's Guide to Maps of Antarctica", Catherynne M. Valente (Clarkesworld 5/08)
Anthology
The Living Dead, John Joseph Adams, ed. (Night Shade Books)
The Del Rey Book of Science Fiction and Fantasy, Ellen Datlow, ed. (Del Rey)
The Year's Best Fantasy and Horror 2008: Twenty-First Annual Collection, Ellen Datlow, Kelly Link, & Gavin J. Grant, eds. (St. Martin's)
Paper Cities: An Anthology of Urban Fantasy, Ekaterina Sedia, ed. (Senses Five Press)
Steampunk, Ann & Jeff VanderMeer, eds. (Tachyon Publications)
Collection
Strange Roads, Peter S. Beagle (DreamHaven Books)
The Drowned Life, Jeffrey Ford (HarperPerennial)
Pretty Monsters, Kelly Link (Viking)
Filter House, Nisi Shawl (Aqueduct Press)
Tales from Outer Suburbia, Shaun Tan (Allen & Unwin; Scholastic '09)
Artist
Kinuko Y. Craft
Janet Chui
Stephan Martinière
John Picacio
Shaun Tan
Special Award—Professional
Kelly Link & Gavin J. Grant (for Small Beer Press and Big Mouth House)
Farah Mendlesohn (for The Rhetorics of Fantasy)
Stephen H. Segal & Ann VanderMeer (for Weird Tales)
Jerad Walters (for A Lovecraft Retrospective: Artists Inspired by H.P. Lovecraft)
Jacob Weisman (for Tachyon Publications)
Special Award—Non-professional
Edith L. Crowe (for her work with The Mythopoeic Society)
John Klima (for Electric Velocipede)
Elise Matthesen (for setting out to inspire and for serving as inspiration for works of poetry, fantasy, and SF over the last decade through her jewelry-making and her "artist's challenges.")
Sean Wallace, Neil Clarke, & Nick Mamatas (for Clarkesworld)
Michael Walsh (for Howard Waldrop collections from Old Earth Books)
---
Tue 4 Aug 2009 - Filed under: Not a Journal., chocolate, LCRW | 4 Comments| Posted by: Gavin
We just mailed out the last of the subscriber's copies of LCRW 24 (thanks to the amazing intern team of: Michael, Paul, Felice, Kristen, and Abram!) and subscribers did not in fact get the Spicy Maya bar we promised: instead we sent out the Firecracker because it is at once fantastic and also weird and wonderful. It's a dark chocolate bar with chipotle (mm), salt (mmm), and popping candy. What?! Yes. Feeling the popping candy go off in the middle of the deep dark chocolate is like eating the stars at night.
We have one bar left then new subscribers will get something else. And sharp-eyed readers will note that in the pic to the right there is a coupon from Chuao Chocolatiers especially for LCRW subscribers for 20% off online purchases: LCRW and the unexpected extra chocolatey goodness bonus! We recommend moving phasers to Stock Up.
---
Fri 17 Jul 2009 - Filed under: Not a Journal., chocolate, LCRW | 6 Comments| Posted by: Gavin
The new issue of LCRW is about to go out and we are last-minute getting the chocolate in (in summer we can't keep it around here because 1) Gavin will eat it and 2) it will melt). So we're ordering a bunch of chocolate and this time round we are getting in the even better stuff. Last time we asked if anyone minded a low-price (er, cheap) bar that time so that we could go great this time. The readership said Sure! and we sent out IKEA Food dark chocolate bars! So this time we're taking the savings from that time (and any subscribers since then are just lucky!) and ordering Chuao Chocolatier's Spicy Maya Bar. This is one fantastic chocolate bar which we've only tried a couple of times: it's more of a birthday present than an everyday bar.
So, anyway, if you want to subscribe to LCRW and get a chocolate bar each time, now is maybe the best time ever to do it. We're going to order something like 100 bars (hope the delivery person isn't a chocolate fiend) and once they're sent out (and once we've tried a few around here) that's it with the Over The Top excellentness and it will be back to the regular goodness.
---
Fri 10 Jul 2009 - Filed under: Not a Journal., ebooks, LCRW | 2 Comments| Posted by: Gavin
Current Issue: Lady Churchill's Rosebud Wristlet Number 24
Current location: at the printer.
Current availability: paper edition will mail out next week to subscribers and bookstores. However, the DRM-free PDF ebook is available now.
Additionally: we've dropped the price of the LCRW ebook to $4 from this issue on and also for the back issues (more of which should be available later this month). The price has been changed at Fictionwise, too, although that may take a little while to percolate through the system.
| | | |
| --- | --- | --- |
| US/Canada $5 | International $8 | Ebook $4 |
And what's in this death and radishes issue? Familiar and unfamiliar names! A lack of radishes. A comic by Abby Denson.
As ever one of the aspects we are most pleased about is the number of authors we were previously unfamiliar with. We aren't the fastest readers out there, but we read everything we're sent and are regularly delighted to be able to bring new authors to the fore:
Fiction
Alexander Lamb, "Eleven Orchid Street"
Liz Williams, "Dusking"
Jasmine Hammer, "Tornado Juice"
J. W. M. Morgan, "Superfather"
Dicky Murphy, "The Magician's Umbrella"
Alissa Nutting, "Leave the Dead to the Living"
Eve Tushnet, "A Story Like Mine"
Dennis Danvers, "The Broken Dream Factory"
Anya Groner, "The Magician's Keeper"
Nonfiction
Gwenda Bond, "Dear Aunt Gwenda"
Poetry
Neile Graham, "Machrie Moore"
Marina Rubin, "Bordeaux, And Other Mysteries"
Comics
Abby Denson, "Heady's Crush"
Cover
---
Fri 15 May 2009 - Filed under: Not a Journal., LCRW | Leave a Comment| Posted by: Gavin
We are still shipping books from our warehouse clearance sale (that went well!).* However, it went so well that we will be shipping stuff out for the next couple of weeks. Today Uline are delivering (come on, come on, deliver already!) many new boxes (since we recycled all we had on hand) which should mean massive amounts go out real soon now.
We have just signed a couple of books for next summer: two novels! Where are the short story collections? Ah, well, we have a contract to be worked on for one of those next!
We are reading submissions still: but, it we are slow right now. If you query, you may hear from us, you may not. Sorry. We love putting out a zine, but in times of great need (um, printer demands payment for lovely book), reading drops down and col calling bookshops becomes the groovy thing to do.
* Turns out old John Maynard Keynes was right: people will buy stuff in a depression if the price is crazy enough. That's a direct quote.
---
Wed 13 May 2009 - Filed under: Not a Journal., ebooks, LCRW | Leave a Comment| Posted by: Gavin
Looks like Fictionwise have caught up and added a bunch of our zines. (And some of them are available as DRM-free ebooks here.) Um, here's a cut and paste including reviews (or, rather, ratings, where are the reviews? where's the fun?). And, if you like the ebooks, this would be a good time to catch up on back issues as they all seem to be on sale.
---

1
Lady Churchill's Rosebud Wristlet No. 23 [MultiFormat]
by Gavin J. Grant & Kelly Link
Lady Churchill's Rosebud Wristlet is a twice-yearly zine of eclectic fiction, poetry, comics, etc. No. 23 features stories from Kirsten Allio, Nick Wolven, Angela Slatter, Mark Rich, Jodi Lynn Villers, and others. Ted Chiang contributes an algorithmic essay on The Problem of the Traveling Salesman (there's math in it, but it's fun, we swear). Plus, Abby Denson's new comic explains how to create cats for fun and profit. Elsewhere within: murderous deer, fey graffiti, your wizardly father gives di… more info>> (Published: 2008)

Hugo Award Nominee, Locus Poll Award Nominee

Words: 35532 – Reading Time: 101-142 min.
Category: Fantasy

Regular

Club

List Price:
$

5.00

$

4.25

You Pay:
$3.00
$2.55

You Save:

40%

49%

---

2
Lady Churchill's Rosebud Wristlet No. 22 [MultiFormat]
by Gavin J. Grant & Kelly Link
Lady Churchill's Rosebud Wristlet is a twice-yearly zine of eclectic fiction, poetry, comics, etc. No. 22 features amazing stories from Carol Emshwiller, Maureen F. McHugh, David J. Schwartz, Charlie Anders, and others. Aunt Gwenda weighs in with some writing tips, and Abby Denson's comic reveals the secrets of snake-slaying. Will the blind camera find aquatic love? Will the children of Winter undo their mother's great work? Where has Satan been tending bar these days? All this and more within. (Published: 2008)

Hugo Award Nominee, Locus Poll Award Nominee

Words: 37657 – Reading Time: 107-150 min.
Category: Fantasy

3 Reader Ratings:

| | | | |
| --- | --- | --- | --- |
| | | | |
| Great | Good | OK | Poor |

Regular

Club

List Price:
$

5.00

$

4.25

You Pay:
$3.00
$2.55

You Save:

40%

49%

---

3
Lady Churchill's Rosebud Wristlet No. 21 [MultiFormat]
by Gavin Grant & Kelly Link
Lady Churchill's Rosebud Wristlet is a twice-yearly zine of eclectic fiction and so on. No. 21 is the first issue to be made available on Fictionwise and features amazing stories from Alice Sola Kim, Matthew Cheney, Kirstin Allio, Brian Conn, Benjamin Parzybok, Carol Emshwiller, and others. Of course the real reason to read it is for Dear Aunt Gwenda's advice column (or perhaps Abby Denson's comic?) wherein you too can learn the secrets of the universe. (Published: 2007)

Hugo Award Nominee

Words: 41372 – Reading Time: 118-165 min.
Category: Fantasy

4 Reader Ratings:

Regular

Club

List Price:
$

5.00

$

4.25

You Pay:
$3.00
$2.55

You Save:

40%

49%

---

4
Lady Churchill's Rosebud Wristlet No. 15 [MultiFormat]
by Gavin J. Grant & Kelly Link
Lady Churchill's Rosebud Wristlet is a twice-yearly zine of eclectic fiction and so on. Issue No. 15 features a lady (Churchill, we presume) riding a tiger, and includes fabulous stories by Karen Russell, Sarah Micklem, Bruce McAllister, John Trey, Benjamin Rosenbaum & Paul Melko, Michael Northrop, Ellen M. Rhudy, Sarah Monette, Geoffrey Goodwin, Richard Parks, Stepan Chapman, Mark Rich, Amy Sisson, and Neal Chandler. (Published: 2005)

Words: 39167 – Reading Time: 111-156 min.
Category: Fantasy

Regular

Club

List Price:
$

5.00

$

4.25

You Pay:
$3.00
$2.55

You Save:

40%

49%

---

5
Lady Churchill's Rosebud Wristlet No. 16 [MultiFormat]
by Gavin J. Grant & Kelly Link
Lady Churchill's Rosebud Wristlet is a twice-yearly zine of eclectic fiction and so on. No. 16 features fiction, poetry and suchlike from the wonderful Jenny Ashley, Gwenda Bond, Chris Fox, Scott Geiger, Eric Gregory, Michaela Kahn, John Kessel, Matthew Kirby, Ursula K. Le Guin, Yoon Ha Lee, Sandra Lindow, David Lunde, Christina Manucy, Kat Meads, Sean Melican, Eric Schaller, and Kara Spindler (Published: 2005)

Words: 40539 – Reading Time: 115-162 min.
Category: Fantasy

Regular

Club

List Price:
$

5.00

$

4.25

You Pay:
$3.00
$2.55

You Save:

40%

49%

---

6
Lady Churchill's Rosebud Wristlet No. 18 [MultiFormat]
by Gavin J. Grant & Kelly Link
Lady Churchill's Rosebud Wristlet is a twice-yearly zine of eclectic fiction and so on. Issue No. 18 features a house monster. Black & white with handtinted woodblock cuts by famous and unknown artists. Printed on a 12th century Chinese letterpress on sheets of kelp-paper handmade by centaurs and sprites. Unattractively bound in the skins of dead animals. Alternately: attractively bound in more handmade paper, these sheets fairly traded from The Mysterions: Those Who Live at the Center of the Ea… more info>> (Published: 2006)

Words: 39363 – Reading Time: 112-157 min.
Category: Fantasy

Regular

Club

List Price:
$

5.00

$

4.25

You Pay:
$3.00
$2.55

You Save:

40%

49%

---

7
Lady Churchill's Rosebud Wristlet No. 19 [MultiFormat]
by Gavin J. Grant & Kelly Link
Lady Churchill's Rosebud Wristlet is a twice-yearly zine of eclectic fiction and so on. No. 19, our 10-year anniversary issue, has wrestlers on the cover and features such wonderful authors as Ray Vukcevich, Daniel A. Rabuzzi, Dennis Nau, Nancy Jane Moore, Cara Spindler & David Erik Nelson, Kara Kellar Bell, Andrew Fort, Anna Tambour, and Carol Emshwiller. (Published: 2006)

Hugo Award Nominee

Words: 35506 – Reading Time: 101-142 min.
Category: Fantasy

Regular

Club

List Price:
$

5.00

$

4.25

You Pay:
$3.00
$2.55

You Save:

40%

49%

---

8
Lady Churchill's Rosebud Wristlet No. 20 [MultiFormat]
by Gavin J. Grant & Kelly Link
Lady Churchill's Rosebud Wristlet is a twice-yearly zine of eclectic fiction and so on. No. 20, the notorious "robot" issue, includes amazing stories by Marly Youmans, Anil Menon, Edward McEneely, Steven Bratman, Michael Hartford, M. Brock Moorer, Laura Evans, Amelia Beamer, Meghan McCarron, Jon Hansen, and Karen Joy Fowler. There is also some very fine poetry from Neile Graham, Rose Black, and David Blair, and the always endearing Dear Aunt Gwenda. And robots! (Published: 2007)

Hugo Award Nominee

Words: 39850 – Reading Time: 113-159 min.
Category: Fantasy
---
Tue 5 May 2009 - Filed under: Not a Journal., LCRW | Leave a Comment| Posted by: Gavin
Best lunchtime LCRW slush-reading find: in the envelope with the story, a rejection from The Literary Review. Is this person submitting in reverse alphabetical order>=?
---
Wed 22 Apr 2009 - Filed under: Not a Journal., LCRW | Leave a Comment| Posted by: Gavin
Gustave Bondoni gets The Best of LCRW at SF Reader:
This is not a book which will fall into most readers' comfort zones. The stories, poetry and even the movie reviews attempt to make you think, as opposed to giving you an open and shut storyline. You will not be satisfied with the endings of these stories. And you are not meant to be. You are meant to challenge your assumptions.
---
Wed 15 Apr 2009 - Filed under: Not a Journal., Art, LCRW, picture books, Publishing, To Read Pile | Leave a Comment| Posted by: Gavin
One of our favorite writers has her first book out: and this one comes with pictures. Mabel, One and Only is by Margaret Muirhead who long time readers will recognize as a contributor of some great and hilarious poetry as well as an early nonfiction piece. Some of these pieces can be found (or rediscovered) in The Best of Lady Churchill's Rosebud Wristlet.
When we saw Mabel, One and Only was coming out (and it should be in your local store now), we tracked down Margaret and got her to sit still long enough to answer a few questions. Of course, we very much recommend her book:
We just loved reading your new picture book, Mabel, One and Only. Can you tell us about it?
Mabel is the story of a girl who is the only kid on her block. Usually she can convince her grown-up neighbors into playing a game or two, but one afternoon, she finds they're all busy. So Mabel and her canine sidekick, Jack, set about to find their own fun.
Mabel is a great, lively kid. Do you have more stories for her planned?
---
Fri 13 Mar 2009 - Filed under: Not a Journal., ebooks, LCRW | Leave a Comment| Posted by: Gavin
Maybe it was the Utne Reader, maybe it was something else, but we're out of stock on the paper edition of LCRW 23! You can still buy the ebook at Fictionwise or Lulu (or a pdf from us) or there's the swanky trade paperback at Lulu…! We printed a few less than before (hey, it's a recession), but these went fast. Maybe we'll go make more. For now subscriptions will get LCRW 22 or 24 as their first ish.
---
Fri 6 Mar 2009 - Filed under: Not a Journal., ebooks, LCRW | 1 Comment| Posted by: Gavin
March 11 update to update: Nice write up in Utne Daily blog:
The latest issue of Lady Churchill's Rosebud Wristlet (LCRW) fairly buzzes with vibrant, intelligent writing….
Alex Wilson's story, "A Wizard of Mapquest," from LCRW 23 was a nominee (which maybe means finalist/honoree or something, or it was nominated by someone else?) for the 2nd Annual Micro Award.
We've added an option to buy the trade paperback of LCRW 23 from Lulu on that page.
And, at last, we've managed to upload LCRW 23 to Fictionwise.com. Sorry: could not do it and needed a lot of help! Happily, it is easy to find, right there on the front page. Er, just below the big sign that says Fictionwise has just been acquired by Barnes & Noble. (Although if you go to bn.com, there's no mention yet of Fictionwise.) Fictionwise delivers ebooks easily, cheaply, and well, and their customer and publisher interfaces have been very user-friendly, so we will hope it continues that way and congratulate Steve and Scott Pendergrast, the founders of Fictionwise, Inc., for having built the company so well and hope that they do indeed get to "run the Fictionwise websites as a separate business unit within Barnes & Noble."
---
Mon 9 Feb 2009 - Filed under: Not a Journal., Cons, LCRW | Leave a Comment| Posted by: Gavin
Eric Marin of Lone Star Stories is miffed that the Hugo Award for Semiprozine (fondly known as the Locus Award that none of us shall ever receive) may disappear at this year's Worldcon in Montreal (in August, oh sunny lovely August).
Seems that Locus won too many times in a row so (maybe, haven't been following this) some people want to change the rules so that there's no award to dominate anymore. Which takes away the honor of nomination* for four other mags. Which isn't very nice. We don't care if we are nominated or not (we received the honor a couple of years ago and like that it gets spread around: there are a lot of people doing good work out there), but, come on, how about all the new zines, paper or online, why take it away from them?
So, if you're going to be at the Worldcon (not sure if we will), go to the business meeting and tell them that the Semiprozine category, silly as it is, is worth keeping—at least until they go completely daft and make a Hugo Award for Semiprozine Editors, since there's one for all kinds of other editors.
* That may seem like a joke, but if you're smart you'll realize it's not. Or, you can wait until an award list comes out with your name on it—or you're on a jury and have to decide the nominations—and then finally you might realize what an honor it actually is.
---
Thu 8 Jan 2009 - Filed under: Not a Journal., ebooks, LCRW | Leave a Comment| Posted by: Gavin
LCRW 23 is now available in lovely trade paperback form (or as an ebook) from Lulu. It's not available yet from Fictionwise and we're not sure why. Will investigate and see if we can fix that.
Having these books on Fictionwise means that you can buy all our ebooks for the iPhone, iPod Touch, or any other ebook reader/smart phone/headchip you may have installed.
Ror those that are following these things, our ebooks sales in 2008 were just about 1% of our total sales—that includes all sales from Fictionwise, titles on the Kindle, and from our site. (Why, yes, we did sell some of those handy flash drives with all our books on them!)
Our ebook bestsellers were:
And by the time we're there, we're down to pretty low sales—and lots of our titles are grouped there, which is sort of great—backlist and so on selling—but the royalties, dur, what a lack of fun this year, but now we have a Better System in place, so if we survive the recession, it should be better, faster, sleeker, lighter of foot, etc.
Also, back to LCRW 23: the first review is up at SF Revu, "Combines literary quality and good storytelling very effectively. I highly recommend it." And if you have a story in there, you now have a blurb you can use.
---