Fri 12 Jul 2013 - Filed under: Not a Journal., Bookslinger, Edward Gauvin, Georges-Olivier Châteaureynaud| Posted by: Gavin
New this week on Consortium's Bookslinger app is French legend Georges-Olivier Chateaureynaud's "Delauney the Broker" (translated by Edward Gauvin) from the collection A Life on Paper.
Previous Small Beer stories on Bookslinger:
Ray Vukcevich, "Whisper"
Maureen F. McHugh, "The Naturalist"
Karen Joy Fowler, "The Pelican Bar"
Kelly Link, "The Faery Handbag"
Benjamin Rosenbaum, "Start the Clock"
Maureen F. McHugh, "Ancestor Money"
Download the app in the iTunes store.
And watch a video on it here: http://www.youtube.com/watch?v=ySL1bvyuNUE
---
Mon 20 Jun 2011 - Filed under: Not a Journal., Awards, Edward Gauvin, Georges-Olivier Châteaureynaud| Posted by: Gavin
We're immensely honored to pass on the news that the inaugural Science Fiction & Fantasy Translation Award for long-form work has gone to A Life on Paper: Stories by Georges-Olivier Châteaureynaud, translated by Edward Gauvin. The awards were presented at the 2011 Eurocon in Stockholm (winners and honorable mentions below).
The full announcement on the awards—and the wonderful and generous jury comments—is here, along with statements from the winners. We're honored and humbled and would like to thank the the jury and the award administrators—what a job, trying to corral all those books from publishers all over the world to a similarly scattered jury!
A Life on Paper is a great book and our publishing it is all down to the translator, Edward Gauvin: thanks Edward!
Long Form Winner
A Life on Paper: Stories, Georges-Olivier Châteaureynaud, translated by Edward Gauvin (Small Beer Press). Original publication in French (1976­-2005).
Long Form Honorable Mention
The Golden Age, Michal Ajvaz, translated by Andrew Oakland (Dalkey Archive Press). Original publication in Czech as Zlatý V?k (2001).
Short Form Winner
"Elegy for a Young Elk", Hannu Rajaniemi, translated by Hannu Rajaniemi (Subterranean Online, Spring 2010). Original publication in Finnish (Portti, 2007).
Short Form Honorable Mention
"Wagtail", Marketta Niemelä, translated by Liisa Rantalaiho (Usva International 2010, ed. Anne Leinonen). Original publication in Finnish as "Västäräkki" (Usva (The Mist), 2008).
---
Tue 15 Feb 2011 - Filed under: Not a Journal., Edward Gauvin, Georges-Olivier Châteaureynaud| Posted by: Gavin
100 Years of Unease by Edward Gauvin (translator of Georges-Olivier Châteaureynaud's A Life on Paper: Stories)
The Hôtel de Massa is a handsome historical edifice in the 14th arrondissement, not far south of the Sorbonne, on the rue du Faubourg St. Jacques. It is the headquarters of the Société des Gens de Lettres, a sort of French Authors Guild, of which Georges-Olivier Châteaureynaud was president from 2000 to 2002. He had told me to meet him there at a quarter to one, and he was late.
The receptionist rose from her desk and came to the lobby to tell me that his RER commuter train had been delayed. Later, striding briskly toward the restaurant, Châteaureynaud explained that someone had committed suicide by leaping onto the tracks. They were probably still cleaning the remains off now. If he hadn't given up and changed trains, he might still be waiting. The thought of another year was apparently, for some, a terrible prospect. Read more
---
Thu 27 Jan 2011 - Filed under: Not a Journal., ebooks, Edward Gauvin, Georges-Olivier Châteaureynaud, LCRW 26, Small Beer Press| Posted by: Gavin
Do yourself a favor: order Swamplandia now.
Here's a suggestion for next year's calendar: Storytellers 2012: The Author Interview Calendar from Balladier Press. Locally made and full of interviews with good people including Lois Lowry, Gregory Maguire, Sara Paretsky, Robert Pinsky, and Shaun Tan.
I find it hard to believe that Nick Bilton is "the lead technology writer for the New York Times" because in this article he seems clueless about books and rights &c. Maybe it's because I'm mired in them everyday. It's funny: if he'd gone to a library, I'd be fine with this (ugh, teasing apart behaviours!) as they would have bought the books. At least pay your coffee rent if you're going to sit there playing with the books for hours. (Via firebrand Pat Holt)
BTW Nick, yes, you are doing wrong. But as Nicola Griffith says readers are who we're trying to reach and it frustrates me when I can't make the customer happy. (Well, most of the time. I've worked retail: the customer is frequently right but sometimes completely wrong.) I'm completely frustrated because agents and writers won't sell World English ebook rights even though no one else is going to buy those rights which means readers everywhere except in North America (hello Mexican readers, hello Brazil, hello Charles, & so on) will be left to either go without (go on, try it, you'll love not reading that book . . . er, wait . . .) or pirating. Wonder which one they'll choose?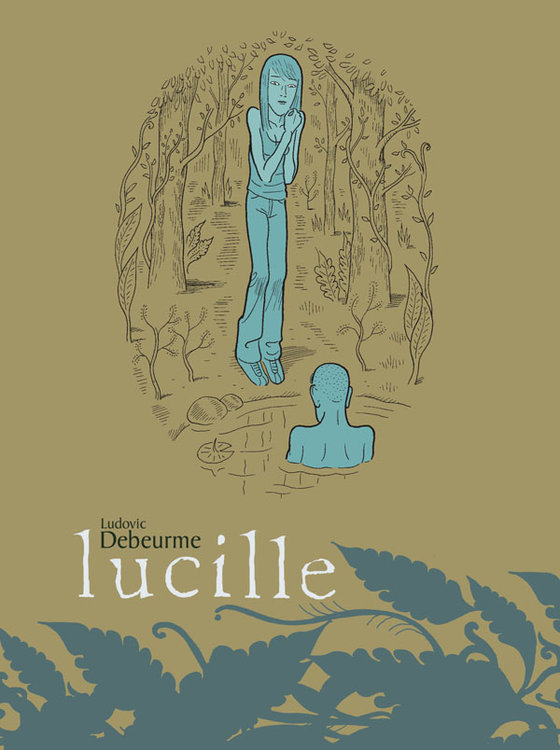 Anyway, in happy news today, A Life on Paper by Georges-Olivier Châteaureynaud and translated from the French by Edward Gauvin, is on the 25-title long list for the Best Translated Book Award. In March they throw 15 of those books out and "Winners will be announced on April 29th in New York City, as part of the PEN World Voices Festival." Just in time, we have a post coming up from Edward about a recent conversation he had with Châteaureynaud about his career. Edward's in Belgium reading and translating—can't wait to see what he comes up with—and here he writes about the best fry joint in Brussels and to going to a comics signing with Ludovic Debeurme, Top Shelf are going to publish his book Lucille in the US this spring, and he will be at the PEN World Voices Festival. Maybe everyone will be there! Maybe we should go. See you there?
And there's a great closely read review of LCRW 26 at SFF Portal.
You have to go see what Australian zinester Vanessa Berry did to her house when her book club read Magic for Beginners.
Hey look, there's a profile of the press in one of our local papers, the Valley Advocate—except I am not in the Valley this week. Someone save me a copy! (Also, it got picked up by io9, nice!) I like that the writer takes the story wider at the end:
It's an oft-heard story in the Valley: an idea that coalesces from the background noise of urban hipster climes comes to rest here. Such moves are often generated by practical concerns like lower rent and quality of life, but the accretion of cultural capital like that of Small Beer or a hundred more arts-driven enterprises has made the Valley a place like few others.
He's right. You can hardly toss a caber down Northampton's Main Street (as with Easthampton, Amherst, Hadley, Holyoke, etc.) without it bouncing off two artists (they make them strong out there), being photographed a couple of times, having a dance piece choreographed about it, at at last squishing a couple of writers.

---
Thu 20 Jan 2011 - Filed under: Not a Journal., Edward Gauvin, Georges-Olivier Châteaureynaud| Posted by: Gavin
100 Years of Unease by Edward Gauvin (translator of Georges-Olivier Châteaureynaud's A Life on Paper: Stories)
This year, the centenary of Thomas Owen's birth, was marked in Belgium by a series of readings, lectures, and events under the general heading "100 Years of Disquiet"—a tribute to the author regularly cited, along with Jean Ray and Franz Hellens, as a pillar of Belgian fantastical fiction. Owen (1910-2002) is such a monument in Belgium it's hard to believe that in the English-speaking world he is an exceedingly well-kept secret, known only on the basis of a single book to a handful of dedicated horror fans.
The story goes like this: there once was a lawyer named Gérald Bertot, who worked all his life in the management of the same flour-milling factory. He held a doctorate in criminology, and a side career in art criticism under the pseudonym Stéphane Rey. Spared service in World War II, he turned to writing mysteries for money, with the encouragement of Stanislas-André Steeman, a celebrated craftsman of Belgian noir. In Tonight at Eight (1941), he introduced the police commissioner Thomas Owen—a character whose name he liked so much he later took it as his own when he embarked on what he has called his true calling, his career as a fantasist. Read more
---
Tue 18 Jan 2011 - Filed under: Not a Journal., Edward Gauvin, Georges-Olivier Châteaureynaud| Posted by: Gavin
Jean Ray by Edward Gauvin (translator of Georges-Olivier Châteaureynaud's A Life on Paper: Stories)
No survey of Belgian fiction can fail to mention Jean Ray, born Raymundus Joannes Maria de Kremer—but where to begin? Any biographical account of the "Belgian Poe" seems to adopt the narrative strategy of one of his most famous stories, "La ruelle ténébreuse" (variously translated as "The Shadowy Street," "The Street of Shadows," and "The Tenebrous Alley," though I prefer "The Shadowy Alley," for Ray's voice always lends the sinister a slightly mocking air): what knowledge there is comes to us piecemeal and unverifiable, often in conflicting accounts from scattered sources, such that the only final feeling is one of uncertainty. If his friend and self-professed disciple Thomas Owen is to be believed, Jean Ray was part Indiana Jones, part Father Damien, and part Robert Langdon—adventurer, exorcist, and esoteric scholar, at least in Owen's short story "The Bernkastel Graveyard." In fact it pleased this man of many pseudonyms (John Flanders, Kaptain Bill, John Sailor. J.R. Ray) to appear in his friends' fiction: in Alice Sauton's Iblis or the Encounter with the Evil Angel, in adventure writer Henri Vernes' Spectres of Atlantis and Smugglers of the Caribbean, featuring Vernes' popular hero Bob Morane, where Ray has a cameo as the sailor Tiger Jack. Ray had a particular fondness for nautical skullduggery, and actively encouraged the proliferation of rumors surrounding his person and past. Read more
---
Tue 14 Dec 2010 - Filed under: Not a Journal., Edward Gauvin, Georges-Olivier Châteaureynaud| Posted by: Gavin
NEA Writers' Corner by Edward Gauvin (translator of Georges-Olivier Châteaureynaud's A Life on Paper: Stories)
For a few months now, the NEA Writers' Corner has been featuring excerpts from the translation projects of this year's fellows, along with author bios and statements. For anyone who's been intrigued by the description and snippets of the author I'm working on, Belgian fabulist Bernard Quiriny, or who caught his stories in Subtropics and World Literature Today earlier this year, I thought I'd chime in with some updates.
In September, Le Seuil came out with Quiriny's first novel, Les Assoiffés [The Thirsty Ones], which was well-reviewed and longlisted for several major prizes. It is an alternate history set in a 1970s Belgium that never existed: a closed matriarchal dictatorship, the result of a feminist revolution. Read more
---
Thu 9 Dec 2010 - Filed under: Not a Journal., Edward Gauvin, Georges-Olivier Châteaureynaud| Posted by: Gavin
Black Sheep of a Diamond Merchant Family by Edward Gauvin (translator of Georges-Olivier Châteaureynaud's A Life on Paper: Stories)
Georges-Olivier Châteaureynaud is fond of urging students in his writing workshops to "abandon the haunted castle and consider the haunted bus stop." Meant as a rejection, in favor of something more contemporary, of all that is outdated and clichéd in the fantastic as a genre, the image speaks to Châteaureynaud's ironic, affectionate take on the plight of modern man. The puny bus stop, where a lone, lost traveler shelters from the storm, at once ridicules the grand, foreboding castle—grown portentous and self-important—yet by being quite aware of its reduced stature, the bus stop also manages a certain pathos. Read more
---
Fri 3 Dec 2010 - Filed under: Not a Journal., Edward Gauvin, Georges-Olivier Châteaureynaud| Posted by: Gavin
Some  Notes on the Belgian School of the Strange (3) by Edward Gauvin (translator of Georges-Olivier Châteaureynaud's A Life on Paper: Stories)
That her father was a poet and her mother one of Belgium's greatest novelists may have influenced Anne Richter's predilections, but the place she has made for herself in Belgian letters is one all her own. In 1954, she burst onto the scene with her very first book, Le Fourmi a fait le coup [literally, The Ant Did It, the "It" in question being what the butler is usually accused of], a collection of fantastical short stories whose protagonists were often animals or objects. Her story "Un sommeil de plante" from her 1967 collection Les Locataires appears in Kim Connell's 1998 anthology The Belgian School of the Bizarre as "The Dreaming Plant," and with its central conceit of a woman turning into a plant recalls Kathe Koja's "The Neglected Garden," from her 1997 collection Extremities, and reprinted in the Vandermeers' anthology The New Weird. In Richter's story, however, the transformation is a serene escape: through it, the heroine dodges marriage and finds the solitude she has always sought: Read more
---
Wed 1 Dec 2010 - Filed under: Not a Journal., Edward Gauvin, Georges-Olivier Châteaureynaud| Posted by: Gavin
Some  Notes on the Belgian School of the Strange (2) by Edward Gauvin (translator of Georges-Olivier Châteaureynaud's A Life on Paper: Stories)
In Fernand Dumont's Treatise on Fairies, a brief pamphlet of some twenty pages, we learn, among other things:
A fairy never wears black, brown, red, or violet.
A fairy has to speak but a word, and a fine dust—that of forgetfulness—falls over everything you've ever heard up to that moment. Read more
---
Mon 29 Nov 2010 - Filed under: Not a Journal., Edward Gauvin, Georges-Olivier Châteaureynaud| Posted by: Gavin
Some  Notes on the Belgian School of the Strange by Edward Gauvin (translator of Georges-Olivier Châteaureynaud's A Life on Paper: Stories)
Small Beer readers big and little, new and old! I am writing you from rainbound Brussels, which is blustery and trying to decide, despite the waning daylight hours, between a last wet burst of fall and bitter winter. I'd girded myself for a gray year, so days of sudden sunshine both delight and alarm me, for almanacs inform us that annually, Brussels only has a hundred sunny days. In other words, were each sunny day a gold piece, we'd have a finite purse, and every time it's nice out, I feel a pang, as though some quick-fingered pilferer has slipped a coin out and flung it blithely into the air.
Weather aside, living in this schizoid country is lovely. I came for the weird—specifically, to study the rich tradition of Belgian weird tales—and I'm getting it. Mysteries abound, from the mundane to the confounding. What to ferret out next? I find myself in a garden of forking paths and unearthly pleasures. How odd is it that every major Belgian writer uses at least one if not multiple pen names which are often open secrets in the tiny literary community? Why did mystery writer Georges Simenon, known mainly for creating Inspector Maigret, expressly forbid that his only work of science fiction, a late novelette about creatures of the London mist, ever be reprinted or included in a collection?
The national attachment to the fantastic is formally known as L'École belge de l'étrange, which has been translated over the years as the Belgian School of the Strange, the Bizarre, or the Weird. Although my understanding of it keeps growing and changing, I now think the Belgian fantastic is best thought of less as a school or a movement than a national literary pastime. Although the entire oeuvres of some Belgian writers fall squarely in the field, authors of all genres from all backgrounds—academia, poetry, criticism, crime, mainstream realism, surrealism—seem to recognize it as a tradition and feel compelled to pay it homage with at least one book (often a short story collection) if not several. It's like a stage you have to go through to really be considered a Belgian writer. Because of the durability, if not the dominance, of the fantastic as a mode of expression, writer and critic Jean-Baptiste Baronian has compared it to the midcentury efflorescence of Argentine fabulists (Borges, Bioy Casares, Ocampo, Cortázar). As he remarks, "Few national literatures in the 20th century have produced in such a short span of time such a pantheon of first rate writers in such a specific and, on the whole, marginal genre."
Over the next few posts I'd like to share a few authors and finds with you.
---
Tue 19 Oct 2010 - Filed under: Not a Journal., Georges-Olivier Châteaureynaud, Julia Holmes, Karen Joy Fowler, Kathe Koja, Kelly Link| Posted by: Gavin
The Boston Book Fair was a ton of fun—thanks to everyone who stopped by. Most of whom, of course, didn't know us. At some point we really must publish a small book on beer. The hit of the day was definitely the Working Writer's Daily Planner which made me think maybe I should just set up at stalls at writerly conferences and fairs all over the country and forget about these book things. But happily there were enough readers that we sold some books, too. And that's despite the high winds. At one point I was attacked by a mini-twister that blew everything on The Common's side of the booth all over the place. The Common is a new journal for everyone to subscribe to. Go on, might as well! They're into the fictions, the poetries, and the images—aha, something different!—and their editorial angle is "a sense of place." I didn't get to Kelly's panel (and neither did some others as it was full!) but reports are that it went well. With luck we'll be back next year.
Ok, so: if you're in the Santa Cruz area tonight, there's only one thing to do: go see Karen Joy Fowler. She will also be in Danville on Thursday (1o/21). Those in LA have to wait until 11/5 when she will be at Vroman's.
You can (and should, it's great) listen to Rick Kleffel and Karen's lovely conversation on the Agony Column. (links to MP3). Rick also reviews the book:
That rare writer who can match the power of her novels with the power of her short stories. She works in the world of myth with great ease. We feel, reading her stories, that we are in our world, but some portion of it that connects vitally with everything else. What happens here is gripping, important, compelling, and often terrifying. Her new collection of stories, 'What I Didn't See' offers readers perfect renderings of a New American Mythos.
Yesterday Cory Doctorow BoingBoinged the heck out of Under the Poppy:
This book made me drunk. Koja's language is at its poetic best, and the epic drama had me digging my nails into my palms. It's like a Tom Waits hurdy-gurdy loser's lament come to life, as sinister as a dark circus.
The multi-format ebook version is available now. The book has arrived from the printer and it is so heavy! We compared it to another recent hardcover and it was about twice as heavy. Maybe we should use lighter paper?
Talking of ebooks, Weightless continues apace: we added a single-title publisher: Sator Press! Plus, Featherproof titles are onsale. And so on.
If you're in the Boston area, tonight Kelly will be at the Literary Death Match! (Me, I'll be babysitting.)
The World SF Blog introduces you to Georges-Olivier Châteaureynaud.
And, we have copies of Meeks in stock in the office. Everywhere else will be getting new stock in soon. Turns out if you publish a lovely book with French flaps, then it will take a little more time for the reprint to get done.
That's most of what's going on. Time, methinks, to go back to sleep!
---
Mon 6 Sep 2010 - Filed under: Not a Journal., Georges-Olivier Châteaureynaud, Julia Holmes, Karen Lord| Posted by: Gavin
Last week: found a postcard on the street for a band called A Sunny Day in Glasgow. Well that can be some rare thing so had to check them out. They have a fun—weather inappropriate—video filmed in New Orleans.
This week: prep for Sunday which is the Brooklyn Book Festival—come on by and say hi!
We could take a week in reviews like last week any time. Just in case you were worried and thought you should call your friends at Good Morning America and maybe Terri Gross or Jon Stewart and say, "Hey, you know, I think Small Beer needs a bit of down time. Why don't you cover the Boring Blockbuster of the Week this week instead?" because, really, we don't need you to do that. We love it! Bring it on!
Julia Holmes's Meeks got a total dream review in the New York Times Book Review and then was an Editor's Choice this week. Swoony! Also, Julia was interviewed on Portland's Reading Local and picked 5 Recent Reads for Impose Magazine.
Then this week A Life on Paper and Redemption in Indigo were in Jeff VanderMeer's Science Fiction Chronicle (hope this becomes a regular feature)—see more below.
With that review and us bringing some stock back to the office for the Book Festival both of our debut novels, Meeks and Redemption in Indigo, have shipped out their first printing—Whoop de do! (Ok, so go on: order the Alasdair Gray!)
A Life on Paper got a handful of great reviews this week—we're hoping to publish more of Edward Gauvin's excellent translations of Châteaureynaud. All these people agree:
"The celebrated Châteaureynaud, who over the course of a distinguished career has created short tales that are not exactly contes cruels but which linger on the edge of darkness and absurdity."
—New York Times
"Châteaureynaud is a master craftsman, encapsulating weighty themes with pith and heart. In his hands, the short story is a Gothic cathedral whittled from a wine cork."
—The Believer
"Châteaureynaud celebrates the quiet, hidden beauties of the world and the objects or knowledge we hold tight like talismans to protect us from its losses and horrors."
—The Quarterly Conversation
You can get a great taste of Karen Lord's Redemption in Indigo from her set of readings taped on launch night. From the pictures and so on it looks like a fun night and the readers were great. I had them on in the background and enjoyed their take on the book.

"A clever, exuberant mix of Caribbean and Senegalese influences that balances riotously funny set pieces (many involving talking insects) with serious drama initiated by meddlesome supernatural beings."
—New York Times
That's it for now. Back at some point with more on the Brooklyn Book Fest, a Steampunk! update, some reprint news from Kelly, and so on und so weiter.
---
Mon 7 Jun 2010 - Filed under: Not a Journal., Edward Gauvin, Georges-Olivier Châteaureynaud, Publishing, translations| Posted by: Gavin
Today we're celebrating the publication of Georges-Olivier Châteaureynaud's first book in English, A Life on Paper: Stories, translated by Edward Gauvin. Obviously we will be watching the New York Times bestseller list closely this week because this book is a surefire hit: not only is it a translation, it's a short story collection. Last week's bestseller list contained four collections (one translated from Basque, one Welsh) and two anthologies—one of the usual sex+drugs+rocknroll stories and the other an anthology of Czech novellas. So the national appetite is whetted for a collection such as A Life on Paper, which introduces one of France's premiere masters of the form. Run to the store! Or, download it now.
Edward Gauvin first brought Châteaureynaud to our attention a couple of years ago with a small chapbook of three stories, Trois Contes (One Horse Town), and he continued to keep us up to date with his doings. There had been a story published here, a story there, had we seen that Châteaureynaud won another award, let me tell you about this great and weird novel he just published. He sent us some pictures of the author (see below—and we realized that this was the French Vonnegut) and a few of his French book covers. Eventually we clued in to the fact that we are publishers and here was a fantastic French author whose work hadn't been published in ye olde English language. At that point we broke out the checkbook and acquired the book. We also realized that Châteaureynaud's face was about the best cover possible for this book. There's a face that says I've got stories to tell.
Publishing a translation of 22 stories taken from half a dozen different collections whose rights are owned by three different publishers and the author has been . . . interesting! The easiest part was working with Brian Evenson who wrote the excellent Foreword to the collection. The more difficult part was that thing about the three publishers and so on. However, that's where the French Publishers' Agency comes in. The lovely people there worked with us on all those contracts (and the revisions, the endless revisions!) with Actes Sud, Grasset, and Juilliard, and without them it's unlikely that this book would have made it to publication here in the USA. They also worked with us and Edward on applying for a couple of different grants—which very much helped with the costs; and one of the grants may be used for Châteaureynaud's next book instead of this one. Because it turns out that some of Châteaureynaud's work is connected and if you read some of these stories they help set up the world of some of his novels. Which is something we're looking forward to getting to once Edward sends us the translation. Of course, Edward is off in Belgium on a Fulbright, but we're hoping he won't be so enamored of the Belgian beer and books that he will forget his US readers patiently waiting for the next Châteaureynaud.
So in the meantime, we're proud to present our second translation—Kalpa Imperial by Argentinean writer Angélica Gorodischer and translated by Ursula K. Le Guin being the first—and newest collection of short stories: A Life on Paper. As usual for us, this book crosses many genre borders so no doubt in some bookshops you will find it shelved in fiction and in others you'll find it in science fiction. The one given is that you should go out and find it!
---
Thu 20 May 2010 - Filed under: Not a Journal., Georges-Olivier Châteaureynaud, Karen Lord, Kathe Koja, Kelly Link, Laurie J. Marks, Publishing| Posted by: Gavin
Here is a tiny note to ignore. In fact, skip this para and go right to the next one. If you do read this, please don't go bid against us for the Thomas Canty-illustrated copy of Water Logic—which is part of the auction to raise money for Laurie J. Marks's wife, Deb Mensinger's liver transplant.
Ok, so you skipped that paragraph. Thank you! But before you read on to find out what exciting things are happening here (alchemy! we turn art into commerce!) how about bidding on this copy of Water Logic customized with an original drawing by Thomas Canty ? Yay!
Bid!
And, they just posted this offer: all of Kelly's collections either signed or personalized to you. You know we're not going anywhere for a while so if you'd like a signed copy, this is your best chance for, what, a year at least?
Today's featured (starred!) review on Booklist is Karen Lord's Redemption in Indigo! That cover is not the actual cover, everyone will be relieved to know. The final cover is almost done, the interior is done (sorry, not being printed in indigo ink), so off to the printer it will go. This is the first novel you're going to love and you will be so happy to be one of the readers who can say I was there when . . .
New Zealanders—this one is for you! "Next week (May 24 – 28) 'Good Morning' book reviewer Laura Kroetsch is looking at Pretty Monsters by Kelly Link (Text, 9781921656361)" + 2 other books! (Thanks Renee!)
Edward Gauvin is fighting a valiant battle against those who think Georges-Olivier Châteaureynaud is a Kurt Vonnegut literary game.
The strenuousness of these assertions–mine and publisher Small Beer's–should not, I repeat, decidedly not be construed as protest, or evidence of insincerity. That is all.
In the meantime, A Life on Paper has shipped from the printer and will be hitting stores in a week or two—reviews should then pile in. Who isn't going to review a major French author's first work in English? Here's a story from the book, "The Excursion," in (the fantastically named) Joyland.
Over there in October (since all time exists at all times if you look sideways from here you can see October) we're in the middle of publishing Kathe Koja's Under the Poppy—and part of the fun is the stage show which will debut next February (look a bit more to the side, there it is! Phew, sexy!). Kathe's joined Kickstarter to raise some knicker money (so that the knickers can later be dropped? There's a vaudeville joke in there somewhere) for the girls Under the Poppy, which is, natch, a Victorian brothel.
Inside baseball time: we just presented our autumn and winter titles to our sales reps and it was fun to see the reactions from the sales reps so yay for that. We're lucky in that we have a team of sales reps (Consortium's) who read a ton (some of them had already read some of these books from early ebook versions we'd sent ahead) and like the slightly weird stuff we give them.
Also: how many times a book is sold:
By the author to the agent
agent to editor
editor to publisher and sales team and whoever else
sales team to sales reps

publicist to reviewers/editors
reviewer to editor (or vice versa)

sales reps to the booksellers (or to the bookstore chain buyers)
bookseller to you
There are probably a few more steps in there!
---
Thu 13 May 2010 - Filed under: Not a Journal., Free books, Georges-Olivier Châteaureynaud, readings| Posted by: Gavin
That was surprisingly agonius or whatever the right word would be (maybe there's a better on in French!). We made someone else choose which commenters would receive an ARC of Georges-Olivier Châteaureynaud's A Life on Paper and that person chose the following 5 readers whose books will be flung off into from our office to their mailboxes out as soon as we confirm addresses for Kristin, Gay Terry, James, Lucius, and Susan. Yay for yous!
And, we'd like to right now scotch the rumor that this is an elaborate hoax: Georges-Olivier Châteaureynaud is indeed a living, breathing, famous French author (and you can see him in London soon, see below) and not in any way related to or in actual fact the late Kurt Vonnegut writing under a pseudonym!
Go see him here:
Tuesday, 15 June 7.30pm
London
Georges-Olivier Châteaureynaud and Helen Simpson on short stories
To celebrate the publication of his first book in English, Prix Goncourt-winner Georges-Olivier Châteaureynaud will discuss the similarities and differences of short stories in France and in the UK. with Helen Simpson.
Georges-Olivier Châteaureynaud was born in Paris in 1947. He has written numerous short stories and novels (La Faculté des songes, Le Démon à la crécelle, Singe tabassé par deux clowns, L'Autre rive). Helen Simpson lives in London. She has won numerous prizes for her various short stories collections. Her latest collections of short stories are Constitutional (2005), and In the Driver's Seat (2007).
Tuesday, 15 June 7.30pm | £5, conc. £3 | in English | Institut français, 17 Queensberry Place SW7 2DT, 020 7073 1350, www.institut-francais.org.uk
---
Mon 26 Apr 2010 - Filed under: Not a Journal., Alasdair Gray, blind consumerism, bookshops, Georges-Olivier Châteaureynaud, Interstitial Arts, Julia Holmes, Karen Lord, translations| Posted by: Gavin
Catch-up post about recent happenings with our books.
1) April: Alasdair Gray! At last! Nope. Now a June book due to a printer error. Sigh. You can see an excerpt on Scribd.
2) May:  Edward Gauvin (translator of A Life on Paper) was recently blogging on translations, Belgium, and more at the 3% blog. (Surely 3.5% by now?)
4) June: 2 starred reviews so far for Karen Lord's Redemption in Indigo!
5) July: good news coming soon on Julia Holmes's debut novel Meeks.
Ok, bored with numbering now. The Interstitial Arts Foundation has a call for papers for a new interstitial-sounding anthology:
What is Interfictions Zero? Interfictions Zero is an online virtual anthology, comprised of a Table of Contents listing seminal pieces of published interstitial writings (with live links to those texts where possible) and original essays about the focus pieces listed in the TOC. With the online publication of Interfictions Zero, the Interstitial Arts Foundation will begin to create a historical context for how interstitial writing affects the growth and development of literature over time.
There's also an interesting addition to the ongoing conversation about translations at the IAF blog.
Poets & Writers spotlights one of Chicago's many wonderful bookstores: Women & Children First.
Do you like Rachel Maddow? Essentials in Northampton has the shirt for you—in white or pink and 10% of all proceeds will be donated to support the Capital Campaign for the Northampton Survival Center.
Apparently the folks at Essentials aren't having quite enough fun there so there's this site, too: My Parents Made Me Wear This.
The NY Center for Indie Publishing their 6th Annual New York Round Table Writers' Conference, May 1 (er, tomorrow!), 9AM- 7PM, where you can meet various people in publishing—including Kelly's fabby agent Renee Zuckerbrot. Tickets are Members – $69.00/Non-Members – $89.00/Student – $20.00:
Please e-mail [email protected] to reserve or confirm a spot today – we hope to see you all here on May 1st!
And that's it for now. Maybe there'll be more later. After all, what else is there to do on a spring afternoon but haunt the web and wait until the tick tick tick hits leaving time!
---
Mon 29 Mar 2010 - Filed under: Not a Journal., Georges-Olivier Châteaureynaud, LCRW, translations| Posted by: Gavin
Somewhere out in April or May we can see the new issue of LCRW. It's looks like an LCRW: b&w cover (unveiled herein, ta da!), sixty pages, some color in the pdf version, a picture of Ursula or two, fiction and poetry and a comic from writers you may or may not know, and possibly, delivered to your door with a chocolate bar through hail, kale, ice or snow by the postal service of your country.
One oddity about this issue: there are a few stories about travel and sleep—two of our favorite things. And this issue does indeed as promised include two translations: yay!
The best way to ensure delivery: subscribe!
ToC after the jump: Read more
---
Fri 26 Mar 2010 - Filed under: Not a Journal., Free books, Georges-Olivier Châteaureynaud| Posted by: Gavin
At the end of May we're going to publish our second translation (yay Edward Gauvin for bringing it to us!), a collection by French legend Georges-Olivier Châteaureynaud titled A Life on Paper. Yes folks, we are in it for the money: not only a debut short story collection, but a translation.
Money, you say? What's money got to do with art? Ignoring that question and swiftly going on to: "Money!" says the French government! They popped up with not one but two grants (the Hemingway and the French Voices) making up $6,000 of support for this book. Whoopee—we can pay the translator! Which is good, because Edward's been hard at work placing stories from the book in Conjunctions, Harvard Review, Joyland, Southern Review, Agni Online, F&SF, Words Without Borders, and more, more, more. If you read this month's Harper's . . . no you won't find a story but you'll find a teeny ad for the book. Ha!
Ok, so, free books*: post something interesting about you, France, French things (not Freedom Fries, but anything else goes) in the comments and in a week or so we'll randomly pick five and reward them with an advance review copy which we hope you the happy winner will dive into and enjoy the way we have and maybe even go on TV and rave about it in a bouncing-on-the-couch-aliens-told-me-to-do-it fashion that gets talked about for years after. Ok? Ok!
* US + Canada readers only, sorry—maybe we can get someone in the UK, Australia, Rest of World to pick up the rights.
---