Fri 19 Dec 2008 - Filed under: Not a Journal., Pop | Posted by: Gavin
A couple of days ago we had this lovely little practice snowfall: about 2-3 inches (that's 5-7 cm, for the rest of the world), enough to shovel in 15 minutes or so before heading into the office. Shovelling got the blood going—and the shovels had to be gotten from the basement and sand picked up from the recycling depot, so everything is ready for today, when, to the joy of TV weatherfolks everywhere, an actual storm has actually arrived.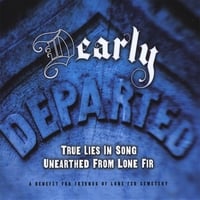 There were some other people at the office this morning and we shipped out some last minute orders and got somewhat ready for end of the year financial reports (what recession? Oh, that one), how exciting. And then at some point Kelly called and pointed out that the snow had started. So I skidded home, got the woodstove going in the back room, and now there's some work being done here (reading, editing, tea drinking) and soon there will be a fully-fledged expedition into the snow to acquire some fresh air, red cheeks, and a thirst for hot cider.
In the meantime, here's a strong music rec for y'all: Dearly Departed: True Lies In Song Unearthed From Lone Fir, a slow-building addictive collection of "Original ballads, songs and waltzes, by Portland musicians, of the untimely demise of some of Lone Fir cemetery's more famous residents." Get yer dancing shoes on, get ye a partner, get ye's to the cemetery, and get ready to cry, drink, and dance yourselves to death.