Tue 20 Aug 2019 - Filed under: Not a Journal., A. B. Young, LCRW | Leave a Comment| Posted by: Gavin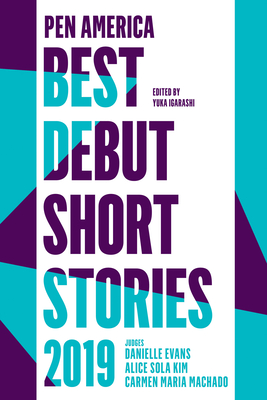 Today Catapult publishes PEN America Best Debut Short Stories 2019, edited by three superstars writers, Carmen Maria Machado, Danielle Evans, & Alice Sola Kim.
The dozen debut authors are all winners of the $2,000 PEN/Robert J. Dau Short Story Prize for Emerging Writers. The stories collected here were originally published in Alaska Quarterly Review, Auburn Avenue, Black Warrior Review, Conjunctions, Epiphany, The Iowa Review, Kweli, Nimrod Journal, The Rumpus, The Sun, and I am delighted to say, Lady Churchill's Rosebud Wristlet. That story is A. B. Young's "Vain Beasts" from LCRW 38.
With editors like these, I am very much looking forward to reading this book. Here's a little more about it:
"Prominent issues of social justice and cultural strife are woven thematically throughout 12 stories. Stories of prison reform, the immigrant experience, and the aftermath of sexual assault make the book a vivid time capsule that will guide readers back into the ethos of 2019 for generations to come . . . Each story displays a mastery of the form, sure to inspire readers to seek out further writing from these adept authors and publications."—Booklist
Who are the most promising short story writers working today? Where do we look to discover the future stars of literary fiction? This book offers a dozen compelling answers to these questions.
The stories collected here represent the most recent winners of the PEN/Robert J. Dau Short Story Prize for Emerging Writers, which recognizes twelve writers who have made outstanding debuts in literary magazines in the previous year. Chosen by a panel of distinguished judges, themselves innovators of the short story form, they take us from the hutongs of Beijing to the highways of Saskatchewan, from the letters of a poet devoted to God in seventeenth-century France to a chorus of poets devoted to revolution in the "last days of empire." They describe consuming, joyful, tragic, complex, ever-changing relationships between four friends who meet at a survivors group for female college students; between an English teacher and his student-turned-lover in Japan; between a mother and her young son.
In these pages, a woodcutter who loses his way home meets a man wearing a taxidermied wolf mask, and an Ivy League–educated "good black girl" climbs the flagpole in front of the capitol building in South Carolina. Each piece comes with an introduction by its original editors, whose commentaries provide valuable insight into what magazines are looking for in their submissions, and showcase the vital work they do to nurture literature's newest voices.
Stories by Tamiko Beyer, Sarah Curry, Laura Freudig, Doug Henderson, Enyeribe Ibegwam, Jade Jones, Pingmei Lan, Marilyn Manolakas, Jon Paul Infante, Kelsey Peterson, Erin Singer, and A.B. Young
ABOUT THIS YEAR'S JUDGES
Danielle Evans is the author of Before You Suffocate Your Own Fool Self, which was a co-winner of the 2011 PEN/Robert W. Bingham Prize for a Debut Short Story Collection, the winner of the 2011 Paterson Fiction Prize and the 2011 Hurston/Wright Legacy Award for fiction, and an honorable mention for the 2011 PEN/Hemingway Award. She teaches in The Writing Seminars at Johns Hopkins University.
Alice Sola Kim is a winner of the 2016 Whiting Award. Her writing has appeared or is forthcoming in Tin House, McSweeney's, BuzzFeed, and The Year's Best Science Fiction and Fantasy. She has received grants and scholarships from the MacDowell Colony, Bread Loaf Writers' Conference, and the Elizabeth George Foundation.
Carmen Maria Machado's debut short story collection, Her Body and Other Parties, was a finalist for the National Book Award, the Kirkus Prize, the Art Seidenbaum Award for First Fiction, the World Fantasy Award, the International Dylan Thomas Prize, the PEN/Robert W. Bingham Prize for a Debut Short Story Collection, and the winner of the Bard Fiction Prize, the Lambda Literary Award for Lesbian Fiction, the Brooklyn Public Library Literary Prize, the Shirley Jackson Award, and the National Book Critics Circle's John Leonard Prize. She is the writer in residence at the University of Pennsylvania.
---