Mon 30 Sep 2013 - Filed under: Not a Journal., MassHealth, Ursula | 22 Comments| Posted by: Gavin
This is the first week since our daughter, Ursula, was born in February 2009 that we will not have any home nurses coming in to help look after. This is a huge milestone and I cannot resist writing about it. We are filled with all the glee of parents of a newborn coming home for the first time. Sure, it also means life is complicated, but, hey, we knew that when we signed up for this gig.
Ursula is a very healthy four-and-a-half-year-old. She is in preschool 4 days a week (for all of 2 hours 15 minutes a day!) and loves tumble tots at the YMCA.
She still sees various specialists about her anabolic steroids maintenance and physical (and other) therapists but for the most part when you talk to her she is just a great, smart, healthy kid who loves books and chocolate. We are so lucky and so grateful.
The home nursing came from the mighty MassHealth, which of course then-Governor Romney signed into law and then "RomneyCare" was used as the basis for the new Affordable Health Care/"ObamaCare." Let me tell you, having a kid in hospital and being able to change insurance companies without being penalized for all her pre-existing conditions was huge. If we were living in a different US state by now we would be bankrupt and maybe living in Ursula's Nana's basement—which, I have to say, is a lovely basement. So, from the bottom of our hearts for now and forever: Thanks to all the politicians, backroom folks, grassroots activists, and healthcare professionals for MassHealth. Thank you, thank you, thank you.
---
Mon 30 May 2011 - Filed under: Not a Journal., Cons, events, Publishing, readings, Small Beer Press, To Read Pile, Ursula | Leave a Comment| Posted by: Gavin
But we don't take any pictures. Not true. More like: we haven't yet uploaded any. Soon(ish).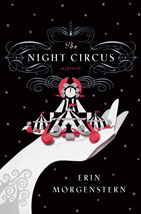 We're back from BookExpo (BEA) where we missed more than ever. At a convention that big you always know there's something you're missing. This time, even with lower attendance and fewer exhibitors than in the past, I missed more due to our own little chaos field: our 2-year-old daughter, Ursula. To a 2-y.o. kid, BEA is: lights, balloons, not a great place to nap, full of strangers—some are nice (some will give you books!), some scary. And unlike her parents, she did not want to be tethered to one spot, meet people, and talk about books. She wanted to go go go. So go we went. Which was great for catching up with other exhibitors and occasionally picking up a book: thanks to Frazer & Sally of Park Road Books in Charlotte we got a couple of indestructible books from Workman which, true to their name, have yet to be destroyed. Amazing how many books fall apart if they're read every day.
The one outside event I went to was an sf reading/q&a I MC-ed which was organized by Gina Gagliano of First Second Books and the New York Public Library. It was a fun night with readings by Lev Grossman, John "William Shatner" Scalzi,  Cat Valente, and Scott Westerfled. Brian Slattery and three other musicians accompanied the readings and there was a q&a afterward. I made a few mistakes: I thought it was the year 2911 and this was 1000th anniversary of the Stephen Schwarzman building and that I was introducing historians, not futurians. But it all seemed to work out ok. I don't know how the afterparty went as I had to slope off and put the kid to sleep. New Yorkers who like the sci-fi: NYPL has you covered this summer.
---
Wed 9 Jun 2010 - Filed under: Not a Journal., Kelly Link, Ursula | 3 Comments| Posted by: Gavin
Kelly's blog tour is under way and if you have any topic requests for later in the week please post in the comments!
Here's the tour so far. (Today's is a book giveaway, so go sign up for that, or you can get your copy from Powell's who have it in stock now.)
Updated with links to posts:
The Cozy Reader — on writing and not writing
Forever Young — a continuation of the above
Parajunkee's View — paranormal monsters
Reviews by Brooke — lists!
Anna's Book Blog — reading as a writer
Books By Their Cover — short review + interview
Fantasy &  SciFi Lovin' News & Reviews — story idea generation
Monster Librarian — interview
Fantasy Book Critic — Kelly interviews N.K. Jemisin
Word for Teens — on Diana Wynne Jones
The Compulsive Reader — go make a zine!
TBA: Bookchickcity.com
---
Mon 22 Mar 2010 - Filed under: Not a Journal., health insurance, the world, Ursula | 2 Comments| Posted by: Gavin
What a relief that some kind of Intro to Health Care bill passed at last. It's been a national embarrassment that an estimated 15% (say 47 million people—about the equal to the population of Spain or the Ukraine or Colombia) of this country's people don't have insurance. It's hard to be proud of a country that just accepts that that's the way it is and wants to ignore it. This is the best spending of political capital in a while.
We've spent the last year in hospitals with my and Kelly's daughter, Ursula. Our health insurance, Health New England, has been fantastic and most things they don't cover Mass Health will. She's been in three different hospitals for 13 months. We'd be bankrupt if we have to pay, so I recommend Health New England to everyone in their area: Connecticut, Western Mass., and Vermont. All of which doesn't stop my heart leaping into my throat (ouch) every time I check the mail and there's an envelope from any of those hospitals, doctors, and god knows who all else. Is this the one going to say my insurance has run out? Is this the one saying my check somehow doesn't seem to have arrived on time and my insurance has stopped? Will Mass Health pay this ambulance bill? What kind of bad news is this? And so far we have no idea—we've received different replies—if the insurance will cover her at-home nurse care. Good times.

I grew up in Scotland and much of my family still lives there. One of the biggest differences in quality of life between there and here is that over there no one worries about their health insurance—because it isn't insurance, it's a national health service that automatically covers everyone. Sure, it could be better, but everyone knows it's there and available. In the USA I don't know a single person, rich or poor, who doesn't worry about their health insurance. I am raising a glass of Vermont's own Long Trail Pale Ale in salute to everyone who put their name on the line and signed us up for a (ok, possibly) better future.
---
Tue 9 Mar 2010 - Filed under: Not a Journal., bookshops, Cassandra Clare, Holly Black, Kelly Link, Poison Eaters, Ursula | 2 Comments| Posted by: Gavin
This morning the Boston Globe includes our awesome event this Thursday at 6 at the Brookline Booksmith in their Three to See mini feature.
What's not mentioned: there will be free stuff! Franciscan will provide the candy, there will be a tiny leetle bit of chocolate, and we will have Working Writer's Daily Planners for all and sundry! (Well, say the first 100 people, if UPS delivers them on time.)
Also, if you'd like any books signed by Holly Black (The Poison Eaters, Tithe, Spiderwick), Kelly Link (Pretty Monsters, Magic for Beginners), and Cassandra Clare (City of Glass, City of Bones), use these links to pre-order them directly from the fab peeps at the Booksmith.
And, if you have questions for these writers (especially for the "lightning round"!) please email them to:[email protected].
Hope to see you there—or at least to read one of your questions!
---
Mon 8 Feb 2010 - Filed under: Not a Journal., Cassandra Clare, Holly Black, Kelly Link, Poison Eaters, readings, Ursula | 4 Comments| Posted by: Gavin
Join three of the hottest writers in the Young Adult field on March 11th at the Coolidge Corner Theater for a panel discussion celebrating New York Times bestselling author Holly Black's new book, The Poison Eaters and Other Stories. And it's not just about having a great time: ticket sales—and 20% of event book sales—will be donated by the Brookline Booksmith to Franciscan Hospital for Children.
Holly Black (Tithe, the Spiderwick Chronicles) will be joined by Kelly Link
(Pretty Monsters) and Cassandra Clare (author of the New York Times bestselling The Mortal Instruments series) for a discussion of . . . and this is where it gets interesting: readers, whether they will be attending or not, are invited to email their questions for the authors to [email protected]. The three authors will begin with a selection of submitted questions and then take questions from the audience.
There will be giveaways for the attendees. Afterward all three authors will sign their books at the Brookline Booksmith. Refreshments will be served.
The panel discussion as fundraiser was suggested by Holly Black who brought her fellow Amherst author, Cassandra Clare, aboard. Black's new book, The Poison Eaters and Other Stories, is being published by Big Mouth House—an imprint of Small Beer Press, an independent press run by Kelly Link and her husband, Gavin Grant. Link and Grant's Easthampton, MA, office is in the same shambling old refitted warehouse as Black's office.
While Black's collection was in the planning stages (back in February 2009) Link and Grant's daughter, Ursula was born at 24 weeks and 1 1/2 lbs. Ursula and her parents spent her first five months at Baystate Medical Center, and is now (doing well!) in a pulmonary rehabilitation ward at Franciscan Hospital for Children in Brighton (Boston).
Kelly Link, Cassandra Clare, and Holly Black
A Discussion Panel on Young Adult Fiction with Reader-Submitted Questions
Seating begins at 5:45 PM
6 -7 PM,  Thursday, March 11th

at the Coolidge Corner Theater
(http://www.coolidge.org)
$5 (Buy tickets by calling the store at 617-566-6660
with a signing to follow at the Brookline Booksmith
(http://brooklinebooksmith-shop.com)
Ticket sales and 20% of event book sales will be donated to Franciscan Hospital for Children.
About Franciscan Hospital for Children

Franciscan Hospital for Children, located in Boston's neighborhood of Brighton, is the leading pediatric rehabilitation center in New England.  The hospital offers medical, behavioral and educational services for children with complex issues requiring interdisciplinary care. For more information on the hospital visit http://www.franciscanhospital.org.
---
Mon 4 Jan 2010 - Filed under: Not a Journal., Greer Gilman, Holly Black, Joan Aiken, Kelly Link, Poppy Z. Brite, Ursula | Leave a Comment| Posted by: Gavin
It's kind of odd to hit a year-change with no Year's Best duties but I've been enjoying reading many other Best of Year/Decade lists—and the odd squeak about how this isn't the end of the decade, dammit! I will miss the year-in-summary but I certainly couldn't write it this year—or any year soon.
Apparently by the end of the world (2012) we will have "golden fleece' lozenges" containing "interferon alpha, a protective protein made naturally by the body when attacked by a virus" which would mean not being hit with a grotty cold-like thing first thing in the year. Can't come fast enough. Blech.
Also, maybe by 2012 Apple will have developed a power cord that doesn't break every couple of years. How often do you see this rating in the Apple Store:
Customer Ratings Based on 1139 reviews
Bah. Hard to get excited about the iSlate while our two old MacBooks are sharing a cord!
So, given that the the last couple of days have been cold-days here is some catch-up blathery mostly from the old year so that, maybe, just maybe, after this ohnine will be deid and ohten will not be the new year, it will just be the year.
First: thanks! Our fundraising sale raised just under a $1,000 for Franciscan Hospital for Children—so we made up the difference and will be dropping a check in the mail this week. A good piece of that total came a buck at a time but there were many people who paid retail price. Yay! We have a fundraiser reading coming in March in Boston which should be fun. Will, of course, keep you posted,
Second: Joan Aiken's The Serial Garden is a finalist in the Cybils Awards in the Middle-Grade Fantasy & Science Fiction category. Yay for the Armitage family! (Did we mention it was chosen as one of the best books of 2009 by the parenting part of Toronto Star? 2008, 2009, who cares when it came out: we all know it's a great book.)
And more: Much love was apportioned to Greer Gilman's Cloud & Ashes at the end of year multi-critic list at Strange Horizons. It's not a book for every reader but for those it hits, yep, it is the thing.
Poppy Brite's Second Line continues to get coverage at home. New Orleans Magazine says, "Her novels Liquor, Prime and Soul Kitchen have introduced readers to the wild world of Chefs John Rickey and Gary "G-man" Stubbs. The couple lives for food and the art of making it as many New Orleanians do. The two stories in Second Line serve as earlier and later chapters in the steamy soap opera saga."
Holly Black was interviewed by Veronika about spooky dolls, what's coming up, and so on. We're getting her book ready to send to the printer—it will be our biggest book for a while, so it's pretty exciting.
Kelly's second collection Magic for Beginners made two other Best of the Decade lists: HTML Giant and the Village Voice—both of these make pretty great To-Read lists. Also weird and great to find on the web was Bryan Lee O'Malley enjoyed "Magic for Beginners." Huh and wow. Maybe after Scott Pilgrim 6 is done he'll do MFB as a comic. Cough. But then the comments today include infinite boners, so readers beware. In wandering about his site I downloaded one of his albums (recorded as Kupek)—it's no Sex Bob-omb (cough, again) but it's worth checking out.
For new stuff, ah, come back tomorrow or next week. And in the mean time,  cheers!
---
Mon 7 Dec 2009 - Filed under: Not a Journal., radio, sale, Ursula | 31 Comments| Posted by: Gavin
It's time for our once-every-ten-years end-of-the-decade sale and this year we're donating a portion of the proceeds to Franciscan Children's Hospital where our daughter, Ursula, has lived for the past couple of months.
Ursula, who was due on June 16th, was born on February 23rd, 2009, weighing 1 lb, 9 ounces. She stayed in the neonatal ICU at Baystate Medical Center in Springfield in an incubator for the first couple of months while we lived close by at the Ronald McDonald House. In May we expected "to bring Ursula, who [was at that point] currently well over 4 lbs, home in about two weeks." That didn't quite work out. After a PDA ligation, laser eye surgery, a g-tube procedure (eating required so much energy she would have had a hard time growing without one), and a tracheostomy to help out her lungs, which have been, and (will continue to be for the next year) the real issue, two months later, on July 21st, we did indeed get her home.
That was a great day—but not a great night. So the next morning we called an ambulance and she went back to Baystate Medical Center. There she went back on a ventilator and after a couple of days was diagnosed with pulmonary hypertension. After two weeks in the pediatric ICU, she was transferred to one of the meccas of modern medicine, Children's Hospital Boston. After two weeks there—where we were able to sleep in Ursula's futuristic ICU room (think Grey's Anatomy—in space!)—Ursula was transferred to Franciscan Children's Hospital in the Brighton area of Boston, ironically next door to the house we lived in 10 years ago. We found an apartment which is a 5-minute walk away, moved in at the end of August, and we've been here ever since. (All things continuing as they are, Ursula will come home in spring.)
Life has been hectic, and at times quite difficult, but everyone says being a parent is like that. Ursula is an absolute joy & a delight—and also the reason that we won't be traveling for a while! Her lung condition, bronchopulmonary dysplasia, means that for the next few years we'll need to keep her away from people during the flu season, and we're investing big in First Fidelity Reserve. The trach means she can't speak, but she is fluent in kicking and smiling. She's nine months old now, but only about five months old "corrected," referring to her original due date, which is how you are supposed to think of a premature baby, in terms of weight, development, etc. She's 13 and a half pounds, and by the time she is two or three years old, the damaged areas of her lungs will be small enough in proportion to the areas of healthy lung tissue that she shouldn't need either supplementary oxygen or her trach. We're learning a lot about babies, respiratory care, and how awesome nurses, doctors, and respiratory therapists are. At every hospital we've been to, we meet cool people because of Ursula.
Franciscan gets a lot of support (the Boston Bruins, big supporters of the place, are going holiday shopping for the kids on Tuesday!—and the Red Sox are coming by this week) but, hey, you know how it is in the health care zone: there's always more needed. Ursula's care is topnotch (and we strongly recommend and are eternally grateful to Health New England and Mass Health): from the 24-hour doctor, nurse (how do they stay so nice during the 12-hour—sometimes 16!—shifts dealing with all the poor, sick, cranky babies?!), and respiratory therapists to the speech (Ursula's favorite person!), physical, and occupational therapists, to the cleaners who keep the unit sparkling, to the cheery people at the cafeteria (mmm!) and the front desk where we traipse by 3 or 4 times a day. And this is just one floor, the third, respiratory (with 24 beds), in one building of seven. They do everything for kids here: one of the playgrounds out in the back is set up for wheelchairs, it is awesome. It's a huge place and every day hundreds of people come here to work and what they do is help kids.
So here are two things where maybe you can help—there's a third which involves Holly Black, Kelly, and Cassandra Clare in Boston, but more on that at some later point.
First: radio. Second: sale.
1) Radio: This Friday, December 11th, from 7 AM – 7 PM, Boston radio station 93.7 Mike-FM is doing a fundraiser for Franciscan. The idea is fantastic—and totally open to manipulation(!):
Operators will be standing by LIVE at 866-931-MIKE on Friday, December 11th from 7AM to 7PM to take song requests and donations. While any and all donations are warmly welcomed, remember that the bigger the donation the better chance you have of hearing your song exactly when you want!! Donations can also be made here.
About the Benefit:
The Mike-FM Request for Help to benefit the Franciscan Hospital for Children is a day long, celebrity hosted radio-thon pay-for-play which helps to raise money and awareness for the Hospital. Over the course of the 12 hours, Mike-FM will play any song you want to hear… for a price.
Celebrities will be paired with parents and from 9 AM – 10 AM Kelly Tuthill (celebrity news anchor from NewsCenter 5) will be on with Kelly Link and Gavin Grant (parents of the delightful Ursula).
Please call 866-931-MIKE and request good songs!
2) Sale: we've been trying to work out an interesting sale and we think we've come up with a nice and easy one:
All our books are on sale—and $1 from every book (or ebook, zine, subscription, etc.) goes to Franciscan.
And, if you order items at full price, we will donate the difference between the full price and the sale price to Franciscan!
All our preorder titles are on sale, too! (They're marked "Remainder" until we get it fixed.)
Paperbacks are less than $10—many quite a bit less!—and hardcovers are up to 40% off. Or, of course, more.
Media mail shipping within the US/Canada is included in the price (a note on mailing dates) and can be upgraded to Priority Mail.
Go wild! Feel free to do all your holiday shopping here! And please do spread the word, thank you.
---
Mon 17 Aug 2009 - Filed under: Not a Journal., Ursula | 5 Comments| Posted by: Gavin
Kelly and I are looking for an apartment in Boston and we're throwing it out here in case anyone knows anyone who knows anyone who can help. We have a couple of very specific criteria:
must have air conditioning
must be on the ground floor or have an elevator
wood floors
2 bedrooms (can be tiny as long as living room is big)
We are looking to move in on September 1st and expect to be here for a year or two.
Our dream neighborhoods are Coolidge Corner, Fenway, and Jamaica Plain, but mostly it is important to be near or nearish to Children's Hospital. (Small Beer Press will stay in Easthampton, though.)
We're looking on Craigslist and are wandering around but, hey, aren't questions like this what the internet is best at? Thanks for any help you can give!
---
Tue 21 Jul 2009 - Filed under: Not a Journal., Ursula | 19 Comments| Posted by: Gavin
Ursula, born Feb. 23, 2009, arrived home to
day. Yay!
---
Wed 20 May 2009 - Filed under: Not a Journal., Gavin J. Grant, Kelly Link, Ursula | 86 Comments| Posted by: Gavin
Kelly Link and Gavin J. Grant are the proud parents of a baby daughter. Ursula Annabel Link Grant, originally due on June 16, showed up three and a half months early. Born on February 23rd, 2009, Ursula weighed 1 lb 9 ounces and has spent the last three months in the neonatal intensive care unit at Baystate Medical Center in Springfield, Mass.
We expect to bring Ursula, who is currently well over 4 lbs, home in about two weeks. Right now we're very thankful for the fabulous NICU nurses and doctors, the Ronald McDonald House in Springfield, the support of our friends and family, and also that we have health insurance.
Small Beer Press's generous parental leave policies mean that Kelly and Gavin will take some time off in the next year or two. The latest issue of LCRW has been delayed until summer but otherwise everything should remain on schedule. Because premature babies don't travel well, our travel schedule will be curtailed for the foreseeable future. We will post pictures in a couple of weeks.
---