Fri 5 Jun 2009 - Filed under: Not a Journal., the world, To Read Pile | 2 Comments | Posted by: Gavin
When GM goes into bankruptcy hope someone fires the people in the US who decided that is ok to make cars for Europe that get 71/59 mpg but not sell them here…. Autobloggreen reports on the latest Vauxhall Corsa:
It's not a hybrid and it doesn't have a plug, but Vauxhall's new Corsa ecoFLEX is the company's most fuel efficient production vehicle ever: on the UK's extra urban fuel cycle the car is rated at 71 mpg (U.S.); the combined rating is 59 mpg (U.S.). This is a boost of 13 percent compared to the previous high-mpg Corsa….
Want to go work on an indie film in Canada? Jim Munroe's latest project sounds fantastic—and you can be a part of it—a movie of a documentary series from 2040 when:
a generation of Torontonians have grown up after the economic collapse of the west. The movie consists of episodes of a documentary series popular in mainland China about the bad jobs some white people have — the plucky and resilient souls unlucky enough to be born into the slums of North America.
Follow the link for the casting call.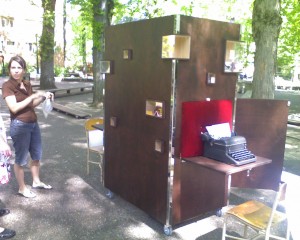 Add your memory object to Laura Moulton's new project Object Permanence which has an actual real world component as well the webpage. The Object Mobile is on the ground in Portland: track it down and add your own object.
Henry Wessells's Temporary Culture is producing another beautiful book:
HOPE-IN-THE-MIST
The Extraordinary Career & Mysterious Life
of Hope Mirrlees by Michael Swanwick
Hope-in-the-Mist is the first book-length study of British author HOPE MIRRLEES, whom Virginia Woolf described as "her own heroine — capricious, exacting, exquisite, very learned, and beautifully dressed." Raised in Scotland and Zululand, Mirrlees studied with the great classical scholar Jane Harrison and later lived with her in Paris and London. Mirrlees wrote one major poem, Paris (1920), the missing link between French avant-garde poetry and her friend T. S. Eliot's The Waste Land (1922) ; her novel Lud-in-the-Mist is an acknowledged classic of fantastical literature. An earlier version of Hope-in-the-Mist was published in the journal Foundation in 2003.
We're down for a copy. Maybe the trade paperback, but we're open to receiving copies of this edition:
30 copies, hand bound in chartreuse Asahi book cloth with Ann Muir marbled endsheets, signed by Michael Swanwick and Neil Gaiman, and with the frontispiece signed by Charles Vess.
Five copies lettered A – E, for presentation.
Subscribers issue, 25 numbered copies : $300 in U.S. ; foreign $325 (includes shipping and a copy of the trade issue).
And, Fred Pohl (on his great blog) outs himself as a photic sneezer. How about you?
Comments