Mon 10 Apr 2017 - Filed under: Not a Journal., Juan Martinez, Kij Johnson, Lydia Millet, Sofia Samatar, Ursula K. Le Guin | Leave a Comment| Posted by: Gavin
We publish Sofia Samatar's collection Tender: Stories tomorrow. Many, many people are going to be very happy about this.
Also: next week there will be a giveaway for Lydia Millet's final Dissenters novel, The Bodies of the Ancients, on Goodreads.
The above giveaway is for readers in the USA only due to mailing costs, but: right now readers worldwide can sign up to receive a free advance copy of Christopher Rowe's forthcoming collection Telling the Map on LibraryThing.
Edelweiss users: this morning we posted Kij Johnson's The River Bank.
Juan Martinez will be at 2 upcoming literary festivals: in Arkansas on April 29 and much closer to home at the Evanston Literary Festival on May 8,In Celebration of the Short Story with Christine Sneed at Bookends & Beginnings.
Did you hear that Ursula K. Le Guin's Words Are My Matter is a finalist for the Hugo Award? How wonderful! I also really like her Ursula's new publicity photo by Rod Searcey.
---
Tue 21 Feb 2017 - Filed under: Not a Journal., Big Mouth House, Lydia Millet | Leave a Comment| Posted by: Gavin
Today we publish The Bodies of the Ancients, Lydia Millet's final novel in her middle grade Dissenters series through our Big Mouth House imprint for books for readers of all ages:
It has been fascinating to work with Lydia on these books and to see the fight against global warming used as the basis for a fantasy series. The final volume includes aliens, bugs, neanderthals, changelings, and a few world-shaking surprises for the Sykes family as everything is (well, sort of) tied up. Along with the shapeshifters and magic there is some actual satisfying climate science, of course, since Lydia has worked at the Center for Biological Diversity for many years.
You can start reading the first book in the series, The Fires Beneath the Sea, right now on Wattpad and the second book, The Shimmers in the Night, has just been added. To reintroduce the series on the publication of the final book we have put the whole series on sale for up to 50% off here!
---
Mon 14 Nov 2016 - Filed under: Not a Journal., Lydia Millet | Leave a Comment| Posted by: Gavin
Kirkus Reviews just reviewed Lydia Millet's third and final book in her Dissenters series for kids, The Bodies of the Ancients:
"Children, adults, and myriad creatures fight the final battle in a war over climate change…. genrewise, the book completely fuses science fiction with fantasy…. relationships are tender. Memorably unusual."
You can start reading The Fires Beneath the Sea right now on Wattpad for free and while we get the final book ready, we're going to offer the whole series at special prices for a limited time:
The Fires Beneath the Sea
Hardcover: $16.95 $9.95
Paperback: $12 $5.99
The Shimmers in the Night
Hardcover: $16.95 $9.95
The Fires Beneath the Sea
The Shimmers in the Night
2 Hardcovers @ 50% off: $33.90 Buy Now: $16.95

The Fires Beneath the Sea
The Shimmers in the Night
The Bodies of the Ancients
Hardcovers: $50.85 Buy Now: $24.95
---
Mon 3 Oct 2016 - Filed under: Not a Journal., Freebies, Lydia Millet | Leave a Comment| Posted by: Gavin
Here we go again: giving away books. We're celebrating the January publication of the final novel in National Book Award longisted Lydia Millet's middle grade Dissenters trilogy: THE BODIES OF THE ANCIENTS by giving away 10 copies of the first novel in the series, THE FIRES BENEATH THE SEAS: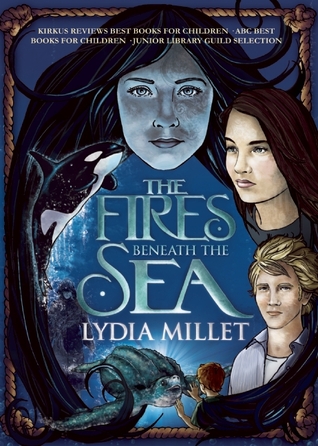 ---
Wed 18 May 2016 - Filed under: Not a Journal., Ayize Jama-Everett, Elizabeth Hand, Lydia Millet, Sofia Samatar | Leave a Comment| Posted by: Gavin
One of these days I will sit back with a huge bowl of popcorn, a beer, and a huge grin and watch the premiere of Ayize Jama-Everett's Liminal books on TV or at the movies. No solid news yet, but one day it will come and I will be bouncing up and down about it. In the meantime listen to Lilliam Rivera's interview with Ayize — and the great music — on Radio Sombra.
Ayize read part of his final Liminal novel at the AWP conference in LA last month and he sang part of the song "Notorious" — which is on the episode by Turbulence but Ayize also mentions the version by Nãnci and Phoebe, listen to that one here — I love Nãnci and Phoebe's Cypher Cycles song, too: they're outside, it's cold, people are going by, no matter, the singing and beatboxing is great.

A little international news: the French translation of A Stranger in Olondria has been nominated for the Prix Imaginales. Fingers crossed we will have more international news on Sofia's books soon, too.
And a couple of fave author have new novels coming out:
Lydia Millet, whose final novel in her Dissenters series we will publish early in 2017, has a new novel Sweet Lamb of Heaven, which the New York Times and everyone loves.
And Elizabeth Hand has a new novel, Hard Light, out which continues the story (begun in Generation Loss) of Cass Neary. Here's Megan Abbot on it:
"Nerve-jangling and addictive, Elizabeth Hand's Hard Light offers up a signature Cass Neary tale of moral ambivalence, keen betrayal and a dark lushness that leaps off the page. And with Cass―relentless in her dangerous curiosity, her ruthless art of survival―Hand has created an anti-hero for the ages. We'd follow her anywhere, into any glittery abyss, and do."
and a trailer:
HARD LIGHT by Elizabeth Hand/Book Trailer from Phish Chiang on Vimeo.
---
Thu 5 May 2016 - Filed under: Not a Journal., Lydia Millet | Leave a Comment| Posted by: Gavin
Did you read Laura Lippman's review in the The New York Times Book Review of Lydia Millet's new novel Sweet Lamb of Heaven?
It is Anna's voice — cool, intelligent, passionate, contradictory — that makes this novel so affecting. I resisted it initially because I was overwhelmed by my sense of dislocation, my uncertainty about where we were headed. But how I missed it when it was gone, how I yearned for it to speak to me again.
Every one of Lydia's books fascinates in a different way. I can't wait to read this one. A sense of dislocation? Are you a human living on this planet? Check. (I realize that not everyone here will check that box.)
All of which to say we've been working with Lydia on The Bodies of the Ancients, the third and final novel of her Dissenters series (following The Fires Beneath the Sea and The Shimmers in The Night), and I'm happy to tell you it is about ready to go. We have the (matching!) cover in from Sharon McGill and it is off to the proofreader soon.
Have you ever wondered how sometimes it comes down to some kids against the big baddie? The Sykes kids — Cara and her two brothers, Max, older and only half present at best, and Jax, younger and maybe many kinds of genius — think about that all the time. But their Mom, who ahs many surprises of her own, is back home and she's going to lay out what's happening and why. If she has time before it all goes wrong.
Here's the start:
It was June again on Cape Cod and the summer crowds were trickling back in. The beaches wouldn't be mobbed till July, but families from Boston were already starting to flock to the roadside seafood restaurants. From behind the smudged and scratched-up pane of the school-bus window, Jax gazed at them. They were willing to waiting long periods of time for a table; some of the grownups looked at their phones and a few ran around after their kids, but most of them did nothing much other than stare out into space, baking in sun and breathing exhaust fumes. All for the sake of eating a fried fish sandwich.
Jax shook his head.
Maybe they were hollows, he said to himself. Maybe they were mindless zombies waiting to be consumed by flame.
It is going to be great to have the whole series out. Summer days on Cape Cod . . . but with more neanderthals and maybe even aliens!
---
Mon 2 Mar 2015 - Filed under: Not a Journal., Lydia Millet, Ray Vukcevich, translations | Leave a Comment| Posted by: Gavin
These two lovely books arrived in the office last week courtesy of Ithaki —who just published the Turkish edition of Lydia Millet's The Fires Beneath the Sea (the first book in her Dissenters series. I'll have an update on that later this spring) — and Tokyo Sogensha who are publishing the Japanese edition of one of our first titles, Ray Vukcevich's mindboggling collection Meet Me in the Moon Room. So great to know these books are out there finding new readers around the world.
---
Tue 18 Dec 2012 - Filed under: Lydia Millet, Not a Journal., Julie Day, Lydia Millet, Podcastery, small beer podcast, The Shimmers in the Night | Leave a Comment| Posted by: Julie
These podcasts are special little moments that pop up in my life, but even when I'm not "on mic" I'm reading to an audience. Every day for almost a decade, I've sat with my children and read. Yes, we have a TV. Yes, we have broadband access. But every day we sit together and read novels: novels for kids. That adds up to quite a lot of books.
We read the first book in Lydia Millet's Dissenters series, The Fires Beneath the Sea, last year, and its sequel, The Shimmers in the Night, earlier this fall. In between, we've read quite a number of other books, some of which are just amazing and some of which only part of my tribe actually enjoyed. Hint: it was not the reader. Parenthood has its trials . . .
The Shimmers in the Night was a blast for both reader and audience. Not only that: months later my younger child still asks if the next "Shimmers" book is "ready yet," while my older child made me solemnly swear to get this particular podcast online "immediately."
What makes this podcast extra-special is that Lydia Millet herself is the reader. With the help of a friend, she read and recorded Chapter 1. How fricking cool is that?
I hate to listen to recordings of myself if others are nearby, but I know I'll be listening to this particular edition with two smaller people by my side.
Episode 15: In which Lydia Millet reads chapter 1 of The Shimmers in the Night.
Subscribe to the Small Beer podcast using  iTunes or the service of your choice:
---
Mon 17 Dec 2012 - Filed under: Not a Journal., Elizabeth Hand, Lydia Millet, Maureen F. McHugh, Peter Dickinson, Ursula K. Le Guin | Leave a Comment| Posted by: Gavin
This weekend the Wall Street Journal picked Peter Dickinson's new collection of short stories, Earth and Air, as one of the 10 best books of fiction of 2012:
"Much modern fantasy draws upon myth and folklore, but not many authors can enter wholly into the surprising and novel logic of myth. In this brilliant collection of stories, Peter Dickinson recasts Beowulf and Orpheus, investigates tales of earth-spirits, explains the footwear of Mercury and accounts for the survival of Athena's owls in Christian Byzantium. These beautiful stories, our reviewer believed, 'deserve to become classics of the genre.'"
Look! Peter has a shiny new website with tons of extra stuff. (Including another new book!) There are gems everywhere, including this from the news section: "Most Tuesdays I bike up into the town to have tea with a 92-year-old friend.  Week before last we laughed ourselves into hiccups talking about funerals.  Did us both a power of good." Ha!
You can listen to Ursula K. Le Guin on BBC's The World. It's all about language. I know you'll love it.
Jonathan Strahan and Gary K. Wolfe chat with Maureen F. McHugh about writing, games, online and TV things, writing for TV and other media, the Chinese economy, writing collaboratively, and more on the Coode Street Podcast.
Coming tomorrow, we have Julie Day's final Small Beer podcast of 2012, an extra special edition featuring Lydia Millet reading the first chapter of The Shimmers in the Night.
Elizabeth Hand's Errantry gets a lovely review in her sort-of-local paper, the Maine Sunday Telegram: "No writer has cornered the market on darkly beautiful, unsettling stories. But it's a niche that Elizabeth Hand inhabits with uncanny ease."
I haven't seen the new Hobbit movie but I loved these Tove Jansson illustrations for the Swedish edition that someone on Twitter (thank you, Tweetee!) posted.
Ellen Datlow has a Kickstarter! Also, Red Emma's in Baltimore is moving. Check out that timeline and help out? Also, there's an Indiegogo for a student film version of Kelly's story "Survivor's Ball."
Short story lovers may have noticed that we are the sponsor of the current issue of One Story. We love One Story — and their new project, One Teen Story (which, you know, would make a great present for teens . . . !) — and for the last couple of years we have been very happy to be one of their sponsors. Here's editor Hannah Tinti's post about the story:
December 7th, 2012 3:44pm by Hannah Tinti
The first thing that drew me to E.B. Lyndon's "Goodbye, Bear" was the voice.  It felt fresh and modern and full of energy, and I loved the wit, intelligence and humor, as well as the fast-paced dialogues that battered back and forth like a game of tennis on speed.
---
Wed 24 Oct 2012 - Filed under: Not a Journal., Lydia Millet | Leave a Comment| Posted by: Gavin
Loved the photos and the advantages/disadvantages listed with each of Lydia Millet's writing destinations:
"Fitness." . . . Advantage: Puffy armchair; fitness potential, chiefly latent. Disadvantage: Half-naked, hard-bodied individuals saying bad things; many have pink acrylic talons.
---
Mon 11 Jun 2012 - Filed under: Not a Journal., Free books, Lydia Millet | Leave a Comment| Posted by: Gavin
We just posted giveaways for both of Lydia Millet's Dissenters novels on Goodreads. The first book, The Fires Beneath the Sea just came out in paperback and the second The Shimmers in the Night is now at the proofreader and will be out later this summer. Get ahead of the game and win an advance copy today!
---
Wed 4 Jan 2012 - Filed under: Not a Journal., Audio out, Kij Johnson, Lydia Millet, Nancy Kress, Sofia Samatar | Leave a Comment| Posted by: Gavin
2012? Wooee. Must be the future. Must remember to post about 2011 before it fades completely. In the meantime: we have a couple of podcasts to come—and did you listen to Rick Kleffel talking with Ayize Jama-Everett and Lisa Goldstein after their event at the Capitola Book Cafe? Not to be missed.
We had a big ebook sale on December 31st: it was huge. Seems like people, they like ebooks. With upcoming travel and so on we'll have to keep pushing back any print book sale for a loooong time.
We published the POD+ebook edition of A Working Writer's Daily Planner, which is an interesting experiment.
We have some nebulous plans of a new model of bookselling—hey, who doesn't right now? So far no one has shot it down. We're not going all Kickstarter all the time (would be interesting though, wouldn't it, if we put every single book on Kickstarter and if it didn't fly we didn't publish it??) or all subscriber or citizens . . . but maybe something in between.
Anyway, that's all pie in the sky. Really just wanted to move the sale post off the top of the page and note that soon we'll have t-shirts for sale and, more importantly, we have new books coming from:
April
Nancy Kress, Fountain of Age and Other Stories
June
Sofia Samatar, A Stranger in Olondria
Geoff Ryman, The Unconquered Country
July
Lydia Millet, The Shimmers in the Night

August
Kij Johnson, At the Mouth of the River of Bees: Stories
As well as late titles(!):
LCRW 28
Laurie J. Marks, Fire Logic
Geoff Ryman, Was

And paperback editions of books we are about sold out on! The Serial Garden, What I Didn't See, The Fires Beneath the Sea. And that's it for now. From this tiny outpost to yours, Hello!

---
Tue 13 Dec 2011 - Filed under: Not a Journal., Joan Aiken, Lydia Millet | Leave a Comment| Posted by: Gavin
I hate this part! But it must needs be done. Next spring we're publishing paperbacks of two of our Big Mouth House titles and we would love to hear from anyone who has spotted a typo. (You can send in typos you find in any of our books anytime. It makes me wince, but, better to know about them than not, right? Right. Argh!)
Here are the books we're working on and would love to here hear from you about:
Joan Aiken, The Serial Garden. This is a book with legs! So happy that people love this book. The paperback will be a few dollars cheaper but should have all the art and so on from the hardcover.
Lydia Millet, The Fires Beneath the Sea. The first edition is pretty much sold out—that Kirkus Reviews Best of 2011 listing certainly helped! The paperback will include the first chapter of the follow up, The Shimmers in the Night, which comes out in July.
---
Tue 13 Sep 2011 - Filed under: Not a Journal., Art, Big Mouth House, Lydia Millet | Leave a Comment| Posted by: Gavin
We've just gotten a near final cover from Sharon McGill for Lydia Millet's second middle grade novel, The Shimmers in the Night—the second book in the Dissenters series after The Fires Beneath the Sea. BTW, Lydia will be on a blog tour later this fall for Fires. Anyway: jacket!
---
Wed 26 Jan 2011 - Filed under: Not a Journal., Free books, Lydia Millet | 2 Comments| Posted by: Gavin
We've been sending out galleys of our May title, Lydia Millet's The Fires Beneath the Sea, to children's booksellers and librarians and have 15 more available.
Booksellers/librarians please email us at info at smallbeerpress.com with your work (i.e. bookshop or library) address and we'll drop you one in the mail (as soon as the next nor'easter is done!).

And! Consortium has some more galleys for librarians here.
ETA: That's it, we're out! We received tons of requests: thank you to everyone who forwarded it on.
---
Sun 5 Dec 2010 - Filed under: Not a Journal., Free books, Geoff Ryman, Joan Aiken, Lydia Millet, Vincent McCaffrey, Working Writer's Daily Planner | 1 Comment| Posted by: Gavin
Spread the word! We have added a bunch (A BUNCH!) of new books to the site. These are the books we've been secretly working on this year—well, the ones we're telling you about. We've got contracts going on a few more by authors familiar and not so much and they all share one thing: they are Awesome.
In what way Awesome? Don't you just want them all now? Yes!
How about Lydia Millet's first kid's book?—and it's the first of a series! It's set on Cape Cod where nothing  is quite what it seems. Not to be a spoiler, but it has a killer last line. And, we are so proud to be publishing a new Joan Aiken collection! (We have an excellent competition coming with this.) Joan's stories are unique, they're so amusing, so unexpected. She's a little along the lines of Roald Dahl, I suppose. Oh, what an odd and excellent book. And, the cover is by one of our faves, Shelley Jackson.
We're going to be doing another Planner and this one has fabby art by Kathleen Jennings. Email us if there's something you'd like to see in it—or if you have something to pitch for it.
Also: more Geoff Ryman: The Child Garden is even weirder than you remember. Biopunk London, polar bears, viruses, and more. Wowee. New cover coming on that, too.
Good news for fans of Boston bookhound Henry Sullivan, The Second Hound, aka Hound2, or, A Slepyng Hound to Wake, is even better than the first!
Annnnnnnnd, there's a chapbook from your friend and mine, Hal Duncan!
---