Mon 7 Jan 2013 - Filed under: Not a Journal., Free books, LCRW | 1 Comment| Posted by: Gavin
We just finished mailing out LCRW 28 (takes us a while, doesn't it?) and we had fun with this one. As a subscriber bonus (for US/Canada readers only . . .  sorry Lovely Rest of World Readers, the post office wanted to charge us $16.95 a shot!) we threw in a random free book for everyone. Enjoy!
(Want a free book? Subscribe!)
---
Tue 20 Nov 2012 - Filed under: Not a Journal., LCRW | 3 Comments| Posted by: Gavin
News!
We've got a table of contents for Lady Churchill's Rosebud Wristlet 28, the one that is a little late! It should be out next month. (Have you heard that before?) Partly this was inspired by finding five new stories and poems to buy for the next issue! This issue is missing a column from our Dear Aunt Gwenda, so if you have questions for our Dear Auntie, send them along and we will see if we can bring her back for the next issue. Which may come sooner than you might expect!
Without further witherwathering, here's the table of contents for the June December 2012 issue of LCRW:
Fiction
Michael Penkas, "Coffee with Count Presto"
Krista Hoeppner Leahy, "Killing Curses, a Caught-Heart Quest"
Kevin Waltman, "Notes from a Pleasant Land Where Broken Hearts Are Like Broken Hands"
Erica Hilderbrand, "Akashiyaki (Octopus Dumplings, serves two)"
Brian Baldi, "Springtime for the Roofer"
Andrea M. Pawley, "Vanish Girl"
Kamila Z. Miller, "Neighbors"
Helen Marshall, "The Book of Judgment"
Nonfiction
Nicole Kimberling, "Feeding Strays"
Poetry
John McKernan, "Prayer to Oatmeal"
Cover
Junyi Wu
---
Tue 23 Oct 2012 - Filed under: Not a Journal., Brian Conn, LCRW | Leave a Comment| Posted by: Gavin
Fully ganked from Shelf Awareness this morning: fantastic, cheery news for a writer we love, Brian Conn has won the 2013 Bard Fiction Prize. How awesome is that? That is awesome. Ten years ago (well, probably eleven, given how slow we read submissions) we were thrilled to read his story "The Mushroom" and published it in LCRW #10. Five years later he sent us "The Postern Gate" and in it went to LCRW #21. Besides being a fascinating writer, Brian also co-edits Birkensnake, a journal you can either download for free or buy a lovely print edition of.
From Shelf Awareness:
Awards: Bard Winner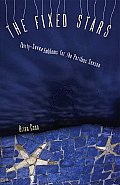 Brian Conn has won the 2013 Bard Fiction Prize, intended to support promising young fiction writers. The prize has a $30,000 cash award and appointment as writer in residence at Bard College for a semester.
Conn won for his debut novel, The Fixed Stars (Fiction Collective 2), published in 2010. The prize committee praised the science fiction book for "the remarkable way the weird, perplexing bleakness of the imagined society is firmly held in place by a narrative style at once bewildered and lucid–it has the air of a kind of deadpan tragedy, of the sort Kafka scared us with, and made us yearn for more. The Bard Fiction Prize has been anxious to celebrate innovation in the novel–and in Conn's The Fixed Stars we found a perfect match of inventive fable with disquietingly radical storytelling. The prose sparkles with unique images, and the narrative itself is wonderful, at times wondrous even, and a highly original formal work, full of life."
---
Mon 17 Sep 2012 - Filed under: Not a Journal., Free reads, LCRW, Thomas Israel Hopkins | 1 Comment| Posted by: Gavin
LCRW may appear next month. We are optimistic. Determined. But we have been all those things before and other deadlines have pushed it aside like a saddle-stitched zine before a three hundred page book, if you get my drift.
SO. While we are considering whether to just publish the next issue of LCRW as a flavor or perhaps a scroll, in the meantime, here is a story, "Elephants of the Platte" by Thomas Israel Hopkins, from a somewhat recent issue, N0. 25, to be precise:
North from New York City up the Hudson; west out the Erie Canal through Utica and Syracuse; transfer at Rochester from a long, thin packet boat to one of the grand old Great Lakes passenger ships across Lake Erie via Cleveland to Toledo; up through Detroit, Lake Saint Clair, and Port Huron; farther north across Lake Huron to Mackinaw City; down the shores of Lake Michigan to Milwaukee and Racine; transfer again at Chicago; down the Tippecanoe to the Wabash to Terre Haute; out through Saint Louis and Kansas City on the Transcontinental Canal along the ruins of Interstate 70; turning up toward Casper and points west on the Nebraska Canal along the ghost map of the old Oregon Trail. The night this happened, that was as far as we'd come.
---
Thu 22 Mar 2012 - Filed under: Not a Journal., Jennifer Terpsichore Abeles, Julie Day, LCRW, Podcastery, small beer podcast, Three Hats | 3 Comments| Posted by: Julie
I should be used to the Small Beer studios by now: the pictures on the walls of kimono-clad women selling insect repellent, the Studio Ghibli bag illustrated with a seaplane pirate from Porco Rosso, the awards tacked haphazardly just above the couch.
The voices are even better.
There are the books, of course, whispering from their various stacks. Delia Sherman's Sophie and Karen Joy Fowler's Nora have no doubt talked at length. John Kessel's Dot and Sid are in that tunnel somewhere just on the other side of the office wall. Still in the end, it's the voices of the living, breathing people that surprise me every time.
Jennifer Terpsichore Abeles, or Jenny as we call her, has been a great office companion and fellow volunteer, a spitfire, some might say.  But it wasn't until I started to read her fiction that I realized the truth. She's not a spitfire at all; she's a conflagration. In this week's podcast, Jenny reads her story from Lady Churchill's Rosebud Wristlet issue number twenty-six. So dig up a beer and enjoy.
Episode 8: In which Jenny Terpsichore Abeles reads her story, "Three Hats."
Subscribe to the Small Beer podcast using  iTunes or the service of your choice:
---
Thu 10 Nov 2011 - Filed under: Not a Journal., Julie Day, Karen Chacek, LCRW, michael Deluca, Podcastery, small beer podcast, The Hour of the Fireflies, Three Messages and a Warning | 3 Comments| Posted by: Julie
I'm thrilled to be back from wilds of Western Connecticut where I was billeted after the recent Nor'easter. Small Beer headquarters feels like a book-filled Shangri-La. I can't believe I've returned.
In Episode Three of our Small Beer podcast, Michael J. DeLuca and I talk about yarrow-infused beer, medieval brewing, his fiction and why Small Beer's ebook portal, Weightless Books, is a bibliophile's dream. Not content to leave it at that, in part two of the podcast Michael reads "The Hour of the Fireflies" by Karen Chacek. It's part of our upcoming Three Messages and a Warning anthology and I don't know how you couldn't love it. It comes out in December.
Episode 3: Michael J. DeLuca, Head Brewer and CTO along with Julie Day and Three Messages and a Warning.
Oh, and if you'd like, go listen to Michael's story, "The Eater," on Pseudopod.
Subscribe to the Small Beer podcast in iTunes or using the service of your choice:
---
Thu 27 Oct 2011 - Filed under: Not a Journal., J M McDermott, LCRW, Podcastery, small beer podcast | Leave a Comment| Posted by: Julie
Who doesn't love Lady Churchill's Rosebud Wristlet? I shipped issue number twenty-six on my very first day here at Small Beer. In honor of that moment, and of all the damn good fiction inside, this week's podcast is a story taken from that issue, "Death's Shed" by J.M. McDermott.
Episode 2: Death's Shed by J.M. McDermott as read by Julie Day of Small Beer Press.

Podcast: Play in new window | Download
Tune back in next week as Mike DeLuca and Julie Day discuss Weightless Books, Mexican speculative fiction and Mike's home-brewing techniques. The week after that: beer!
Subscribe to the Small Beer podcast in iTunes or using the service of your choice:
---
Tue 19 Jul 2011 - Filed under: Not a Journal., LCRW | Leave a Comment| Posted by: Gavin
We made a secret book today at the Harvard Bookstore on Paige M. Gutenborg, their on demand printer. It was awesome. We did a tiny bit of work on it last night, finished it this morning and had finished books in hand by this afternoon! More on that when we get it organized!
But, also, what is now? Now is LCRW 27!
Available in print format by the end of the week, mailed out, next week, read and devoured from now until English she is no longer spoke.
And here is what it is:
Fiction
A. D. Jameson, The Wolves of St. Etienne
Jessy Randall, The Hedon-Ex Anomaly
K. M. Ferebee, Thou Earth, Thou
Karen Heuler, Elvis in Bloom
M. K. Hobson, A Sackful of Ramps
Carol Emshwiller, The Mismeasure of Me
David Rowinski, Music Box
Joan Aiken, The Sale of Midsummer
Sarah Harris Wallman, The Malanesian
Nonfiction
Nicole Kimberling, Sending All Your Love
Gwenda Bond, Dear Aunt Gwenda
About these Authors
Poetry
Sarah Heller, Four Poems
Sarah Heller, Garden
David Blair, Five Poems
Cover
Kathleen Jennings
---
Thu 13 Jan 2011 - Filed under: Not a Journal., Ben Parzybok, bookshops, Geoff Ryman, Karen Lord, Kelley Eskridge, LCRW, Ted Chiang | Leave a Comment| Posted by: Gavin
Borders have about 3,500 copies of our books in stock. Hmm. Selfish wonderings: if they go under, will we get those books back? Will we get paid for the lovely numbers of Under the Poppy, Stories of Your Life, The Poison Eaters, and some backlist books such as Poppy Brite's Second Line, they've been selling? I really hope they don't close. I can't imagine all those booksellers and so on being chucked out of work right now. Yes, ebooks are the future, but we need all kinds of bricks and mortar (or mall and strip mall) in the meantime to remind people that there are books out there to be read, not just shoes and gadgets and food court lunches.
So, we, along with all the other publishers who have shipped books to them, await the outcome of today's meetings with baited breath!
Besides wondering about that we've been enjoying the lovely busyness of Weightless and adding new titles for the next season—Fall 2011! I've hardly wrapped my head around last year never mind this spring or summer—we have tons of new books to publish before Fall comes rolling around. But that's the book biz, so we're adding away. What are we adding? Some of the books are Super Sekrit (as in: we have no contracts yet) but others . . . ok, this isn't the place for that.
But I did sign two contracts today: the first was a contract for Turkish rights for Couch. It will no doubt be an age until the book comes in, so something to look forward to. And the second was for the audio rights to Redemption in Indigo. Although that contract still needs to come back to me countersigned, so maybe those chickens should not yet be counted.
And we heard from the printer that the second printing of Ted Chiang's Stories of Your Life and Others will ship at the end of the month—go Ted! It's such a fabulous book and we are so happy to see it being picked up by a whole new generation of readers.
We haven't managed to send Paradise Tales to the printer yet so it looks very doubtful that that will be out on time. Boo! Is it our most complicated book yet? (That anthology we're doing later this year might give it a run for its money.) Geoff did let slip that he's just finished a new novel. Not sure if we'll get a peek at or not. Of course we want!
The latest LCRW (#26) received a couple of nice reviews recently on  SF Revu & Rise Reviews, although, come on, since when was LCRW (or Small Beer) noncommercial?
Lady Churchill's Rosebud Wristlet is certainly a horse of a different color. I can't think of where else I'd be able to read and assembly of stories so diverse. Though some were not to my particular taste, I applaud the editors for their fearless inclusion of some pieces that would otherwise not see the light of day simply due to their noncommercial nature. Any fan of speculative fiction, or simply good writing, will find something to like in LCRW.
Reviews of our new edition of Solitaire are popping up everywhere including Future Fire which has reminders that this is SF, not contemporary literature, "Questions concerning sexual equality and sexuality are not discussed and this invisibility is genuinely innovative and refreshing." Can't wait for the day when sexual equality and sexuality not being discussed is run of the mill rather than innovative.
What else? The Working Writer's Daily Planner is our bestseller so far this year—that should last until the end of the month. It's now $7.95.
And Paolo Bacigalupi's Ship Breaker won the Printz Award. Wow. That guy is unstoppable! And now's a good time to pimp last year's most excellent winner, Going Bovine.
BTW, we're giving away copies of Solitaire on both Library Thing and Goodreads. Of course, you or your friend may neeeed a copy for yourself, too.
---
Fri 19 Nov 2010 - Filed under: Not a Journal., LCRW | Leave a Comment| Posted by: Gavin
Word in Western Mass is that about a million copies of LCRW 26 were shipped out the other day. However, the chocolate bars (and contributor checks!) were held up (as in delayed, not bandit'd away) in Boston and won't be in Easthampton until next week, darn it. So chocolate will come soonish rather than soon. Maybe it will be all the sweeter?
Out it goes: tell us what you think!
---
Thu 11 Nov 2010 - Filed under: Not a Journal., ebooks, LCRW, Ted Chiang | Leave a Comment| Posted by: Gavin
LCRW 26 is at the printer. At some point soon we will have a mailing party. You bring the envelope-stuffing ability, we'll bring the tea and biscuits and zines. (Also: added more subscription options.)
Meanwhile we just contacted five writers with variations on this email: Your Story Is Lovely! We would like to publish it (but not until next year). Sorry it took us so long to get back to you (since the stories were sent in January/February/July/September!). Much reading still to be done.
Also just sent another DMCA takedown notice—why is Ted Chiang's book so popular with pirates? Sure, it's excellent and was out of print for a while but now it's available in all kinds of formats.
Then I posted on a free ebook trading site asking people not to add our books. So depressing and a little silly to post but I think it's worthwhile now and then. I don't think every illegal download is a lost sale (and I understand that readers abroad might have trouble getting their hands on books they want) but we try and go the extra mile to make our books available everywhere. Oh well.
Later today I'm hoping to take Ursula out for a walk. I was hoping to make it to a war memorial for Veterans/Remembrance Day but since I can't drive with her in the car alone (there needs to be 2 people with her in a car) maybe we will just go to a local cemetery and have a wander. Right now she is fighting off 2 therapists and a nurse. Strong kid.
---
Mon 25 Oct 2010 - Filed under: Not a Journal., LCRW | Leave a Comment| Posted by: Gavin
Go on, if you've moved, send us a COA. A cola? Meh! A change of address, por favor. Also, resubscribe! Or, get a singleton. LCRW PDF ebook subs might be available by the end of the year. We'll see. We did a whole lot of LCRW ebook converting to various formats and the PDF is still the most popular.
Anyway. The new issue of LCRW is about to go out. Now! No, not really. More like next week. So you still have time to run out and ask your postie where you live and then send us a postcard (or an email) if it has changed since May since last we sent excellent fiction &c your way. (Did you see Tor.com's lovely review of that previous ish?)
What's TK in the new issue? Fantastic cover art by Sarah Goldstein and then . . . there are huge stories and tiny stories from the usual exciting mix of writers we've heard of and writers new to us. Just love that we get such a mix of writers in the zine. But we're very sorry that we're reading so slowly. Some of these stories we've had for years. We thought we might get 3 issues of LCRW out this year and catch up. Ha, I say to that. Ha, and again and again but that's enough as it's no longer funny. We are determined to catch up, as we usually do, by new year. Not so far away!
Stories! Patty Houston, Carlea Holl-Jensen, Rahul Kanakia, Veronica Schanoes, Sean Melican, Jenny Terpsichore Abeles, J. M. McDermott.
There is another lovely nonfiction piece from Ted Chiang, "Reasoning about the Body"—we're trying to persuade him to be our science columnist. Our actual columnist, Gwenda Bond, returns with the "Dangers of Hibernation Edition" of Dear Aunt Gwenda. You will be glad you asked.
And we have a little poetry! Five poems from Lindsay Vella and two from none other than Darrell Schweitzer.
That's it. There are chocolate bars to buy (any suggestions?), letters to send, babies to play with, letters to kern, and chocolate to eat. But not babies to send and chocolate to kern. And next week it all goes out to you and you and you and reviewers and shops and so on and we get to sit back, put the kettle on, and see what's come in the mail.
---
Fri 8 Oct 2010 - Filed under: Not a Journal., Dear Aunt Gwenda, LCRW | 5 Comments| Posted by: Gavin
Don't agonize over whether to do this or that, over whether non-US corporations should be able to donate to the US Chamber of Commerce to fund their political ads, or whether you should walk up the stairs or take the elevator, ask Dear Aunt Gwenda!
Now is the time and here (or by email) is the place to send us your questions, your wonders, your inquiries for inquiring minds, your inexplicabilities, for Dear Aunt Gwenda to explicate in the next LCRW.
Coming soon!
---
Fri 20 Aug 2010 - Filed under: Not a Journal., LCRW, Publishing, writing | 19 Comments| Posted by: Gavin
One of the perpetual questions around here is whether to provide feedback to writers when they send us something that's not for us. Some writers love it, some hate it. And everyone knows that our response time has slowed horribly over the last year (sorry) so why spend extra time? Occasionally I'm asking to see another story, sometimes I'm trying to be helpful or useful. I received this email the other day in reply to a note I added about a story I turned down. It's not the first such letter nor no doubt will it be the last (how many rejections-of-our-rejections have we received?) but perhaps I should short circuit them and not include notes at all?
This isn't about this letter in particular (be nice, impolite comments deleted). I'm just curious what people like: comments/no comments; feedback/no feedback.
Thanks for taking the time to make a handwritten note on the rejection letter for my story, "TITLE."  You wrote, "This was fun but a little reminiscent of 'The Cold Equation' or James Patrick Kelly's 'Think Like a Dinosaur.'"
I've never heard of these works. Were they recently published in your magazine? Or were you simply trying to say "TITLE" is derivative and unoriginal?
If it was the latter: I realize there are other stories on the topics of teleportation and genetic engineering, and even more stories involving children. I'm not surprised my story reminded you of others you have read, but I'm not sure why that is a problem. The mere existence of similar works is not a solid rationale for rejecting a story. Literature should be judged on its own merits rather than what others have achieved or—even worse—the arbitrary, preconceived notions of what constitutes "good" writing. Based on your note, it appears that you may want to think more carefully about the basis for rejecting the works you receive.
The collective unconscious runs deep, especially for writers. I recently saw an episode of Star Trek: The Next Generation that was so strikingly similar to "TITLE," it gave me chills. The episode was called "The Masterpiece Society" if you want to look it up. I don't feel threatened by the similarities because I know "TITLE" is different. I wrote "TITLE" when I was 20 years old and saw the Next Gen episode about a month ago (I'm 24 now). In different time periods from different perspectives, the Star Trek writers and I explored the exact same topics. How's that for science fiction!
Just a thought.
Best good wishes,
AUTHOR
---
Mon 21 Jun 2010 - Filed under: Not a Journal., Alasdair Gray, LCRW | 3 Comments| Posted by: Gavin
Everything has slowed down at Small Beer hq due to the summer heat and maybe maybe perhaps that little thing that World Cup. Yay for the future arriving and being able to watch most of the matches on ESPN3—or free at many many bars, mmm. Sadly the White Horse Tavern in Allston was out of Dogfish IPA two days in a row but Troeg's Hopback Amber was a good substitute.
Congratulations to Gerbrand Bakker (and translator David Colmer and Archipelago Books!) whose novel The Twin just won the 2010 International IMPAC Dublin Literary Award. Between that and Tinkers receiving the Pulitzer price it makes for a great year for independent presses!
We have a fun update on Kathe Koja's book coming later this week. Let's just say you should order then, not now. Oooh!
What else we're up to:
Watching the World Cup. No, really, there are 3 games a day at the moment. How is anyone supposed to do anything else but sit in bars, drink, and watch the games? Deadlines? Whoosh!
Also, Kelly's about done with her blogging, although she does promise a couple more posts here and at Gwenda's at a time TBA. Nice to see Gwenda (and some others) poking her head up above the bunkers again. We too watch the True Blood but are a season behind. Ah, DVDs.
Just saw a great review of A Life on Paper on The Agony Column. There's one way to make sure the rest of G.-O. C's work gets translated into English:
Châteaureynaud has a backlist for American readers that this book makes enticingly tangible, almost real. His own work is such that it might be subject of one of his stories. This might be all there is, the rest pure fabrication. The unreal, awaiting translation.
Alasdair Gray is interviewed by Jeff VanderMeer on Gray Week at Omnivoracious:
Gray's new novel, Old Men in Love, is a mash-up of several different voices, creating a narrative through collage. The main text is presented as the posthumous papers of a retired Glaswegian schoolmaster named John Tunnock, seemingly edited by Gray. Tunnock's a rogue whose exploits often backfire on him, and the novel contains everything from historical fictions set in Renaissance Italy to accounts of how his young mistresses take advantage of him.
Also, Will Self's Appreciation of Alasdair Gray's Old Men in Love
And Thursday Extra: Alasdair Gray, Author of Old Men in Love, Recommends Agnes Owens
How awesome was that week? Well, apart from the commenter—who says he's a big fan of the author—who gave the book 1 star because he can't read it in the format he wants. Oh well.
Old Men in Love was also reviewed by a long-time reader of Gray's books, Gerry Donaghy, on Powell's Review-a-Day:
Clear in this book, as in past volumes, is Gray's devotion to the idea of the book as an object. Throughout his career he has designed his own books (usually to either save his publisher some cash or collect a second paycheck), and Old Men in Love is no exception. Poorly suited to a Kindle reading experience, it's filled with various typefaces, ornamental drawings, and Blake-inspired illustrations. Even the boards of the book itself are tooled in silver-looking flake. If eBooks are the future, it looks like Gray is going to go out swinging.
A bit of LCRW news:
Does seem like there was more going on. But somehow the day has passed passed and gone and now it's either time to see Luis Alberto Urrea at the Harvard Bookstore, or not! And, tomorrow: Colson Whitehead. And, in a few weeks, David Mitchell. Ooh, those lit'ry mens.
---
Tue 8 Jun 2010 - Filed under: Not a Journal., ebooks, LCRW, Naomi Mitchison, Weightless Books | 2 Comments| Posted by: Gavin
We've just added LCRW 16, LCRW 17 and LCRW 18 to Weightless and dropped the price of LCRW ebooks to $2.99! Woot! Cough! Exclamation!
Also of LCRW interest: a review of LCRW 24 from Ray Garraty in Russia (and in Russian).
More ebookery: we just added Part 2 of Astrid Amara's The Archer's Heart on Weightless. What are we talking about? Here, go get Part 1: serialized fiction, it's Weightlessed!
Travel Light is now available as an ebook for the very first time. It is an awesome book that you should have read when you're 10. In fact, if you are 10, read it now. If you are not 10, read it anyway. And, isn't that the best title ever of a book to read as an ebook? Oh sure, our paperback has the gorgeous Kevin Huizenga cover but you know, travel light. Of course if you're hauling around some huge ebook reader maybe that isn't travelling so light.
At some point we will probably offload all our ebooks to Weightless—which is growing along nicely. (And we're very happy that those 2 million iPad readers will be able to read PDFs on it now. We make pretty pages and want you to enjoy them as well as the stories on them.) Anyway, so tell us if you think the offloading of ebooks to the other site is s a good or bad idea.
---
Mon 3 May 2010 - Filed under: Not a Journal., Interviews, LCRW, translations, Zhao Haihong | 7 Comments| Posted by: Gavin
In the new issue of LCRW we're very happy to present the first English publication of multiple award-winning Chinese writer Zhao Haihong. Her story "Exuviation" was first published in 2000 in Science Fiction World Magazine and received the Galaxy Award. Zhao Haihong has an M.A. in English literature from Zhejiang University and teaches English literature in Zhejiang Gongshang University in Hangzhou, China. She started writing science fiction in 1996, and has received the Galaxy Award from Science Fiction World Magazine, the Soong Ching Ling Children's Literature Award, and the sixth National Writers Association Award for outstanding children's literature in China. Her first story collection, Eyes of the Birches, was published in 1999.
Fabulous intern Diana Cao (who, coincidentally, will be studying in Beijing for a month later this summer) interviewed Zhao Haihong last week:
Diana Cao: Could you first give some background about how you arrived where you are in your writing today?
I've loved reading and writing since childhood. To me, writing was the only way to prove who I was in my middle school. I tried various kinds of writing in the six years, and some of them were science fiction stories—among them was a story I sent to Science Fiction World magazine and had published. The story "The Rising of the Great Rift Valley" won me the first prize of the Guangya Science Fiction Story Contest for Students (1996) held by the magazine. I was thrilled by the result and that's the real start of my science fiction career. Since then, I have published 21 science fiction stories, mostly in SFW and later collected in two books: Eyes of the Birches and The Other Side of Time. My third collection The World and my first novel Crystal Sky will be published this year. These stories have brought me six Galaxy Awards (1997-2002) by SFW, the Sixth Soong Ching Ling Children's Literature Award (2003) and the sixth National Writers Association Award for outstanding children's literature in China (2004)—the last two are governmental awards, and science fiction is included under children's fiction for governmental awards. Read more
---
Fri 23 Apr 2010 - Filed under: Not a Journal., Interviews, LCRW, To Read Pile | 1 Comment| Posted by: Gavin
A while ago we published a lovely short piece of fiction (or poetry, as we listed it in LCRW 19!) by Katharine Beutner. Earlier this year we noticed that her debut novel, Alcestis, was about to be published by the good folk at Soho Press. All excited, we quickly dashed off some questions for Katharine and in the middle of her debut book launch and doing readings and so on she sent back her answers.
Then we brought punnet after punnet of pomegranates and honeycrisp apples into the office and everyone tried to decide which side they were on. To choruses of "Apples!" "Pomegranates!" (and the occasional "Beer!)" we decided that, yes, we like fruit, but if we were more specific than that it seemed we might be tempting the gods and, really, how foolish could we be? (Moving quickly on.)
Anyway, Katharine's first novel is in stores now so why not add it to your reading pile? In the meantime, that interview:
SBP: First, what attracted you to the story, or: Why a historical novel? Why Ancient Greece? Why a dead girl?
Katharine Beutner: When I was little, I read and reread the D'Aulaires' Book of Greek Myths, which has beautiful Blakean illustrations that are cheery and brutal, just like the myths themselves.
I remember reading a prose translation of the Odyssey when I was maybe ten or eleven, and reading Sophocles and Aeschylus in high school. I majored in classical studies in college (at Smith, yay Northampton!). I've always been more attracted to Greek mythology than to any other kind.
As for "why historical fiction," I like the way that historical fiction foregrounds the process of approximation that all fiction engages in. I have a favorite bit by Samuel Johnson that I sometimes drag out to explain this, from the Preface to Shakespeare, the same essay in which Johnson says that Shakespeare "holds up … a mirror" to nature:
"Shakespeare approximates the remote, and familiarizes the wonderful; the event which he represents will not happen, but if it were possible, its effects would be probably such as he has assigned; and it may be said, that he has not only shewn human nature as it acts in real exigences, but as it would be found in trials, to which it cannot be exposed."
He's talking about the fantastical elements of Shakespeare's work, but I love historical fiction for the same reasons. All historical novels are fantasy, in a way. We can't ever truly understand the past, but we can create art about the past that allows us to tell ourselves truths, even if we can't reconstruct the truths of other time periods as citizens of the past would have done.
Regarding Alcestis's story in particular, my question was actually "Why didn't she *stay* a dead girl?" Sacrificing your life for someone else is a grand gesture, and I was frustrated that the traditional version of the myth reversed it and brought her back to life. So I set out to write a version of her story in which her time in the underworld would still have profound meaning for her, no matter what Heracles did.
Are pomegranates really your favorite fruit?
I like them, but I think apples are my favorite now, which is odd because I used to despise them for textural reasons. Then I discovered Honeycrisps a few years ago and became a convert. Still Greek myth-appropriate, though I always thought Paris should've given the apple to Athena.
Did you go to Greece for research?
I wish. I looked at lots of lucky tourists' photos of Bronze Age ruins online, though! The Mycenaean period is still pretty mysterious, but I read some archaeological studies of particular sites and researched lots of other little pieces of information — what asphodel looks like in its various life stages, homeopathic treatments for asthma, what sorts of snakes are native to central Greece, that kind of thing.
Did you go to the underworld for research? If so, what brought you back?
Sheri S. Tepper's The Gate to Women's Country and Connie Willis's Passage and Tom Stoppard's Rosencrantz & Guildenstern Are Dead were my underworld research.
The gender relations in the novel are not exactly equal. How did you get your head around them?
I was reading a lot of eighteenth-century fiction and Victorian fiction while I worked on Alcestis — my dissertation focuses on eighteenth-century women writers. There's nothing like reading Samuel Richardson's Clarissa to give you an immersive sense of how alien men and women can appear to one another when they exist within a culture of restrictive gender relations. (Or for a far more light-hearted version of this divide, see Fanny Burney's Evelina, which was one of Jane Austen's favorite books and has a monkey melee scene at the end. I like to think that Jane Austen loved it even more because of that.)
Is this your first novel, or your first published novel?
First published novel. My actual first novel was fairly traditional second world fantasy, written in slapdash fashion my first year after college. I might overhaul it some day — I still think the central relationship in the book is interesting — but for now it's trunked.
Did you find being in a writing program helped?
It helped a great deal, even though writing program workshops are designed for short fiction, not for novels. (I fantasize about teaching a novel-workshopping class someday.) But I had great friends in the program and an excellent thesis adviser who helped guide me through my first revision of the novel. And I had two years to write, which is the best part of any writing program, I think.
What has the publishing experience been like for you? Did you find it hard to find an agent and publisher?
I was lucky — a number of my friends have become writers or agents, including Diana Fox, who represents me. She'd liked my first novel, unbelievably enough, and was encouraging about Alcestis from the beginning. Over about a year and a half, we collected a reasonable number of rejections from publishers, some just polite, some complimentary but unsure how to sell the book. Then Soho made an offer, which Diana called to tell me about twenty minutes after I'd finished defending my dissertation prospectus. (It was an exciting day.) So far, the experience has been great. Soho has been just wonderful, especially my editor Katie Herman and Justin Hargett, the director of publicity. I love getting to hear what people think about the book. And I'm usually busy with grad school work, which keeps me from obsessing too much about the many elements of publishing I can't control.
Are you working on something else/taking a break/moving to LA with a screenplay in your pocket/disappearing never to be heard from again?
I'm currently being squashed under the weight of my dissertation, like Atlas. After I finish it, I'll begin writing the novel I've been researching, which is about the disappearance of a Mt. Holyoke College student in 1897. I doubt I'll ever move to LA, but the slightly too-long Hollywood elevator pitch for that novel is "Alias Grace meets The Prestige meets Fingersmith meets The Secret History" — it'll be New England gothic, weird and twisty.
---
Mon 29 Mar 2010 - Filed under: Not a Journal., Georges-Olivier Châteaureynaud, LCRW, translations| Posted by: Gavin
Somewhere out in April or May we can see the new issue of LCRW. It's looks like an LCRW: b&w cover (unveiled herein, ta da!), sixty pages, some color in the pdf version, a picture of Ursula or two, fiction and poetry and a comic from writers you may or may not know, and possibly, delivered to your door with a chocolate bar through hail, kale, ice or snow by the postal service of your country.
One oddity about this issue: there are a few stories about travel and sleep—two of our favorite things. And this issue does indeed as promised include two translations: yay!
The best way to ensure delivery: subscribe!
ToC after the jump: Read more
---
Fri 5 Mar 2010 - Filed under: Not a Journal., Alasdair Gray, Angelica Gorodischer, Geoff Ryman, Interstitial Arts, LCRW | 1 Comment| Posted by: Gavin
Catching up on the open tabs: be gone before the weekend!
Geoff Ryman is interviewed at The Short Review—which is an awesome site that only reviews that most commercial of forms, the short story!
Lois Ava-Matthews and friends have a great new(ish) online zine, Belletrista, whose mission is to Celebrate Women Writers Around the World. Issue 4 just went up and in it Tim Jones reviews Kalpa Imperial:
it stands in the distinguished tradition of fabulation of authors such as Jorge Luis Borges and Italo Calvino, and it is arguably not a novel at all, but a collection of linked stories. As translated by Ursula K. Le Guin from the 1983 original, it reminded me most of a humanist equivalent of Gene Wolfe's science fiction series The Book Of The New Sun.
Diagram has a 10 year antho which is a set of cards. Buy now.
An excellent review of Interfictions 2 by Sue Bond is up at Australian site MC Reviews with a lovely line (at least for interstitial enthusiasts):
I am still left puzzled as to what the deciding factor was for the choice and placement of the stories that are included in this anthology. It doesn't seem to be restricted to particular themes, or to stories that contain an element of fantasy, or even stories that are unusual narratively.
And Erin asks are there interstitial writers in (between) other genres?
Speaking of (potentially) interstitial stuff, our Alasdair Gray book is at the printer and fingers crossed all will go well with all that pretty blue art on the inside. Here's that bottle of whisky that he did the art for. Must try!
Our friends at Zygote games posted about an 11,000 year old site in Turkey.
When the Great Pyramid was built in Egypt, those stones in Turkey were older than the Pyramids are today.
Phew. Also, while you're at it, pick up both their games for only $20!
Zine World reviews LCRW 23 and 24. 23 gets the better response:
Long-running, reliably good lit-zine. . . . There are stories from just about every genre, from fairy tales, surreal stories, and even an essay on logic problems. I enjoyed the bizarre surprise ending of "The LoveSling" and the engrossing story of "The Girl with No Hands. Truly something for everyone.
24 gets a light lambasting:
The bulk of the zine is the fiction pieces. They all seem to have the exact same style.
Eek! But they go on to say "Those who like to discover new writers, check this out."
---
Tue 19 Jan 2010 - Filed under: Not a Journal., Books, Interviews, LCRW, To Read Pile | 4 Comments| Posted by: Gavin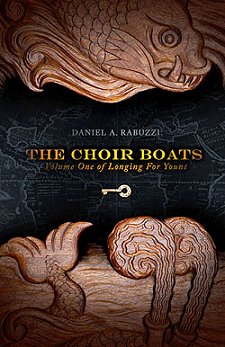 Computer troubles and the new year intervened but, here, at last, gingerbread and tea at the ready, is our promised interview with past-LCRW contributor Daniel Rabuzzi whose first novel of The Choir Boats, Volume One of Longing for Yount, was recently published by Chizine Publications. The Choir Boats is great fun: Rabuzzi's characters are original and as the book leaves London behind the reader is off into a fresh and lively new world.
Daniel keeps a blog where he interviews artists and writers, reports on readings (and what he's reading) and what he and his wife, wood carver Deborah Mills, are up to so it only seemed fair to put him on the other side of the paper:
Let's start with the basics: how long did it take you write The Choir Boats?
Bits of The Choir Boats come from my journals and sketchbooks going back as far as junior high school. Then, one Sunday in May, 2002, I sat down to write my brother a letter and instead Barnabas, Sanford, Sally and Tom appeared in the house on Mincing Lane… quite unforeseen, I must tell you, but very welcome!   I delivered final edits on the manuscript in May, 2009, so I needed seven years for The Choir Boats.
You live in NYC, why did you set the novel in London?
Ah, a great question…I think of NYC and London as half-twins: we have a Chelsea and a Soho, they have a Chelsea and a Soho, and so on (alike, and yet so very different).  I have spent about a year in total in London over the past few decades: on business in the City, researching at the British Library, visiting friends, spending hours in the Charing Cross bookstores and at the V & A…and always tramping around the quirkiest precincts I can find– small streets in Lambeth or Maida Vale, a prospect from Chalk Farm, lanes in Whitechapel, and so on.  Always I find in London a sense of secrets– some good, some less so– marshalled behind the facades, tucked away just around the corner of the mews…whereas here in NYC, what you see is usually what you get, for better or worse we are much more "in your face."  For me, fantasy is about sensing and pursuing the hidden, the secretive, so London feels much the b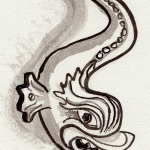 etter fit for converse with Yount.  (Also, I fell in love in London with my wife and creative partner, Deborah Mills, who was at the time studying there.)   Having said that, NYC makes a cameo appearance in The Choir Boats (as a waystation for Maggie and her mother), and might just play a more central role in later books about our world and Yount.  Delia Sherman has certainly shown how effectively NYC can serve as a portal for fantasy in her Changeling books!
What kind of research did the novel involve?
I earned my PhD in modern European history…the research for The Choir Boats stems largely from my doctoral work on 18th- and 19th-century merchants in northern Europe.  I often feel like Pierce Moffett, the idiosyncratic historian in John Crowley's Aegypt Cycle, asking whether the world has more than one history.  Or the protagonists in the works of Umberto Eco and of A.S. Byatt, hunting for clues in a rebarbative and ever-branching history.
You obviously love playing with language. Who are your favorite writers and what stream of fiction do you think influenced your novel?
Austen,  Blake, Dickens, Hesse, Borges and Mann are deep influences, as are Meryvn Peake and Ursula K. Le Guin.  Pope, Dickinson, Hopkins, Moore, Hughes, Heaney.  Lately I have been reading Z. Z. Packer, Elise Paschen, Sarah Lindsay, Alice Oswald, Nathaniel Mackey, Andrea Barrett, Nnedi Okorafor.  I especially like the writers I loosely call 'the New Stylists": Theodora Goss, Cat Valente, Sonya Taafe, JoSelle Vanderhooft, Sandra Kasturi, Naomi Novik, Susanna Clarke.  "Neo-Romanticists" might be a better label, as their various uses of language evoke Endymion, Alastor, Tieck's Fantasus and Novalis's search for the blue flower.  Greer Gilman and Ellen Kushner are the pioneers here, their wordplay (simultaneously lush and incisive) an inspiration to the most recent cohort.  Sarah Micklem and D.L. Cornish are two other writers whose prose sings to me.
As the book goes on you include an increasing number of literary characters and play more with the idea of stories. Will these characters ever cross over from story to our world?
Yes, though precisely how is still being marinated in my night-kitchen.  I do know that a certain Elizabeth Darcy (born Bennett) will play a minor but necessary role in The Indigo Pheasant, or, A Tax from Heaven, the sequel to The Choir Boats. Careful readers will recall that Elizabeth is a friend of Sally's through Elizabeth's City relatives.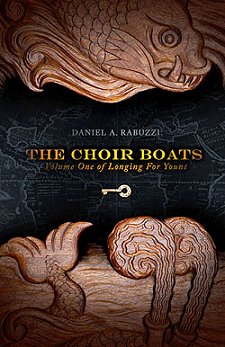 What beverage and snack should readers have ready to read your book?
A rich black tea with lots of milk and sugar, and gingerbread or almond cookies.  The Dutch and Flemish make a ginger-cinnamon-nutmeg cookie for the winter holidays called speculaas that would be particularly appropriate.
Mmm. Thanks Daniel!
---
Tue 6 Oct 2009 - Filed under: Not a Journal., Dear Aunt Gwenda, LCRW, To Read Pile | Leave a Comment| Posted by: Gavin
2 LCRW things (make that 4) about the next LCRW which is apparently number 25. Which, if we were numerically inclined would be yet another reason to celebrate. But we are too busy cutting lead type (um, no, not really) and then these:
We are collecting questions for Dear Aunt Gwenda. Please send us yours!
We just bought a couple of stories and if we are lucky we will have a translation (of an award winning story!) in the next issue and, separately, maybe more from a different country in the future.
We are catching up a little with submissions but in the pile there are even yet and still some submissions from at least as far back as February and March of this year. Darn.
I just read former LCRW contributor Daniel A. Rabuzzi's debut novel, The Choir Boats, (Indiebound/Powell's) a huge, inventive fantasy about 19th century London and Yount, another place,  and hope to post an interview here with him soon.
---
Thu 17 Sep 2009 - Filed under: Not a Journal., death and radishes, ebooks, LCRW | Leave a Comment| Posted by: Gavin
LCRW 24 is available at last on Fictionwise.
Which also means it available on Barnes & Noble. Funny. Except, on bn.com it hasn't quite appeared yet. You can get many old issues (LCRW 15, anyone?) so maybe #24 will pop up there one of these days.
Neither is it available on the Kindle.
Happily, it is still available on paper.
---
Sun 30 Aug 2009 - Filed under: Not a Journal., Kelly Link, LCRW, to be read | 2 Comments| Posted by: Gavin
Kelly's Uncle Wes, who long-time LCRW readers may remember as the author of an oatmeal cookie recipe a while back, just had has his first book published and even though it's full of great stories it's in a very different section of the bookstore than Kelly's books!
Wes's book is Cure Constipation Now: A Doctor's Fiber Therapy to Cleanse and Heal (for Kelly this sort of like a real-life version of Mark Leyner's My Cousin, My Gastroenterologist) and it just came out in paperback from Berkley. I'm very glad they chose to use a typographical cover instead of something illustrative.
Dr. Wesley Jones, to give him his full title, believes most people in the USA (and Western world) eat too much refined food and need more fiber. Here's his bio:
He is the founder and senior partner of the Cape Fear Center for Digestive Diseases in Pennsylvania. He is chair of Curamericas Global, Inc., which provides healthcare to Central America, South America, and west African communities. He was awarded the FACP and AGAF awards for his work in the field.
---