Thu 4 Jan 2018 - Filed under: Not a Journal., John Crowley, Su Wei | Leave a Comment| Posted by: Gavin
John Crowley did us the kindness of reading our forthcoming translation of Su Wei's The Invisible Valley and says:
"Su Wei's The Invisible Valley is a remarkable work, pungent, funny, and mind-widening. Austin Woerner's translation is nearly invisible: it erases all barriers of strangeness and places the reader deep within a Chinese experience that comes to seem as familiar to us as our own daily round — if ours too had ghost brides and very big snakes."
(In case you missed it, John has a new website, here, which isn't quite a deep dive but will be a very enjoyable browse for any Crowley reader.)
---
Tue 20 Jun 2017 - Filed under: Not a Journal., awa, Jacob McMurray, John Crowley, The Chemical Wedding, Theo Fadel | Leave a Comment| Posted by: Gavin
I never got round to posting some lovely news about one of our books last month but today in among all the copyright registrations, LCRW submissions, and the ubiquitous printer bills, there was a certificate from the Bookbuilders of Boston for The Chemical Wedding which was a Committee Pick for the 60th Annual New England Book Show.
Back on May 9th, I went with The Chemical Wedding illustrator Theo Fadel and her partner to Symphony Hall in Boston for the award show. It was great fun seeing all the winners and we had that lovely extra frisson of enjoyment since our book was one of them. The food was tasty, the chat was good, and the show catalog (the blue hardcover with New England in silver in the photo below) is a thing of beauty, which is still out on the table at home because at the moment it is too pretty to put away.
I haven't entered books for the awards before because while I think we make beautiful books, so do Candlewick and Beacon and David R. Godine and so on and on but The Chemical Wedding was such an unusual book I hoped it might catch the jury's attention. Yay for trying! And when you read the committee citation the award is obviously for designer Jacob McMurray and illustrator Theo Fadel, to whom I am still very grateful that we actually pulled this book off.
And now I will go find a place on the wall to hang our certificate — which I had fun photographing on top of an unbound copy of the book.
---
Tue 9 May 2017 - Filed under: Not a Journal., Jacob McMurray, John Crowley, kickstarter, Theo Fadel | Leave a Comment| Posted by: Gavin
I came in from taking my kid to school and remembered that about this time last year I was immersed in the Kickstarter for hardcover editions of John Crowley's new edition of The Chemical Wedding, illustrated by Theo Fadel and designed by Jacob McMurray. When I looked it up, I was a little amazed to find it was a year ago today. Coincidence? Those don't exist, right? The Kickstarter was a lot of fun. Not that I've been too tempted to do it again — shh! Who said LCRW Kickstarter? Not me!
I see that on the morning after the first day I was baking muffins. Coincidentally — if you believe in coincidences — I made banana chocolate chip muffins again on Sunday. But this year they had almonds and rhubarb in them instead of walnuts. Reviews were mostly strong but maybe they should have stayed in for another two minutes or so. Such is the way of baking on the fly. I would be out in the first round of the GBBO with nary a sad look from Mary Berry.
As everyone promised, running a Kickstarter was a wild ride. There's no way we'd have had a chance to make such beautiful editions without it, though. 1,310 people backed the book and there are only a dozen or so who have yet to receive their books/rewards — mostly we still need addresses but there are a few special things that will be delivered later.
Would it be wrong to give a nod of thanks to the Secret List of Secret Backers of Secret Books of the Masters of the Universe? Of course it's not wrong, thank you! How many people on that list are members of secret societies? Who knows!
The print run was quite close to the bone although there are some of the signed, numbered edition left which at some point I should do something about.
I will have another tiny fun piece of news about this book tomorrow. Until then!
---
Mon 19 Dec 2016 - Filed under: Not a Journal., Jeffrey Ford, Joan Aiken, John Crowley, Mary Rickert, Sofia Samatar, Ursula K. Le Guin | Leave a Comment| Posted by: Gavin
At least, it's going well from here — thank you! It's busy as all get out but we are up to date to Thursday's orders and by the end of today will have caught up again — unless there are too many orders to ship, woohoo, bring it! The post office says that US Priority Mail orders will still arrive by Christmas if ordered by 12/21, go for it!
Want some last minute present ideas? (OK, these are all going to be Small Beer books, I think.) Nothing here will stop the howling void of despair and depression taking over all from the electoral shenanigans but they will distract for various amounts of time:
Margaret Atwood selected Ursula K. Le Guin's Words Are My Matter as one of her favorite books of the year in the Walrus:
It was a pleasure to encounter renowned SF and fantasy writer Ursula K. Le Guin's book of essays, Words Are My Matter, and to hear her wise, informed, elegant, and occasionally testy voice discussing such joys as the early H.G. Wells classics such as The Time Machine and China Miéville's Embassytown—which surely owes a debt to Le Guin's own The Left Hand of Darkness, now out in a sumptuous new Penguin Galaxy edition.
And Nora Jemisin recommended the book in the New York Times Book Review. Also: there was an Ursula K. Le Guin symposium at the University of Oregon.
Sit back (or go jog, or shovel some snow) and listen to David Naimon and Sofia Samatar chat about The Winged Histories on the Between the Covers podcast. The Winged Histories was chosen as one of the best books of the year by NPR — yay!
The Valley Advocate ran a 3-page spread on John Crowley's The Chemical Wedding which included interviews with Crowley, illustrator Theo Fadel, and designer Jacob McMurrary. The paper edition had many illustrations. Meanwhile the book was reviewed on Tor.com.
See the Elephant ran a review of Joan Aiken's The People in the Castle, which was also selected as one of the year's best books by the Washington Post. Double yay!
See the Elephant had previously run a review of Jeffrey Ford's A Natural History of Hell which much to my enjoyment began "Hellishly Good Stories." Jim Sallis revelled in Ford's collection in F&SF ("Formally Ford's stories are object lessons in how to stage a narrative.") Alvaro Zinos-Amaro reviewed it on IGMS and DF Lewis wrote reaction posts while reading the stories. Hazel and Wren also liked the book. What can I say? It struck a chord.
There is a new issue of LCRW and meanwhile the previous issue received a strong review in Fantastic Stories of the Imagination and another in New Pages.
And Mary Rickert's collection, You Have Never Been Here, came out so late in 2015 that a lot of people read it this year, i.e. Sallis ("Reading a Mary Rickert story quite often is like sinking through layers of such worlds. We begin in one place, blink, and open our eyes to somewhere—something—else.") in F&SF and William Grabowski in See the Elephant: "Rickert's work, its superbly subtle handling of deepest human yearning for something to heal the howling void behind our increasingly demythologized world, shows the ineffable power—and value—of fantastical storytelling."
Quickshots:
— Afrofuturism? The Liminal War
— Density? Prodigies
— The underworld? Archivist Wasp
— Digging a hole? Secession? Sherwood Nation
— Middle grade ecothrillers? The Fires Beneath the Sea
Toodles!
---
Tue 6 Dec 2016 - Filed under: Not a Journal., book fairs, Emily Houk, Holly Black, Jedediah Berry, John Crowley, Kelly Link, Leslea Newman, Mordicai Gerstein, Ninepin Press, Northampton, Rich Michelson | Leave a Comment| Posted by: Gavin
This world continues to be crap — i.e. "Half of Detroit votes may be ineligible for recount" (great pop up on that page, btw — everyone needs an instant audio ad for viagra to start when they click on a link!).
So for a brief moment instead of that here are some photos from a couple of panels at the Northampton Book Fair this weekend. The fair was in the Smith College Campus Center which is a beautiful building just outside the center of Northampton. The events were in two lovely, airy rooms on the ground floor and there was an antiquarian book fair full of the most tempting things upstairs. Wow, so many pretty things.
I saw some of the 10 a.m. Children's picture book panel readers: Rich Michelson gave a, wait, no, really, fascinating presentation on Fascinating: The Life of Leonard Nimoy, Leslea Newman read her new book Ketzel, the Cat Who Composed (you can listen to Ketzel's 21-second composition here), and Mordicai Gerstein (The Sleeping Gypsy, I Am Pan) strode up and just started drawing away on the white board. That was fabulous. Here he is drawing Hera (he noted she didn't trust Zeus) and his drawing of the god Pan:
I missed Heidi Stemple and Jane Yolen (what a line up that panel had!) as I had to split to prepare for John Crowley's reading of The Chemical Wedding in the next room over at 11 a.m. John is erudite and smart and very funny — and, hey, we sold books, which is always nice. He read and then answered quite a few questions, as the reading was well attended, and afterward I met some more local book and nonbook people.
Here's one photo and perhaps a one-minute video I just tried uploading to Flickr:
I came back in the afternoon and — with mostly patient kid — sat in on the Ninepin Press celebration/reading where Jedediah Berry and Emily Houk read from, played with, and showed their current projects:
---
Wed 16 Nov 2016 - Filed under: smallbeer, John Crowley, kickstarter, Thank you, The Chemical Wedding | 2 Comments| Posted by: Gavin
On the 9th of May 2016 we launched our first Kickstarter for a series of beautiful hardcovers of John Crowley's new version of The Chemical Wedding and in the next 25 days 1,299 lovely, lovely people backed it. There were a few people who preferred to be actual Secret Backers so their names are not included here — and if you are a backer and you would like your name removed, please email me or send me a message through Kickstarter.
Thank you, thank you, thank you!
JC
Alexander
Aimee
andrew
Alan
Maquarrie
Alexis
SecretBaroness
Angela
AnaMaria
Angela
Chellinsky
aneese
Ornithopterx
@nt1
Brian
Branden
Bill
Brock
bssc23public
CailinLiath
Chessie
tournevis
Chris
Kevin
chaosprime
Zach
Ellie
cdragga
ChuckEye
Sharon
Alexandra
Cassandra
Miyajima
JM
DLuv
seth
David Lamp, PhD
Dennis
David
DanFlath
Danielle
Anthony
dqq
Daniel
L
erhouk
Nora
Elijah
Daniel
Tuebor
Ethan
C.
gary
Susan
Skittlegryph
Bert
Hitumi
jair
Jake
Disco_box
Jan
JohnW
Jaime
MayorOfCydonia
jillz
Jimpar4
Johnathan
BlackJack
joem
joey
Kevin
Owlglass
Kyle
Katharine
Kathryn
Frango
Kevin
Kimberley
Kate
Kristin
Booksandwoods
Lianne
LeEtta
LeRoy
mondobongo
LH
Lindsay
Lisa
SHL
Lizz
lisa
Lucrecia
Alda
lrv.
mykljonzun
margaretmoser
Amy
mastadge
Matthew_Iliff
mario
sarah
Meckels
Melanie
Michael
sjmalarkey
proftre
Michael
Greymattersplat
Natalie
n8
noelier
Neile
clemi
Mauro
Celena
Tiffany
Anne
prancelot
Marrameu
Niels
Pyropunk
Matthew
Raida
Robin
Regis
Rhel
[email protected]
Brian
RyanTheDreamer
sherdman
Tab
Savanna
ShelleyD
Sarah
Sabine
Shana
Richard
steffmetal
Stephanie
Steven!
steves213
Anon
Susanna
Sandra
Tom
Ted
themiria
timo
C.
viragodawg
Magnus
Warren
Wayfarer
William
Zankabo
Paul Abate
Elizabeth Adams
Kanika Agrawal
Petter Ahlgren
Layla Al-Bedawi
Mustafa Al-Laylah
Elisabeth Alba
William Alison
Marco Alpert
Anshul Amar
Talita Amaral
Marlon Amaro
Ken Amos
Michael Anderson
Nicole Anderson
Carol Andreae
Dale Andree
Sara Andrews
Rob Andrews
Jacob Angelo
James Antell
Tobias Apostel
Liam Arbuthnot
Robert Archambault
Joshua Archer
Beth Ardner
Mark Argent
Robert Armstrong
Brian Artiaco
Lionel Artom-Ginzburg
Stephen Ashmore
Richard August
Markus Aurelius
Joanne Austin
Steve Aydt
Dustin Bacon
Kristen Bacus
Jonathan Badger
Matthew Bainbridge
Charles Baird
Donald Baird
Kirstie Baker
varinder bal
the balding
Georgina Ballantine
John Baring
Jeffrey Barnes
Robert Baron
Haven Barros
Mira Bartok
Jordan Bass
Hajnalka Bata
Jess Baucom
Suzie Baunsgard
Dave Baxter
David Baynham
Mike Beagley
Megan Beauchemin
Christopher Becker
Marc Bedard
Scott Beeler
Michael Beeman
Bobbi Beeson
Maarten Beisterveld
Alexis Bencomo
Wilhelm Benker
Kimberley Bennett
Tom Berger
Evan Berkow
Joseph Berlant
Olivia Berry
Tim Berry
Matthew Bess
Marie BIARD
Bill Bibo
Ken Bieber
Orin Bigman
Michael Bikovitsky
earl billingsley
Michel Bintener
Edith Bishop
Eli Bishop
Mia Bishton
Gustaf Bjorklund
Holly Black
William Blackwell
Marion Bloch
Software Bloke
Liza Bloomer
Joshua Bluestein
Glenn Bodnar
Hugo Boisjoly
Elizabeth Boll
Richard Bondur
Cookish Bookish
Greg Bossert
Diane Bottino
Richard Boulter
CHAD BOWDEN
Trey Bowden
Michael Bowman
Michael Boyce
David Boyer
Janet Boyer
Brian Boyne
Jeb Boyt
David Brackeen
Scott Brady
kenneth bragg
David Brainer-Banker
Paul Brazier
Mayer Brenner
John Brescia
Ghislain Breton
Jeremy Brett
Katie Bricker
Floyd Brigdon
Billy Britton
Heather Britton
Katrin Brock
Derek Brooker
LAWRENCE BROOKS
Leanna Brooks
Alex Broquet
Christopher Brown
Mason Brown
Lawrence Brown
William Brown
Erik Brueggemann
April Brumley
Linda Bruno
John Buck
Mark Buckmaster
Bruno Buffone
Thomas Bull
Greg Bunch
Jacob Buraczyk
Timothy Burke
Dennis Burkholder
Sarah Burnes
Mila Burton
Kimberly Bustamante
John Butler
Simon Bye
Par Bygdeson
Nick C
Summer Cable
Colleen Cahill
R Calfas
Jenna Callender
Bryan Camp
Douglas Camp
Paul Campagnoli
scott campbell
Christiaan Campbell
David Campbell
Sarah Campbell
Bill Campbell
Douglas Candano
Michael Canepa
Tamzen Cannoy
Emily Capettini
Mary Capps
Leticia Capriotti
Natalie Caputo
Christian Carballo
Marco Carle
Ron Carroll
Howard Carter
Warwick Carter
Linda Cartwright
Rick Castello
Ian Cavalier
Pop Cavallaro
Robert Chacko
jon chadwick
David Chamberlain
Martha Champion
Ed Chapman
Robert Charrois
Jonathan Cheatham
Matthew Cheney
Rori Christenson
Neal Chuang
Tom Churchill
Oleg Chuykov
Jenn Cicio
Amie Claridge
Alex Clark
Heather Clark
Nathan Clark
Paul Clarkson
Marcella Clashman
Laura Clements
Will Clements
Kevin Clifford
Arthur Close
Alex Coblentz
Geoff Cohen
Howard Cohen
Mark Cohen
Gordon Colburn
Jonathan Colburn
Jeannie Coleman
linda colley
Gina Collia
Chris Coman
Douglas Comeau
Kate Compton
Claire Connelly
Brian Conner
Jeff Constable
Mike Convey
Alvaro Coraspe
Jeffrey Cornelius
Jo Cosgriff
Nick Cotter
Susan Coughlin
Christen Courville
Susanna Craib-Cox
Toby Craig
Jerad Cramp
Samuel Crider
Rob Crosby
James Crossley
donald crossman
Sara Crow
Fern Culhane
Jerry Cullum
Scott Cupp
Sarah Curtis
Daniel Curtiss
Mark Cutright
Robert Dallas
Michael Damkier
Fred Darmstadt
Ellen Datlow
Andrea Davenport
jeff davie
David Davis
Eric Davis
Erik Davis
Matthew Davis
Michael Davis
Pamela Davis
Tobias Davis
Julie Day
Arturo De La Torre
Loren Dearborn
Marion Deeds
Colleen Delegan
David DeLeon
Milesa DeLoose
Yoann Démare
david demers
Sean Demory
Steve Dempsey
Joshua Denby
Nicolas Denewet
Steven Dengler
Scott Desmarais
Erin Deyoe
Anirudh Dhebar
Colin Dickey
Cory Dieterich
Kristine Dietriche
Arlene Diosegy
Lauren Dixon
Ian Dobson
Rachel Dockal
Liz Dockendorf
Eugene Doherty
Laurie Dolniak
Jack Dominey
Patrick Donahue
Michael Donnard
Dennis Donohue
Christopher Dopko
Nishma Doshi
Justin Dowd
Jonathan Dragén
Michail Drakomathioulakis
Michaela Drapes
Adam Drew
Anita Droby
Christopher Drown
Shana DuBois
Tom Dukes
Derik Duley
Marco Dumont
Courtney Duncan
Matt Dunn
Charles Dyer
Jonathan Eaker
Christopher Eakin
Hugh Eckert
Mike Eckhoff
Herbert Eder
David Edmonds
Laurie Edwards
Chris Edwards
Chris Edwards
Lee Eeles
Nicola Egert
Sarah Einstein
Richard Elen
tim elliott
Brett Elliott
Tim Ellis
Susan Elrod
Kate Eltham
Frank Endrullat
Elisabeth Engan
James Enge
Randall Engler
Colin Ennen
Gary Entsminger
Dawn Erb
Jeffrey Erwin
Christopher Espinosa
Jason Estey
M. Evans
Brian Evenson
Kelly Everding
Jennifer Fadel
Ruti Fadel
Quentin Fagan
Steven Fain
Ruby Falls
Jonathan Farr
Cody Farthing
Mark Fenlon
John Ferguson
Penny Ferguson
Cydney Ferguson-Brey
Sharon Fetter
Chelsea Fiddyment
Spencer Fields
Kate Findley
C.C. Finlay
Suzanne Fischer
Susan Fischer
Anne Fitzgerald
Tony Flaherty
william flesch
Sharon Fletcher
John Flynn
James Fo
Machael Foegelle
Phil Ford
Sean Ford
Dave Forman
Karen Fowler
Cody Franklin
Daniel Franklin
LR Fredericks
Ion Freeman
Robert Freeman
Derek Freeman
Rachel Fri
Wendy Friedman
Eric Fritz
Nathan Fritz
Stephen Frug
John Fulton
Andy Fundinger
mina gaber
Alexandre Gachet
Christina Galloudec
Kim Gallup
John Gamble
Nicolette Gan
Ashley Garcia
Ivan Garcia
Steve Gardner
Andrew Garrison
Gregory Gartland
Vesko Gavrilov
Brandon Genest
Vince Gerardis
Mark Gerrits
Sujoy Ghosh
Debbie Gibbs
john gibbs
Arthur Gibbs
Andrew Gibson
Megan Giddings
Zvi Gilbert
Joni Gilmore
Deborah Gisetto
Keith Glaeske
David Godfrey
John Goerner
Steve Gold
Sondra goldstein
Richard Gombert
Bernie Goodman
Damian Gordon
Jeff Gordon
Scott Gosnell
Brian Goubeaux
David Goudsward
Wade Goyens
Keith Graham
Douglas Grant
Michael Grasso
Glenna Green
David Greene
Vaughan Greene
Christoph Greger
Eric Gregory
alex griffin
Magenta Griffith
Darrell Grizzle
Lauren Groff
Richard Gropp
Benjamin Gross
Susan Grubert
Erik Grunsten
Stephanie Gunn
Susan Gyulai
Elaine H
John H
Paul H
Clayton Hackett
Jocelyn Hagen
Devin Hahn
Peggy Hailey
Erik Hajek
Peter Halasz
Mary Haldeman
Jordan Hall
Jennifer Halpin
Steven Halter
Jonathan Halton
A. Hameon
Natalie Hamilton
Brett Hammond
Charlie Hancock
Liz Hand
Russell Handelman
Ayanni Hanna
Paul Hanna
John Hanna
Mark hannah
Pernille Hansen
thor hansen
Craig Hanson
Joan Haran
Tom Harberd
Nick Harewood
Narrelle Harris
Rita Harris
Grady Harris
Brian Harrison
John Harrison
Chris Harvey
Sarah Hasu
Andrew Hatchell
Deanna Hauser
Terence Hawkins
Kate Heartfield
jan heinecke
Jens Heinrich
Chris Heinz
King Heiple
Timothy Hellum
Jennifer Hellum
Normandy Helmer
Arthur Henderson
Nathan Henderson
Eric Hendrickson
Katy Hennings
Laurie Herberich
Lory Hess
Sabiné Heusler-Schick
Jason Hewitt
Peter Hickman
Christopher Hicks
Brad Hicks
Daniel Higginbotham
Leon Higley
David Hill
Katie Hill
kathy hillman
Stephen Hilton
Joanne Hirsch
Steve Hirst
Kenneth Hite
Rich Hjulstrom
Chris Hlavka
Stanley Hodziewich
Vasilios Hoffman
cecelia holland
keith Hollingworth
Walter Holowatenko
Kevin Hopp
Elizabeth Horn
Grant Horn
Carl Hostetter
R. Howarth
Tan Hua
Rainey Hufstetler
Alun Hughes
Brigid Hughes
Stefanie Hughes
Ferol Humphrey
Julie hunt
Jamie Hunter
Adam Huntington
Lance Hurst
Miriam Hurst
Fri Hyland
John Idlor
Oren Imagor
Patrick Innes
Holly Iossa
Marley Iredale
Steve Irwin
Aditya Iyer
Martin Jackson
Peter Jacobs
Cezann James
Aaron Jamieson
Sally Janin
Brigit Jeffries
Brian Jennings
Kelly Jensen
Torben Jensen
Paul Jessup
Arun Jiwa
Scout Johnson
Michael Johnson
Matt Johnson
Richard Johnston
Susan Jolly
Andy Jones
David Jones
Martin Jones
Lisa Jones
Dawn Jones-Low
James Jordan
Ralph Josef
David Joslin
Jabels Jr
Jay Jubak
Jess Judge
Jeff K
Jeff K
timothy k
Vas K
Max Kaehn
Susan Kaempfer
Keith Kahla
Chris Kaiser
Yvonne Kaiser
Ben Kamm
William Kaplan
Noelle Karacsonyi
Mary Kay Kare
Darrell Kastin
Nina Kauffman
William Kaufman
Nick Kealey
Matthew Keeley
Claire Kelly
Ted Kelly
Adam Kennedy
Terry Kennedy
Peter Kenney
Katharine Kerr
Greg Ketter
Fred Kiesche
Robert Killheffer
Andrew Kilpatrick
Sunyi Kim
Joshua King
Robin King
Brynn Kingsley
Peter Kinnaird
Andrew Kirby
Joseph Kirby
Gabriel Kirk
Jim Kirk
David Kirtley
John Kissane
Howard Kistler
Luella Klann
Dave Klaus
Sven Klavsjö
John Klima
Karl Klingler
brian klippert
James Knabe
Baltazar Knapik
Matthew Knapton
Elinor Knechel
Skye Knighton
Hunter Koerner
James Koncz
Jonathan Korman
Andrew Kozma
Anya Kozorez
Marianne Kranz
maris kreizman
George Krompacky
Elizabeth Krueger
Stefan Kruger
Thomas Kucera
Stella Kukadia
Eric Kurniawan
Jeff Kuykendall
Stefan Kwiatkowski
Barry Kyrklund
Alvin L
Anne Lacy
Susan Lair
Quentin Lambotte
Tanner Lampe
jack larsen
Jon Lasser
Sienna Latham
Chris Laursen
Vincent Lawrence
J Lawton
Krista Leahy
Glennis LeBlanc
William Lee
Perry Lee
John Leen
David Leese
Akiva Leffert
Roberta Leibovitz
Dainis Leinerts
Terri Leker
Lynn Lemyre
Dan Levy
Elizabeth Lewis
Jacob Lewis
Joshua Lewis
Joshua Lewis
Daniel Ley
Chas LiBretto
Jacqui Licht
samuel lightcap
Ron Lim
Su-Yee Lin
Philip Ling
Su Liu
John Lodder
Zed Lopez
Gregory Loselle
John Lovekin
Louise Löwenspets
Noah Lowenstein
David Lummus
David Lummus
Richard Lytle
Karl M.Drewke
Walid Maalouli
Andy Mackie
Peter Mackowiak
Colin Maclaughlin
Eileen Madden
Lisa Magruder
James Maier
Kris Majury
Rocky Malerbo
Evan Mallon
Billy Maloney
Arsen Mamikonyan
Jamie Manley
Nancy Manley
David Mareike
Mike Markin
Joakim Mårlöv
Kevin Maroney
Ricardo Marques
Wythe Marschall
Gail Marsella
Anya Martin
Grady Martin
Brian Martin
Arkady Martine
Andrew Masley
Kem Mason
James Mason
Megan Matteson
Shellay Maughan
Elizabeth Maxim
Joel Mayer
doug mayo-wells
Louise Mc
Jeff McAlpine
Alexander McAuley
Bradley McCaa
maribeth mccarthy
Lawry McCarthy
Chris McClelland
Gary McCluskey
Shannon McCormick
Michele McCoskey
Brett McCoy
Tod McCoy
Chris McCreary
Deborah McCutchen
Pat McDonough
West McDonough
Ian McDougall
Steve McGovern
Angus McIntyre
Stephen McKee
Dave McLachlan
Chris McLaren
Andrew McLeod
Sean McPharlin
Slycce McShea
Beth Meacham
Melissa Mefford
Joris Meijer
Mike Meltzer
Danny Mendoza
Marilyn Mercado
Christian Meyer
Pamela Meyet
Jeffrey Miller
Kyle Miller
Nathan Miller
Jeff Miller
Meghan Miller
Nora Miller
Stephen Milligan
Clare Mills
Mark Minteer
Rich Mirabella
Vizvary Miroslav
Cameron Mitchell
Kate Mock
Premee Mohamed
Filthy Monkey
Stephen Montalvo
Lisa Moore
Rob Moore
Kerry Morris
James Morrow
Tom Moss
Paul Motsuk
Erin Mounts
Rebecca Muench
Michelle Muir
Ben Murphy
Kevin Murphy
Kelly Myers
Garret Myhan
Francesca Myman
Marie Myung-Ok Lee
Don Naggie
Jeremiah Nellis
Kristina Neoushoff
Stuart Ng
Stanley Nicholl
Kristine Nichols
Graham Nicholson
David Niergarth
Audrey Niffenegger
Ani Niow
Alexander Nirenberg
Beth Nollner
Timothy Norris
Harvey Nosowitz
Steve Nudson
Anjelica Nurzinski
Kermit O
Sarah O'Brien
Mike O'Driscoll
Dan O'Riley
Kevin Oaks
Charles Oberndorf
Esme Öggesjö
Kristin Olson
Jeff Olson
Michael ONeil
Bill Orr
Holly Orr
Emily Orr
Jesse Oster
Cory Osterberg
Erik Ostrom
Donna Oswald
Erin Otto
Cameron Owen
Robin Owens
Shawn P
Lisa Padol
Matt Pagliaro
Rachel Panella
Bard Papegaaij
Carrie Paris
Paul Park
Krista Parker
Ben Parrish
Charles Parsons
Mark Parsons
Ben Parzybok
David Paschall-Zimbel
Heidi Payne
John Peacock
Jared Pechacek
Bryan Pelley
Rui Pereira
Giselle Perez
Daniella Perry
Lawrence Person
Kyle Peters
Thomas Petersen
Daniel Petkov
Jonathan Pfautz
Paul Phillips
Anthony Piacentini
Jennifer Pickard
Dan Pierson
Juliana Pino
Claudio Pinto
Keith Pishnery
Chris Plato
Thomas Pluck
Rachel Pollack
Sean pond
William Potish
Grant Potts
Lewis Powell
Tyro Prate
Ninepin Press
Subterranean Press
Lara Pressburger
eric priehs
Efthymia Priki
Brianna Privett
Jeff Prucher
Greg Purcell
Marc Q
Susan Quinn
Dan R
Rhiannon R.S.
Aracely Ragazzo
Robert Rahl
Cat Rambo
Linda Randall
Jane Rawson
Michael Raymond
Jeff Raymond
Matt Reed
Scott Reed
Richard Reilly
Jens Reimann
Karl-Friedrich Reinke
Pamela Reisel
Matt Renegar
Jacob Rennaker
Marius Rex
Loren Rhoads
Letitia Rhodes
L. Ribar
Brandon Rice
Christopher Ridenour
Christopher Rigby
Gregory Rihn
jennie ritchie
Joanna Rives
Leonard Roberge
Martin Roberts
Katie Robey
Yankton Robins
Catherine Rockwood
Ted Rodriguez-Bell
Robert Roehm
Matthew Rogers
John Romkey
Dave Romm
Marieke Rooy
Kathy Roper
Christopher Rose
Geoffrey Rosen
Sue-Rae Rosenfeld
Alexis Rossignol
Gil Roth
Marilyn Rousseau
Holly Rowland
Keith Rozendal
Paul Rubenstein
Nancy Rugen
Joseph Runde
Mario Rups
Leslie Russo
lottie rutherford
Chris Ryall
Anne S
Lisa S
J. S.
Paul Saarma
Chris Saccardi
Jerolyn Sackman
Robert Salazar
Tristan Salazar
Ian Sales
Michael Sanborn
Esteban Sánchez
Kai Sands
Joshua Santos
Steve Sargent
Alex Sarll
Riccardo Sartori
Jari Satka
Melissa Sauer
Tom Savage
Michael Scaglione
Victoria Scarffe
Chris Schaeffer
Karen Schaffer
Eric Schaller
Paul Schattel
Gregory Scheckler
Robert Scheffel
Heidi Scher
Michael Scheu
Brendan Schlagel
William Schlimme
Eric Schmidt
Sherry Schnapp
Lynne Schneider
David Schneider
Eva Schocken
Lawrence Schoen
Darcie Schoeps
Martin Schönert
Michael Schools
Stephanie Schrader-Lawson
Xander Schrijen
Cassandra Schroder
Jessica Schulze
Steven Schwartz
David Schwartz
Philip Schweitzer
Hugh Seaton
Dan Sellers
Toni Seroshek
Karen Shannon
Laura Shapiro
Laurence Sharp
David Shaw
Mike Shema
MICAH SHLAUTER
John Shortino
Jay Shull
Michael Shuman
Jerry Siefers
Lars Silen
Adam Simon
Gabriella Sinclair
Nathan Sippel
Willie Siros
Erik Sjoberg
Jeremy Skog
Graham Sleight
Robin Sloan
Matthew Smicker
Chandler Smith
dave smith
Emma Smith
M. Smith
Robert Smith
Lucy Smith
William Smith
Audrey Snowden
Kian SOH
Michael Solger
Tony Solomun
Ken Somerville
David Sommerfeld
DongWon Song
Sonia [email protected]
Trevor Sp[roston
Ralph Spangler
Amber Sparks
Stephen Sparks
Tammy Sparks
Chris Speed
David Spillett
terry spurling
Richard Stahl
Levi Stahl
Rachel Stancliff
Robert Stauffer
Jim Steel
Dirk Steffes-enn
Daniel Stein
Rob Steinberger
Kai Stewart
Jesse Stewart
Stephanie Stieglitz
Yvonne Stifel
matthew stillman
Ian Stockdale
Jacob Stocke
Ans stolk
David strand
Susan Straub
Wendy Straw
Meghan Street
Sander Strijbos
Randolph Stroup
Kerry Stubbs
Bonnie Stufflebeam
marko sucic
Todd Summar
Jonah Sutton-Morse
Chris Swan
Michael Swanwick
Ron Swintek
Cory T
Marco Tagliacozzo
Adam Takvam
Muheni Tamahori
David Tavakoli
Ian Taylor
Scot Taylor
Hal Tepfer
Mark Teppo
Bob Tessier
Ann Theis
Tamara Thomas
Richard Thomas
David Thompson
Ribald Thorax
Rob Thornton
Chris Thurlow
Dan Thurot
Nedda Tichi
Brian Toale
Keith Toleman
Lorna Toolis
Carlos Torres
Ivan Towlson
Sam Tran
Mike Tripicco
Doug Triplett
Travis Trussell
dennis tuchalski
Catherine Tucker
Clifford Tunnell
Donald Turner
Tiffany Turrill
michael tuvim
Kevin Tyler
Bernie Vachon
Scott Valeri
Andre Cordeiro Valerio
ramon vallarino
Eric Vallender
Mark Van Name
Jaap van poelgeest
J. Van Wely
Brian Vander Veen
Nicole Vartanian
Lisa Vaughn
Nancy Vega
Rob Vega
Elizabeth Vegvary
Jody Veith
Olivier Vigneresse
Y2 Villanueva
Rodrigo Vinholo
Jonathan Vintr
Robert W
HENRY WAGNER
John Wagner
Amit Walia
Robert Walker
Nancy Wallace
William Waller
Will Waller
Barney Walsh
Jimmy Ward
James Warner
Jen Warren
Carrie Wastal
Alison Watson
Chris Weber
Ken Weber
Dylan Webster
Rachel Weil
Rina Weisman
Robert Weissburg
Jan Welke
Eric Wells
Gary Wendt-Bogear
Alex Wenger
elisabeth wenger
George Weremczuk
Thomas Werner
Benjamin Westbrook
James Westine
James Westine
Peter Weston
Bruce White
Justin White
Lyle Wiedeman
Brontë Wieland
Karl Wieser
Tor Wigmostad
Sietse Wijnsma
Andrew Wilde-Price
Lawrence Wilkinson
Graeme Williams
Carl Williams
John Willis
Claudia Wilson
Gale Wilson
Raq Winchester
John Winkelman
Ksenia Winnicki
Michael Winningham
Hans Wolf
Torsten Wollina
Harry Wood
Zac Wood
James Wu
Deborah Wunder
Chris Wyatt
Semyon Yakovlev
Joshua Yancey
gayle yeomans
Amy Yost
Steve Yost
Robert Young
Tieg Zaharia
Joel Zakem
Yvonne Zavithsanos
Ben Zhuk
Elliott Zierolf
melvina zilliox
Daniel Zuckerbrot
Renee Zuckerbrot
———
Thank you!
---
Tue 15 Nov 2016 - Filed under: Not a Journal., John Crowley, The Chemical Wedding | 2 Comments| Posted by: Gavin
This Thursday night, November 17, come one, come all to the Abandoned Building Brewery in Easthampton, Mass., and join John Crowley and Theo Fadel for a reading, Q&A, signing of The Chemical Wedding wherein alchemical and zymurgical secrets will be spilled (although hopefully no beer) and the Brewery will open a cask of specially brewed beer.
Where: Abandoned Building Brewery, 142 Pleasant Street Unit, 103A, Easthampton, Massachusetts 01027 (back entrance of the mill — a little bit down from the fab Mill 180)
When: Thursday, November 17, 7 p.m.
What's it all about? The Chemical Wedding of Christian Rosencreutz! A 400-year-old book (novel? hoax? definitely a bestseller of its time) that John Crowley came across while writing Aegypt and decided it would be fun to make a contemporary edition of. And it is! It is a wacky delight and with Theo Fadel illustrating and Jacob MacMurray designing, it is a beautiful object.
Sure. But What Do Reviewers Say?

"Readers wi
lling to surrender to its trippy rhythms and odd narrative choices will find many pleasures therein, from Fadel's lively and grotesque drawings to Crowley's erudite-yet-accessible footnotes. Especially interesting are the ways in which Andreae presents such a distinctive, funny, frightening and touching view of how the universe operates. Small Beer, Crowley and his collaborators have successfully mixed together disparate elements to create a strange literary concoction that fizzes with creative energy."
— Michael Berry, Portland Press Herald
"The Chemical Wedding is full of outlandish set pieces—candles that walk on their own; a queen's gown so beautiful it can't be gazed upon—that might suggest an allegorical reading. But their imagery, as Crowley points out in his footnotes, is inconsistent: any allegory is defeated by the book's sheer incongruity."
— Peter Bebergal, The New Yorker
"John Crowley has consulted several older English versions, as well as living German advisors (Rosicrucian adepts?), and has come up with an utterly unpretentious working of this weird old parable which reads like a late-night barroom colloquy." — Counterpunch

Not a print person? Get the audiobook here.
Got a moment? Here's an interview in the Believer (is John a Belieber? You'd have to ask him) from a couple of years ago.
Can't make it on Thurs
day? There's one more chance to catch up with John: December 3 at 11 a.m. John will be at the Northampton Book Fair in the Smith College Campus Center, Northampton, Mass.
Hope to see you there!
---
Thu 15 Sep 2016 - Filed under: Not a Journal., Freebies, John Crowley | Leave a Comment| Posted by: Gavin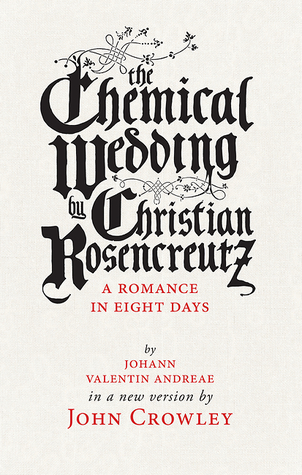 ---
Mon 12 Sep 2016 - Filed under: Not a Journal., John Crowley | Leave a Comment| Posted by: Gavin
Kirkus Reviews just released their fascinating and quotable review of John Crowley's forthcoming The Chemical Wedding. The book is at the printer — the Kickstarter hardcover edition is almost done — and it will be great fun seeing this one out there in the world. The first printing of the paperback will be in red and black ink, too, as we ran some extra interiors after the hardcover print run, how nice will that be? It will be so nice, nay, beautiful.
The Chemical Wedding doesn't come out until November but with the chill in the air early this morning that suddenly does not seem that far away, wow. In the meantime, enjoy the apples, the leaves as they start to turn, and this early take on the book:
"Gnostic gnovelist Crowley (Aegypt, 2013, etc.) goes to the well in this rendering of the Ur-text of Rosicrucianism.
After a chemical romance, why not a chemical wedding? Christian Rosencreutz was playing with a dangerous combination of elements, or perhaps Platonic solids, when, four centuries ago, he concocted a strange symbolic tale involving a quest in a land where, in an imposing castle, a king and queen are to marry. But odd things are happening, as our protagonist learns over the course of his eight-day journey to this wacky place; for one thing, there's a bird fed on a very special kind of blood, "the blood of the beheaded royal persons, diluted with the waters we had prepared," which causes the thing to grow visibly and measurably even as it imbibes. If that sounds like a chemical reaction to you, then it's for good reason; Rosencreutz was an alchemist of note, and this odd novel was meant to impart his teachings. Or was it? Crowley casts doubt in his introduction on Rosencreutz's sincerity, noting that the book was, in his words, a ludibrium, "a word with more than one shade of meaning: joke, play, nonsense, ridiculous thing." Elsewhere Crowley ventures the view that the book is the world's first science-fiction novel, but he leaves that claim half-defended and imperfectly at that. (Yes, it's a novel. Yes, it has science. That does not make it science fiction.) Like certain prophets closer to our own time, Rosencreutz makes it clear in this heavy-handed allegory that his brilliance is not for the unwashed and that he's not allowed to reveal all he knows ("I'm still forbidden to tell it… and other things that later I was told I shouldn't reveal"). Crowley undoes some of Rosencreutz's formality with his loose, slangy rendering, making the joke seem even jokier. Literature it's not, but it's a fine specimen of literary-ish mumbo jumbo.
A curiosity, but just right for the budding New Age-inclined alchemist of the household."
---
Tue 21 Jun 2016 - Filed under: Not a Journal., John Crowley, Ursula K. Le Guin | Leave a Comment| Posted by: Gavin
In between the things I'm not doing here is something good about a book coming sooner than soon! (This is not Jeff Ford's book which comes out next month!)
Words Are My Matter is in the top 10 of the Publishers Weekly Fall 2016 Adult Announcements: Essays & Literary Criticism. Yay!
---
Fri 3 Jun 2016 - Filed under: Not a Journal., John Crowley, kickstarter | Leave a Comment| Posted by: Gavin
25 days ago we launched our Kickstarter and in about 3 short hours it will be done. It's been interesting to see the last minute changes a lot of backers are doing. One person will switch to a different reward, freeing up one of the limited rewards and boom, 2 minutes later, that one's taken again. Fun also to see how many people are ordering two, three, or five copies.
Today to celebrate, after picking up the kid — who, happily, has of course no idea about any of this — I am going to the Florence Pie Bar and Evolution Cafe to get some desserts. May have to stop at the beer store, too. Then we will head off up into the hills to try and find John Crowley and celebrate the forthcomingness of the hardcover edition!
---
Mon 23 May 2016 - Filed under: Not a Journal., Jedediah Berry, John Crowley, kickstarter, Podcastery, small beer podcast, The Chemical Wedding | Leave a Comment| Posted by: Gavin
Episode 22: In which Jedediah Berry and John Crowley discuss John's new edition of The Chemical Wedding by Christian Rosencreutz: A Romance in Eight Days by Johann Valentin Andreae. The book is illustrated throughout by carpentrix-artist  Theo Fadel, and designed by Jacob McMurray.
Subscribe to the Small Beer podcast using  iTunes or the service of your choice:
---
Tue 10 May 2016 - Filed under: Not a Journal., John Crowley, kickstarter | Leave a Comment| Posted by: Gavin
Wow, what a day!
It was just before Easter Sunday, and I was sitting at my table. I'd said my prayers, talking a long time as usual with my Maker and thinking about some of the great mysteries the Father of Lights had revealed to me. Now I was ready to make and to bake –
Instead of "a small, perfect unleavened wafer" as Christian Rosencreutz was going to do before someone tapped him on the shoulder, I baked some banana chocolate chip muffins. (Reviews at breakfast this morning were uniformly strong.) Nearly a hundred backers stepped up and backed the book and overnight backers kept appearing. Now the Kickstarter has broken $10,000, 1/5 of the way to making this book happen.
Besides "The First Day" — the Kickstarter Exclusive Hardcover — and a couple of the limited editions, these rewards have proven popular:
The First Day plus: MFB Cards, the book plus a limited edition set of Magic for Beginners Playing Cards with illustrations by Shelley Jackson
The First Day plus: LCRW ebooks — the book plus 22 LCRW DRM-free ebooks in the format of your choice: pdf, epub, or mobi
The First Day plus: Endless Things — the book plus a first edition hardcover of Crowley's Endless Things, signed with personal inscription by author.
We added a few more of each, although with some of the rewards (T-shirts, limited edition books), once they're gone, they're gone.
In between there were other things to do, kid had to be gotten from school, meals eaten — although I worked through a scheduled lunch with a friend, sorry Julie!, so rearranged it for today. Today there were other things, always things, and soon the kid will be out of school again and then there's an appointment later. Hmm!
Thank you if you've backed it. If not: I hope you'll consider it or spread the word. We have some nice bonuses planned!
---
Mon 9 May 2016 - Filed under: Not a Journal., John Crowley, kickstarter | Leave a Comment| Posted by: Gavin
Here we go!
You may or may not know that for a while we've been working on publishing a fabulous edition of a book originally published in 1616: THE CHEMICAL WEDDING by CHRISTIAN ROSENCREUTZ, A Romance in Eight Days By Johann Valentin Andreae in a new version by John Crowley.
The important news is that you can now order the hardcover on
There are many reward levels available — some expensive, some not, some goofy, some unique. What you most need to know is: we're offering The Chemical Wedding in four states: an ebook, and three hardcover editions — the only hardcover editions of this book that we will ever produce. For ease of finding, the reward levels are titled The First Day, The Second Day, and The Third Day. All the hardcover editions come with the DRM-free ebook edition.
Whether you choose to back the project or not, please help share the news of the launch and help make this idea of a beautiful book a reality. If there's anything we can send along that might help with that, please drop me a line.
Click the image below to see a full size version of Jacob McMurray's case design:
And here is our Kickstarter video, made by Jedediah Berry:
---
Mon 29 Feb 2016 - Filed under: Not a Journal., John Crowley | Leave a Comment| Posted by: Gavin
Jacob MacMurray is locking up the design of John Crowley's The Chemical Wedding one piece at a time. The Kickstarter approacheth!
---
Thu 11 Feb 2016 - Filed under: Not a Journal., John Crowley, The Chemical Wedding | Leave a Comment| Posted by: Gavin
Final typesetting after a second round of proofing. Jacob McMurray has designed a beautiful book, including using a suitably fabulous illustration by Theo Fadel for the cover. We should have the Kickstarter going in a couple of months and then a 400th anniversary trade paperback(!) edition available this autumn. Details will be here and here.
---
Fri 13 Feb 2015 - Filed under: Not a Journal., John Crowley | Leave a Comment| Posted by: Gavin
Good news for those of you following the long evolution of John Crowley's The Chemical Wedding. Jacob MacMurray is deep into the design and the book has just come back from the proofreader. More updates as we have them!
---
Fri 1 Nov 2013 - Filed under: Not a Journal., John Crowley, Theo Fadel | 19 Comments| Posted by: Gavin
We are very happy to note that work continues apace on John Crowley's The Chemical Wedding, a book that in his introduction John calls "the first science fiction novel." His aim in producing this new version, he says, "was simply to make this, one of the great outlandish stories in Western literature, accessible to readers in the context of no context."
In January of this year John introduced us to the weird and fascinating woodcuts and prints of Theo Fadel and since then Theo has completed most of the illustrations (one for each day that passes) for the book.
We expect to publish The Chemical Wedding in 2016 (making it an 400th Anniversary Edition) in a number of states: 1) a slipcased signed, limited edition accompanied by a unique woodcut, and 2) a trade cloth edition. Depending on interest, we may produce a signed, lettered state with a portfolio of sketches and prints from the artist.
We will start taking preorders once we have the whole book in hand.
In the meantime, here is the full title page:
THE CHEMICAL WEDDING by CHRISTIAN ROSENCREUTZ
A Romance in Eight Days
By
Johann Valentin Andreae
In a new version
by
John Crowley
Illustrated by
Theo Fadel
May 2016: Kickstarter exclusive editions (lettered, numbered, and hardcover) and trade paperback edition and ebook editions announced. The Kickstarter will go live in late April and will be announced here. Edition pricing will be available then.
Update: pricing added.
4/22/16 update: The Kickstarter is expected to launch in the first week of May. We will send an email to all commenters on this page as soon as it launches.
6/3/16 update: Kickstarter funded!
---
Mon 29 Nov 2010 - Filed under: Not a Journal., John Crowley | 1 Comment| Posted by: Gavin
Meta for You & Me by John Crowley
My friend and fellow Small Beer-ite Elizabeth Hand sent me the following link to an article in the NY Times about the nature of metaphors and how they are implied by consciousness, and inherent in its operations.
I thought this was very intriguing, and I especially noticed the following:
"We can learn that a certain combination of sounds put together by Tchaikovsky represents Napoleon getting his butt kicked just outside Moscow. And that the name "Napoleon," in this case, represents thousands and thousands of soldiers dying cold and hungry, far from home." (NY Times)
Which reminded me immediately of this:
"The Spanish general Spinola, the Spider, left Flanders with his army and moved toward the Rhine and the Palatinate. Soon Mainz had fallen to him (in stories of war, cities fall at the advance of generals, but it's not so; metonymy and synecdoche don't do the fighting and dying, the soldiers and the townspeople do, one at a time, and not in a sentence but for hours and days.)" (Endless Things, John Crowley, Small Beer Press, 2007).
Of course we writers and professional deployers of them know that metaphor rules, and also know that what the world thinks is real is metaphor concealed. I think that the greatest illusion we live under is to think (we don't even think it, we just assume it) that the language-system and the actuality-system are in one-to-one correspondence.  We probably couldn't live if we didn't believe it, and it's close enough most of the time that we can get along.
Liz Hand responded to my response with the following quote from Leon Wieseltier, for whom the language/reality problem must be sharp:
"Metaphor is the juxtaposition of disparate elements of the world in which an unsuspected commonality, an illuminating partial likeness, has been discovered, and the more unlikely the juxtaposition, the greater the consequent sensation of the unifying of the world; and so the range of a writer's metaphor is a measure of the range of his cognition."
That's a sort of assertion of belief—belief that the commonality is not in the words and the corresponding brain areas tickled, but in "the world." A faith, maybe. I share it—most of the time.
---
Thu 3 Dec 2009 - Filed under: Not a Journal., Futurama, John Crowley | Leave a Comment| Posted by: Gavin
… send us an email and we will send you some books! Even thought the calendar is on the wall next to the fridge (mmm, beer) I just turned the page over today from November to December and discovered that we missed John Crowley's birthday on December 1st— Darn! Happy Birthday, John!
And, last week, one of the things they recommended was to read Kelly's story "Louise's Ghost." Who are these people? They are awesome and we want to send them some books!
---
Thu 14 May 2009 - Filed under: Not a Journal., Audio out, John Crowley, John Kessel, To Read Pile | Leave a Comment| Posted by: Gavin
Karen Joy Fowler has a great essay about writing Wit's End on Powell's blog (Wit's End is just out in paperback, read now!). She does life in the connected (pre-collapse? c-cough) 21st century very well:
A lot of my novel is focused on privacy, and what that means in the age of the internet. This includes things like the creation of the author persona, the mediated fake intimacy of the net, and a new kind of accessibility of writer to reader.
John Crowley in The Believer (Four Freedoms coming soon):
"IT'S PROBABLY CENTRAL TO THE NATURE OF FICTION ALTOGETHER, TO TRY TO ENTER INTO LOST WORLDS OR ENTER INTO 'THE LOST' IN SOME WAY."
Reasons to get involved with the science-fiction crowd:
They speak Latin
They respond promptly to blogs
Their untamed romantic impulse
John Kessel on the podcastery and the radio:
In the first week of May I've had two interviews that are now available for your listening.  In the first, by Douglas Lain, author of LAST WEEK'S APOCALYPSE, we talk about science fiction, politics, utopia, some of my short fiction, and my twenty-year-old novel GOOD NEWS FROM OUTER SPACE). It's available at Dietsoap, Doug's quirky website, along with other recent podcasts.
The second interview was on the May 7 edition of "The State of Things" with Frank Stasio on WUNC radio, 91.5 FM in the Research Triangle. We talk about "Pride and Prometheus", Mary Shelley, and Jane Austen. Here's the link.
And another thing worth reading on Powell's, this time an essay by Lisa M. Hamilton, author of Deeply Rooted: Unconventional Farmers in the Age of Agribusiness:
Writing about farmers has taught me a lot about how to be a witness. In simplistic terms, it's because not much actually happens on the farm. Most days in the lives of farmers I know are composed of unremarkable tasks repeated over and over: milking one cow after another, weeding up this row and then down the next. Any writer who expects to swoop in, get a hot story, and then swoop out, will likely come away empty-handed.
I've learned that, to write about farmers, one must instead slow down to that rhythm of repetition. The writer must sit in the combine as it chugs along in concentric circles, taking hours to close in on the center of the field, only to pick up, move to the next field, and do it all over again. Being witness means a willingness to pass the same barn or tree or fencepost two dozen times and continually try to learn something new about it.
And Hannah Tinti (The Good Thief) gets an in-depth interview on Bookslut that goes well beyond the usual questions:
Women in this time period were almost always buried in their wedding dresses, because these were the nicest pieces of clothing they owned. I grew up in New England surrounded by old graveyards, and often picnicked and played in them. For this book I went back and spent time there and took many names for characters from the headstones.
---
Mon 1 Dec 2008 - Filed under: Not a Journal., Big Mouth House, Joan Aiken, John Crowley | Leave a Comment| Posted by: Gavin
Go wish John Crowley a Happy Birthday—but let's not depress him any more than the Writer's Almanac already did. Wonder if this means John will be on Prairie Home Companion one day? (And, what would he sing?)
It's the birthday of the writer John Crowley, (books by this author) born in 1942 in Presque Isle, Maine. His most famous novel is Little, Big (1981). It's a fantasy story, full of fairies and enchantment, but it's also an epic saga of a New England family, complete with historical details. The critic Harold Bloom chose Little, Big as one of the books that changed his life. He said, "I have read and reread Little, Big at least a dozen times, and always am startled and refreshed." John Crowley has a cult following, and his novels always get great reviews, but they still don't sell very well, partly because they're so hard to categorize.
Endless Things actually sold ok. If we're to believe Bookscan, it has outsold the paperback collection of Novelties & Souvenirs and will soon overtake the pb of Lord Byron's Novel: The Evening Land. More interestingly, The Solitudes has blown it out the water which bodes well for the whole series. Given the recent National Book Award win by Peter Matthiessen's Shadow Country, maybe we can persuade John to rewrite the whole Aegypt sequence into one massive novel. Hmm!
Iain Emsley recently met up with Lizza Aiken to talk about her mother, Joan:
"She had a curious childhood. She didn't go to school until she was 12, she was brought up not in much contact with children at all. Her mother married her step father when she was 5. He was essentially a Victorian much in the same way as the books in the house. There were no children's books, and there weren't that many books for children in the 1920s, so she read whatever was in the house which were Dickens, Dumas and Austen.
LCRW 23 is at the printer. Yay!
Anyone online at www.readingtrails.com? (Not that we are, just looks like an interesting site.)
---
Tue 11 Nov 2008 - Filed under: Not a Journal., John Crowley | Leave a Comment| Posted by: Gavin
Just emailed our interior files from Endless Things to the Overlook Press so at some point (January!) the paperback will come out and all those readers who have been waiting to get the 4 book set can at last sign in relief. (We wanted to do this set but got outbid, c'est la vie!)
---
Thu 24 Apr 2008 - Filed under: Not a Journal., John Crowley, LCRW, writing, Year's Best Fantasy & Horror | Leave a Comment| Posted by: Gavin
This has nothing to do with Trickster gods (excepting The Coyote Road, which has lots to so with it). Instead it is just a tricky headline to make you wonder what we're on about now. It's Locus finalist celebration day—thanks to John K. for the heads-up!
Chocolate bars for all!
It is excellent—and we are very grateful to each and every one of you who made your butler go vote—to see John Crowley's unendingly brilliant Endless Things on there, along with The Best of Lady Churchill's Rosebud Wristlet, The Year's Best Fantasy & Horror 2007: Twentieth Annual Collection, and, and this is a lovely surprise, Lady Churchill's Rosebud Wristlet. Holy Xerox Printed Zine Batman! What's that doing there? (Um, basking?) Guess we'll keep it going after all.
The finalist list is a reminder that 2007 was a strong year, especially for men writing in this genre. That's not snarky, look back at the list. Congratulations to Elizabeth Bear ("Tideline," Asimov's Apr/May 2007) and Connie Willis ("All Seated on the Ground," Asimov's Dec 2007; The Winds of Marble Arch and Other Stories, Subterranean), the only women in short fiction. SF novels are all men, then Fantasy, YA, and Debuts are all pretty mixed—and all are very strong categories (below the cut). Too much work to look at more except perhaps there should be a PR campaign by any women artists in the genre?
It will be fun to see who wins but the real winners, said without cheesiness—especially after serving on award juries—are readers who use this as a reading list to see what's good out there at the moment.
---