Mon 19 Dec 2016 - Filed under: Not a Journal., Jeffrey Ford, Joan Aiken, John Crowley, Mary Rickert, Sofia Samatar, Ursula K. Le Guin | Leave a Comment| Posted by: Gavin
At least, it's going well from here — thank you! It's busy as all get out but we are up to date to Thursday's orders and by the end of today will have caught up again — unless there are too many orders to ship, woohoo, bring it! The post office says that US Priority Mail orders will still arrive by Christmas if ordered by 12/21, go for it!
Want some last minute present ideas? (OK, these are all going to be Small Beer books, I think.) Nothing here will stop the howling void of despair and depression taking over all from the electoral shenanigans but they will distract for various amounts of time:
Margaret Atwood selected Ursula K. Le Guin's Words Are My Matter as one of her favorite books of the year in the Walrus:
It was a pleasure to encounter renowned SF and fantasy writer Ursula K. Le Guin's book of essays, Words Are My Matter, and to hear her wise, informed, elegant, and occasionally testy voice discussing such joys as the early H.G. Wells classics such as The Time Machine and China Miéville's Embassytown—which surely owes a debt to Le Guin's own The Left Hand of Darkness, now out in a sumptuous new Penguin Galaxy edition.
And Nora Jemisin recommended the book in the New York Times Book Review. Also: there was an Ursula K. Le Guin symposium at the University of Oregon.
Sit back (or go jog, or shovel some snow) and listen to David Naimon and Sofia Samatar chat about The Winged Histories on the Between the Covers podcast. The Winged Histories was chosen as one of the best books of the year by NPR — yay!
The Valley Advocate ran a 3-page spread on John Crowley's The Chemical Wedding which included interviews with Crowley, illustrator Theo Fadel, and designer Jacob McMurrary. The paper edition had many illustrations. Meanwhile the book was reviewed on Tor.com.
See the Elephant ran a review of Joan Aiken's The People in the Castle, which was also selected as one of the year's best books by the Washington Post. Double yay!
See the Elephant had previously run a review of Jeffrey Ford's A Natural History of Hell which much to my enjoyment began "Hellishly Good Stories." Jim Sallis revelled in Ford's collection in F&SF ("Formally Ford's stories are object lessons in how to stage a narrative.") Alvaro Zinos-Amaro reviewed it on IGMS and DF Lewis wrote reaction posts while reading the stories. Hazel and Wren also liked the book. What can I say? It struck a chord.
There is a new issue of LCRW and meanwhile the previous issue received a strong review in Fantastic Stories of the Imagination and another in New Pages.
And Mary Rickert's collection, You Have Never Been Here, came out so late in 2015 that a lot of people read it this year, i.e. Sallis ("Reading a Mary Rickert story quite often is like sinking through layers of such worlds. We begin in one place, blink, and open our eyes to somewhere—something—else.") in F&SF and William Grabowski in See the Elephant: "Rickert's work, its superbly subtle handling of deepest human yearning for something to heal the howling void behind our increasingly demythologized world, shows the ineffable power—and value—of fantastical storytelling."
Quickshots:
— Afrofuturism? The Liminal War
— Density? Prodigies
— The underworld? Archivist Wasp
— Digging a hole? Secession? Sherwood Nation
— Middle grade ecothrillers? The Fires Beneath the Sea
Toodles!
---
Mon 31 Oct 2016 - Filed under: Not a Journal., Jeffrey Ford | Leave a Comment| Posted by: Gavin
Jeffrey Ford's story "A Natural History of Autumn" was originally published in The Magazine of Fantasy & Science Fiction. It was nominated for both World Fantasy and Shirley Jackson awards and went on to win the Shirley Jackson Award — which gives some idea of the shape of the story. Yes, it is spooky. "Mythic and creepy" even, as Josh Johnson at Hazel and Wren calls it. If, even though it is obviously fiction, it has some nugget of truth about the season of autumn in it, it does makes me wonder if even in the height of summer I should ever be looking forward to the (Northern hemisphere) cooler days of autumn. Of course if I turn my mind to the election instead of the natural world, it is a terrifying time.
Jeff was interviewed about inspirations for the story and the research he did before writing it on the F&SF blog and for fun included "a list of my top ten favorite works of fiction (at this moment) from Japan."
The story was reprinted in Ellen Datlow's anthology The Monstrous, is collected in Jeff's new collection, A Natural History of Hell, and appears today on Lithub for your enjoyment.
Update: today Late Night Library posted a new interview with Jeff:
AUSTIN WILSON: Animals feature in several of the collection's stories, sometimes as no more than pets or wild creatures, but also anthropomorphic monstrosities. What do you think we fear more: the familiar turning on us, or the attack of the unknown?
JEFFREY FORD: I think "the familiar turning on us" is actually an aspect of "the attack of the unknown." For most scary stories the mood and scene are more important than the menace. As for animals in the stories, it makes sense. I live in a house with 3 dogs and 6 cats. There are cows and goats and horses just across the road. Out back, there are deer eating from our garden and apple trees, and in the winter, I suppose, coyotes eating deer in the snow covered, stubble fields. At night, in spring, the fox comes, stands behind the garage and cries out with a sound like Satan choking on a wishbone. The animals are everywhere.
---
Mon 3 Oct 2016 - Filed under: Not a Journal., Jeffrey Ford, Ursula K. Le Guin | Leave a Comment| Posted by: Gavin
Perhaps you and your family and/or friends exchange horrible gifts and favors on Halloween? Perhaps you've been wondering what to give your demonic friends who seem to have all the slavering zombie tchotchkes in the world? Publishers Weekly says Jeffrey Ford's A Natural History of Hell is:
This is the perfect reader-who-has-everything gift for fantasy fans with a literary bent or vice versa. Ford brilliantly cross-pollinates the grim suburban settings of literary fiction with fantastical elements, adding dashes of humor and empathy to provide some light in dark days.
Also on the sf&f part of the Holiday Gift Guide are the new one-volume hardcover edition of Ursula K. Le Guin's The Unreal and the Real as well as the huge new book of collected novellas, The Found and the Lost, Nisi Shawl's Everfair, and N.K. Jemisin's The Fifth Season.
Anyone who received all five books would be a lucky reader indeed!
---
Fri 10 Jun 2016 - Filed under: Not a Journal., Free books, Jeffrey Ford | 3 Comments| Posted by: Gavin
You have one week to enter to win a free copy of Jeffrey Ford's mind melting A Natural History of Hell: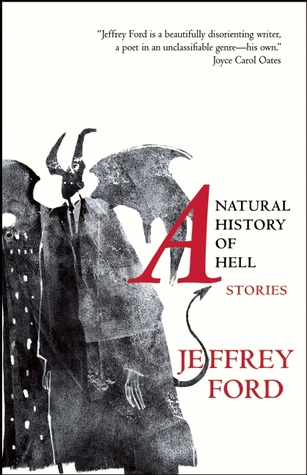 ---
Fri 6 May 2016 - Filed under: Not a Journal., Jeffrey Ford | Leave a Comment| Posted by: Gavin
"Jeffrey Ford can pull off any kind of story he damn well pleases. I was sure of that before I even reached the end of this excellent collection. By the end he'd accomplished more than I would've imagined possible. A Brief History of Hell offers genuinely disturbing moments but it also veers into high comedy. There's bits of myth and history, heartbreak and profound insights. I've been a fan of Ford's for years. Every new book he publishes is a reason to celebrate."
— Victor LaValle, author of The Ballad of Black Tom
---
Fri 8 Apr 2016 - Filed under: Not a Journal., Jeffrey Ford | Leave a Comment| Posted by: Gavin
---
Mon 28 Mar 2016 - Filed under: Not a Journal., Jeffrey Ford | Leave a Comment| Posted by: Gavin
How's your Monday? Ours is pretty great, thanks to Victor LaValle — whom you may have heard on NPR recently discussing his latest book, The Ballad of Black Tom — who just read Jeffrey Ford's A Natural History of Hell and sent us this:
"Jeffrey Ford can pull off any kind of story he damn well pleases. I was sure of that before I even reached the end of this excellent collection. By the end he'd accomplished more than I would've imagined possible. A Natural History of Hell offers genuinely disturbing moments but it also veers into high comedy. There's bits of myth and history, heartbreak and profound insights. I've been a fan of Ford's for years. Every new book he publishes is a reason to celebrate."
Jeffrey Alan Love, whose art graces the cover had some good news, too:
Thrilled to get in Spectrum this year, with work for @tordotcom @TorDotComPub @smallbeerpress & The New Yorker. pic.twitter.com/icbVYU67Ew

— Jeffrey Alan Love (@jeffreyalanlove) March 22, 2016
---
Mon 13 Jan 2014 - Filed under: Not a Journal., Eileen Gunn, Jeffrey Ford | Leave a Comment| Posted by: Gavin
"Eileen Gunn's terrific new story collection, Questionable Practices, is a unique amalgam of big ideas and versatile styles packed into short pieces devoid of loose threads and excess baggage. Gunn manages to perfectly balance themes of thought paradox, gender politics, corporate culture, time travel, steampunk, with a storyteller's ability to immediately draw the reader in through character and drama. Real science fiction, great humor, and some cool collaboration with Michael Swanwick make this a good choice for SF short fiction fans."
---