Mon 10 Jul 2017 - Filed under: Not a Journal., Interviews, Juan Martinez | Leave a Comment| Posted by: Gavin
The Rumpus published a lovely, wide-ranging interview with Juan Martinez (Best Worst American) by James Tadd Adcox today. I loved this part about walking the tightrope of writing in another language and the way he speaks about English:
". . . never lost the sense that I was playing with someone else's toys. That the language wasn't quite mine. Not owning the tools of your trade can be freeing, I suppose. And enjoying the freedom of being in-between—from not fully being comfortable—that's a lot freeing, because it short-circuits the fear, the freak-outs we all have when writing. The Oh-God-I'm-getting-this-wrong-I'm-not-doing-a-very-good-job jitters. Because I trick myself into writing through, and fixing it later, and it was a relief to learn that everyone feels this way, and that we all have to trick ourselves into navigating the unnavigable. I love English. I love what it can do. It's insanely pliable, and it's capable of swift shifts in register, and it accommodates so much. I'll never speak it without an accent. And I'll never quite lose the sense that English doesn't love me as much as I love it, but, like I said, I'm pretty sure that's a universal constant with all writers in all languages, the whole Flaubert and music-on-cracked-kettles-for-bears thing."
---
Wed 31 Aug 2016 - Filed under: Not a Journal., Gavin J. Grant, health insurance, Interviews, MassHealth | Leave a Comment| Posted by: Gavin
Here's a short interview I did with the AWP Moveable Type blog:
How did Small Beer Press begin? What was the goal when starting the press?
I started a zine while I was temping in Boston. My then-girlfriend-now-wife, Kelly Link, started helping out with the second issue. Looking back, publishing chapbooks and the books seems so inevitable from that start. It didn't feel that way then. The goal was to publish something that I wasn't quite finding enough of in the world, writing that refracted back to the reader something of the true weirdness of the world, of us monkeys walking on our hind legs on our one little planet, worrying about health insurance and being alone in the universe. [more]
What's with the title of this post? In the UK (at least in England, Wales, and Northern Ireland, not so much in Scotland) the government has been slashing the National Health Service budget. The results: not great.
Here in the US almost everyone I know lives in fear of getting sick because none of us know what our health insurance will cover and how much of a hit the final bills will be. I really hope the UK does not follow the US and switch to this disaster* of a health care system.
* Massachusetts is an exception and long may it continue!
---
Tue 5 Jan 2016 - Filed under: Not a Journal., Interviews | Leave a Comment| Posted by: Gavin
Those lovely people who turned all their swords into ploughs interviewed Kelly and me. Read all about it here.
---
Thu 15 Dec 2011 - Filed under: Not a Journal., Free books, Interviews | Leave a Comment| Posted by: Gavin
A couple of months ago at a book event in Stockbridge we were lucky enough to meet Alma Katsu, author of one of those everyone-is-talking-about-it books, The Taker.
Alma was really lovely and it turns out had read some of our books. She recently decided to do some interviews about different aspects of the publishing world and sent us a few questions for her expertly titled blog, Endpaper Notes.
---
Wed 26 Oct 2011 - Filed under: Not a Journal., Interviews, Maureen F. McHugh | 1 Comment| Posted by: Gavin
This week we're very proud to publish Maureen F. McHugh's second collection of short stories, After the Apocalypse.
To celebrate, we asked another of our favorite writers, David Moles, to interview Maureen. The two of them sat down recently in LA and then sent us the results of their chat:
David Moles: So, we're sitting here in sunny Culver City—
Maureen McHugh: Sunny Culver City. In my little apartment, which I love.
Where should we start? I think we should talk about the book.
Probably.
At some point.
Let me see, I've got a copy—hold on.
Oh, that's gorgeous.
Isn't it gorgeous?
That's really nice.
It's a thin book, it's thinner than Mothers and Other Monsters. I think it's got about the same number of stories, but a couple of the stories were much longer in Mothers and Other Monsters.
So how did this come about?
---
Mon 3 May 2010 - Filed under: Not a Journal., Interviews, LCRW, translations, Zhao Haihong | 7 Comments| Posted by: intern
In the new issue of LCRW we're very happy to present the first English publication of multiple award-winning Chinese writer Zhao Haihong. Her story "Exuviation" was first published in 2000 in Science Fiction World Magazine and received the Galaxy Award. Zhao Haihong has an M.A. in English literature from Zhejiang University and teaches English literature in Zhejiang Gongshang University in Hangzhou, China. She started writing science fiction in 1996, and has received the Galaxy Award from Science Fiction World Magazine, the Soong Ching Ling Children's Literature Award, and the sixth National Writers Association Award for outstanding children's literature in China. Her first story collection, Eyes of the Birches, was published in 1999.
Fabulous intern Diana Cao (who, coincidentally, will be studying in Beijing for a month later this summer) interviewed Zhao Haihong last week:
Diana Cao: Could you first give some background about how you arrived where you are in your writing today?
I've loved reading and writing since childhood. To me, writing was the only way to prove who I was in my middle school. I tried various kinds of writing in the six years, and some of them were science fiction stories—among them was a story I sent to Science Fiction World magazine and had published. The story "The Rising of the Great Rift Valley" won me the first prize of the Guangya Science Fiction Story Contest for Students (1996) held by the magazine. I was thrilled by the result and that's the real start of my science fiction career. Since then, I have published 21 science fiction stories, mostly in SFW and later collected in two books: Eyes of the Birches and The Other Side of Time. My third collection The World and my first novel Crystal Sky will be published this year. These stories have brought me six Galaxy Awards (1997-2002) by SFW, the Sixth Soong Ching Ling Children's Literature Award (2003) and the sixth National Writers Association Award for outstanding children's literature in China (2004)—the last two are governmental awards, and science fiction is included under children's fiction for governmental awards. Read more
---
Fri 23 Apr 2010 - Filed under: Not a Journal., Interviews, LCRW, To Read Pile | 1 Comment| Posted by: Gavin
A while ago we published a lovely short piece of fiction (or poetry, as we listed it in LCRW 19!) by Katharine Beutner. Earlier this year we noticed that her debut novel, Alcestis, was about to be published by the good folk at Soho Press. All excited, we quickly dashed off some questions for Katharine and in the middle of her debut book launch and doing readings and so on she sent back her answers.
Then we brought punnet after punnet of pomegranates and honeycrisp apples into the office and everyone tried to decide which side they were on. To choruses of "Apples!" "Pomegranates!" (and the occasional "Beer!)" we decided that, yes, we like fruit, but if we were more specific than that it seemed we might be tempting the gods and, really, how foolish could we be? (Moving quickly on.)
Anyway, Katharine's first novel is in stores now so why not add it to your reading pile? In the meantime, that interview:
SBP: First, what attracted you to the story, or: Why a historical novel? Why Ancient Greece? Why a dead girl?
Katharine Beutner: When I was little, I read and reread the D'Aulaires' Book of Greek Myths, which has beautiful Blakean illustrations that are cheery and brutal, just like the myths themselves.
I remember reading a prose translation of the Odyssey when I was maybe ten or eleven, and reading Sophocles and Aeschylus in high school. I majored in classical studies in college (at Smith, yay Northampton!). I've always been more attracted to Greek mythology than to any other kind.
As for "why historical fiction," I like the way that historical fiction foregrounds the process of approximation that all fiction engages in. I have a favorite bit by Samuel Johnson that I sometimes drag out to explain this, from the Preface to Shakespeare, the same essay in which Johnson says that Shakespeare "holds up … a mirror" to nature:
"Shakespeare approximates the remote, and familiarizes the wonderful; the event which he represents will not happen, but if it were possible, its effects would be probably such as he has assigned; and it may be said, that he has not only shewn human nature as it acts in real exigences, but as it would be found in trials, to which it cannot be exposed."
He's talking about the fantastical elements of Shakespeare's work, but I love historical fiction for the same reasons. All historical novels are fantasy, in a way. We can't ever truly understand the past, but we can create art about the past that allows us to tell ourselves truths, even if we can't reconstruct the truths of other time periods as citizens of the past would have done.
Regarding Alcestis's story in particular, my question was actually "Why didn't she *stay* a dead girl?" Sacrificing your life for someone else is a grand gesture, and I was frustrated that the traditional version of the myth reversed it and brought her back to life. So I set out to write a version of her story in which her time in the underworld would still have profound meaning for her, no matter what Heracles did.
Are pomegranates really your favorite fruit?
I like them, but I think apples are my favorite now, which is odd because I used to despise them for textural reasons. Then I discovered Honeycrisps a few years ago and became a convert. Still Greek myth-appropriate, though I always thought Paris should've given the apple to Athena.
Did you go to Greece for research?
I wish. I looked at lots of lucky tourists' photos of Bronze Age ruins online, though! The Mycenaean period is still pretty mysterious, but I read some archaeological studies of particular sites and researched lots of other little pieces of information — what asphodel looks like in its various life stages, homeopathic treatments for asthma, what sorts of snakes are native to central Greece, that kind of thing.
Did you go to the underworld for research? If so, what brought you back?
Sheri S. Tepper's The Gate to Women's Country and Connie Willis's Passage and Tom Stoppard's Rosencrantz & Guildenstern Are Dead were my underworld research.
The gender relations in the novel are not exactly equal. How did you get your head around them?
I was reading a lot of eighteenth-century fiction and Victorian fiction while I worked on Alcestis — my dissertation focuses on eighteenth-century women writers. There's nothing like reading Samuel Richardson's Clarissa to give you an immersive sense of how alien men and women can appear to one another when they exist within a culture of restrictive gender relations. (Or for a far more light-hearted version of this divide, see Fanny Burney's Evelina, which was one of Jane Austen's favorite books and has a monkey melee scene at the end. I like to think that Jane Austen loved it even more because of that.)
Is this your first novel, or your first published novel?
First published novel. My actual first novel was fairly traditional second world fantasy, written in slapdash fashion my first year after college. I might overhaul it some day — I still think the central relationship in the book is interesting — but for now it's trunked.
Did you find being in a writing program helped?
It helped a great deal, even though writing program workshops are designed for short fiction, not for novels. (I fantasize about teaching a novel-workshopping class someday.) But I had great friends in the program and an excellent thesis adviser who helped guide me through my first revision of the novel. And I had two years to write, which is the best part of any writing program, I think.
What has the publishing experience been like for you? Did you find it hard to find an agent and publisher?
I was lucky — a number of my friends have become writers or agents, including Diana Fox, who represents me. She'd liked my first novel, unbelievably enough, and was encouraging about Alcestis from the beginning. Over about a year and a half, we collected a reasonable number of rejections from publishers, some just polite, some complimentary but unsure how to sell the book. Then Soho made an offer, which Diana called to tell me about twenty minutes after I'd finished defending my dissertation prospectus. (It was an exciting day.) So far, the experience has been great. Soho has been just wonderful, especially my editor Katie Herman and Justin Hargett, the director of publicity. I love getting to hear what people think about the book. And I'm usually busy with grad school work, which keeps me from obsessing too much about the many elements of publishing I can't control.
Are you working on something else/taking a break/moving to LA with a screenplay in your pocket/disappearing never to be heard from again?
I'm currently being squashed under the weight of my dissertation, like Atlas. After I finish it, I'll begin writing the novel I've been researching, which is about the disappearance of a Mt. Holyoke College student in 1897. I doubt I'll ever move to LA, but the slightly too-long Hollywood elevator pitch for that novel is "Alias Grace meets The Prestige meets Fingersmith meets The Secret History" — it'll be New England gothic, weird and twisty.
---
Tue 19 Jan 2010 - Filed under: Not a Journal., Books, Interviews, LCRW, To Read Pile | 4 Comments| Posted by: Gavin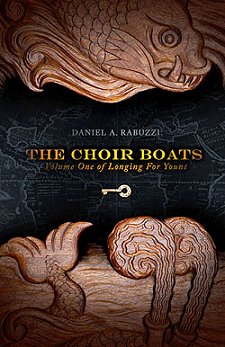 Computer troubles and the new year intervened but, here, at last, gingerbread and tea at the ready, is our promised interview with past-LCRW contributor Daniel Rabuzzi whose first novel of The Choir Boats, Volume One of Longing for Yount, was recently published by Chizine Publications. The Choir Boats is great fun: Rabuzzi's characters are original and as the book leaves London behind the reader is off into a fresh and lively new world.
Daniel keeps a blog where he interviews artists and writers, reports on readings (and what he's reading) and what he and his wife, wood carver Deborah Mills, are up to so it only seemed fair to put him on the other side of the paper:
Let's start with the basics: how long did it take you write The Choir Boats?
Bits of The Choir Boats come from my journals and sketchbooks going back as far as junior high school. Then, one Sunday in May, 2002, I sat down to write my brother a letter and instead Barnabas, Sanford, Sally and Tom appeared in the house on Mincing Lane… quite unforeseen, I must tell you, but very welcome!   I delivered final edits on the manuscript in May, 2009, so I needed seven years for The Choir Boats.
You live in NYC, why did you set the novel in London?
Ah, a great question…I think of NYC and London as half-twins: we have a Chelsea and a Soho, they have a Chelsea and a Soho, and so on (alike, and yet so very different).  I have spent about a year in total in London over the past few decades: on business in the City, researching at the British Library, visiting friends, spending hours in the Charing Cross bookstores and at the V & A…and always tramping around the quirkiest precincts I can find– small streets in Lambeth or Maida Vale, a prospect from Chalk Farm, lanes in Whitechapel, and so on.  Always I find in London a sense of secrets– some good, some less so– marshalled behind the facades, tucked away just around the corner of the mews…whereas here in NYC, what you see is usually what you get, for better or worse we are much more "in your face."  For me, fantasy is about sensing and pursuing the hidden, the secretive, so London feels much the b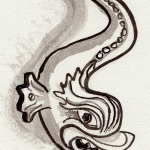 etter fit for converse with Yount.  (Also, I fell in love in London with my wife and creative partner, Deborah Mills, who was at the time studying there.)   Having said that, NYC makes a cameo appearance in The Choir Boats (as a waystation for Maggie and her mother), and might just play a more central role in later books about our world and Yount.  Delia Sherman has certainly shown how effectively NYC can serve as a portal for fantasy in her Changeling books!
What kind of research did the novel involve?
I earned my PhD in modern European history…the research for The Choir Boats stems largely from my doctoral work on 18th- and 19th-century merchants in northern Europe.  I often feel like Pierce Moffett, the idiosyncratic historian in John Crowley's Aegypt Cycle, asking whether the world has more than one history.  Or the protagonists in the works of Umberto Eco and of A.S. Byatt, hunting for clues in a rebarbative and ever-branching history.
You obviously love playing with language. Who are your favorite writers and what stream of fiction do you think influenced your novel?
Austen,  Blake, Dickens, Hesse, Borges and Mann are deep influences, as are Meryvn Peake and Ursula K. Le Guin.  Pope, Dickinson, Hopkins, Moore, Hughes, Heaney.  Lately I have been reading Z. Z. Packer, Elise Paschen, Sarah Lindsay, Alice Oswald, Nathaniel Mackey, Andrea Barrett, Nnedi Okorafor.  I especially like the writers I loosely call 'the New Stylists": Theodora Goss, Cat Valente, Sonya Taafe, JoSelle Vanderhooft, Sandra Kasturi, Naomi Novik, Susanna Clarke.  "Neo-Romanticists" might be a better label, as their various uses of language evoke Endymion, Alastor, Tieck's Fantasus and Novalis's search for the blue flower.  Greer Gilman and Ellen Kushner are the pioneers here, their wordplay (simultaneously lush and incisive) an inspiration to the most recent cohort.  Sarah Micklem and D.L. Cornish are two other writers whose prose sings to me.
As the book goes on you include an increasing number of literary characters and play more with the idea of stories. Will these characters ever cross over from story to our world?
Yes, though precisely how is still being marinated in my night-kitchen.  I do know that a certain Elizabeth Darcy (born Bennett) will play a minor but necessary role in The Indigo Pheasant, or, A Tax from Heaven, the sequel to The Choir Boats. Careful readers will recall that Elizabeth is a friend of Sally's through Elizabeth's City relatives.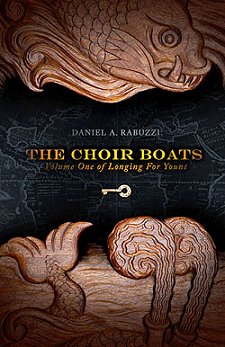 What beverage and snack should readers have ready to read your book?
A rich black tea with lots of milk and sugar, and gingerbread or almond cookies.  The Dutch and Flemish make a ginger-cinnamon-nutmeg cookie for the winter holidays called speculaas that would be particularly appropriate.
Mmm. Thanks Daniel!
---