Mon 20 Apr 2015 - Filed under: Not a Journal., events, Greer Gilman, keep it indie | Leave a Comment| Posted by: Gavin
Tomorrow night, meet at a crossroads on a windy night, the moon in tatters and the mist unclothing stars, and make your way clear to Porter Square Books in Cambridge for Greer Gilman's first reading from the shiny new paperback edition of her Tiptree award winning novel Cloud & Ashes: Three Winter's Tales.
Sonya Taaffe (who re-read Cloud & Ashes with a fabulous eye for detail, thank you!) will also be reading. She is celebrating the publication of her new collection of 36 poems and 1 story, Ghost Signs.
It will be a night of language explored, stretched, and broadened: don't miss it!
Tuesday, April 21, 2015 – 7:00pm
Porter Square Books
25 White St.
Cambridge, MA 02140
When a star falls, we do say: the Nine are weaving. Look!  The Road's their skein, that endlong from the old moon's spindle is unreeled. Their swift's the sky. O look! says Margaret. The children of the house gaze up or glance. The namesakes. Look thou, Will. Look, Whin. They stitch your daddy's coat. The twins, still whirling in the meadow, seem as heedless as the light, as leaves. Now one and now the other one, they tumble down and down the slope, lie breathless in the summer grass. His mantle's of the burning gold, says Whin; and Will, His steed is January. I'm to have his spurs.
Bright-lipped in her bower of meadow, imber-stained, small Annot gazes. She is like bright Annot fled; is like herself. I've counted seven for the Ship. Like cherrystones. I've wished.
What Nine? says Tom.
Why, sisters in a tower—see yon smutch of silver, where it rises? Back of Mally's Thorn?
He studies. Aye. And stars in it. Like kitlins in a basket.
Their house. It is a nursery of worlds.
Is't far? says Annot. Can I walk there?
Not by candlelight, says Margaret. 'Tis outwith all the heavens, sun and moon. I'll show thee in my glass. But she is elsewhere now, remembering the Road beneath her, and the heavens that her glass undid. Remembering the Nine, the sisters at their loom of night.
---
Wed 25 Feb 2015 - Filed under: Not a Journal., events, Greer Gilman, Sonya Taaffe | Leave a Comment| Posted by: Gavin
I'm pleased to note that the first paperback edition of Greer Gilman's amazing, immersive, enchanting, mind boggling, fever-inducing, death-defying literary tightrope walk, Tiptree Award winner Cloud & Ashes: Three Winter's Tales has gone to press and will be published in April of this year.
Greer will be reading and taking questions at the mighty Porter Square Books on April 21st at 7 pm along with one of her amazing first readers, Sonya Taaffe, who will be celebrating the publication of her own latest book, Ghost Signs, a collection of 36 poems and one story, published by our friends at Aqueduct Press.
Should you read Cloud & Ashes? Here is one reader's response:
"Cloud & Ashes is not a book for every reader; but it is a book for every human. (It's also a book for every library that desires to be worthy of that appellation.) There might seem to be a contradiction in those words, and there might well be, were every human to read. But to my, mind reading is an effort that exists outside its own exercise; that is when we read, it may feel like an internal, unshared, indeed unsharable experience. But that is not, I think the case. When we read, we go to the place where writing comes from, and in so doing, I think we leave something of ourselves behind as readers. Greer Gilman found whatever it is that is left behind, she has captured it in her net of words and managed to write it down and get it published. That is a herculean feat. It may only happen once in her lifetime or in ours. But it's happened here and now. What you do with it is up to you. For eternity, as it happens."
—Rick Kleffel
---
Fri 4 Jan 2013 - Filed under: Not a Journal., events, Ursula K. Le Guin | Leave a Comment| Posted by: Gavin
Ursula K. Le Guin will be at Powell's City of Books this Sunday evening at 7:30 PM. Would that we could be there!  But this is your chance to order your signed copy:
Sunday, January 06, 2013 07:30 PM
In 
The Unreal and the Real
 (Small Beer), a two-volume selection of 
Ursula K. Le Guin
's best short stories, readers will be delighted, provoked, amused, and faced with the sharp, satirical voice of one of the best short-story writers of the present day. Volume One, 
Where on Earth
, explores Le Guin's satirical, risky, political, and experimental earthbound stories, while the companion volume, 
Outer Space, Inner Lands
, includes her best-known fantastical stories.
---
Thu 20 Sep 2012 - Filed under: Not a Journal., events, Joan Aiken | Leave a Comment| Posted by: Gavin
Joan Aiken's Dido Twite series is celebrating its fiftieth(!) anniversary this year.
There are beautiful new editions coming out in the US and the UK as well as a new audio book, read by Joan's daughter, Lizza. (You can see all the international editions here!)
There will be events in the USA (at the Bank Street College Auditorium on Oct. 26th) and in the UK (at the Cheltenham Festival, Saturday, October 13.
---
Fri 8 Jun 2012 - Filed under: Not a Journal., Clarion West, events | Leave a Comment| Posted by: Gavin
Hey, we're going to teach week 5 at Clarion West in Seattle this year. We haven't been to CW—or out west—for ages. Can't wait!
While there we'll do a reading at the fabby University Book Store—although you might also want to pick up tix for some of these other readings, too.
The readers for the 2012 Clarion West Summer Reading Series are:
---
Mary Rosenblum
June 19, 7 p.m., University Book Store
Mary Rosenblum explores climate change, biotechnology, and class inequity in stories based on her profound knowledge of science and technology and her passion for sustainable living. Her first novel, The Drylands, won the 1994 Compton Crook Award, and in 2009 she received the Sidewise Award for Alternate History for her story "Sacrifice."
---
Stephen Graham Jones
June 26, 7 p.m., University Book Store
Stephen Graham Jones has published eleven novels and over 140 finely-honed stories about innocents, unfairness, and scary truths. A Blackfoot Indian from Texas, a Professor of English at the University of Colorado, an NEA Fellow, and a Bram Stoker Award finalist, Jones can warm an audience to laughter or chill it with icily observed inevitabilities.
---
George R.R. Martin
July 3, 7 p.m., Town Hall Seattle
George R. R. Martin is the author of the fantasy series A Song of Ice and Fire, basis for HBO's 'Game of Thrones.' He has received four Hugos, two Nebulas, and many other major awards over his four-decade career. Martin was named by Time magazine as one of the most influential people of 2011. Note: Tickets for this reading are $10; they're available at Brown Paper Tickets.
---
Connie Willis
July 10, 7 p.m., University Book Store
Connie Willis peppers her live appearances with humorous insights on everything from the Oscars to current elections. Willis has won more major awards than any other author, including most recently her eleventh Hugo for Blackout/All Clear, a time-travel novel about World War II London. She explores comic and tragic aspects of the human condition through characters that run the gamut from desperately likable to sweetly infuriating.
---
Kelly Link & Gavin Grant
July 17, 7 p.m., University Book Store
Kelly Link and Gavin Grant founded Small Beer Press, arguably today's most important independent publisher of avant-garde fantasy. Link's award-winning fiction was described as "an alchemical mix of Borges, Raymond Chandler and 'Buffy the Vampire Slayer'" by Salon.com. Grant's work has appeared in Strange Horizons and The Christian Science Monitor. The pair's editorial projects include the literary zine Lady Churchill's Rosebud Wristlet, several volumes of The Years' Best Fantasy and Horror (with Ellen Datlow), and 2011's Steampunk! An Anthology of Fantastically Rich and Strange Stories.
---
Chuck Palahniuk
July 24, 7 p.m., Town Hall Seattle
Chuck Palahniuk is known for his reclusive nature and his skillful hand with disturbing modern fables. His most recent book, Damned, references the young adult novels of Judy Blume as it follows a thirteen-year-old girl through Hell. Palahniuk's novel Fight Club won critical acclaim and cult status before being turned into a major motion picture. Note: Tickets for this reading are $10; they're available at Brown Paper Tickets.
---
More University Book Store Readings
In addition to the Clarion West Summer Reading Series, every year the University Book Store hosts dozens of other readings of interest to fans of SF. Check out their events calendar for further information.
---
Wed 14 Mar 2012 - Filed under: Not a Journal., book fairs, events, Kelly Link | 1 Comment| Posted by: Gavin
What are we doing in the next few weeks?
Kelly will be Guest of Honor (with China Mieville) at ICFA, March 21 – 25, Orlando Airport Marriott, Orlando, FL, and I will be running around with Ursula.
Gregory Maguire and Kelly Link, Brattle Theater, Cambridge, Mass.
Discussing Stone Animals and Tales Told in Oz—beautiful new chapbooks published by Madras Press, and all the proceeds got to charity.
March 29, 6 PM
UMass Amherst Juniper Literary Festival, Amherst, Mass.
Julia Holmes and loads of other interesting people are going to be there, yay! We will have a table in the book fair.
April 13 & 14
Japan/America Writers Dialog
Masatsugu Ono and Tomoka Shibasaki will be joined by Stuart Dybek and Kelly Link for an intriguing and original cross-cultural encounter facilitated by translators Ted Goossen and Motoyuki Shibata.
Asia Society, 725 Park Avenue at 70th St., NYC
May 6, 2 PM
Yale Writers Conference
We will be there on the last day to talk about publishing in all its many joys.
June 22
Joy! It's what we live for. If you don't love it, why do it? Oh, wait, must go try and understand and fill in another spreadsheet, eek!
---
Wed 11 Jan 2012 - Filed under: Not a Journal., events, Kelly Link | Leave a Comment| Posted by: Gavin
It's an all Kelly night at KGB Fantastic Fiction at the excellent KGB Bar in NYC next Wednesday:
FANTASTIC FICTION at KGB reading series, hosts Ellen Datlow and Matthew Kressel present:

James Patrick Kelly is best known for his short fiction, Including "Think Like A Dinosaur,"  "Ten to the Sixteenth to One" and "Burn."   His work has been translated into nineteen languages and has won the Hugo, Nebula, and Locus awards.  His most recent publishing venture is the ezine James Patrick Kelly's Strangeways on Kindle and Nook.
&
Kelly Link is the author of three collections of stories and her fiction has won three Nebula Awards, a Hugo, and a World Fantasy Award. She recently co-edited Steampunk!: An anthology of Fantastically Rich and Strange Stories with her husband Gavin J. Grant
Wednesday January 18th, 7pm at
KGB Bar, 85 East 4th Street (just off 2nd Ave, upstairs.)
http://www.kgbfantasticfiction.org/
Subscribe to our mailing list:
http://groups.yahoo.com/group/kgbfantasticfiction/
Readings are always free.
Please forward to friends at your own discretion.
---
Wed 2 Nov 2011 - Filed under: Not a Journal., bookstores, Delia Sherman, events, podcast, steampunk | 1 Comment| Posted by: Gavin
Wow, did we get snowed under. The early snowstorm here in New England means that Julie is off doing sekrit real (saving the) world work for peeps without power which means we won't have a podcast this week. Besides, we're not even sure if the power will be on at the office tomorrow!
That also means all orders are a bit delayed—including pre-orders of The Freedom Maze, which should have shipped out Monday. My apologies!
It's been pretty incredible here over the last few days and we know a lot of people without power. But everyone really is hanging together.
If all goes well, Kelly and I and Cassandra Clare will be reading and signing from Steampunk! tomorrow night at the Odyssey Bookstore in South Hadley:
Thursday, Nov. 3, 7 PM
The Odyssey Bookshop
9 College St.
S. Hadley, MA 01075
The Odyssey, one of our excellent local indie bookstores, never charges for kids' events, so the reading & Q&A will be open to anyone who would like to attend. However, they do require that attendees purchase Steampunk! from them in order to get into the signing line. The good news is that you can bring as many other books from home as you like to have signed but you do need to purchase the new book from the bookstore.
Also! While supplies last they will be giving a free YA ARC to attendees in Steampunk attire.
---
Mon 18 Jul 2011 - Filed under: Not a Journal., events | Leave a Comment| Posted by: Gavin
Busy week for Small Beer readings:
Thursday, July 21, Ayize Jama-Everett is reading from The Liminal People (you can sign up here to get a free copy from LibraryThing) as part of an open reading at the "Black Futurists: Progressive Thought to Sci-Fi" exhibit:
African American Art and Culture Complex (AAACC)
1410 Turk St, San Francisco, CA 94115 (Map)
(415) 922-2049
| | |
| --- | --- |
| Jul 21st, 2011 (Thu) | 7:00 PM – 9:30 PM |
Open Mic – Hosted my D. Scot Miller

Location: Floor 1

D. Scot Miller welcomes featured Black Futurist readers and host open mic. Speculative and fantastic poetry and fiction that explores possible and alternate futures within and around the diaspora are welcome!
The same night (7/19, 7 PM) here in Boston, Kelly Link, Gavin J. Grant (me!), David Blair, Michael J. DeLuca will be reading from the new issue of LCRW, #27, at the New England Institute of Art.
The Library Reading Room, Second Floor, Main Campus
New England Institute of Art, 10 Brookline Place West, Brookline, MA 02445-7295
1.617.739.1700 • 1.800.903.4425
And on Wednesday (7/20, 7 PM) down there in Gotham City, Geoff Ryman will be celebrating the release of his first short story collection, Paradise Tales, at the KGB Fantastic Fiction Reading Series, held every month at the most excellent KGB Bar, 85 E. 4th St., NYC.
And then next Tuesday (7/26, 7 PM), in LA, Lydia Millet reads from her first children's book, The Fires Beneath the Sea, at another most excellent venue, Vroman's Bookstore in Pasadena, California.
Hope you can get out to one of them. Photos always welcome!
---
Thu 7 Jul 2011 - Filed under: Not a Journal., events | 1 Comment| Posted by: Gavin
we have copies of two new books in stock! Lydia Millet's first book for kids, The Fires Beneath the Sea (our third Big Mouth House title), and Geoff Ryman's long-delayed new collection, Paradise Tales. One for the kids, one for the adults!

Los Angeles News Flash! We just confirmed a reading for Lydia on July 26th at 7 PM at the most excellent indie Vroman's Bookstore in Pasadena.

Boston, not a news flash: Geoff is one of the Guests of Honor at Readercon in Boston next week (and is reading at KGB in NYC after that) so we will have stacks of his books for your enjoyment. We'll also have some signed copies in the office after the con.
Which reminds me of one of the things we should make more of a fuss about . . . we have signed copies of a bunch of our books! Order here and they're yours (free shipping in the US & Canada as usual):
Alan DeNiro · Skinny Dipping in the Lake of the Dead (5)
Carol Emshwiller · The Mount (5); Carmen Dog (2)
Greer Gilman · Cloud & Ashes: Three Winter's Tales (2)
Julia Holmes · Meeks (6)
John Kessel · The Baum Plan for Financial Independence and Other Stories (5 hardcovers)
Kelly Link · Stranger Things Happen (5)
Kelly Link · Magic for Beginners (5)
Laurie J. Marks · Water Logic (7)
Vincent McCaffrey · Hound (5)
Maureen F. McHugh · Mothers & Other Monsters (8 pb, 4 hc)
Benjamin Parzybok · Couch (5)
Geoff Ryman · The King's Last Song (2)
Sean Stewart · Mockingbird (1);  Perfect Circle (4)
Jennifer Stevenson · Trash Sex Magic (2)
Howard Waldrop · Howard Who? (7)
---
Mon 30 May 2011 - Filed under: Not a Journal., Cons, events, Publishing, readings, Small Beer Press, To Read Pile, Ursula | Leave a Comment| Posted by: Gavin
But we don't take any pictures. Not true. More like: we haven't yet uploaded any. Soon(ish).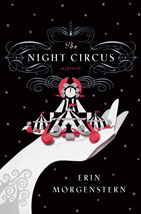 We're back from BookExpo (BEA) where we missed more than ever. At a convention that big you always know there's something you're missing. This time, even with lower attendance and fewer exhibitors than in the past, I missed more due to our own little chaos field: our 2-year-old daughter, Ursula. To a 2-y.o. kid, BEA is: lights, balloons, not a great place to nap, full of strangers—some are nice (some will give you books!), some scary. And unlike her parents, she did not want to be tethered to one spot, meet people, and talk about books. She wanted to go go go. So go we went. Which was great for catching up with other exhibitors and occasionally picking up a book: thanks to Frazer & Sally of Park Road Books in Charlotte we got a couple of indestructible books from Workman which, true to their name, have yet to be destroyed. Amazing how many books fall apart if they're read every day.
The one outside event I went to was an sf reading/q&a I MC-ed which was organized by Gina Gagliano of First Second Books and the New York Public Library. It was a fun night with readings by Lev Grossman, John "William Shatner" Scalzi,  Cat Valente, and Scott Westerfled. Brian Slattery and three other musicians accompanied the readings and there was a q&a afterward. I made a few mistakes: I thought it was the year 2911 and this was 1000th anniversary of the Stephen Schwarzman building and that I was introducing historians, not futurians. But it all seemed to work out ok. I don't know how the afterparty went as I had to slope off and put the kid to sleep. New Yorkers who like the sci-fi: NYPL has you covered this summer.
---
Wed 27 Apr 2011 - Filed under: Not a Journal., events | Leave a Comment| Posted by: Gavin
This Friday in Brooklyn there's only one place to be: the One Story Literary Debutante Ball—and Small Beer Press are very proud to be one of the sponsors!
When: Friday, April 29, 2011, 7pm – 11pm
Where: The Invisible Dog Art Center
51 Bergen St. (between Smith St. & Court St.)
Brooklyn, NY 11201
The Invisible Dog is located half-block from the Bergen Street F station. There are special cocktails. There is a freight elevator and on the walls of the shaft an Italian painter has drawn the words to Dante's Inferno. Upstairs, there's a VIP party with a champagne table hosted by the Bubble Lounge, hors d'oevres and a swing band, Lapis Luna. There are 60 incredible pieces of art in the art auction by both established and emerging artists. Dani Shaprio is the host, there are  cookies baked by the One Story staff, and after the debutante presentations, the dancing begins! If you're wondering what to wear, Marie-Helene Bertino has written a helpful post here.
All literary events should end with dancing! Sounds like an excellent evening. Maybe even see you there?
7pm – 9pm
Gallery Opening & Silent Auction,
Drinks & Hors d'oeuvres
8pm – 9pm
Presentation of Debutantes & Mentorship Award
9pm – 11pm
Dancing & Celebration
---
Fri 8 Oct 2010 - Filed under: Not a Journal., events, Kelly Link | 1 Comment| Posted by: Gavin
(Ganked wholesale from the Literary Death Match site.)
Save a few bucks – buy tickets now!
One of the all-time great lineups in Literary Death Match history takes center stage at Enormous Room in Cambridge, as our epic LDM100 celebration touches down for its fifth stop on the eastern seaboard.
The megastar judging trio boasts PEN/Hemingway award-winning author Jennifer Haigh (Mrs. Kimble, The Condition), author/mastermind of fun Steve Almond (Rock and Roll Will Save Your Life) and comedian-for-the-people Steve Macone.
They'll pass judgment on a truly brilliant quartet of scribes, including poet brillianteur Charles Coe (author of Picnic on the Moon), Hugo award-winner Kelly Link (Stranger Things Happen), Iowa Short Fiction Prize champ Elizabeth Searle (Celebrities in Disgrace) and star novellaist Tim Horvath (Circulation).
Hosted by LDM creator Todd Zuniga & designer/funambulist Kirsten Sims.
Where: Enormous Room, 569 Massachusetts Ave, Cambridge (map)
When: Doors open at 7:00 pm, show starts at 8:15 (sharp)
Cost: $7 pre-order, $5 for students with a valid student ID, $10 at the door
NOTE: No one under 21 years old will be admitted.
---
Fri 19 Mar 2010 - Filed under: Not a Journal., events, Pop, Publishing | 1 Comment| Posted by: Gavin
Here's looking forward to some fun. What you going to do the night before BookExpo in NYC in May? There is no choice: there's only Wrrrrrrock Onnn!?!
The mighty people at Two Dollar Radio have put together a fan-tastic sounding event and all proceeds benefit Girls Write Now. When they pinged us and asked "So, you up for this?" we immediately flew the torn black t-shirt of approval. The show features Care Bears on Fire and Japanther and maybe a few other things, and the more monies spent, the more Girls Write Now.
See you there!
---