Tue 24 May 2016 - Filed under: Not a Journal., Cons, Sofia Samatar | Leave a Comment| Posted by: Gavin
I was very happy to see The Winged Histories receive its second starred review, this one from Publishers Weekly. Here's a snippet:
"Perpetually and pleasantly startling and unexpected. Her prose is by turns sharp and sumptuous, and always perfectly controlled. Samatar's writing strongly recalls Guy Gavriel Kay's fantasy, which reads like historical fiction, but there are strains here too of Jane Austen and something wilder."
(BTW, we have signed copies from AWP if you'd like one.)
The timing of this review is fortuitous as this coming weekend Sofia is one of the three guests of honor at WisCon 40. I don't know which Wiscon was my first — I think I will ask Kelly who has a better memory and will confirm that, no, I was not at the first one despite being the average seven year old reader of all things who would have enjoyed it. But I have many happy memories from going to many of them over the years, and a few crap memories, too, but c'est la vie, yes? The harassment policies are stronger now and I am more likely to speak up for myself in a way I did not in the past. Ach, youth. I wonder if in 20 years time I will look back at me now and still say, Ach, youth? (Hey, if the world has not flooded by then, sure.)
One of the things I have long loved about WisCon is the self selection of the attendees. Pretty much anyone who wanders into a convention tagged feminist science fiction has done some serious thinking about the state of the world — and whether we agreed or not, I've been to many panels (and parties, and conversations sitting on the floor of the hallway) where the conversations about where humanity is and where it is going are second to none.
I also love the speeches (wow!), the consuite (who knows when a snack is needed?), the Tiptree dessert sale (best reason ever to eat a plate or two of desserts), the opening night at Room of One's Own, State Street restaurants, the art show and the auction — I have a few things from the auction that are still prize possessions. And of course, I love the book room, but, hey, that would not be a surprise. There are so many good publishers and bookstores. For the past half dozen years our friend David Schwartz has run the Small Beer tables, and he's at it again this year. If you're there, say hi. Hi, Dave!
I am sorry to miss it this year. Maybe next? I had a great time last year — although I ran a lackluster party which did not hold a candle to previous parties, sorry attendees! Sometimes the energy is there, sometimes you flip the switch and nothing happens. Eek. Besides, this decade the Floomp is the one and only place to be. How do I know? I saw photos from last year while I was babysitting. (The childcare at WisCon is topnotch and much appreciated.)
I will miss friends, strangers, seeing Sofia and Nalo feted, wandering around the farmer's market, escaping to Michelangelo's and attending a reading there anyway, and so many more things. It will be a fun, fast weekend, filled with the possibilities of bending the future into better shape and I hope everyone there has a grand time.
---
Thu 12 Nov 2015 - Filed under: Not a Journal., Awards, Cons, Publishing, the world | 4 Comments| Posted by: Gavin
Dear H.P. Lovecraft fan who are upset that the World Fantasy Award statuette will no longer be Gahan Wilson's bust of HPL: you have my sympathies. It's hard to see the cultural assessment of someone you love and respect change as time passes.
But: being rude and insulting writers? That can stop now, thanks.
Winners returning the award seems a bit over the top to me — I just got one and I'm not giving it back! — especially as the HPL publishing biz seems to grow and grow and no one is saying don't read his books. He's taught all over the country and there are so many of his books out there that even if all his titles were . . .  by some eldritch and unspeakable pact . . . (sorry) taken out of print right now there are so many copies in used book stores there is no way people would stop reading him.
I'm curious what the new design will be, although I don't envy the board the choice. But this was never the Lovecraft award, it's the World Fantasy Award. Who knows: from now on it may change every year, every 40 years.
I'm proud of — and grateful to — everyone in the writing, reading, and publishing community who worked towards this change and for the World Fantasy Convention Board for recognizing the need for change.
Peace in our time!
---
Mon 9 Nov 2015 - Filed under: Not a Journal., Awards, conferences, Cons, history's wave crashing over us all, World Fantasy Awards | 3 Comments| Posted by: Gavin
Holy bananas, that ended surprisingly well!
This is why I never write these things. There's too much I'll miss and that's an hour I should have been napping after the weekend working working!
The book room was a huge, great well-lit space with tons of space for the crowds of eager readers ready to snap up hot hot books. Sadly said readers seemed to be seduced by Saratoga Springs's lovely streets and great restaurants and mostly did not appear. Or they couldn't get memberships or something. Darn it.
That said, Ninepin Press sold tons of copies of The Family Arcana from our table. People love Jed's story-as-pack-of-cards.
Lovely restaurants: Karavalli (Indian, wow); Hattie's (all the sides = dinner for this happy vegetarian); Four Seasons (very handy for a box lunch for still happy parent and child); Cantina (Mexican: can you sit 10 people with no reservation for Sunday lunch? No problem — nice, thank you!).
Out-of-con experiences: taking a 6-year-old to a con immediately changes everything. There are too many people, it's chaotic, it's an unfamiliar space — and, yes, that's just me. But she made half a dozen books and met some friends so it was not all bad. And: hotel swimming pool, of course! Kid's museum: high five for pre-arranged play dates! Another of course: the park. Hooray for finding the Triton's pool and the statues of Pan, Dionysus, and the Maenads as well as leaves, man, leaves. You can do a lot with leaves and a bit of Greek mythology goes a long way.
Meanwhile: Gary K. Wolfe reviewed Mary Rickert's new book You Have Never Been Here in the Chicago Tribune. All right!
The Three Ps:
Panels: they were epic! I suppose as I did not go to any, see out-of-con-experiences above, previously mentioned (and sometimes coldly abandoned) table in book room, and the theme was Epic Fantasy. There were some people I'd have loved to see on panels but I did not. C'est la vie.
People: it is great to see friends and meet people only known online or . . . once-were complete strangers. I had one meeting at the con with Ron Eckel of Cooke International who does a fab job of selling our books abroad (dammit, that reminds me I have a list of things I have to send him) and otherwise "relied" on happenstance, which worked out mostly ok but for everyone I did not actually see. Oops.
Parties: I got to two (er, I think), Kickstarter and Ellen Kushner et al's Tremontaine, and they were both busy and well supplied, yay! The latter was such a happening that I ended up sitting on the floor outside chatting for a long, long while with many good people.
Also:
The art show was great! We got a tiny skull with crown papercut by Kathleen Jennings and a fantastic painting we've admired for years by Derek Ford.
I sneaked a galley of Sofia Samatar's forthcoming novel The Winged Histories to one of the happiest people I know, Amal El-Mohtar. Yay!
Chatted with Jeffrey Ford and Christopher Rowe. Why pick those two out of the hundreds? Because we like to transmute art into commerce and 2016 will see Jeff's new collection A Natural History of Hell coming out and 2017 will see Christopher's debut collection for which you should put in an extra pair of socks because it will knock them right off you and fortunately he is a much better writer than me so his book is actually good while my blog posts are, well, here we are, it never will end, will it?
Happily:
The bust of H.P. Lovecraft is done and gone as the World Fantasy Award. Well done Gahan Wilson for making it in the first place and the board for making the decision. The world changes and we change with it and everyone I know is happy about this change.
Goofy story:
On Sunday we went out to lunch with friends rather than taking the kid to the banquet. At 1:30 or so I got a phone call from Gordon Van Gelder (one of the award administrators) who asked if we'd be at the award ceremony later as he was wondering if our kids could have another play date while the adults droned on about awards. I thought this was a great idea so we made a play date.
Which made sure we were back at the hotel.
In time for the awards ceremony.
In which we received an award.
Ha!
I swear I am not usually this dense (um, honestly . . .) but since the kids had had such a good time on Friday I figured this was legit. Ha again! I've even been party to wrangling unknowing award winners in the past. If anything I thought, hey, maybe Kelly's story . . . ? but I really thought, ooh, playdate = happy kid. Hats off to Gordon, nicely done.
And the awards!
Congratulations to all the winners — and the nominees — especially Sandra Kasturi and Brett Savory at ChiZine whose work ethic and determination to push great, dark books into the world is unequaled. It was fantastic to see the collection award shared between Angela Slatter and Helen Marshall. I hate awards because it is silly that not everything gets the prize. I was happy to remember Kathleen Addison's The Goblin Emperor had won the Locus Award and I cannot wait until Kai Ashante Wilson starts racking them up. I wish Life Achievement award winner Sherri S. Tepper had been there because some of her books blew me away and I'd have liked to thank her.
It is an honor to have been nominated and a surprise to win. I did not have a speech — not hubris, I just thought the jury would go for something else as these awards tend towards the darker side of fantasy and as ever it was a very strong category. But afterwards I realized how silly I was: the book had a decent chance: it is called Monstrous Affections, the stories are bleak, amazing, dark, scary, fantastic. Of course I think it should win all the awards (hello Mr. Nobel Prize, do you do YA anthologies? Have you read Alice Sola Kim's story that ends the book? Dare you to read it all alone late at night . . .) but still. And. Also. Anyway.
Thanks to the writers and artists in the book — this award is obviously really all about their stories. Thanks to Deborah Noyes our editor at Candlewick Press as well as Nathan Pyritz the designer and everyone at Candlewick who have made working on this book (and Steampunk!) such a joy. Thanks also to cover artist Yuko Shimizu and as always to Kelly's fabulous and steadfast agent Renée Zuckerbrot. We're grateful to the judges for their hard work and to the readers everywhere who have allowed us to keep living the dream.
---
Thu 5 Nov 2015 - Filed under: Not a Journal., Cons, contemporary versus contempohoary, conventions | Leave a Comment| Posted by: Gavin
Or, at least, the WFC in Saratoga Springs this weekend. (It's not the town, it's just some of the panels.) We'll be in the Dealers' Room with a tower of books so high you can see the present from the top. We have deals! Come on by! (Ok, if you're not there are are in the US and want the same deals, Send Money by Paypal and you're on.)
Also on the plan for the weekend: swim (maybe not in the Springs . . . ), visit the new Northshire Books, visit the kids museum, visit the bar, visit the bar, you know how it it. We are also transporting secret whiskey for someone who is not us, very exciting. Say hi if you're there! I'm the one arguing with the 6-year-old while Jedediah Berry and Emily Houk of Ninepin Press sell our books and their cards!
---
Sun 9 Nov 2014 - Filed under: Not a Journal., Awards, Cons, Sofia Samatar | 1 Comment| Posted by: Gavin
We are so, so happy to celebrate Sofia Samatar's novel A Stranger in Olondria receiving the World Fantasy Award. Congratulations and all joy to Sofia whose debut novel has been so widely recognized as a strong, inventive, and fabulous addition to the field. Besides the World Fantasy Award, Olondria has also received the British Fantasy and Crawford awards and was a Nebula and Locus finalist and Sofia won the John W. Campbell Award for Best New Writer.
Congratulations are due to all the nominees and the winners:
Life Achievement: Ellen Datlow and Chelsea Quinn Yarbro
Novel: A Stranger in Olondria, Sofia Samatar (Small Beer)
Novella: "Wakulla Springs", Andy Duncan & Ellen Klages (Tor.com 10/2/13)
Short Fiction: "The Prayer of Ninety Cats", Caitlín R. Kiernan (Subterranean Spring '13)
Anthology: Dangerous Women, George R.R. Martin & Gardner Dozois, eds. (Tor; Voyager)
Collection: The Ape's Wife and Other Stories, Caitlín R. Kiernan (Subterranean)
Artist: Charles Vess
Special Award – Professional: (tie) Irene Gallo, for art direction of Tor.com and William K. Schafer, for Subterranean Press
Special Award – Nonprofessional: Kate Baker, Neil Clarke, & Sean Wallace, for Clarkesworld
We spent the weekend in Arlington, VA, at the World Fantasy Convention catching up with many friends and meeting many new people. Our book haul was impressive! We came down from Massachusetts on the train with Kathleen Jennings whose illustration graces the cover of Olondria and throughout the weekend I was lucky enough to spend time with both Sofia and Kathleen. Part of the joy of the time was knowing that Sofia and Kathleen were comparing notes and that they were both looking forward to working on the cover of Sofia's next novel, The Winged Histories, which, along with a short story collection, Small Beer Press will publish.
Once they've arrived back from Virginia, we'll have a few signed copies of A Stranger in Olondria in stock (the hardcover will be out of print soon) as well as a few signed copies each of books from Ysabeau S. Wilce, Eileen Gunn, Nathan Ballingrud, Ted Chiang.
---
Tue 8 Jul 2014 - Filed under: Not a Journal., Chris Brown, Cons, Delia Sherman, Eileen Gunn, Elizabeth Hand, Ellen Kushner, Greer Gilman, Kelly Link, Readercon, Sofia Samatar | Leave a Comment| Posted by: Gavin
Hey, are you going to Readercon this weekend? We are! Well . . . Kelly will be there Friday and then she is flying off at oh-dark-thirty on Saturday for beautiful Portland, Oregon, where she'll be one of the fab faculty at the Tin House Writers Workshop. OK, Tin House first: it's held at Reed College, Oregon, and Kelly is doing a seminar:
Wednesday July 16th, 3pm, Vollum Lecture Hall
Nighttime Logic: Ghost Stories, Fairy Tales, Dreams, and the Uncanny, with Kelly Link
The writer Howard Waldrop distinguishes between the kinds of stories that rely upon daytime logic and stories that use nighttime logic. What does he mean by this? We'll examine writers, stories, and techniques that dislocate the reader and make the world strange. 
and a reading:
Thursday, July 17th, 8pm
Reading and signing with Kelly Link, Mary Ruefle, Antonya Nelson
Kelly is not on programming at Readercon. But, many, many Small Beer authors are! Some of them may be familiar, some will have travelled many miles to be there. Check out the program here to see where these fine folks will be:
All the way from Seattle: Eileen Gunn!
All the way from Austin! Chris Brown
Shirley Jackson Award nominee Greer Gilman [fingers crossed for both that and for an appearance by Exit, Pursued by a Bear]
Up from NYC: Ellen Kushner & Delia Sherman
Down the coast from Maine: Elizabeth Hand
Al the way from California, Crawford Award winner Sofia Samatar
— which all means we will have signed copies to go out from next Monday onward. (Want a personalized book? Leave a note with your order!)
I (Gavin) have two things scheduled:
Friday
4:00 PM    CL    Kaffeeklatsch. Gavin Grant, Yoon Ha Lee.
Saturday
10:00 AM    G    Books That Deserve to Remain Unspoiled. Jonathan Crowe, Gavin Grant, Kate Nepveu, Graham Sleight, Gayle Surrette (moderator). In a 2013 review of Joyce Carol Oates's The Accursed, Stephen King stated, "While I consider the Internet-fueled concern with 'spoilers' rather infantile, the true secrets of well-made fiction deserve to be kept." How does spoiler-acquired knowledge change our reading of fiction? Are some books more "deserving" of going unspoiled than others? If so, what criteria do we apply to determine those works?
If you have big opinions about spoilers, tell me! Wait, don't spoil the panel! Wait! Do!
We will have two tables in the book room, where, besides our own best-in-the-world-books we will also help DESTROY SCIENCE FICTION, yay! We will have copies of the limited print edition of one of the most interesting (and huge, it is $30, has color illustrations, plus an additional story) anthologies of recent days: Women Destroy Science Fiction edited by Christie Yant and with a pretty incredible Table of Contents.
Come by and say hi!
---
Fri 5 Jul 2013 - Filed under: Not a Journal., Cons, Nathan Ballingrud | Leave a Comment| Posted by: Gavin
Nathan Ballingrud will be at Readercon next weekend in Burlington, Mass. (Additional readings are also scheduled, see below.)
If you'd like a signed or personalized copy of North American Lake Monsters (publication date is July 16th), we'll take orders until this Thursday, July 11th, and then mail copies out the next week.
July
11 – 14, Readercon, Boston, MA
17, 7 pm, KGB Bar, NYC
28 – Aug. 3, Shared Worlds, Wofford College, SC
August
3, 7 pm, Quail Ridge Books, Raleigh, NC (Bull Spec 3rd annual summer speculative fiction event)
28, 7 pm, Malaprop's, Asheville, NC
---
Mon 1 Oct 2012 - Filed under: Not a Journal., Cons, Kelly Link, travel | 2 Comments| Posted by: Gavin
Tomorrow we're off to Uppsala in Sweden to Kontrast where Kelly's one of the guests of honor along with Joe Abercrombie and Peter Watts. Can't wait! Kelly's collection, Pretty Monsters, has just come out there (in two volumes, sort of the same way it was done in Australia) and we are going to get to meet her translator, Ia Lind, as well as the lovely folks at X Publishing . . . and then there is the con: so far, so good on that front. They've been wonderfully communicative and helpful with our odd requests (beer! chocolate! carseats!). Besides the Glasgow Worldcon in 2005 it will be our first Eurocon.
You can check out programming here and I've pasted our schedule below. I'm mostly on childcare but I do get to talk about the Death of Science Fiction (ok, "Science fiction and the future") on Saturday. Ideas for that panel are most welcome! Kelly will probably do a workshop (always her first love), too.
After Sweden we're going to visit family in Den Haag (yay!) so we will be mostly offline for a bit. Although that doesn't ever really work anymore, does it?
KELLY LINK
Friday
19:00 Short opening ceremony followed by signing
Saturday
13:00 The short story and the ideas panel
17:00 Writing and research panel
19:00 What has steampunk got to say about us? panel
Sunday
13:00 GoH interview
16:00 Closing ceremony
GAVIN J. GRANT
Saturday
11:00 Science fiction and the future
---
Mon 11 Jul 2011 - Filed under: Not a Journal., Cons, Geoff Ryman, Karen Joy Fowler | Leave a Comment| Posted by: Gavin
First: a new interview with Karen Joy Fowler! That is one smart person. (Two, since Charles Tan did the interview.)
This week we have a new book out. What? You didn't know? It's true that Geoff Ryman's Paradise Tales was delayed a couple of times, but, Bam! Here it is. What a book. More on that later. Later this week, that is. Later this month, two series books (from me, who loves standalone titles!), Hound 2, as we call A Slepyng Hound to Wake and the first book in Lydia Millet's new series for kids, The Fires Beneath the Sea.
Geoff's one of the Guests of Honor at Readercon so we're going to give him a beer and get him to sign a ton of books. If you would like them personalized, we;ll see what we can do.
Readercon begins for us on Friday when we take some books &c* in to the dealer's room where we get to catch up with some friends—and buy some books from them. Should be a busy time as, yes, we are bringing our daughter Ursula, so we'll see how well this works.
Here's my tiny Readercon Schedule:
2:00 PM NH    Three Messages and a Warning group reading. Chris N. Brown, Michael J. DeLuca, Gavin J. Grant. Gavin Grant (publisher), Chris N. Brown (editor) and Michael J. DeLuca (translator) read from the anthology Three Messages and a Warning: Contemporary Mexican Short Stories of the Fantastic, forthcoming from Small Beer Press.
3:00 PM Vin.    Kaffeeklatsch. Gavin J. Grant, Kelly Link.
And I will post Kelly's when I'm more sure of it.
* What can the &c be? We've heard tell of t-shirts. Maybe. Water bottles? No. Drinkables? Surely not?
---
Mon 30 May 2011 - Filed under: Not a Journal., Cons, events, Publishing, readings, Small Beer Press, To Read Pile, Ursula | Leave a Comment| Posted by: Gavin
But we don't take any pictures. Not true. More like: we haven't yet uploaded any. Soon(ish).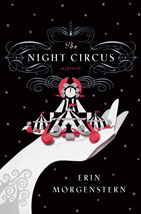 We're back from BookExpo (BEA) where we missed more than ever. At a convention that big you always know there's something you're missing. This time, even with lower attendance and fewer exhibitors than in the past, I missed more due to our own little chaos field: our 2-year-old daughter, Ursula. To a 2-y.o. kid, BEA is: lights, balloons, not a great place to nap, full of strangers—some are nice (some will give you books!), some scary. And unlike her parents, she did not want to be tethered to one spot, meet people, and talk about books. She wanted to go go go. So go we went. Which was great for catching up with other exhibitors and occasionally picking up a book: thanks to Frazer & Sally of Park Road Books in Charlotte we got a couple of indestructible books from Workman which, true to their name, have yet to be destroyed. Amazing how many books fall apart if they're read every day.
The one outside event I went to was an sf reading/q&a I MC-ed which was organized by Gina Gagliano of First Second Books and the New York Public Library. It was a fun night with readings by Lev Grossman, John "William Shatner" Scalzi,  Cat Valente, and Scott Westerfled. Brian Slattery and three other musicians accompanied the readings and there was a q&a afterward. I made a few mistakes: I thought it was the year 2911 and this was 1000th anniversary of the Stephen Schwarzman building and that I was introducing historians, not futurians. But it all seemed to work out ok. I don't know how the afterparty went as I had to slope off and put the kid to sleep. New Yorkers who like the sci-fi: NYPL has you covered this summer.
---
Thu 17 Feb 2011 - Filed under: Not a Journal., Cons, Gavin J. Grant, Kelly Link | Leave a Comment| Posted by: Gavin
Hey, we're going to be at Boskone this weekend. Here's Kelly's and my schedules—all dependent of course on all people with colds/flus/con crud staying away, por favor, so that we can bring Ursula and have some fun running around with her. Not sure what we're going to do at naptime. Maybe go off home. Michael will be there, too, although I'm not sure if he's panelling after all. We'll be sporting some nice new shirts and will be experimenting with a Weightless thing.
Kelly Link:
Saturday 11am Harbor 3: New Faces of Science Fiction/Fantasy/Horror
These exceptional writers may still be in the early stages of their career, but already we catch glimpses of greatness. Let's name names — and talk about what makes them so special.
Laird Barron, Peter V. Brett, Paul Di Filippo (m), David Anthony Durham, Kelly Link
Sunday 1pm Harbor 1: A Child's Garden of Dystopias — the Boom in Nasty Worlds for Children
Why do dystopias and YA literature seem to go together? Are YA dystopias more common now than previously? Are there differences between YA and adult dystopias — perhaps a different ratio of cynicism to hope? How does "if this goes on" fit in? Consider this article.
Bruce Coville, Theodora Goss, Jack M. Haringa (m), Kelly Link
Gavin:
Saturday 1pm Lewis: The Small Press: Bigger Than Ever?
Boutique publishers and small presses are publishing more of the best stuff in the field every year. True? Who? How? Why? And what about the future? What's the role of the small press in a world dominated by e-books?
Neil Clarke, Gavin Grant, Valerie L. Grimm (m), Joe Hill
Sunday 11am Harbor 3: The e-Book Market
E-books appear to be the wave of the future. How does a professional who wishes to continue to make a living surf that wave?
Jeffrey A. Carver, Neil Clarke (m), John R. Douglas, Gavin Grant, Charles Stross, Eleanor Wood
---
Tue 25 Jan 2011 - Filed under: Not a Journal., Cons, Freebies, tea, YouTube | Leave a Comment| Posted by: Gavin
Go bid on a Small Beer Sixpack at Con or Bust! (Also included: an LCRW subscription, any other non-SBP books we find around the office.) If you bid more than $200 we'll swap out the local brew sixpack holder for a lovely, handmade, wooden Small Beer Press beer holder which you can proudly tote your beer (or other beverage of choice) around in for years to come.
Who? What? "Con or Bust helps people of color attend WisCon and other SFF conventions that are committed to increasing racial diversity and understanding in science fiction and fantasy fandom and the field generally."
What's this Sixpack? Listeners to "Forum with Michael Krasny" on KQED in San Francisco can hear more about it tomorrow (Wednesday) morning at approximately 10:52 because they have some Sixpacks to give out to supporters. San Francisco: get your radio and your books on!
Also, later in spring, WPR in Minnesota will have some, too.
Meanwhile, I just made a pot of Fahari Ya Kenya tea—it's lovely stuff: a real rocket to the moon. Half the time (actually: more than half) I end up making bog standard tea using Irish or British teabags so it was nice to make a real pot. The tea was brought from Kenya by a local writer, David Rowinski (who will have a story in an upcoming issue of LCRW), who picked it up while visiting his wife, singer Sali Oyugi. He also brought some books and we've been listening to one of his wife's previous CDs, "The Return: Journey to the Source." This song isn't on the CD but here's one of her's on the mighty Tube:
---
Fri 19 Feb 2010 - Filed under: Not a Journal., Alasdair Gray, Big Mouth House, Cons, Holly Black, Interstitial Arts, Jedediah Berry, John Kessel, Kelly Link, To Read Pile | 1 Comment| Posted by: Gavin
Today's the day when The Poison Eaters should be showing up the office. Dum-de-dum (waits, impatiently). Nice reviews have recently shown up in School Library Journal ("Although they are often centered on bleak, dark characters, the pieces inspire hope, are touching and delightful, and even turn the most ghoulish characters into feeling beings.") and in BookPage (she shows "amazing range"—yes indeed she does!).
Update: Powell's say they have it in their remote warehouse! Any remote viewers who can see it?? Maybe they mean Ingram, as they have it.
So in the meantime a few things:
Alasdair Gray (Old Men in Love) writes about the importance of place. Consider, he suggests, Dumbarton (which means "fortress of the Britons").
We dropped the price of last year's hottie The Baum Plan for Financial Independence to $9.95.
Fantasy Magazine reviews Interfictions 2 and suggests it's an "anthology of literary fantasy." Yours to agree or disagree about. Get your copy.
Con or Bust is running a fundraiser auction to assist people of color who want to attend WisCon from Feb. 22—Mar. 13. They're looking for donations and buyers! Any suggestions for what we should donate??
BTW, if you're going to WisCon, I'll see you there! Sans baby, sadly (will try not to whine too much. But will some, so there). Maybe 2011.
We just signed up another book. Well, verbally. Will wait for the contracts (always good to have it on paper before announcing things) and then spring it upon the world. Fun fun fun!
The post office just delivered an empty envelope that should have been full of zines. Woe is me.
Past-LCRW contributor Katharine Beutner who is "currently being squashed under the weight of my dissertation" slipped out from underneath it to do an interview with us about her Ancient Greek underworld novel Alcestis which is out this month. Interview will go up next week or so.
Joe Hill's second novel Horns just came out. Read the first chapter here. There's also an app for it. Phew. He's on tour now.
Kelly's contributor copies of Ellen Datlow's new anthology, Tails of Wonder and Imagination just came in—her story is "Catskin" is one of many many other stories about cats. Who knew people wrote so much about the little beasties?
Might be imagining seeing a copy of The Best Science Fiction and Fantasy of the Year, Vol. 4.

Jed is back from tour — he managed to write that floaty bike all the way to the west coast and back and even managed to escape Chicago despite its many charms and massive amounts of snow.
Tra la la la la. Wait. Dum-de-dum. Wait some more.
---
Wed 27 May 2009 - Filed under: Not a Journal., Big Mouth House, Cons, Holly Black, Interstitial Arts, Vincent McCaffrey | 2 Comments| Posted by: Gavin
A good time? Knishes?* A trip back in time to the 1890s?
Or, maybe, books to show off — and even some to give away — at BookExpo. Which books? Lots to show off since last year, including The Baum Plan, The Ant King, The King's Last Song, The Serial Garden, and now Cloud & Ashes.
Wait, wait, wait, though. Did we ever mention the books we're going to be publishing this autumn and winter? The books we have been reading and playing with and designing and sometimes talking to the authors and thinking about covers but never actually doing anything about them? No?
Hot dang and Whoops!
Ok then, here are our next four titles (plus we have more more more TK after these, ha!) of which we will have early early not-at-all-real copies at BookExpo this week (as they are in various stages of discomportment and have just arrived in from a couple of different local printers):
September: Hound by Vincent McCaffrey. A debut novel about a Boston bookhound, books, death, and maybe the death of books. This is the first in a series and it will come out in hardcover.
October: Second Line: Two Short Novels of Love and Cooking in New Orleans by Poppy Z. Brite. This paperback collects two of Poppy Z. Brite's chaotic and fun short novels (The Value of X and D*U*C*K) featuring two New Orleans chefs, Rickey and G-man, who grow up together, fall in love, open a restaurant, Liquor, and have some fun along the way. Poppy is writing a new afterword to go with the novels. Love this series, love that we get to be a part of publishing it. Huge thanks to Bill Schafer of Subterranean Press for helping put this together.
November: Interfictions 2: An Anthology of Interstitial Writing edited by Delia Sherman and Christopher Barzak. The editors went out into the fields and found 21 pieces of excellently border-crossing material. They're also putting together an online launch party and auction which will be filled with wonderful art, music, and stories. The book will be the icing and the cake, though.
January: Suprise! We are still eating Christmas cake and not thinking about books. Not all true, though, as Feb. is going to be a big

mouth

month:
February 2010: The Poison Eaters and Other Stories by Holly Black. Our second Big Mouth House title is a debut collection of young adult stories from New York Times bestseller (and one of our neighbors), Holly Black. Holly's stories have just gone from strength to strength over the past few years — as evidenced by her appearances in various Best of the Year anthologies and lists. The Poison Eaters includes a new Modern Faerie Tale as well as some of our favorite stories of recent times.
So, if you're going to the big show in NYC, drop by the Consortium (our distro) area and say hi. Jed will be there all the time (except for knish breaks), Gavin should be there on Friday & Saturday, and, with luck, Kelly will be there on Saturday. Books, baby, all about the books!
* Order! Order!
---
Tue 26 May 2009 - Filed under: Not a Journal., Cons | Leave a Comment| Posted by: Gavin
Those who remain in the book business (at least we're not trying to sell gas guzzlers, phew) will party like it's a very quite 2009 in NYC, Thursday to Sunday, at the Javits center — and, we have a couple of things Worth Doing while there.
Even if you're not going, you can still go to our party and Ben Rosenbaum and Jedediah Berry's reading at the might McNally Jackson Books.
We may have the inflatable couch this year, we may not. We have a shelf of books on display at the Consortium booth. We may have some freebies and galleys, but, not many. Hey, it's the recession! Jedediah will definitely be there, Gavin will likely be there Friday/Saturday, and various friends and volunteers and Stars, baby, Stars will be there to spread the word. They'll be like a street team, except in a convention center. And not really a team. Although there should be 11 of them and one of them will have big gloves on and will be known as "The safest hands in soccer." All true.
Plus, there may be a last minute addition to this schedule but it will depend, like everything else at the moment, on she who must be obeyed:
Wed., May 27, 7:00 PM
Benjamin Rosenbaum (The Ant King and Other Stories) and Jedediah Berry (The Manual of Detection) read at McNally Jackson, 52 Prince St., New York, NY 10012.
Thu., May 28, 7:00 PM
Pre-BEA Party (with Melville House, Stop Smiling Books, The Feminist Press, NYRB Classics, and the Little Bookroom)
Melville House, 145 Plymouth St., Brooklyn, NY 11201
(take the F train to York or the A/C to High Street)
Fri., May 29, 3:00 PM
Table 23, Holly Black signs ARCs of her young adult short story collection, The Poison Eaters and Other Stories (Feb. 2010).
Sat., May 30, 3:30 PM
Table 17, Vincent McCaffrey signs ARCs of Hound ( Sep '09), a debut mystery in which a Boston bookhound has to work who killed his ex and why.
---
Wed 20 May 2009 - Filed under: Not a Journal., Art, Cons | Leave a Comment| Posted by: Gavin
He's the one at the Small Beer Press tables! Meet David J. Schwartz who has a fantastic series of pictures on Flickr: it is well worth digging in to see what he's been up to all winter. We just love these pics and love going back to see faves. A few are here, but really, if you have a minute, go check out the rest.
Dave (and, your goodself, if you want) will be personing the Small Beer tables at Madison, Wisconsin's amazing alternaworld convention, WisCon, this coming weekend and he will have most of our books in the dealers' room including Greer Gilman's new Cloud & Ashes (Although sadly neither we nor Greer will be there) as well as Guest of Honor Geoff Ryman's The King's Last Song (get it, get it signed!). Despite our best intentions, there will not be a new issue of LCRW until summer.
There will be copies of Dave's dark and thoughtful novel, Superpowers, and, hopefully, many other things of interest. Many of which will appear throughout the convention as people wander up and drop stuff off to sell (got a book or a zine? Bring it along!). In the meantime: Dave!
---
Tue 19 May 2009 - Filed under: Not a Journal., Audio out, Cons, Greer Gilman, readings | Leave a Comment| Posted by: Gavin
This month, or maybe next, depending on which bibliographic source you believe, Greer Gilman's second novel, Cloud & Ashes, springs fully formed into the world. If you've ever had a chance to hear Greer read you'll know what an entrancing, immersive experience this book is.
Greer has a new website up and has very handily opened up a thread on her live journal answering any and all reader's questions on Cloud & Ashes:
To begin with, I wanted a Yorkshire dialect, because I so love the Watersons' voices. It's changed over the long years, becoming more itself, more Cloudish, but it's founded on Yorkshire, mostly on the Dales and the North York Moors and coast.
Greer will read from Cloud & Ashes for the first time at Harvard Book Store in Cambridge, Mass., on Wednesday, May 20, at 7 PM, then at Tuesday May 26 at 7 PM, she will read from Cloud & Ashes at Back Pages Books in Waltham. After that she is one of the Guests of Honor at Readercon 20 (July 9-12) and there may yet be a couple more readings appearing on the schedule.
Somewhat recently, Greer was one of the guests at the International Association for the Fantastic in the Arts and she sent us a recording of her reading. Greer is introduced by her friend and fellow conspirator, Faye Ringel, and after a 40-minute reading, Sonya Taafe sings "The Scarecrow," one of the songs Greer incorporates into the novel, then Greer reads a little more. You can download and listen to the (large) MP3 here.
We spent a decent part of last week shipping out most (nothing ever gets finished) of the pre-orders for Cloud & Ashes as well as a goodly number of review copies, so there should be more happy readers and more people reading about it soon.
For more about the book, see our page, Greer's, or order your copy now:
Buy | Mail Order | ebook | Fictionwise (TK) | Powells | Indie Bookstore
---
Mon 11 May 2009 - Filed under: Not a Journal., Cons | Leave a Comment| Posted by: Gavin
For sale: 2 adult memberships for Worldcon 67 in Montreal this summer (Aug. 6-10) for sale. Currently memberships cost US$195, these are $175 each (which is what we paid for them a couple of months ago). Email [email protected] and we'll send them your way.
Edited to add: Sold! Thanks internets.
---
Fri 17 Apr 2009 - Filed under: Not a Journal., Cons, To Read Pile, workshops, Writer's Daily Planner | Leave a Comment| Posted by: Gavin
We have a few things coming up in local environs that we wanted to tell yous all about in an endeavor to get you off the internet and back into peopleville. First up, a busy weekend, second a publishing course, and last, the best, a book!
---
Mon 9 Feb 2009 - Filed under: Not a Journal., Cons, LCRW | Leave a Comment| Posted by: Gavin
Eric Marin of Lone Star Stories is miffed that the Hugo Award for Semiprozine (fondly known as the Locus Award that none of us shall ever receive) may disappear at this year's Worldcon in Montreal (in August, oh sunny lovely August).
Seems that Locus won too many times in a row so (maybe, haven't been following this) some people want to change the rules so that there's no award to dominate anymore. Which takes away the honor of nomination* for four other mags. Which isn't very nice. We don't care if we are nominated or not (we received the honor a couple of years ago and like that it gets spread around: there are a lot of people doing good work out there), but, come on, how about all the new zines, paper or online, why take it away from them?
So, if you're going to be at the Worldcon (not sure if we will), go to the business meeting and tell them that the Semiprozine category, silly as it is, is worth keeping—at least until they go completely daft and make a Hugo Award for Semiprozine Editors, since there's one for all kinds of other editors.
* That may seem like a joke, but if you're smart you'll realize it's not. Or, you can wait until an award list comes out with your name on it—or you're on a jury and have to decide the nominations—and then finally you might realize what an honor it actually is.
---
Mon 9 Feb 2009 - Filed under: Not a Journal., Cons | Leave a Comment| Posted by: jedediah
We just secured a table at the AWP Chicago bookfair. If you're planning to be there this week, please come say hello! You'll find us next to the folks from Kundiman.
Also, because this came together in last-minute fashion, we need help! Anyone willing to work the table for an hour here or there will be paid in free books and glittering good karma. And stickers. And buttons. And secret coupons which you may redeem for secrets.
Finally: Chicagoans! The bookfair will be open to the public on Saturday. It's at the Hilton Chicago, 720 South Michigan. We'll be expecting you. All of you.
---
Mon 22 Sep 2008 - Filed under: Not a Journal., Carol Emshwiller, Cons | Leave a Comment| Posted by: Gavin
The Brooklyn Book Festical was 1) great 2) too damn hot. In fact we're not entirely sure we were there, it was so hot nothing quite made sense. We did catch up with innumerable friends and one of the fun things was that a certain trio of writers, Dan Braum, Nick Kaufmann, and Ben Maulbeck, kept arriving, disappearing, arriving, kvetching, disappearing, arriving (with cold drinks—saviors!), and so on.
Of course, anyone who hangs around a booth for too long is going to have to: sell books!
We sold some books, gave away button-and-tattoo sets that go with Pretty Monsters, Couch postcards, and got Vietnamese sandwiches for lunch (so that's why people live in cities!) and at some point a reader was admiring the cover of Carol Emshwiller's The Mount when Shelley Jackson came by and we asked her to sign the book. Shocked (hence the blinkage), Shelley obliged in a noble manner.
On linking to The Mount on Powell's, we find an irresistible urge to send people there to read the one review "ech1969" has written one review—it's a corker!
---
Mon 22 Sep 2008 - Filed under: Not a Journal., Benjamin Parzybok, Cons | Leave a Comment| Posted by: Gavin
Way back in May at BookExpo in LA we ran a scavenger hunt (well, we suggested it and Ben Parzybok and the Black Magic Insurance Agency made it happen!) which involved
Getting a quarter from us and putting it into the gumball machine to get a set of clues (and a sticker and some candy)
Following the clues around the LA Convention Center to find a different set of stories than the obvious ones.
Using your cell phone to get clues to get back on track after that all important wait in the line for Leonard Nimoy's autograph.
Getting recognized by the Black Magic Insurance Company stickers and receiving exclusive (ok, sometimes they weren't exclusive) goodies from these fine presses:
Tin House (who had Pinkberry gift certificates for Jim Krusoe's novel Girl Factory (in which girls are manufactured in the back of yogurt shop), the hilarious "Republican family values book" You Don't Know Me, and The Dart League King [which Kelly blurbed: "Sign me up as a member of the Keith Lee Morris fan club. His characters are as real, fallible, and surprising as anyone I've ever met, and his novel has all the textures of real life: precarious, tender, and utterly engrossing.")
Agate: copies of Where the Line Bleeds and, a favorite of ours, How's Your Drink?
Gray Wolf: who had toilet paper with aphorisms from Best Thought, Worst Thought printed on it
Algonquin (handy doorhangers featuring a myriad of books including this nonfiction [cough] fave, An Arsonist's Guide to Writers' Homes in New England)
Baby Tattoo: a free book! Tales of the Sister Kane by Christy Kane
MacAdam/Cage: CDs exclusively available for participants featuring 3-5 original recordings by Linda Robertson (author of What Rhymes with Bastard?) singing and playing the accordion
No Voice Unheard: temporary tattoos of their "heart and paw" logo (publishers of One at a Time and Thought to Exist in the Wild, books no animal lovers should miss)
John Hodgman (not an indie press but he had irresistible and incredibly funny posters for his new book, More Information Than You Require
Drawn & Quarterly: posters for Lynda Barry's What It Is
and of course us: postcards, galleys of Couch, The King's Last Song, and The Serial Garden, chocolate (except we had to chuck a box of yucky Peppermint Patties—they were stale!), electric cars, tandem bikes, inflatable couches (because the only good couch is one that you can carry), &c., &c.
Ok. It's some months later. Everyone who made it all the way round the scavenger hunt received a raffle ticket and we kept those in a box. We pulled one out, and it was from a cool indie bookshop in Brooklyn, Word Books.
Last Saturday at the Brooklyn Book Festival we met Luca from Word—which reminded us that perhaps we should send out the pile of even more goodies we'd gathered from the presses above for the winner. So now we have the package together and it goes in the mail on today. Or tomorrow!
One more thing marked off the To Do list. Yay, just in time for tea!
---
Tue 2 Sep 2008 - Filed under: Not a Journal., Cons | Leave a Comment| Posted by: Gavin
We have 2 memberships to the 2008 World Fantasy Convention in Calgary for sale: $100 each. Please pass the word along to anyone you know who might be interested, thanks!
Update: Sold both, thanks.
---