Tue 16 Feb 2016 - Filed under: Not a Journal., Benjamin Parzybok, Silicon Valley Reads | Leave a Comment| Posted by: Gavin
Ben Parzybok returns today to Silicon Valley for the Silicon Valley Reads Program, where all Silicon Valley is reading a couple of water-themed novels: Sherwood Nation and Emmi Itäranta's Memory of Water. There are tons of events in high schools (not listed) and libraries, listed below:
January 26 –  Silicon Valley Reads Kick-off – Heritage Theater  – Emmi Itäranta, author of Memory of Water, and Benjamin Parzybok, author of Sherwood Nation, are interviewed on stage by Mercury News columnist Sal Pizarro.  Co-sponsored by Commonwealth Club Silicon Valley. [Listen to this on the Commonwealth Club podcast.]
February 16 –  Santa Clara University, Learning Commons, St. Clare Room – 4pm – interviewed by SCU faculty member John Farnsworth, followed by audience Q&A and book signing.
February 17 –  West Valley College, Campus Center, The Baltic Room – 12:30pm
February 17 –  Milpitas Library – 7pm
February 18 –  Los Altos Library – 7pm
February 19 –  Berryessa Branch Library – 1pm
February 20 –  Evergreen Branch Library – 1pm
February 20 –  Santa Teresa Branch Library – 3pm
March 7 –  The Tech Museum – 6 – 7:30pm: "Could it happen here?" Panel: Discussing "Could It Happen Here" with author Parzybok are panelists:
• Dr. Brian Green, Assistant Director, Campus Ethics, Markkula Center for Applied Ethics and Assistant Director of Engineering, Santa Clara University
• Jim Fiedler, Chief Operating Officer, Water Utility, Santa Clara Valley Water District
• Additional panelists to be announced
Moderated by Barbara Marshman, Editorial Page Editor, Mercury News.
March 8 – Santa Clara County Office of Education – 10 – 11:30 –  "Chance of Rain: The impact of climate change in our lives"  followed by a signing until 11:30 a.m. Books will be available for purchase.
March 8 – West Valley Branch Library – 4pm
March 8 –  Morgan Hill Library – 7pm
March 9 – Pearl Avenue Branch Library – 5:30pm
March 10 –  Evergreen Valley College, Montgomery Hall – 2pm
March 10 –  Tully Community Branch Library – 5:30pm
March 19 –  Willow Glen Branch Library – 2pm
March 20  –  Cupertino Community Hall – 1-3pm at   Cupertino Community Hall.  Closing Event of Silicon Valley Reads 2016! – Authors Emmi Itäranta and Benjamin Parzybok discuss their books and the Silicon Valley Reads experience with Nancy Howe, Santa Clara County Librarian and co-chair of Silicon Valley Reads.   Co-sponsored by the Cupertino Library Foundation.
---
Mon 14 Sep 2015 - Filed under: Not a Journal., Benjamin Parzybok, book clubs, water | Leave a Comment| Posted by: Gavin
Huge West Coast news: Benjamin Parzybok's Sherwood Nation is one of two novels chosen for the 2016 Silicon Valley Reads program. The program theme this year is "Chance of Rain"
The program begins with the 2016 Kick Off Event on at 7:30 p.m. on Tuesday, Jan. 26,  at the Heritage Theater (Campbell/San Jose) where Author in Residence Emmi Itäranta (Memory of Water) and Visiting Author Benjamin Parzybok will be interviewed on stage by Mercury News columnist Sal Pizarro.
Ben will return to Silicon Valley for at least a dozen events during three week-long trips during the spring — the complete events calendar will be available by the end of the year.​ We'll have more on this as it develops so in the meantime we're just looking forward to all the readers in Silicon Valley reading Ben's fabulous book! Yay!
"Silicon Valley Reads is an annual community program that ​selects books focused on a contemporary theme and offers free events throughout Santa Clara County to engage the public in reading, thinking and discussing the topic. Our goals are to encourage the love of reading and learning and to have a welcoming forum where our diverse community can come together to share different perspectives."
---
Thu 13 Aug 2015 - Filed under: Not a Journal., Benjamin Parzybok, Reading Group Guide | Leave a Comment| Posted by: Gavin
We recently posted the first edition of our new Reader's Guide and Companion to Benjamin Parzybok's novel Sherwood Nation — go download it now!

Sherwood Nation has been amusing and provoking much discussion — who knew seceding would be such a popular idea? — with its multifaceted look at a city (Portland, Oregon) dealing with the effects of a very long term drought.
The Reader's Guide pulls together some post-publication interviews with Ben as well as reading group questions — we expect to add more over time as the book incites more conversation — and some of Ben's photos from an inspiring trip to Brazil.
You can read an excerpt of the book, listen to Seattle's KUOW: If Portland Collapsed, How Would The City Fare? (interview on "The Record"), and more here and of course: download the new Reader's Guide and Companion.
---
Fri 27 Feb 2015 - Filed under: Not a Journal., Benjamin Parzybok | Leave a Comment| Posted by: Gavin
The Rumpus just posted a great longish interview with Benjamin Parzybok about his somewhat scarily possible novel Sherwood Nation. Ben is someone who sees a problem and does something, whether that's write a novel or run a poetry magazine in gumball machines or to tell the story of a Guantanamo Bay prisoner from the first person (Project Hamad). David Breithaupt at The Rumpus asked Ben about his activism, our place in the world, and more:
The Rumpus: I don't understand the denial of climate change. Sherwood Nation depicts a type of class war over the unequal distribution of water rations. Do you think this is happening now with climate denial, that the wealthy are in battle with the other ninety-nine percent?
Parzybok: I certainly think there's a war going on between the self-interested, self-serving body that is the corporation, and humans. At this point in our democracy, that's the primary struggle we're facing: whether corporate or constituent interests will win out. Weirdly, corporations are staffed by people, presumably, and so you'd expect they'd have some sway. But a corporation has a mind of its own, and corporate goals do not line up at all with potential longer-term goals of our species (these goals might be difficult to agree on, but surely opportunities for cataclysm might be among them). I do wish every CEO (most of whom are among the one percent) would sit down and re-evaluate his or her corporation's goals based on long-term interests for living here on this planet.
---
Wed 1 Oct 2014 - Filed under: Not a Journal., Benjamin Parzybok, Delia Sherman, Ysabeau S. Wilce | Leave a Comment| Posted by: Gavin
Holy bananas, Batman. Days go by, books explode out into the world (hello Gwenda!), leaves FALL FROM TREES, eek!
Did you hear Molly Gloss has a book out at the end of this month? I read it this week on my sickbed and it is so FABULOUS. It's called Falling From Horses and you can pre-order signed copies from Powell's! Which by all that is good in the world you SHOULD. Or, at least, strongly consider.
Susan Stinson says Spider in a Tree:
One year ago today was the pub date of my novel Spider in a Tree by @smallbeerpress. Beyond thrilling.Need one? Here: http://t.co/6J0oHzqqA1
— Susan Stinson (@susanstinson) October 1, 2014
But, but, that book just came out! Argh, time, is, passing! (Apologies for that comma.)
Over at Weightless you can get the new issue of Lightspeed which has a heck of an energetic story from Ysabeau S. Wilce ("The Biography of a Bouncing Boy Terror") which not coincidentally can also be found in her debut collection — which comes out in 2 weeks! — Prophecies, Libels, and Dreams. In the same issues: stories by Kelly Link ("Water Off a Black Dog's Back"), Daniel José Older, Megan Kurashige, along with excerpts from Paolo Bacigalupi's new novel, THE DOUBT FACTORY and Ann Leckie's ANCILLARY SWORD. That John Joseph Adams sure puts together quite the package!
Ever wondered* what distractions emperors and other mayors faced? How did they cope? Were they gamers? (Tricky Dicky, looking at you.) Click through for some great face to face comparisons for Winston "Angry Birds" Churchill and more as Benjamin Parzybok delves into "A Brief History of Video Games Played by Mayors, Presidents, and Emperors."
Ben P. is reading (with Ryan Boudinot) at Oct. 15, 7 PM Elliott Bay Book Company in Seattle. And: the audiobook just came out.
Ysabeau's book is now available to reviewers, bloggers, librarians, and booksellers on Edelweiss. The requests are coming in thick and fast.
And! Delia Sherman's debut collection, Young Woman in a Garden, is up on Edelweiss, now, too.
More info on these two books — and 2015's book, wow, so oncoming, such nearness — soon.
* Ben, not asking you.
PS Win a copy of Prophecies, Libels, and Dreams here.
PS x 2 Name your city and get a free audiobook of Sherwood Nation!
---
Mon 29 Sep 2014 - Filed under: Not a Journal., Benjamin Parzybok, Greer Gilman, Monstrous Affections, sick as dog but not eating sick ok, Susan Stinson, Ysabeau S. Wilce | Leave a Comment| Posted by: Gavin
Well, last week I caught a bug going round and was laid low. So low! Am still so low am very unimpressed with self. Hoping this week will improve but am still mostly horizontal. Sleep. Such a lovely thing.
This week: hilarity!
Still not well.
Unimpressed x 2.
Also: the our office building (which I have been to since last Monday…) is undergoing some kind of electrical reconnect and will have no power on Tuesday and Wednesday. If I had the energy, I'd find it ridiculous. Now, makes me want to nap.
Other things: Win the Audio edition of Sherwood Nation.
Throw your name in the hat for a copy of Ysabeau S. Wilce's forthcoming collection, Prophecies, Libels, and Dreams.
READINGS! (first posted here)
Ted Chiang (Stories of Your Life and Others), 10/2, 10 am
Who and What Will Get to Think in the Future?
Future Tense, Washington, DC (livestream will be available)
Susan Stinson (Spider in a Tree), 10/8, 7 pm
Reading at Grace Episcopal in Amherst, Mass.
Greer Gilman, (Exit, Pursued by a Bear), 10/11
Slater Memorial Museum, Norwich CT
Benjamin Parzybok (Sherwood Nation), 10/15, 7 pm
Elliot Bay Books, Seattle, WA
M. T. Anderson, Sarah Rees Brennan, Joshua Lewis, Kelly Link, Gavin J Grant (Monstrous Affections), 10/22, 7 pm
Brookline Booksmith, Brookline, MA
Ysabeau S. Wilce (Prophecies, Libels, and Dreams), 10/25
SF in SF, San Francisco, CA
Sarah Rees Brennan, Alice Sola Kim, Joshua Lewis, G. Carl Purcell, Kathleen Jennings, Kelly Link, Gavin J. Grant (Monstrous Affections), 10/28, 7 pm
McNally Jackson, NYC
Handy Small Beer calendar here.
---
Tue 9 Sep 2014 - Filed under: Not a Journal., Benjamin Parzybok | Leave a Comment| Posted by: Gavin
(Maybe it arriveth?) I read a great author interview yesterday — although it's a bit weird to write that when the author speaks nicely about Small Beer, so skip that part and read the great stuff about The Joy of Cooking, Scrivener, measuring a book's worth by its weight, and more with Ben Parzybok and Anne Rasmussen on the Late Night Library.
Also today, fab review of Sherwood Nation on Shelf Awareness:
"A group of idealists, led by a charismatic young woman, struggle to remake society in postapocalyptic Portland, Ore."
What are they talking about? A book I've been looking forward to bringing out for the last couple of years. Maybe more than that, I don't know how long ago it was that Ben mentioned he was writing a book about water. Given the ongoing water troubles (shortages, floods, sea levels rising) and Ben's community-biased view of the world, this was always going to be a timely novel and when it came in it blew me away.
I hope to be talking about it and keep on spreading the news about this book for a while yet. You can get your copy at all indie bookstores (and all the other usual places), our site, or get the ebook right now on Weightless.
If you're on the west coast, please consider going to get your copy here!
Sept. 16, 7:30 PM Powell's City of Books, 1005 W. Burnside St., Portland, OR
Sept. 27, 8:30 PM PNBA Sweet & Greet (pdf), Hotel Murano, Tacoma, WA
Oct. 15, 7 PM Elliott Bay Book Company, 1521 Tenth Avenue, Seattle, WA 98122
---
Thu 4 Sep 2014 - Filed under: Not a Journal., Benjamin Parzybok, sale | Leave a Comment| Posted by: Gavin
No offers of deer, dear, please. No kids on bikes riding threateningly around our town. Just Benjamin Parzybok's debut novel Couch $1.99 on both bn.com and Weightless today — and, Couch now has a sneak peek of Ben's forthcoming droughty Portland novel Sherwood Nation.
BTW, if you're on the west coast you can go see Ben at one of these readings:
Sept. 16, 7:30 PM Powell's City of Books, 1005 W. Burnside St., Portland, OR
Oct. 15, 7 PM Elliott Bay Book Company, 1521 Tenth Avenue, Seattle, WA 98122
I think both bookstores have pretty comfy chairs. You probably don't need to bring your own couch . . .
---
Tue 2 Sep 2014 - Filed under: Not a Journal., Benjamin Parzybok | Leave a Comment| Posted by: Gavin
We have a lot of things coming up for Benjamin Parzybok's forthcoming novel Sherwood Nation — although just to be absolutely clear: we have nothing to do with any droughts anywhere! Just in time for pub date (next week!) Booklist drops a great review:
"Parzybok is riffing on the Robin Hood story, to be sure, but he also layers on some astute social and political commentary, and he's built a fully functioning and believable future world. Give this one to fans of Adam Sternbergh's Shovel Ready (2014)."
We'll also have fun news tomorrow about how you can pick up a very affordable copy of Couch — both in ebook and print! Until then, conserve that water!
---
Fri 4 Oct 2013 - Filed under: Not a Journal., Benjamin Parzybok | Leave a Comment| Posted by: Gavin
Next fall we are publishing Benjamin Parzybok's second novel Sherwood Nation and I am very happy to say that PNBA booksellers can get a very advance galley copy at the PNBA Trade Show Author Feast at the Airport Holiday Inn, Portland, OR, on Monday.
Sherwood Nation is a huge, amazing, scarily timely novel about a drought-stricken Portland, Oregon, and a nascent attempt to rebuild society from the grassroots up. If you read Couch, you'll already know that Ben is a hilarious and smart writer and in the five years(!) he worked on Sherwood Nation he's only gotten better. Everything he cares about is here: community, families (born and made), love, bicycling, doing good work, and looking after self, community, and the land we live on.
You'll be hearing more (ok, there's more below) about the book as 2014 comes on. With luck—and help from readers like you!—it will be one of the big books of next year!
We'll have more galleys and giveaways as the publication date approaches but I wanted to get the heads-up out there to the people who are most likely to read and love this book as much as we do.
In drought-stricken Portland, Oregon, a Robin Hood-esque water thief is caught on camera redistributing an illegal truckload of water to those in need. Nicknamed Maid Marian—real name: Renee, a 20-something barista and eternal part-time college student—she is an instant folk hero. Renee rides her swelling popularity and the public's disgust at how the city has abandoned its people, raises an army . . . and secedes a quarter of the city of Portland, Oregon.
Sherwood Nation is the story of the rise and fall of a micronation within a city.
Even as Maid Marian and her compatriots (a former drug kingpin, her ad-writer boyfriend, and many others) build a new community one neighbor at a time, they are making powerful enemies amongst the city government and the National Guard. Sherwood is an idealistic dream too soon caught in a brutal fight for survival.
Benjamin Parzybok's Sherwood Nation is a love story, a war story, a grand social experiment, a treatise on government, on freedom and necessity, on individualism and community. 
---
Tue 23 Jul 2013 - Filed under: Not a Journal., Alan DeNiro, audio books, Benjamin Parzybok, Peter Dickinson, Sofia Samatar | Leave a Comment| Posted by: Gavin
We sent out the following note this morning. More below:
EASTHAMPTON, MA, July 23, 2013 — Small Beer Press is delighted to announce that audio rights to seven new and forthcoming titles have been acquired by Audible.com.
The first release will be award winning North Carolina writer Nathan Ballingrud's debut collection, North American Lake Monsters: Stories. Also forthcoming within the next year are:
Gavin J. Grant, Publisher of Small Beer Press stated, "We love the books we publish and getting audio editions out there is becoming more important day by day. We've worked with many of the best audio publishers and are happy to add Audible to the mix."
Audible, Inc., is the leading provider of premium digital spoken audio information and entertainment on the Internet, offering customers a new way to enhance and enrich their lives every day. Audible is also the preeminent provider of spoken-word audio products for Apple's iTunes® Store.
Small Beer Press is a Massachusetts based independent publisher headed by the husband and wife team of Gavin J. Grant and award winning author Kelly Link. Small Beer publishes a dozen or so select titles per year and also runs the DRM-free ebooksite, http://weightlessbooks.com. For more information, visit our website at http://www.smallbeerpress.com.
————–
This should be good news for authors and audio fans everywhere. Previously we've worked with
And we were very happy when Brilliance did the audiobook of Steampunk! and Recorded Books did Kelly's collection Pretty Monsters.
Audiobooks are a growing part of the book business and we want our books read—or listened to—so I expect we will be selling more titles to Audible in the future but we will also shop them around to make sure we do well by our authors and readers.
And if none of this is fast enough for you and you want to listen to a good story right now, then I recommend our podcast which you can listen to here or subscribe to using iTunes or the service of your choice:
---
Tue 23 Oct 2012 - Filed under: Benjamin Parzybok, Not a Journal., Benjamin Parzybok, Julie Day, Michael J DeLuca, Podcastery, small beer podcast, The Coder | 1 Comment| Posted by: Julie
My podcastery life doesn't get much better than this. Two of my favorites in one audio track: Benjamin Parzybok and  Michael J. DeLuca. Benjamin Parzybok's story "The Coder" was first published in Lady Churchhill's Rosebud Wristlet No. 21. We bring it to you in audio for the first time. Not only that. Michael J. DeLuca makes another guest appearance on the Small Beer Podcast. Michael is more than a guest reader; he is a passionate advocate of "The Coder." He spent long hours with his laptop, software and microphone getting the digital track just right. I can't think of a better homage to this particular Parzybok story.
For those of you who follow such things, Episode No. 4 of our podcast features an excerpt of Ben's novel, Couch. In other words, we are returning to the scene of the Parzybok crime. Ben is currently finishing his second novel, Sherwood Nation. You can find out about Ben and all his various projects at his site, ideacog.net.
Episode 14: In which Michael J DeLuca read's Benjamin Parzybok's "The Coder."
Subscribe to the Small Beer podcast using  iTunes or the service of your choice:
---
Mon 22 Oct 2012 - Filed under: Not a Journal., Benjamin Parzybok, Julie Day, Michael J DeLuca, Peter Dickinson | Leave a Comment| Posted by: Gavin
Monday: Publication day for our latest Big Mouth House title: Peter Dickinson's new collection, Earth and Air: Tales of Elemental Creatures. It's now available in hardcover, paperback, and ebook editions. The first story "Troll Blood" is also available in F&SF's September/October issue. Here's a short interview on F&SF about the story.
There are two strong reviews (from Faren Miller and Rich Horton) in the latest issue of Locus and Tom Shippey gave it a marvelous review in the Wall Street Journal:
"Mining folklore for ideas is routine in modern fantasy, but not many can add the surprising twists and novel logic that Peter Dickinson does. These are beautiful stories, deft, satisfying, unexpected. They deserve to become classics of the genre."
Tuesday:
A new podcast from a lovely triumverate, Julie Day, Michael J. DeLuca, and Benjamin Parzybok—which I am listening to right now, awesome! Michael reads Benjamin Parzybok's story "The Coder" from Lady Churchhill's Rosebud Wristlet No. 21. Come back tomorrow (or subscribe now) and you too can get your coding joy on, too.
The Humble Bundle ends. 77,000 people have partaken of the first ebook Humble Bundle so far. I think it's a pretty incredible thing: pay what you want for a baker's dozen of DRM-free ebooks. It's been hugely popular, especially internationally, and I can't wait to see 1) how it ends and 2) what the next one will be!
Thursday:
We send out 15 free copies of Elizabeth Hand's Errantry to the Goodreads giveaway winners.
Kij Johnson reads at 7 p.m. at the Big Tent at The Raven in Lawrence, Kansas.
Will there be more news and more goings on? Probably. Unless the debates fill us with such lethargy that we become slugs and end our days in a bowl of beer. Which, you know, is going to happen one way or the other.
---
Thu 17 Nov 2011 - Filed under: Not a Journal., Benjamin Parzybok, Couch, Julie Day, Laura Moulton, Podcastery | Leave a Comment| Posted by: Julie
Fiction. We love it. And this week's Small Beer podcast is over thirty minutes of nothing but imagined words.
Benjamin Parzybok's Couch is damned funny. Well, his novel Couch is anyway.
To celebrate the release of the audiobook version of Couch, we're running an excerpt in this week's podcast. Don't worry. Though we hope you'll love it as we do and want to hear more, this section of the novel was actually published as a stand-alone story in the journal Eleven Eleven. In fact, while I was editing this podcast, my family gathered around my computer to listen in. Yes, sometimes it can be strange days at the Day-Davidson household.
Ben and his wife, the artist Laura Moulton, are both quite fascinating people. You can check out Ben's various art projects at ideacog.net. Laura is behind the amazing streetbooks.org — a bicycle-powered mobile library in Portland, Oregon, serving people who live outside.
Episode 4: An excerpt from Benjamin Parzybok's novel Couch.

The audiobook is available for purchase at
iambik.com
.
Subscribe to the Small Beer podcast in iTunes or using the service of your choice:
---
Mon 7 Nov 2011 - Filed under: Not a Journal., audio books, Benjamin Parzybok | Leave a Comment| Posted by: Gavin
Look, a new audiobook! We love Ben Parzybok's novel Couch and are very happy that it's now available in audio. You can listen to a sample here:
and we will have a sample coming up at some point soon in our podcast, too.
We're working with Iambik on a bunch of audio books so look for more of these announcements in upcoming months.
---
Mon 4 May 2009 - Filed under: Not a Journal., Benjamin Parzybok, bookshops, Kelly Link, the world, To Read Pile | Leave a Comment| Posted by: Gavin
Awesome news: Couch is on the Spring/Summer 2009 Indie Next List for Reading Groups. We'll have a reading guide for Couch up within the next few weeks and if anyone wants to contribute, you know what to do. We haven't seen the paper version of the list yet, but we like that Couch is in #9—and that the recommendation comes from Florida, yeah! (That's a long way for a Portland-based couch to travel….)
Other recs include a couple of Kelly's fave books, Molly Gloss's bestseller The Hearts of Horses and Tana French's In the Woods, and, in the YA guide, Kelly's collection!
9. Couch by Benjamin Parzybok
"Couch follows the quirky journey of Thom, Erik, and Tree as they venture into the unknown at the behest of a magical, orange couch, which has its own plan for their previously boring lives. Parzybok's colorful characters, striking humor, and eccentric magical realism offer up an adventuresome read." –Christian Crider, Inkwood Books, Tampa, FL
The Hearts of Horses by Molly Gloss
(Mariner Books, $13.95,  / 0547085753)
"Molly Gloss tells a heartwarming story of a young woman who earns her way as a 'horse gentler' on the eastern Oregon frontier during the early 1900s." –Sandra Palmer, Wy'east Book Shoppe & Art Gallery, Welches, OR
In the Woods: A Novel by Tana French
"This is a contemporary murder mystery set in Ireland with just the right hint of spookiness and great layers of psychological suspense, as a pair of detectives seek to solve the murder of a young girl in an ancient stand of woods. The current murder is foreshadowed by a crime against three young children many years ago that may hold a key to the new mystery." –Sandra Palmer, Wy'east Book Shoppe & Art Gallery, Welches, OR
And here are some suggestions of great titles for reading groups of younger readers…
The Astonishing Life of Octavian Nothing, Traitor to the Nation, Volume II: The Kingdom on the Waves by M.T. Anderson
Chains by Laurie Halse AndersonThe Hunger Games by Suzanne Collins

Pretty Monsters: Stories by Kelly Link, Shaun Tan (illus.)

---
Tue 31 Mar 2009 - Filed under: Not a Journal., Benjamin Parzybok, Benjamin Rosenbaum, Elizabeth Hand, Geoff Ryman | Leave a Comment| Posted by: Gavin
Random links, mostly to reviews of our books. Why would you read this? It's coming near to the end of the day and the teleprompter isn't working and really, who is watching CNBC right now anyway? Might as well read out a bunch of reviews and see if any of the books catch your eye. Go on, newsreader, have some fun.
Brian Slattery enjoys Geoff Ryman's The King's Last Song in The New Haven Review:
As sensitive and humble toward the subject matter as the author could be, yet manage also to tell an unflinching, wrenching story involving some deeply, deeply flawed people who are nonetheless searching for a way out.
Nice short piece on Venus Zine about Anne Elizabeth Moore and Cambodia.
Jedediah Berry's book is getting a bunch of nice notices, including in the Boston Globe. See his site (or our calendar on this page) for more of his upcoming readings.
Rambles looks at Generation Loss:
The reader will find it difficult to put down. The multiple levels of mystery, the setting and the characters work together seamlessly. In Generation Loss, Hand proves that real life can be scarier and stranger than fantasy.
The Seattle Times on The Ant King: (and Howard "Yay!" Waldrop and Cory Doctorow):
The Ant King and Other Stories shows just how strange and wonderful the microcosms he creates can be.
More readings from Ben R. are coming soon: watch out!
A bunch of people are out there on the couch reading the eponymous couch. It gets two shots from The Daily Evergreen from Andrew and Jessica Schubert McCarthy—who both like it, which is good news for us.
The essential message of Couch appears to be that the world and our lives would be better if we all got off our couches (literal and metaphorical) a bit more often.
—Zone SF
Charles Tan interviewed Ben Parzybok:
I enjoy multi-tasking – I find it a kind of high – and yet I don't believe it's good for me. When I wrote Couch I was in a small apartment in Ecuador with no Internet access, and it was a tremendous boon to productivity.
Gavin reviews Alison Goodman's Eon: Dragoneye Reborn and Ray Bradbury's We'll Always Have Paris for the LA Times: "In recent years, Ray Bradbury has settled comfortably into his role as the wacky grandfather of American letters…."
---
Tue 17 Mar 2009 - Filed under: Not a Journal., Benjamin Parzybok | Leave a Comment| Posted by: Gavin
Ben Parzybok is tearing up the west coast this week on another tour. Here's a flier, here's an interview at Powell's, here's an ugly couch competition at Auntie's Books in Spokane (come on, surely all the couches are beautiful in the west?) and here are the dates!
Olympia, WA
March 17th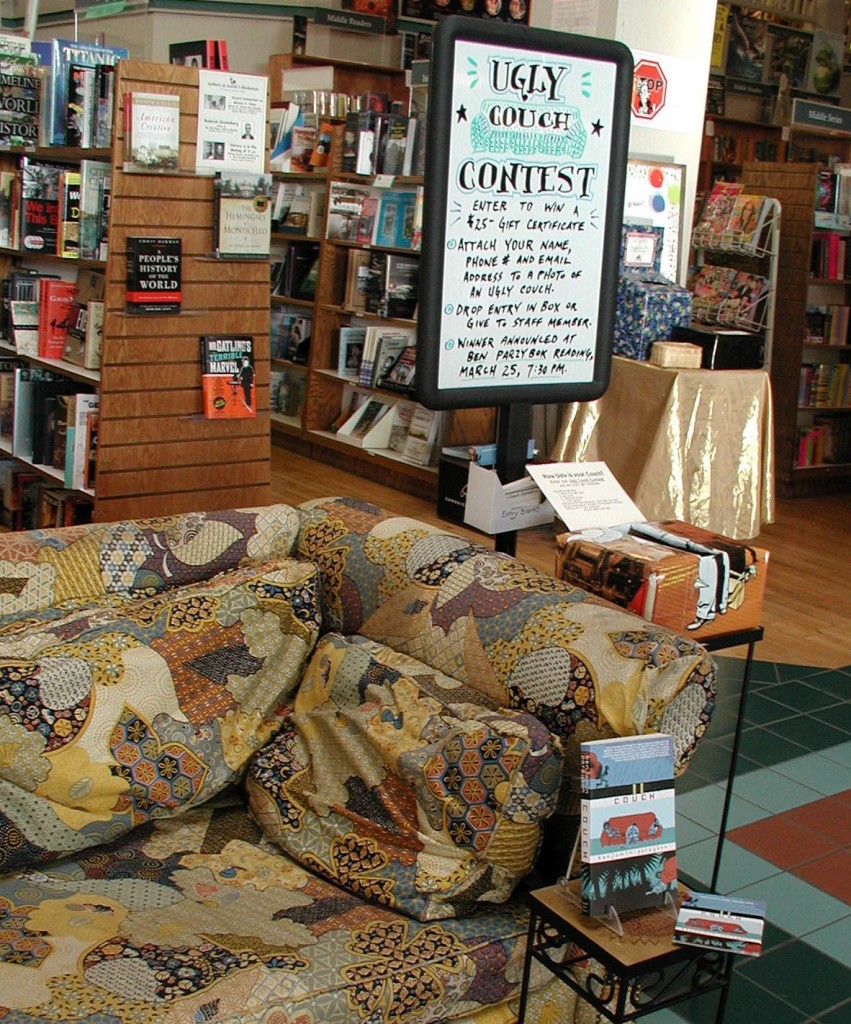 , 7 PM
Orca Books
509 E. 4th Ave., Olympia, WA 98502
Tacoma, WA
March 18th, 7 PM,
Garfield Book Company at PLU
208 Garfield St S., Tacoma, WA 98444
Seattle, WA
March 19th, 6.30 PM,
Ballard Public Library
5614 22nd Ave. N.W., Seattle, WA 98107
(sponsored by Secret Garden Bookshop)
Bellingham, WA
March 21st, 7 PM,
Village Books
1200 11th St., Bellingham, WA 98225
Missoula, MT
March 23rd, 7 PM,
Fact & Fiction
220 N. Higgins & University Ctr., Missoula, MT 59802
Dillon, MT
March 24th, 7 PM
The Bookstore
26 N. Idaho St., Dillon, MT 59725
Spokane, WA
March 25th, 7.30 PM
Auntie's Books
402 W. Main Ave., Spokane, WA 99201
St. Helen's, OR
April 7th, 7 PM
St. Helen's Book Shop
58527 Columbia River Hwy. St. Helens, OR  97051
---
Mon 9 Feb 2009 - Filed under: Not a Journal., Benjamin Parzybok, Pop | Leave a Comment| Posted by: Gavin
A bookseller asked, since we now have an interest in all things couchy, if we'd heard Camille Bloom's CD Ten Thousand Miles. Seems Ms. Bloom has many shoes and a couch (more of a Big Chair, there) and is taking at least some of those things on tour this month. Even to . . . Easthampton! Maybe we can get a day-release from the head bampot and go see the show:
---
Mon 19 Jan 2009 - Filed under: Not a Journal., Benjamin Parzybok | Leave a Comment| Posted by: Gavin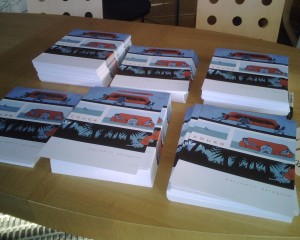 Hey, if you're in Portland, OR, and wondering what to do tonight (apart from make appetizers for your Inauguration Party tomorrow (YAY!)), go drop by Powell's Indiespensable Happy Hour with Paul Harding (and Ben Parzybok) at the Someday Lounge, 125 NW 5th Ave, (503) 248-1030:
Paul Harding's debut is only now arriving in bookstores, from a small publisher affiliated with NYU's School of Medicine, and already Tinkers is the talk of the literary world. PW calls it "an especially gorgeous example of novelistic craftsmanship." Pulitzer Prize winner Marilynne Robinson raves, "It confers on the reader the best privilege fiction can afford, the illusion of ghostly proximity to other human souls." Join Harding, author Benjamin Parzybok (Couch), and members of Powell's staff for a literary happy hour at Someday Lounge as we celebrate Indiespensable: Volume 8.
Ben's posted about the poster we made him sign—you can ask him for one here—most of those will be going to indie bookshops, maybe some will go out with orders or something.
We should know what we're going to do with them but we are all in a tizzy about things: signing up new secret books and the Inauguration. Are we ready to be challenged by Obama to step up and create a better world? Yes we are!
---
Thu 8 Jan 2009 - Filed under: Not a Journal., Benjamin Parzybok, Benjamin Rosenbaum, Geoff Ryman, LCRW, To Read Pile | Leave a Comment| Posted by: Gavin
Everyone know they're out there and now there's photographic proof: "'Big cats' caught on camera prowling forest."
A couple of days ago we opened a box from Seattle to discover the latest wonder from Payseur & Schmidt: at last, someone has sent us a jigsaw puzzle. Oh yeah, and a book, too. You can read more about the genesis of the project on Jacob McMurray's blog or go find out more about Paul DiFilippo's novel, Cosmocopia or see the puzzle in it's finished state.
The King's Last Song gets the once-over from Rain Taxi:
Ryman weaves together ancient legend with a gritty view of modern Cambodian life, and the pattern that emerges is surprising. The novel conveys not merely a story, but the light and darkness, despair and hope, tradition and Westernization that is Cambodia itself.
and on S. Skrishna's Books:
Richly layered, comparing past and present day Cambodia and is full of details and tidbits about Cambodian life that any reader will enjoy. It's definitely piqued my interest in the country and I will be trying to find more books about it in the future.
White gibes with something Geoff told us: that the book was selling well at airports in Cambodia. How did he find out? He was told by readers. So maybe it will spur further reading about Cambodia and maybe get some more people over there.
Couch gets reviewed on SF Site:
The story gets stranger and stranger as the adventurers find themselves riding the rails on an electric cart, drifting on the couch in the Pacific Ocean, stowaways on a freighter bound for the Ecuador, and carrying the couch through the jungles of South America on a cart with a fog propeller. In between there is action, philosophy, violence, sex, drinking, fishing, terrorists, shadowy cabals, fishing and gluten intolerance.
The New Podler Review on The Ant King:
A surrealist masterpiece of fantasy that's hilarious and macabre, reflecting our strange reality in its mind-bending world, The Ant King is filled with soul-shuddering wisdom. This brilliant collection is about integrity, love, belonging, the loss of place of the male in the social order, Jewish Diaspora, God, good and evil, and being alone in a universe that is ambivalent, unavailable, incomprehensible and filled with suffering. Rosenbaum begins in fantastic places, then adds on more layers of fantasy besides and before long you seem to lose your footing, carried along on a fun house ride through the absurd landscape of the human experience
---
Mon 29 Dec 2008 - Filed under: Not a Journal., Benjamin Parzybok | Leave a Comment| Posted by: Gavin
About.com and Barnes & Noble enjoy getting on the Couch. It's like a hit, or something:
Literary and historical allusions sprinkled throughout make the novel something of a treasure hunt, and a bit of bathrobe philosophizing in parts will make you go "hm." Couch is a quick and funny read, a short fable that ensnares us in its quixotic intentions and encourages us to believe for a short time in something magic, even if it is just a couch.
and
Once upon a time, Donald Barthelme, Jonathan Lethem and Umberto Eco attended a film festival together. The featured flicks were Kiss Me Deadly, Fitzcarraldo, and Repo Man . Inspired by this odd bill of fare, the trio set out to collaborate on a novel. The result was Benjamin Parzybok's debut, Couch . Not the way it happened? Well, it's a genesis story competely in keeping with this gonzo odyssey.
Parzybok's easy voice is guileless and contemporary, fluid and colorful as that of Tom Robbins, yet concealing considerable craft. His intermittent switching among the consciousnesses of his trio — and even including other secondary viewpoints — is not a classical strategy, but it works pretty well. Privileging Thom's perspective, Parzybok delivers a funny yet deep novel that's all about the quest to pass from a stultifying, aimless, safe stasis to a dangerous yet fulfilling uncertainty — via one humble piece of furniture (see locations for LA Furniture Store).
And: we have winners — and thanks to everyone who sent in pics! — in our Couch photo competition: Gina Teh and Lea Deutsch. Got to love the sunlight and lack of snow in these photos. More pics here:
---
Wed 17 Dec 2008 - Filed under: Not a Journal., Benjamin Parzybok, Benjamin Rosenbaum, Joan Aiken | Leave a Comment| Posted by: Gavin
Ponzi schemes: anyone want to invest $50bn with us? $5bn? Letters and cheques to the usual address.
We promise to at least deliver you some very nice books, if not the kind of "returns" Bernard Madoff was promising. Ah, the system shows itself to be built on sand after all. What's that? No more foundation money for us? But… but… we had been relying on… oh, yes, that old thing: sales. Fingers crossed that Couch and The Serial Garden keep doing what they're doing!
Chocolate update: Apparently the Chocnomicon has shipped! Meanwhile we must try this. (Via, um, forget.)
Is it ok to lift links wholesale? Because that's how we got this first chunk (hope you don't mind, Ben!):
Fun with "The Ant King and Other Stories":
The Serial Garden:
What's going on with Couch? We got some great entries in the couch competition and we'll get those online and announce the winner soon. We have a small and exciting Portland-based surprise, more about that in January; John Joseph Adams talked to Ben about it at Sci-Fi Wire; and it's an Indie Next List pick for January and we are going to force Ben back out on the road. He puts on a good show: there's the couch moving part, the crying, the sharks, the whole 4,000 miles in 20 minutes or so.
---
Tue 25 Nov 2008 - Filed under: Not a Journal., Benjamin Parzybok, Benjamin Rosenbaum, bookshops, Joan Aiken, Kelly Link | Leave a Comment| Posted by: Gavin
Tonight we'll be in Boston with Benjamin Parzybok for his reading at 7 PM at Pandemonium Books (ok, Cambridge) then Ben will take his tour back to the west coast. So far no one on the east coast has brought a couch to a reading. Boston couch carriers, represent! (We do have some nice pics of couches, will get those online soon.)
Kelly is being interviewed by Lizzie Skurnick at the 21st Annual Indie and Small Press Fair in a couple of weeks in NYC:
Sat. Dec 6th, 5:00 PM: Author and Indie Publisher Kelly Link interviewed by Lizzie Skurnick
Kelly Link has built a serious cult following with her uncanny and affecting fiction. She flirts with fable, fantasy, and horror and stands among the best of short-story writers. After two collections, Link's new book, Pretty Monsters, is targeted at young adults — though she hasn't turned down her sublime strangeness one bit. Link is also the co-publisher of Small Beer Press. Lizzie Skurnick is a writer, editor, poet, and, according to Forbes.com, "one of the smartest bloggers on the Web."
The Table of Contents for Jonathan Strahan's The Best SF and Fantasy of the Year Vol. 3 is out and includes Joan Aiken's "Goblin Music" from The Serial Garden, the title story of Pretty Monsters. Looks like another great book in the series.
Ben Rosenbaum interviewed on Sci Fi Wire (is there a Fantasy Wire?):
"My feeling, after reading Austen's Sense and Sensibility, that its protagonists, the Dashwoods, have so much verve, aplomb and admirable self-control that they are a bit underchallenged by merely arranging for matrimony in Georgian England, and that if, say, they were living on the body of a colossal naked giant who was living on a fractal series of ever-larger naked giants…"
Wish Christopher Barzak's new book a happy birthday!
Shelf Awareness had a note on Powell's new solar array which will provide 25% of the power for their warehouse—another reason to support this amazing indie bookstore. In our town there's a fantastic toy store, A2Z, which installed something like 40 panels to (again) provide about 25% of their power. You can see a snapshot of the power generation system every 15 minutes or so—not quite yet as it's a bit dark and rainy here this morning.
---