Tue 10 Sep 2013 - Filed under: Not a Journal., Peter Dickinson, Sara Paretsky | Leave a Comment | Posted by: Gavin
To celebrate the publication of our latest Peter Dickinson mystery reprint, The Poison Oracle, we worked with the fine folks at Crimespree Magazine to put the whole conversation between two absolute legends of the mystery field online: Sara Paretsky and Peter Dickinson.
Originally published in 1982, The Poison Oracle is a strange and haunting novel, somewhat of its time, yet still fascinating (and, yes, haunting), and we are very happy to be able to put it in front of new readers. It is the second adult mystery novel of Peter's that we have published—look out for an upcoming ebook sale on the also-excellent-but-very-different-first title, Death of a Unicorn—and we are planning on at least one more. 

We were incredibly happy that the the fabulous Sara Paretsky agreed to chat to Peter about the book and that conversation is included in our new paperback and ebook editions.
Here's the start of the conversation, or you can jump here and read the whole thing.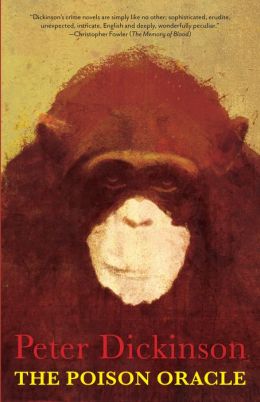 When Gavin Grant asked if I would do a conversation with Peter Dickinson for The Poison Oracle, I jumped at the chance. Dickinson is one of the premier writers of the Twentieth Century. His language is meticulous, his narratives carefully thought out, his characters vivid and credible. I should have looked before I leapt: it's one thing to be an admiring reader, another to conduct a conversation. Besides, the act or art of writing feels like a delicate watch, something like the handmade one with all the little moving parts that tennis great Rafael Nadal wore and lost. If you start tinkering with the mechanism, you destroy the watch.
Sara Paretsky: I first read The Poison Oracle when it was published in 1982. The novel is so rich with themes and nuances—language, clashes of cultures, how do we communicate across cultures? across species? What makes a moral person, what goads a person who thinks himself a coward to act?—that I've always put it on my own private best-ten list.
Peter Dickinson: That's nice, but actually I don't often think about that sort of thing when I'm writing. My focus is mainly on stuff like getting a character from one room into another. In a sense the plot—the story— is there to allow the big questions to happen up without actual ratiocination. Once there they have to be accommodated. Otherwise you start thinking of yourself as a Great Writer, which is death.
SP: The Poison Oracle is a book about many things, but language and communication lie at its heart….
Comments