Sat 5 Jul 2008 - Filed under: Not a Journal., Art, To Read Pile | Leave a Comment | Posted by: Gavin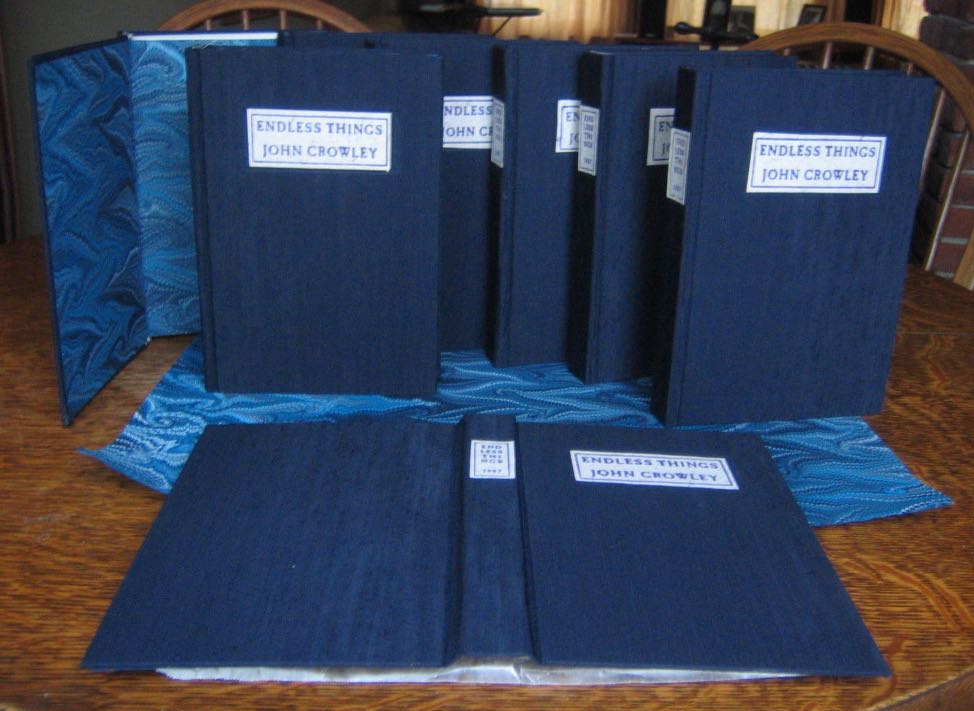 Earlier this week Henry Wessells and wife took the space elevator up to our Independence Day Viewing Platform (best place to watch thousands of firework displays all at once) and showed us a thing of two about publishing books.
Wessells's Temporary Culture puts out some of the most carefully and well-made books that we've seen in recent years—including (pictured) a hand bound edition of John Crowley's Endless Things, which is one of the most beautiful (and surprising) books we own.
Henry's next project is a book of etchings by Judith Clute to go with a poem by Joe Haldeman, "Forever Peace. To Stop War" (first published as " Endangered Species " in Vanishing Acts, edited by Ellen Datlow).
If you're going to Readercon you can see the mock-up Henry knocked us over with. It's just slightly out of our price range but you can acquire one if you get elected to state office in the US or the UK, so quick, go run for office: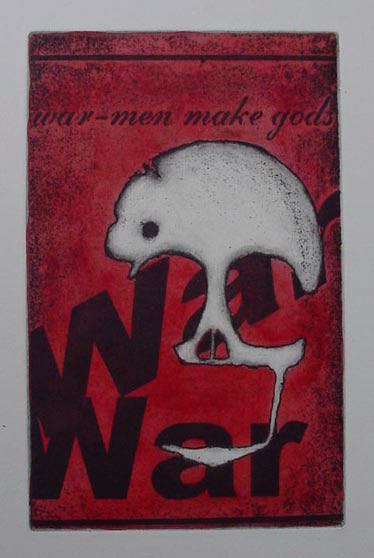 After publication of Forever Peace , a photocopy edition will be distributed to members of the U.S. Senate and House of Representatives and of the House of Commons in London.
Forever Peace. To Stop War
Poem by Joe Haldeman
Nine Etchings by Judith Clute
11 x 14 inches, [4] pp. + 9 original etchings (each signed by the artist).
30 copies on fine paper, letterpress printed by David Wolfe, with aquatint etchings printed by the artist from the original plates (two with added color), numbered & signed by the artist in pencil, hand bound in patterned paper over boards.
Twenty five copies, numbered 1 to 25, signed by the artist and author ; and five copies lettered A – E. The lettered copies are reserved for the artist and author.
An advance copy will be available for preview at Readercon (July 2008).
Please note the above images are reduced in size from the original etchings.
ISBN : 0-976-46604-X / ISBN 13 : 978-0-976-4660-4-8
By subscription only : $1000 (includes shipment).
Inquiries and orders to:
Henry Wessells
P.O. Box 43072, Upper Montclair, NJ 07043-0072 USA
Electronym : [email protected]
Comments