Mon 29 Jun 2015 - Filed under: Not a Journal., LCRW | Leave a Comment | Posted by: Gavin
LCRW is a tiny juggernaut, bouncing over the desert, heading for the dessert line, ready for both stories and readers who don't mind crossing a line or two, refueling souls, brains in jars, and the worldwide weird and great fiction bucket. It is doing very well! The latest issue, #32, is getting strong reviews (Lois Tilton liked most of it on Locus) and if a couple of stories from this issue don't end up in Best American Short Stories or the like, well, I will eat my lunch and maybe someone else's too. Or maybe I will drink it.
I don't know how publishers who put out a monthly magazine do it. We just published #32 and I'm enjoying the reaction and Michael DeLuca has #33 just about ready to go! You can see the full ToC here as well as the Kevin Huizenga cover. It will be going out next month — which of course is a day or two from now.
And: lovely news from Prime Books: two stories from LCRW will be included in Rich Horton's forthcoming The Year's Best Science Fiction & Fantasy 2015:
"The Endless Sink" by Damien Ober (LCRW 30, September, 2014)
"Skull and Hyssop" by Kathleen Jennings (LCRW 31, December 2014)
Get your paper copy here or your electronic copy here — after a little delay to add excerpts from upcoming titles, the ebook edition of LCRW 32 will go out tomorrow!
---
Tue 23 Jun 2015 - Filed under: Not a Journal. | Leave a Comment | Posted by: Gavin
Made this at some point so that I would not site here counting in multiples of 32. Feel free to download if useful.
---
Fri 5 Jun 2015 - Filed under: Not a Journal., humanism, Neko Case | Leave a Comment | Posted by: Gavin
Long, thought-provoking essay by Neko Case on being alive and cursed with self-awareness:
"Who am I to say these things? The jury is still out, but I think the answer is; "A human currently living who possesses the curse of self-awareness". I don't think of myself as a "woman"much, which is the third reason for my reticence on the topic of feminism. Physically, I am a woman, but my gender doesn't dominate my thoughts or passions every waking moment. I feel like I'm a mixture of all kinds of people and sexes we don't even know about yet, and I like it that way. That doesn't mean I don't love to my core the women of this planet. I would defend them to the death. I feel the same about men, and I want all of them to have the freedom to think of themselves in the same way I do; which is, "whatever I feel like". I'm not gonna lie, it's pretty choice. Get ON this dance floor."
---
Tue 2 Jun 2015 - Filed under: Not a Journal., Ayize Jama-Everett, Free books | Leave a Comment | Posted by: Gavin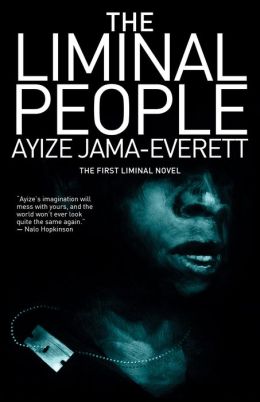 Pre-order The Liminal War by June 12th from this website, we will include a copy of The Liminal People.
Don't miss Ayize Jama-Everett's debut novel: The Liminal People is just $1.99 today only on bn.com. You can start reading it here
The Liminal People is the first of Ayize's amazing "Liminal" novels which posit that there are a limited number of Liminal People on this planet who will be at some point decide and/or defend us against the Alters, who are entropy-beings whose greatest wish is to destroy us all. Reading these books can give you whiplash, the action is so fast. In between the lines — and the superpowered conflicts — these novels have some sharp things to say about contemporary life, race relations, and class in the US, UK, and around the world.
The Liminal People ebook has an excerpt from Ayize's second novel, The Liminal War, which comes out next week. And for a further dose of fun:
---
Fri 29 May 2015 - Filed under: Not a Journal., chocolate is food of the gods so does that mean we're gods no that's silly from any POV never mind the aetheist humanist, LCRW, retirement, subscribe | Leave a Comment | Posted by: Gavin
So this is your chance to subscribe! We have silly options (get a free house in lovely Northampton, Massachusetts with every $1,000,020* ** subscription!) as well as the standard you send us money and we send you mindbending and heartbreaking stories twice or thrice a year. Sometimes, no promises because my memory is a —what's that thing with all the holes in it? Oh, yes, political promises — anyway, sometimes we send out extra things. Things! No wet spaghetti. No huge cardboard boxes hilarious filled with packing material and a tiny zine. No concrete blocks with pretty ribbons tied around them. So many things we don't send! Really, I suppose it is mostly books, postcards, pretty pretty bookmarks and so on and on!
Also, is we get 5,000 new subscriptions I retire! (Wait. 5000 x $19.12 (after Paypal fee) = $95,600. Would I really retire? Would I just take a trip around the world? Or buy 10,000 superfancy bars chocolate and a solar-powered walk-in fridge to keep them in so that post-apocalypse at least I'd have that? Let's see! Ok. Post-apocalypse, subscribers can come by and share the chocolate.)
Subscribe while we still have mugs, chocolate bars (pretty fancy, but not as fancy as in above para), copies of Crank!, signed books, etc., etc., et-fabulousa-cetera.
This post brought to you by LCRW 32 and the letter F for wait, is it Friday? Oh gosh.
* No, our house is not a million dollar house but I don't really want to move, so, you know, there's a small amount of padding in the price to cover that.
** Will Paypal process a million dollar payment? Let's find out together!
---
Tue 19 May 2015 - Filed under: Not a Journal., LCRW | 1 Comment | Posted by: Gavin
And here we go! Coming soon: a new issue of the house zine, commonly known as Lady Churchill's Rosebud Wristlet. Also sometimes subtitled: An Occasional Outburst. This issue contains more than its fair share of fabulous stories, what can you do? It has a cover from Debbie Eylon (which may remind long time readers of a cover from lonnng ago), will be out next month, is titled
and will consist of the following fabulosities:
Fiction
Henry Wessells, "The Beast Unknown to Heraldry"
Alyc Helms, "The Blood Carousel"
Kodiak Julian, "Marrying the Sea"
Joe M. McDermott, "Everything is Haunted"
Henry Lien, "The Shadow You Cast Is Me"
Joanna Ruocco, "Auburn"
Dylan Horrocks, "The Square of Mirrors"
Jade Sylvan, "Sun Circles"
Nonfiction
Nicole Kimberling, "Sleek Fat Albinos in Spring"
About the Authors
Poetry
A. B. Robinson, "Sonnet Crown for Third Officer Ripley"
Gillian Daniels, "The Virgin Regiment"
Cover
Debbie Eylon
---
Tue 19 May 2015 - Filed under: Not a Journal., conventions, Nicole Kornher-Stace | Leave a Comment | Posted by: Gavin
Nicole Kornher-Stace will be in New York City Tomorrow night to read from Archivist Wasp and generally celebrate at the excellent KGB Fantastic Fiction Reading Series. Wesley Chu is also reading.
And then later this week (really? eek!) Nicole will be off to WisCon to do panels and a reading (Sat. 1 pm!) and enjoy the fab city of Madison for the weekend. We're hosting an Archivist Wasp celebration on Friday night somewhere on the party floor of the Concourse Hotel where we will have food of the damned, drinks from the underworld, or at least some local beer. Hope to see you there!
We haven't been at WisCon for years and I'm very much looking forward to some of the things I know and love (political discourse! people talking about books, books, books! the Tiptree Bake Sale! the farmer's market, the dealers room, the restaurants on State St.) and then the things I don't: how it has changed!
Anyway, wherever you are, you can start reading Archivist Wasp here on Tor.com and be ready for what NPR called:
"a jarring yet satisfying reveal, one that fully justifies the obscuring of truth and arrangement of clues that leads up to it. It's also modestly, quietly profound. "We bring our own monsters with us" is a refrain in the book, and as pat as that statement sounds, it's not used glibly. With understated skill, Archivist Wasp twists myth, fantasy and science fiction into a resonant tale of erasure and absence — and an aching reminder that regaining what has been lost isn't always the answer."
---
Fri 8 May 2015 - Filed under: Not a Journal., Ayize Jama-Everett | Leave a Comment | Posted by: Gavin
Yeah! This is why we're publishing two books by Ayize this summer. The first review has come in the The Entropy of Bones and it's a star from Publishers Weekly!
"This spellbinding novel shares a setting—the present day, layered with magic—with Jama-Everett's The Liminal People and The Liminal War, but it stands well on its own. "Normal" is not part of protagonist Chabi's world: she was raised on a houseboat in Sausalito, Calif., and has been mute from birth, but she discovers she can push her mental voice into people's minds. Faced with public school and its hazards, she asks a local martial arts master, Narayana, to teach her to fight. Narayana makes Chabi a weapon: a superhuman bar fighter and brawler. She's able to shatter skeletons with her understanding of the powers of entropy. Chabi uses her deadly skills first to protect a likable trio of marijuana farmers, then as a security guard for an impossibly rich hotel magnate who's as dangerous in his own way as Narayana. Rooted in Chabi's voice, the story is spare, fierce, and rich, and readers will care just as much about the delicate, damaged relationship between Chabi and her mother as the threat of world destruction. (Aug.)"
---
Tue 5 May 2015 - Filed under: Not a Journal. | Leave a Comment | Posted by: Gavin
Although once you've had a chance to read the book, you may wonder how happy Archivist Wasp ever gets! It's not all bleak, but following ghostfinder into the underworld is a pretty dark start. We were very happy, though, when Ysabeau Wilce sent us a note, oh, back in 2012 (that really was a long time ago) about a great book she'd read and would we like to read it? We love Ysabeau's books, so, of course we would. I added it to my ever-taller To Be Read stack and when I got to it, burned through it. When we started Small Beer (and, later, Big Mouth House), did I ever think we'd be publishing science fiction novels like this? Only in my dreams!
Archivist Wasp has reached most stores (find it in one near you) and the early reader reaction has been strong. (Especially the booksellers who picked up galleys at Children's Institute in Pasadena last month, yeah!)
We have a couple of reviews we're looking forward to reading and we also always love to hear from readers. You can jump right in and read an excerpt on Tor.com or if you're lucky you can go hear Nicole read from the book at a couple of readings and we'll have a launch party in a couple of weeks at WisCon!
May 17, 4 p.m. Inquiring Minds Bookstore, 6 Church Street, New Paltz, NY
May 20, 7 p.m. KGB Bar Fantastic Fiction Reading Series, 85 East 4th Street (just off 2nd Ave) New York, NY 10003 [with Wesley Chu]
May 22 – 25, WisCon, Madison, WI
ETA:
FREE BOOK! Signed copy of ARCHIVIST WASP, new today from @smallbeerpress w/star from @KirkusReviews! RT to enter! http://t.co/n37FDBhX94
— Nicole Kornher-Stace (@wirewalking) May 5, 2015
Nicole takes the Pop Quiz at the End of the Universe.
Angela Slatter interviews Nicole Kornher-Stace.
---
Fri 1 May 2015 - Filed under: Not a Journal., Ayize Jama-Everett, Liminals | Leave a Comment | Posted by: Gavin
Everyone take note: this summer we're publishing two novels by Ayize Jama-Everett. They're pure pageturning SF and the proof is here in the first two — stripped to the bone — trade reviews:
Kirkus: scrappy · careen through  · the space-time continuum · frequently outrageous battles · supernatural · survivors · legendary musicians  ·  strange god · nonhuman entities · swiftly, cramming · action-adventure · speed · refreshing · refreshingly · engaging · likable · fast-paced · dangers · survivors · legendary musicians  ·  strange god · nonhuman entities · swiftly, cramming · action-adventure · speed · refreshing · refreshingly · engaging · likable · fast-paced · dangers
Publishers Weekly: raw wattage · lit up · healer/killer · epic · sociopathic · rich, dense ·  blast · pure psychic chaos · "mine by choice" ·  superpowered · stumped · four-billion-year-old vegetable god · cyclonic energy · verbal legerdemain · noir-infused verve
For a taster, you can start reading Ayize's first book The Liminal People here.
---
Mon 20 Apr 2015 - Filed under: Not a Journal., events, Greer Gilman, keep it indie | Leave a Comment | Posted by: Gavin
Tomorrow night, meet at a crossroads on a windy night, the moon in tatters and the mist unclothing stars, and make your way clear to Porter Square Books in Cambridge for Greer Gilman's first reading from the shiny new paperback edition of her Tiptree award winning novel Cloud & Ashes: Three Winter's Tales.
Sonya Taaffe (who re-read Cloud & Ashes with a fabulous eye for detail, thank you!) will also be reading. She is celebrating the publication of her new collection of 36 poems and 1 story, Ghost Signs.
It will be a night of language explored, stretched, and broadened: don't miss it!
Tuesday, April 21, 2015 – 7:00pm
Porter Square Books
25 White St.
Cambridge, MA 02140
When a star falls, we do say: the Nine are weaving. Look!  The Road's their skein, that endlong from the old moon's spindle is unreeled. Their swift's the sky. O look! says Margaret. The children of the house gaze up or glance. The namesakes. Look thou, Will. Look, Whin. They stitch your daddy's coat. The twins, still whirling in the meadow, seem as heedless as the light, as leaves. Now one and now the other one, they tumble down and down the slope, lie breathless in the summer grass. His mantle's of the burning gold, says Whin; and Will, His steed is January. I'm to have his spurs.
Bright-lipped in her bower of meadow, imber-stained, small Annot gazes. She is like bright Annot fled; is like herself. I've counted seven for the Ship. Like cherrystones. I've wished.
What Nine? says Tom.
Why, sisters in a tower—see yon smutch of silver, where it rises? Back of Mally's Thorn?
He studies. Aye. And stars in it. Like kitlins in a basket.
Their house. It is a nursery of worlds.
Is't far? says Annot. Can I walk there?
Not by candlelight, says Margaret. 'Tis outwith all the heavens, sun and moon. I'll show thee in my glass. But she is elsewhere now, remembering the Road beneath her, and the heavens that her glass undid. Remembering the Nine, the sisters at their loom of night.
---
Wed 15 Apr 2015 - Filed under: Not a Journal. | Leave a Comment | Posted by: Gavin
But coming home to the countries of the West, where nobody dies for a moment's lapse in fealty to a prime minister or a president, it can be depressing beyond words to hear the loyalists of a given political creed — whether of the left or the right — adopt the unyielding certainties common in totalitarian states. Our rights to think and speak freely have been won at great cost, and we abuse them at our peril.
John F. Burns, "The Things I Carried Back," New York Times
---
Wed 1 Apr 2015 - Filed under: Not a Journal., Alan DeNiro, Amalia Gladhart, conferences, Kelly Link, parties, readings | Leave a Comment | Posted by: Gavin
In less a week or so we will be in the Twin Cities (where our distro, Consortium is based, woohoo!) at the AWP Conference and Bookfair. To celebrate 1 million poets, writers, editors, publishers, readers, teachers, students, preachers, itinerant educators and professional argumentors getting together we are hosting a party with a few readings in it. Here are the salient details!
When: Thursday, April 9, 7 -9 pm
Where: Peterson Milla Hooks, 1315 Harmon Pl, Minneapolis, MN 55403 (4 minutes by car from l'hotel, says Google Maps)
What: Party — with short readings from . . .
Who:
Amalia Gladhart (translator of Angélica Gorodischer's Trafalgar)
Alan DeNiro (Tyrannia)
Kelly Link (Get in Trouble)
We'll also have a table in the Bookfair, #324, and will be there be most of the time (multiple snack breaks will be taken) while the Bookfair is open:
4/9     Thu. 9 am – 5 pm
4/10   Fri. 9 am – 5 pm
4/11    Sat. 9 am – 5 pm
and at said table on Friday morning we are very happy to announce that we will have those lovely writers in for signings!
Friday, April 10, 30-minute signings:
10 am  Kelly Link
10:30 am  Amalia Gladhart
11 am  Alan DeNiro
This post will be updated with panel info and anything else that seems appropriate. Can't wait to be standing there in the bookroom with 1000 (sounds about right, yes?) other indie presses. I am going to go and buy me some books, chapbooks, and journals. And maybe a T-shirt if I am lucky. Whomsoever brings the pink T-shirt, I am your buyer!
---
Tue 31 Mar 2015 - Filed under: Not a Journal., Marina and the Diamonds, Pop, YouTube | Leave a Comment | Posted by: Gavin
Dropping this here in case you want some big dancy music — and some quiet stuff, too ("I go home and lock the doors, and I hear the sirens . . . I'm in love with the ice-blue, gray skies of England. And I'll admit all I want to do, is get drunk and silent") and what's spending about 50% of the time on all the virtual turntables around here:
---
Sat 28 Mar 2015 - Filed under: Not a Journal., Freebies, Nicole Kornher-Stace | Leave a Comment | Posted by: Gavin
This post has been automagically set to go up on a Saturday while I am not online, woohoo! (US/Canada only, sorry: see USPS mailing costs!)
---
Thu 26 Mar 2015 - Filed under: Not a Journal., Big Mouth House, Delia Sherman, international editions | Leave a Comment | Posted by: Gavin
So pretty! Very glad this book will be find a readership in the UK thanks to Corsair!
---
Thu 12 Mar 2015 - Filed under: Not a Journal., Nicole Kornher-Stace | Leave a Comment | Posted by: Gavin
We just added Nicole Kornher-Stace's forthcoming young adult science fiction novel Archivist Wasp to Edelweiss for booksellers, librarians, & reviewers of all persuasions.
Request copies here!
I love the simplicity of Edelweiss so much that I even did a panel on it once. I used to love Goodreads, but once Am*zon bought them I decided I didn't want them to know that much about me — ok, all my reviews and so on are archived in their huge databases somewhere, but I wanted that slice of data to stop dead right around that point. But I have no particular dislike of social media, hello Twitter and Tumblr!, and given that I was on Facebook (another account I've since deleted!) I just opened another Goodreads account. This one I'm not going to list anything but Small Beer Press books, books by or edited by me and/or Kelly but I will be able to use it to do giveaways, so, yay for that. Check out my new profile (I officially have nae pals!) with a picture by Greg Frost of Tiny Me at Swarthmore College here.
But, anyway, this is really about Archivist Wasp. If you're a bookseller, you might have gotten a copy in the mail and if not, there will be copies at the ABA's Children's Institute next month in Pasadena.
Wait, Pasadena? I lived for a short time in South Pasadena in a tiny apartment with a Murphy bed (loved it!) and worked at the Rizzoli bookshop (now RIP, I think) in Pasadena. Now and then we'd have "lunch" at the Gordon Biersch brewery across the way and when the World Cup was on in 1994 the Italian owners came over to see Italy play in the final. We all felt very bad the next day that we'd been dancing in the streets with all the celebrating Brazilian fans. Oh well. Before that I worked at an Italian restaurant making salads. If you ate a not-very-well put together salad in Pasadena in the early nineties, I apologize.
So anyway. I cannot keep it on track today. If you do go to Pasadena, hope you get a good salad and a copy of Archivist Wasp from the fine folks at the Consortium booth.
---
Tue 3 Mar 2015 - Filed under: Not a Journal., Castles in Spain, Emily Houk, Family Arcana, indiegogo, Jedediah Berry, kickstarter, Sue Burke | Leave a Comment | Posted by: Gavin
Quick mention for two crowdfunding things that are live right now. (We should have one of these some day for The Chemical Wedding!)
Sue Burke, whose translation of Prodigies (Angélica Gorodischer's favorite of her own novels!) we will publish in August, is one of the people behind a current Indiegogo campaign, Castles in Spain, an anthology of translated Spanish science fiction, fantasy, and horror stories. I've been enjoying the Updates and today's update says the book is definitely on, so yay!
And Jedediah Berry and Emily Houk's new Ninepin Press card/story/hybrid/mash up/fascinating Family Arcana Kickstarter is, wait for it — wait, for my bad joke to make sense I have to say something about how packs of playing cards usually come in boxes and this project is all about thinking outside of said box. Fortunately for all concerned I have nothing to do with the project, I'm just a backer, woohoo! Some stretch goals have already been reached including one in which Kelly is one of the writers who'll be writing a horoscope for all backers:
pledging at the $12 level or higher will receive our first bonus card pack: horoscopes written by twelve excellent writers. Details here.
I love the video:

---
Mon 2 Mar 2015 - Filed under: Not a Journal., Lydia Millet, Ray Vukcevich, translations | Leave a Comment | Posted by: Gavin
These two lovely books arrived in the office last week courtesy of Ithaki —who just published the Turkish edition of Lydia Millet's The Fires Beneath the Sea (the first book in her Dissenters series. I'll have an update on that later this spring) — and Tokyo Sogensha who are publishing the Japanese edition of one of our first titles, Ray Vukcevich's mindboggling collection Meet Me in the Moon Room. So great to know these books are out there finding new readers around the world.
---
Fri 27 Feb 2015 - Filed under: Not a Journal., Benjamin Parzybok | Leave a Comment | Posted by: Gavin
The Rumpus just posted a great longish interview with Benjamin Parzybok about his somewhat scarily possible novel Sherwood Nation. Ben is someone who sees a problem and does something, whether that's write a novel or run a poetry magazine in gumball machines or to tell the story of a Guantanamo Bay prisoner from the first person (Project Hamad). David Breithaupt at The Rumpus asked Ben about his activism, our place in the world, and more:
The Rumpus: I don't understand the denial of climate change. Sherwood Nation depicts a type of class war over the unequal distribution of water rations. Do you think this is happening now with climate denial, that the wealthy are in battle with the other ninety-nine percent?
Parzybok: I certainly think there's a war going on between the self-interested, self-serving body that is the corporation, and humans. At this point in our democracy, that's the primary struggle we're facing: whether corporate or constituent interests will win out. Weirdly, corporations are staffed by people, presumably, and so you'd expect they'd have some sway. But a corporation has a mind of its own, and corporate goals do not line up at all with potential longer-term goals of our species (these goals might be difficult to agree on, but surely opportunities for cataclysm might be among them). I do wish every CEO (most of whom are among the one percent) would sit down and re-evaluate his or her corporation's goals based on long-term interests for living here on this planet.
---
Wed 25 Feb 2015 - Filed under: Not a Journal., events, Greer Gilman, Sonya Taaffe | Leave a Comment | Posted by: Gavin
I'm pleased to note that the first paperback edition of Greer Gilman's amazing, immersive, enchanting, mind boggling, fever-inducing, death-defying literary tightrope walk, Tiptree Award winner Cloud & Ashes: Three Winter's Tales has gone to press and will be published in April of this year.
Greer will be reading and taking questions at the mighty Porter Square Books on April 21st at 7 pm along with one of her amazing first readers, Sonya Taaffe, who will be celebrating the publication of her own latest book, Ghost Signs, a collection of 36 poems and one story, published by our friends at Aqueduct Press.
Should you read Cloud & Ashes? Here is one reader's response:
"Cloud & Ashes is not a book for every reader; but it is a book for every human. (It's also a book for every library that desires to be worthy of that appellation.) There might seem to be a contradiction in those words, and there might well be, were every human to read. But to my, mind reading is an effort that exists outside its own exercise; that is when we read, it may feel like an internal, unshared, indeed unsharable experience. But that is not, I think the case. When we read, we go to the place where writing comes from, and in so doing, I think we leave something of ourselves behind as readers. Greer Gilman found whatever it is that is left behind, she has captured it in her net of words and managed to write it down and get it published. That is a herculean feat. It may only happen once in her lifetime or in ours. But it's happened here and now. What you do with it is up to you. For eternity, as it happens."
—Rick Kleffel
---
Wed 18 Feb 2015 - Filed under: Not a Journal., Ayize Jama-Everett, bookshops, keep it indie, libraries | Leave a Comment | Posted by: Gavin
This Saturday in LA at the Southern California Independent Booksellers Association Children's Literacy Day we are very happy to note that Ayize Jama-Everett (The Entropy of Bones, Aug. 2015) will be a panelist on the We Need Diverse Books panel, along with Newbery Award winner Cynthia Kadohata (Kira-Kira) and Sherri Smith (author of the fabulous and weird Orleans). The moderator is debut novelist Stacey Lee (Under a Painted Sky).
Even better news: Fedex is right now delivering advance reading copies of The Entropy of Bones for attendees. Ayize's novels are pretty fast-paced sf thrillers and this one kicks off hard with a young woman out for a run in the Northern California hills getting the drop on some people who expected to surprise her.
Here's a taste:
Chapter One
Last time I'd been this deep in the Northern California hills I was a blood and bar tour in a monkey-shit brown Cutlass Royale with the Raj. Now I was on distance running from the Mansai, his boat, to wherever I would finally get tired. From Sausalito to Napa is only sixty or so miles if I hugged the San Pablo Bay, cut through the National Park and ran parallel to the 121, straight north. About a half a day's run. Cut through the mountains and pick up the pace and I could make it to Calistoga in another three hours. From downtown wine country I'd find the nicest restaurant that would serve my sweaty gortexed ass and gorge myself on meals so large cooks would weep. The runs up were like moving landscape paintings done by masters; deep with nimbus clouds hiding in craggy sky-high mountains. Creeks hidden in deep green fern and ivies that spoke more than they ran.
Narayana Raj had taught me in the samurai style. You don't focus on your enemy's weakness, instead you make yourself invulnerable. My focus was to be internal. In combat discipline was all. But in the running of tens of miles, that discipline was frivolous. My only enemy was boredom and memory. Surrounded by such beauty, how could I not split my attention? Nestled in the California valleys I found quiet, if not peace.
I also found guns. Halfway between Napa and Calistoga, the chambering of a shotgun pulled my attention from the drum and bass dirge pulsing in my ear buds. The woods had just gone dark but my vision was clear enough to notice the discarded cigarette butts that formed a semi-circle behind one knotted Redwood. Rather than slowing down, I sped up and choke-held the red headed shotgun boy hiding behind the tree before he had time to situate himself, my ulna against his larynx, my palm against his carotid. He was muscular but untrained . Directly across from him was an older man, late thirties, dressed for warmth with one of those down jackets that barely made a sound when he moved. His almost fu-manchu moustache didn't twitch when he pulled two Berettas on me. I faced my captive towards his partner.
"Wait . . ." Berettas said, more scared than he meant to sound.
Drop them. I commanded with my Voice. The gun went down hard. I used the Dragon claw, more a nerve slap than a punch, to turn the redhead's carotid artery into a vein for a second. When he started seizing, I dropped him. To his credit, Beretta went for the kid rather than his weapons. I continued my run, mad that I'd missed a refrain from Kruder and Dorfmeister.
. . .
---
Wed 18 Feb 2015 - Filed under: Not a Journal., Nicole Kornher-Stace | Leave a Comment | Posted by: Gavin
ETA: Another great response!
"Archivist Wasp turns destiny on its head, and it re-invents the world you know to do it. Strong. Fast. Addictive." — Darin Bradley, author of Noise and Chimpanzee
The drums keep beating for Nicole Kornher-Stace's Archivist Wasp. It's her first young adult novel, it comes out in May, and this week we had two pieces of good news:
First, an excellent response from an early reader:
"Sharp as a blade and mythically resonant, Archivist Wasp is a post-apocalyptic ghost story unlike anything else I've read. Trust me, you want this book." — Karina Sumner-Smith, author of Radiant
And, second, the first trade review came in and it's a STAR! Here's a line from it, please do go read the rest of the review and if you feel like it, clickity click one of those sharey buttons:
"A ravishing, profane, and bittersweet post-apocalyptic bildungsroman transcends genre into myth."
— Kirkus Reviews
---
Fri 13 Feb 2015 - Filed under: Not a Journal., Alice Sola Kim, Delia Sherman, Eileen Gunn, Holly Black, Kelly Link, Locus, Monstrous Affections, Nalo Hopkinson, Ysabeau S. Wilce | Leave a Comment | Posted by: Gavin
This month's issue of Locus (handily available on Weightless) is a humdinger of a read — not just for this here publisher, although our books do get many great shout outs. For which, Yay!
I always find the year in review columns interesting to see the range of books covered, what I've read, and what I've missed. This year I thought they were even more enjoyable than ever because they were even more personalized than ever. There is still the authoritative Recommended Reading List, but there are so many books and magazines mentioned and highlighted throughout the whole issue (ok, I haven't read the whole thing yet) that I found it made for immersive reading. I love how widely the editors look for books and how fresh their eyes are. It's easy to get tired of the unending stream of books, magazines, anthologies, ebooks, audiobooks, podcasts, etc., but what I got from this issue was that it was put together by a group of people who are enthusiastic about books and their jobs and are happy to share their enjoyment.
This year three of our 2014 books and one story from LCRW were included in the list. (We published 3 new collections and 1 new novel, and reprinted 2 novels and 4 ebooks to make a total of 10 books, plus 1 chapbook and 2 issues of LCRW):
Questionable Practices, Eileen Gunn
Young Woman in a Garden, Delia Sherman
Prophecies, Libels, and Dreams: Stories of Califa, Ysabeau S. Wilce
"Skull and Hyssop", Kathleen Jennings (Lady Churchill's Rosebud Wristlet no. 31, Dec. 2014)
I'm very happy to see that Monstrous Affections, the YA all-monster-all-the-time anthology that Kelly and I edited for Candlewick was on the list, received some fabulous mentions, and had 5 stories included. Me, I'd have included all 15 stories, but, hey, I co-edited the beast:
Monstrous Affections, Kelly Link & Gavin J. Grant, ed (Candlewick)
"Moriabe's Children", Paolo Bacigalupi
"Left Foot, Right", Nalo Hopkinson
"Ten Rules for Being an Intergalactic Smuggler (the Successful Kind)", Holly Black
"Mothers, Lock Up Your Daughters Because They Are Terrifying", Alice Sola Kim
"The New Boyfriend", Kelly Link
And it is also pretty fabby to see Kelly's three stories included, one from Monstrous Affections and one story from the anthology My True Love Gave to Me which is not included in her new collection, Get in Trouble (also reviewed in this issue by Gary K. Wolfe):
"I Can See Right Through You", Kelly Link (McSweeney's #48)
"The Lady and the Fox", Kelly Link (My True Love Gave to Me)
Happily for us, there were also a couple of reviews of our books. Gardner Dozois reviewed Ysabeau S. Wilce's Prophecies, Libels, and Dreams:
. . . lyrical, whimsical, eccentric, baroquely ornamented, and often very funny. . . . but what really makes these stories shine is the voice they're told in – one using flamboyant, over-the-top verbal pyrotechnics that somehow almost always pay off. . . .
and Eileen Gunn's Questionable Practices:
Nobody sees the world quite like Gunn does, who puts her own unique spin on everything, transforming even the mundane into something rich and wonderful . . . [including] two stories published in this collection for the first time, "Phantom Pain" and the richly textured variant on the Golem story, "Chop Wood, Carry Water".
and even a review of Monstrous Affections by Rich Horton.
And, if you do go check out the Recommended Reading list, don't forget you too can go vote in the poll. I like voting in almost any context so of course I recommend it here. In the meantime, thanks to Locus for all the work that goes into that corker of a February issue and to everyone who reads and votes for our books.
---