Mon 18 Jul 2016 - Filed under: Not a Journal., summer | Leave a Comment | Posted by: Gavin
To everyone for ordering books and meaning that among the many bills I can pay there is the important summer one of AIR CONDITIONING! If/when the apocalypse comes, I will swap books for canisters of compressed cold air. (That's today's postapocalyptic biz idea. Go wild. Or Wilde.)
---
Fri 15 Jul 2016 - Filed under: Not a Journal., Juan Martinez | Leave a Comment | Posted by: Gavin
Who? Juan Martinez.
What? Best Worst American
When? Next year. When we're all calmer, smarter.
In the meantime, one reader says:
"I feel sure that some smart and appreciative person will praise Juan Martinez for his 'skewed vision,' but Martinez's view of the world is startlingly clear. It's just that the rest of us haven't caught up yet. Deep and comic and deeply comic, his is a collection of wonders for any human to enjoy."
—Jack Pendarvis
Read one of the stories on Conjunctions: "The Coca-Cola Executive in the Zapatoca Outhouse."
Juan (unlike us) is on Instagram:
---
Thu 7 Jul 2016 - Filed under: Not a Journal., Juan Martinez | Leave a Comment | Posted by: Gavin
Not worst. There are so many ways we could talk about the title of Juan Martinez's first collection — Best Worst American — coming next February. So many ways we could contribute to the current political conversation. Is it a conversation? Is anyone listening? Or is it just shouting. Not sure.Gliding on by all that for the moment (vote, y'all), here's one early reader's reaction to the book:
"Juan Martinez's Best Worst American is filled with droll, cunning, funny, and formally innovative stories that fall somewhere between stand-up comedy and literary fiction. These excellent works mark him as a writer both to read and watch." — Tom Bissell
More on the book TK as reaction filters in. There are many, many excellent short stories in it. You can read one here, "Strangers on Vacation: Snapshots" on McSweeney's. I think you will enjoy the book.
Also, Juan (unlike us) is on Instagram:
---
Fri 1 Jul 2016 - Filed under: Not a Journal., Benjamin Rosenbaum, Bully Pulpit Games, Fiasco, Kelly Link | Leave a Comment | Posted by: Gavin
I'm very excited to announce a completely new thing today: the Stranger Things Happen + Fiasco Bundle!
A couple of years ago Benjamin Rosenbaum proposed a Fiasco playset based on Kelly's collection Stranger Things Happen. Fiasco is a storytelling game where players make up and tell each other stories with different playsets that allow them to bring in different elements, tropes, and tones to the stories. Ben wrote the playset and Steve Segedy of Bully Pulpit Games put the bundle together.
The bundle is $14 and exclusively available on Weightless Books and on the DriveThruRPG site, and comprises full sets of digital files (epubs, mobis, pdfs) of:
Get the Bundle.
About Fiasco

"Fiasco is one of the greatest storytelling RPGs I've ever played. I highly recommend it."
— Wil Wheaton
About Stranger Things Happen

Stories from Stranger Things Happen have won the Nebula, Tiptree, and World Fantasy Award. Stranger Things Happen was a Salon Book of the Year, one of the Village Voice's 25 Favorite Books of 2001, and was nominated for the Firecracker Alternative Book Award.
"Pity the poor librarians who have to slap a sticker on Kelly Link's genre-bending, mind-blowing masterpiece of the imagination, Stranger Things Happen."—Karen Russell, author of Swamplandia, for NPR's You Must Read This
"My favorite fantasy writer, Miss Kelly Link."
—Alan Cheuse, NPR, All Things Considered
About The Ant King and Other Stories
* "Give him some prizes, like, perhaps, "best first collection" for this book."
—Booklist (Starred review)
"A terrific range of tales, showcasing an active, playful mind and a gleeful genre-blender."
—Aimee Bender
"Ben Rosenbaum is one of the freshest and finest voices to appear in science fiction in many years. The stories collected in The Ant King demonstrate his astonishing versatility, his marvelous imagination, and his ready wit."
—Jack Womack
---
Tue 21 Jun 2016 - Filed under: Not a Journal., John Crowley, Ursula K. Le Guin | Leave a Comment | Posted by: Gavin
In between the things I'm not doing here is something good about a book coming sooner than soon! (This is not Jeff Ford's book which comes out next month!)
Words Are My Matter is in the top 10 of the Publishers Weekly Fall 2016 Adult Announcements: Essays & Literary Criticism. Yay!
---
Tue 14 Jun 2016 - Filed under: Not a Journal., Ted Chiang | 3 Comments | Posted by: Gavin
Today is publication day for the latest edition of Ted Chiang's first and — until at least next year — only collection of short fiction: Stories of Your Life and Others — the title story of which is being made into a movie I'm very much looking forward to seeing starring Amy Adams, Jeremy Renner, and Forest Whitaker.
Ted has won just about every award going for his incredibly compassionate stories of us poor humans and our interactions with our own technologies. Amazingly, for someone who is obviously brilliant and widely recognized for it, he is also one of the nicest people I've ever met.
Stories of Your Life was first published by Tor in 2002 and was reprinted by Small Beer in 2010. Last year Penguin Random House bought the rights from us as part of a larger deal that included Ted's next as-yet-untitled collection — which perhaps is burying the lede if you hadn't heard that part. Can't wait to read that book when it comes!
In the meantime, congratulations to Ted and a hat tip of respect to everyone at PRH who bought the books and at Vintage where they must be celebrating having this book as part of their list.
---
Fri 10 Jun 2016 - Filed under: Not a Journal., Free books, Jeffrey Ford | 3 Comments | Posted by: Gavin
You have one week to enter to win a free copy of Jeffrey Ford's mind melting A Natural History of Hell: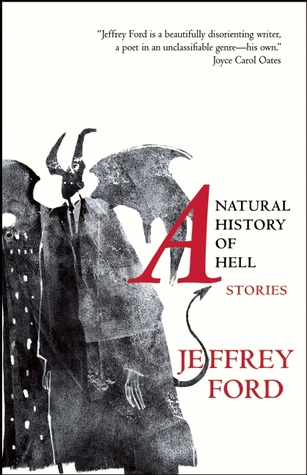 ---
Tue 7 Jun 2016 - Filed under: Not a Journal., ebooks, Humble Bundle | 1 Comment | Posted by: Gavin
At 2 pm EST tomorrow the Intoxicating Extraordinary Small Beer Press Humble Bundle will expire and with it the chance to pay what you want for so many of our books will be gone, gone, gone.
We don't do ebook sales very often but this one has a huge direct benefit to the authors, the press, and organizations we love: Worldreader and Franciscan Children's who can be added under the Choose Your Own Charity:
---
Fri 3 Jun 2016 - Filed under: Not a Journal., John Crowley, kickstarter | Leave a Comment | Posted by: Gavin
25 days ago we launched our Kickstarter and in about 3 short hours it will be done. It's been interesting to see the last minute changes a lot of backers are doing. One person will switch to a different reward, freeing up one of the limited rewards and boom, 2 minutes later, that one's taken again. Fun also to see how many people are ordering two, three, or five copies.
Today to celebrate, after picking up the kid — who, happily, has of course no idea about any of this — I am going to the Florence Pie Bar and Evolution Cafe to get some desserts. May have to stop at the beer store, too. Then we will head off up into the hills to try and find John Crowley and celebrate the forthcomingness of the hardcover edition!
---
Wed 25 May 2016 - Filed under: Not a Journal. | 2 Comments | Posted by: Gavin
The Storybundle: 8 short story collections including Karen Joy Fowler's What I Didn't See and Elizabeth Hand's Errantry.
The Chemical Wedding Kickstarter!
At 2 pm EST . . . And please consider adding Franciscan Children's under the Choose Your Own Charity, we thank you very much!
---
Tue 24 May 2016 - Filed under: Not a Journal., Cons, Sofia Samatar | Leave a Comment | Posted by: Gavin
I was very happy to see The Winged Histories receive its second starred review, this one from Publishers Weekly. Here's a snippet:
"Perpetually and pleasantly startling and unexpected. Her prose is by turns sharp and sumptuous, and always perfectly controlled. Samatar's writing strongly recalls Guy Gavriel Kay's fantasy, which reads like historical fiction, but there are strains here too of Jane Austen and something wilder."
(BTW, we have signed copies from AWP if you'd like one.)
The timing of this review is fortuitous as this coming weekend Sofia is one of the three guests of honor at WisCon 40. I don't know which Wiscon was my first — I think I will ask Kelly who has a better memory and will confirm that, no, I was not at the first one despite being the average seven year old reader of all things who would have enjoyed it. But I have many happy memories from going to many of them over the years, and a few crap memories, too, but c'est la vie, yes? The harassment policies are stronger now and I am more likely to speak up for myself in a way I did not in the past. Ach, youth. I wonder if in 20 years time I will look back at me now and still say, Ach, youth? (Hey, if the world has not flooded by then, sure.)
One of the things I have long loved about WisCon is the self selection of the attendees. Pretty much anyone who wanders into a convention tagged feminist science fiction has done some serious thinking about the state of the world — and whether we agreed or not, I've been to many panels (and parties, and conversations sitting on the floor of the hallway) where the conversations about where humanity is and where it is going are second to none.
I also love the speeches (wow!), the consuite (who knows when a snack is needed?), the Tiptree dessert sale (best reason ever to eat a plate or two of desserts), the opening night at Room of One's Own, State Street restaurants, the art show and the auction — I have a few things from the auction that are still prize possessions. And of course, I love the book room, but, hey, that would not be a surprise. There are so many good publishers and bookstores. For the past half dozen years our friend David Schwartz has run the Small Beer tables, and he's at it again this year. If you're there, say hi. Hi, Dave!
I am sorry to miss it this year. Maybe next? I had a great time last year — although I ran a lackluster party which did not hold a candle to previous parties, sorry attendees! Sometimes the energy is there, sometimes you flip the switch and nothing happens. Eek. Besides, this decade the Floomp is the one and only place to be. How do I know? I saw photos from last year while I was babysitting. (The childcare at WisCon is topnotch and much appreciated.)
I will miss friends, strangers, seeing Sofia and Nalo feted, wandering around the farmer's market, escaping to Michelangelo's and attending a reading there anyway, and so many more things. It will be a fun, fast weekend, filled with the possibilities of bending the future into better shape and I hope everyone there has a grand time.
---
Mon 23 May 2016 - Filed under: Not a Journal., Jedediah Berry, John Crowley, kickstarter, Podcastery, small beer podcast, The Chemical Wedding | Leave a Comment | Posted by: Gavin
Episode 22: In which Jedediah Berry and John Crowley discuss John's new edition of The Chemical Wedding by Christian Rosencreutz: A Romance in Eight Days by Johann Valentin Andreae. The book is illustrated throughout by carpentrix-artist  Theo Fadel, and designed by Jacob McMurray.
Subscribe to the Small Beer podcast using  iTunes or the service of your choice:
---
Mon 23 May 2016 - Filed under: Not a Journal., Elizabeth Hand, Karen Joy Fowler | Comments Off on Storybundle! | Posted by: intern
The Story Collection Storybundle is live May 11 through June 2. There are 8 DRM-free short story collection ebooks including three exclusive to this bundle. Check them out:
What I Didn't See: Stories by Karen Joy Fowler
The collection won the World Fantasy Award and the title story won the Nebula. Fowler is the author of The Jane Austen Book Club, a New York Times Bestseller made into a film, and won the 2013 PEN/Faulkner for We are all completely beside ourselves.
The Green Leopard Plague and Other Stories by Walter Jon Williams
Two stories in this collection won the Nebula Award. Williams was a Philip K Dick Award Finalist and placed numerous times for the Nebula and Hugo Awards.
Strange Ladies: 7 Stories by Lisa Mason
The collection received five stars from the San Francisco Review of Books. Mason's books have been finalists for the Philip K Dick Award Finalist and New York Times Notable Books. Her OMNI story, "Tomorrow's Child," sold outright to Universal Studios.
Collected Stories by Lewis Shiner
The collection is an ebook exclusive for Storybundle! It includes forty-one stories, and has an Introduction by Karen Joy Fowler. Shiner's work has been a finalist for the Philip K Dick Award, the Hugo Award, and the Nebula Award.
Wild Things by C. C. Finlay
The collection is a second ebook exclusive for Storybundle and has a new Afterword. A multi-award-nominated author, Finlay is the editor of The Magazine of Fantasy and Science Fiction.
Errantry: Strange Stories by Elizabeth Hand
Hand has won the World Fantasy Award four times, the Nebula twice, the Shirley Jackson twice, and the Mythopoetic Award. Her books have been both New York Times and Washington Post Notable Books.
Women Up to No Good by Pat Murphy
Two stories in the collection were nominated for the Nebula. Murphy won the Nebula twice, the World Fantasy, and the Philip K Dick Award.
6 Stories by Kathe Koja
A third Storybundle exclusive collection! Koja, author of Skin and Under the Poppy, won the Bram Stoker Award and was a Philip K Dick Award Finalist.
Pay what you want for three books; pay more than $12 ($23? $42? $1,099?) and get all 8 — plus donate a percentage to the Science Fiction Writers of America.
The Story Collection Storybundle will run only from May 11 through June 2, 2016. When it's gone, it's gone!
---
Wed 18 May 2016 - Filed under: Not a Journal., Ayize Jama-Everett, Elizabeth Hand, Lydia Millet, Sofia Samatar | Leave a Comment | Posted by: Gavin
One of these days I will sit back with a huge bowl of popcorn, a beer, and a huge grin and watch the premiere of Ayize Jama-Everett's Liminal books on TV or at the movies. No solid news yet, but one day it will come and I will be bouncing up and down about it. In the meantime listen to Lilliam Rivera's interview with Ayize — and the great music — on Radio Sombra.
Ayize read part of his final Liminal novel at the AWP conference in LA last month and he sang part of the song "Notorious" — which is on the episode by Turbulence but Ayize also mentions the version by Nãnci and Phoebe, listen to that one here — I love Nãnci and Phoebe's Cypher Cycles song, too: they're outside, it's cold, people are going by, no matter, the singing and beatboxing is great.

A little international news: the French translation of A Stranger in Olondria has been nominated for the Prix Imaginales. Fingers crossed we will have more international news on Sofia's books soon, too.
And a couple of fave author have new novels coming out:
Lydia Millet, whose final novel in her Dissenters series we will publish early in 2017, has a new novel Sweet Lamb of Heaven, which the New York Times and everyone loves.
And Elizabeth Hand has a new novel, Hard Light, out which continues the story (begun in Generation Loss) of Cass Neary. Here's Megan Abbot on it:
"Nerve-jangling and addictive, Elizabeth Hand's Hard Light offers up a signature Cass Neary tale of moral ambivalence, keen betrayal and a dark lushness that leaps off the page. And with Cass―relentless in her dangerous curiosity, her ruthless art of survival―Hand has created an anti-hero for the ages. We'd follow her anywhere, into any glittery abyss, and do."
and a trailer:
HARD LIGHT by Elizabeth Hand/Book Trailer from Phish Chiang on Vimeo.
---
Tue 10 May 2016 - Filed under: Not a Journal., John Crowley, kickstarter | Leave a Comment | Posted by: Gavin
Wow, what a day!
It was just before Easter Sunday, and I was sitting at my table. I'd said my prayers, talking a long time as usual with my Maker and thinking about some of the great mysteries the Father of Lights had revealed to me. Now I was ready to make and to bake –
Instead of "a small, perfect unleavened wafer" as Christian Rosencreutz was going to do before someone tapped him on the shoulder, I baked some banana chocolate chip muffins. (Reviews at breakfast this morning were uniformly strong.) Nearly a hundred backers stepped up and backed the book and overnight backers kept appearing. Now the Kickstarter has broken $10,000, 1/5 of the way to making this book happen.
Besides "The First Day" — the Kickstarter Exclusive Hardcover — and a couple of the limited editions, these rewards have proven popular:
The First Day plus: MFB Cards, the book plus a limited edition set of Magic for Beginners Playing Cards with illustrations by Shelley Jackson
The First Day plus: LCRW ebooks — the book plus 22 LCRW DRM-free ebooks in the format of your choice: pdf, epub, or mobi
The First Day plus: Endless Things — the book plus a first edition hardcover of Crowley's Endless Things, signed with personal inscription by author.
We added a few more of each, although with some of the rewards (T-shirts, limited edition books), once they're gone, they're gone.
In between there were other things to do, kid had to be gotten from school, meals eaten — although I worked through a scheduled lunch with a friend, sorry Julie!, so rearranged it for today. Today there were other things, always things, and soon the kid will be out of school again and then there's an appointment later. Hmm!
Thank you if you've backed it. If not: I hope you'll consider it or spread the word. We have some nice bonuses planned!
---
Mon 9 May 2016 - Filed under: Not a Journal., John Crowley, kickstarter | Leave a Comment | Posted by: Gavin
Here we go!
You may or may not know that for a while we've been working on publishing a fabulous edition of a book originally published in 1616: THE CHEMICAL WEDDING by CHRISTIAN ROSENCREUTZ, A Romance in Eight Days By Johann Valentin Andreae in a new version by John Crowley.
The important news is that you can now order the hardcover on
There are many reward levels available — some expensive, some not, some goofy, some unique. What you most need to know is: we're offering The Chemical Wedding in four states: an ebook, and three hardcover editions — the only hardcover editions of this book that we will ever produce. For ease of finding, the reward levels are titled The First Day, The Second Day, and The Third Day. All the hardcover editions come with the DRM-free ebook edition.
Whether you choose to back the project or not, please help share the news of the launch and help make this idea of a beautiful book a reality. If there's anything we can send along that might help with that, please drop me a line.
Click the image below to see a full size version of Jacob McMurray's case design:
And here is our Kickstarter video, made by Jedediah Berry:
---
Fri 6 May 2016 - Filed under: Not a Journal., Jeffrey Ford | Leave a Comment | Posted by: Gavin
"Jeffrey Ford can pull off any kind of story he damn well pleases. I was sure of that before I even reached the end of this excellent collection. By the end he'd accomplished more than I would've imagined possible. A Brief History of Hell offers genuinely disturbing moments but it also veers into high comedy. There's bits of myth and history, heartbreak and profound insights. I've been a fan of Ford's for years. Every new book he publishes is a reason to celebrate."
— Victor LaValle, author of The Ballad of Black Tom
---
Thu 5 May 2016 - Filed under: Not a Journal., Lydia Millet | Leave a Comment | Posted by: Gavin
Did you read Laura Lippman's review in the The New York Times Book Review of Lydia Millet's new novel Sweet Lamb of Heaven?
It is Anna's voice — cool, intelligent, passionate, contradictory — that makes this novel so affecting. I resisted it initially because I was overwhelmed by my sense of dislocation, my uncertainty about where we were headed. But how I missed it when it was gone, how I yearned for it to speak to me again.
Every one of Lydia's books fascinates in a different way. I can't wait to read this one. A sense of dislocation? Are you a human living on this planet? Check. (I realize that not everyone here will check that box.)
All of which to say we've been working with Lydia on The Bodies of the Ancients, the third and final novel of her Dissenters series (following The Fires Beneath the Sea and The Shimmers in The Night), and I'm happy to tell you it is about ready to go. We have the (matching!) cover in from Sharon McGill and it is off to the proofreader soon.
Have you ever wondered how sometimes it comes down to some kids against the big baddie? The Sykes kids — Cara and her two brothers, Max, older and only half present at best, and Jax, younger and maybe many kinds of genius — think about that all the time. But their Mom, who ahs many surprises of her own, is back home and she's going to lay out what's happening and why. If she has time before it all goes wrong.
Here's the start:
It was June again on Cape Cod and the summer crowds were trickling back in. The beaches wouldn't be mobbed till July, but families from Boston were already starting to flock to the roadside seafood restaurants. From behind the smudged and scratched-up pane of the school-bus window, Jax gazed at them. They were willing to waiting long periods of time for a table; some of the grownups looked at their phones and a few ran around after their kids, but most of them did nothing much other than stare out into space, baking in sun and breathing exhaust fumes. All for the sake of eating a fried fish sandwich.
Jax shook his head.
Maybe they were hollows, he said to himself. Maybe they were mindless zombies waiting to be consumed by flame.
It is going to be great to have the whole series out. Summer days on Cape Cod . . . but with more neanderthals and maybe even aliens!
---
Wed 4 May 2016 - Filed under: Not a Journal. | 5 Comments | Posted by: Gavin
I've probably posted this before but who does not need 18 minute epics about Grendel?
In my early teen years in the West Coast of Scotland this song was just a myth that we kids in physics had read about but never heard. We loved 2 minutes 45 seconds as much as anyone. We loved challenge, we loved louder, faster, more complicated. Three minutes? Seven? Take us away for longer, please. Please.
As Grendel leaves his mossy home beneath the stagnant mere
Along the forest path he roams to Hrothgar's hall so clear
He knows that victory is secured, his charm will testify
His claws will drip with mortal blood as moonbeams haunt the sky
Then you try to place the killer's blade in my hand
You call for justice and distort the truth
Well I've had enough of all your pretty pretty speeches
Receive your punishment
Expose your throats to my righteous claws
And let the blood flow, and [let the blood flow], flow, flow, flow.
---
Wed 4 May 2016 - Filed under: Not a Journal. | Leave a Comment | Posted by: Gavin
Surprise. Oops. More later on other things.
---
Mon 2 May 2016 - Filed under: Not a Journal. | 2 Comments | Posted by: Gavin
Will be interesting!
---
Tue 12 Apr 2016 - Filed under: Not a Journal., Joan Aiken | Leave a Comment | Posted by: Gavin
It has been eight years since we published our first Joan Aiken title, The Serial Garden, and five (where does the time go?!) since the second, The Monkey's Wedding, was released. Today is the publication day for our third Joan Aiken collection, The People in the Castle: Selected Strange Stories.
The book came about because Kelly and I had been talking to Joan's daughter, Lizza Aiken, for a while about what fun it would be to make a selection of favorite stories from across the many, many collections Joan published — there are twenty-eight collections listed in the front matter of The People in the Castle, and that does not include some of her kid's collections. (See all Joan's books here.)
So Kelly and I went back and read as many of the collections as we could, which was obviously the most enjoyable part of the project and something I recommend replicating — you can usually find loads of her books at the library. Kelly has a better memory than me, so she would say something like How about story "x" from this book? or I love story "y" from that book and I'd go back and read it yet again and soon Kelly and I and Lizza came up with dream lists of stories we'd like to include. Of course the lists were too long and there was some horse trading (how about we drop these two stories but add this one? etc.) and in the end we had a list that satisfied everyone of twenty dark, funny, oddball, sometimes heart-wrenching stories. And now: they are a book!
We received finished copies of the book from the printer just in time to take with us to the AWP Conference in LA and we had the great pleasure of selling out of it very quickly — that cover has the magic pick-me-up quality that all publishers and authors everywhere are always searching for.
Kelly wrote an introduction to the collection:
"The particular joys of a Joan Aiken story have always been her capacity for this kind of brisk invention; her ear for dialect; her characters and their idiosyncrasies. Among the stories collected in this omnibus, are some of the very first Joan Aiken stories that I ever fell in love with, starting with the title story 'The People in the Castle,' which is a variation on the classic tales of fairy wives."
The whole introduction — as well as the title story — is available for your reading pleasure on the Tin House blog and Kelly's introduction segues beautifully into Lizza's introduction, "The Power of Storytelling: Joan Aiken's Strange Stories":
"Joan Aiken once described a moment during a talk she was giving at a conference, when to illustrate a point she began to tell a story. At that moment, she said, the quality of attention in the room subtly changed. The audience, as if hypnotised, seemed to fall under her control.
'Everyone was listening, to hear what was going to happen next.'
From her own experience, whether as an addictive reader from early childhood or as a storyteller herself, learning to amuse a younger brother growing up in a remote village, by the time she was writing for a living to support her family, she had learned a great respect for the power of stories."
 Publishers Weekly gave the book a boxed, signed review: "There's so much to love about this slender collection… The juxtaposition of mundane and magical…feels effortless and fresh. The language is simply splendid, so evocative, as though the stories were actually very dense poems. And it brilliantly showcases Aiken's affectionate, humorous, deft portrayals of female characters… Aiken's prose is extraordinary, impossible to do justice to in this small space. Her skill with the language of folk tales—specifically the oral storytelling native to the British Isles—is unparalleled."
If you'd like a taste, try "The Cold Flame" which is available on Tor.com. This story makes me shiver and laugh every time.
Get your copy today: Small Beer · Weightless · Powell's · IndieBound
Sale options:
The People in the Castle (hc) + The Monkey's Wedding (hc): $38

The People in the Castle (hc) + The Monkey's Wedding (hc) + The Serial Garden (pb): $50
---
Fri 8 Apr 2016 - Filed under: Not a Journal., Jeffrey Ford | Leave a Comment | Posted by: Gavin
---
Thu 7 Apr 2016 - Filed under: Not a Journal., Joan Aiken | Leave a Comment | Posted by: Gavin
Tor.com just posted a Joan Aiken story from The People in the Castle. It is creepy, funny, fantastic, and as Tor says, "darkly lyrical."  It is for poets, would-be poets, for writers, I suppose, of all sort, and writers' families . . .
"Patrick was a poet, perhaps I should explain. Had been a poet. Or said he was. No one had ever seen his poetry because he steadfastly refused to let anyone read his work, though he insisted, with a quiet self-confidence not otherwise habitual to him, that the poems were very good indeed. In no other respect was he remarkable, but most people quite liked Patrick; he was a lanky, amusing creature with guileless blue eyes and a passion for singing sad, randy songs when he had had a drink or two. For some time I had been a little in love with Patrick. I was sorry to hear he was dead."
We're pleased to reprint "The Cold Flame," one of Joan Aiken's darkly lyrical short stories: https://t.co/TlgeOri5ln pic.twitter.com/Ud3l1G91Fb

— Tor.com (@tordotcom) April 7, 2016
---