Mon 2 Dec 2013 - Filed under: Not a Journal. | 1 Comment | Posted by: Gavin
Effective December 26th* Small Beer Press will revolutionize publishing by using hovercrafts to deliver packages in as little as 7 days. Declaring himself an "optimist," Gavin J. Grant, Small Beer Press publisher predicted the technology will immediately bring tectonic changes to the publishing world.
This is more than a theoretical idea. This morning Grant showed the … internet a Hammacher Schlemmer ad from Harper's Magazine*** for a hovercraft drone called a "2-person hovercraft" which will be emblazoned with "Small Beer Press Air Delivery." The flying machine has one person to drive it and one to scoop up packages at Small Beer Press fulfillment centers and carry them to customers' front lawns:
* Once Santa delivers the air delivery device.
** Plagiarized from the Bezos Daily News.
*** Full disclosure: Small Beer Press has paid for books to be advertised in Harper's.
---
Fri 22 Nov 2013 - Filed under: Not a Journal., Bernardo Fernandez, Bookslinger, Three Messages and a Warning | Leave a Comment | Posted by: Gavin
New this week on Consortium's Bookslinger app is  Bernardo Fernandez's "Lions" (translated by co-editor Chris N. Brown) from Three Messages and a Warning.
Previous Small Beer stories on Bookslinger:
John Kessel, "Pride and Prometheus"
Kij Johnson's "At the Mouth of the River of Bees"
Georges-Olivier Chateaureynaud's "Delauney the Broker" (translated by Edward Gauvin)
Ray Vukcevich, "Whisper"
Maureen F. McHugh, "The Naturalist"
Karen Joy Fowler, "The Pelican Bar"
Kelly Link, "The Faery Handbag"
Benjamin Rosenbaum, "Start the Clock"
Maureen F. McHugh, "Ancestor Money"
Download the app in the iTunes store.
And watch a video on it here: http://www.youtube.com/watch?v=ySL1bvyuNUE
---
Wed 20 Nov 2013 - Filed under: Not a Journal., Pop, YouTube | Leave a Comment | Posted by: Gavin
From an ad on this video (17-year-old Biggie Smalls freestyling) linked from here (17-year-old LL Cool J plays a Maine gymnasium in 1985: rap! beatbox! sing! snap! ping! pow!) both from Kottke, via Eileen Gunn:
---
Tue 19 Nov 2013 - Filed under: Not a Journal., Alan DeNiro | Leave a Comment | Posted by: Gavin
I've been looking forward to this day for a year! Well, not the one where we all live in Oceania with the all-seeing government watching us from the cameras in our laptops (all the NYT journalists cover the cameras with yellow stickies now . . . ), rather the day where Alan DeNiro's new collection Tyrannia and Other Renditions comes out and blows everyone's minds. Alan's stories are about the person on the ground (or the monster on the motorbike) affected by the weird goings-on in politics, for ecstatic poets, worried artists, table top adventurers, and should be required reading for all politicians.
Booklist said: "With just one novel and one story collection under his belt, DeNiro has already garnered a reputation as a genre-bending experimental author with an indescribably quirky but captivating prose style." Of all the trade reviewers, they really seem to get his writing.
The cover map of the (ok, imaginary) Tyrannian lands and the typography is by Kevin Huizenga, and it was so right that we carried it on through the book. And then there is Alan's incredible new author portrait by Shelly Mosman. I love Alan, but he is the weensiest bit scary here.
You can get Alan's book in all good bookstores, the usual online slavedriving warehouses, or from here. And of course you can always get our DRM-free ebooks here on Weightless.
---
Mon 18 Nov 2013 - Filed under: Not a Journal., Kelly Link, Susan Stinson | Leave a Comment | Posted by: Gavin
Are you curious about how a manuscript becomes a book? Get ye to the Porter Square Bookstore tonight! Susan Stinson and Kelly Link read and talk about the writing and editing of Susan's novel Spider in a Tree. 
Here's the info from the bookstore website:
Our Next Event
11/18/2013 – 7:00pm
"Stinson reads the natural world as well as Scripture, searching for meaning. But instead of the portents of an angry god, what she finds there is something numinous, complicated, and radiantly human."
Alison Bechdel, author of Fun Home
"Through an ardent faith in the written word Susan Stinson is a novelist who translates a mundane world into the most poetic of possibilities."
Alice Sebold, author of The Lovely Bones
Susan Stinson is the author of three novels and a collection of poetry and lyric essays and was awarded the Lambda Literary Foundation's Outstanding Mid-Career Novelist Prize. Writer in Residence at Forbes Library in Northampton, Massachusetts, she is also an editor and writing coach.
Kelly Link lives in Northampton, Massachusetts, where she and her husband, Gavin J. Grant, run Small Beer Press and publish the zine Lady Churchill's Rosebud Wristlet.
Porter Square Books
Porter Square Shopping Center
25 White Street
Cambridge, MA 02140

We are located in the Porter Square Shopping Center on Massachusetts Ave., about two miles north of Harvard Square and directly across from the Porter Square station commuter and subway stop. Click here for a map.
---
Fri 15 Nov 2013 - Filed under: Not a Journal., Sofia Samatar | Leave a Comment | Posted by: Gavin
Sofia Samatar's debut novel A Stranger in Olondria got an excellent review recently from Nic Clarke on Strange Horizons. 
But, where is Sofia? She's in California and on Saturday, November 30, she'll be handselling some favorite books at the excellent Borderlands Books in San Francisco from 1 to 4 pm. (You can check out a map of all the authors and booksellers on the Indies First page.)
---
Thu 14 Nov 2013 - Filed under: Not a Journal., Howard Waldrop | Leave a Comment | Posted by: Gavin
Yesterday Martha Grenon was kind enough to take some new author photos of Howard Waldrop. Howard refused any attempt to style him but something of his cheeriness comes through anyway. For those of us in the cold, cold north, it's nice to see someone standing there warm enough with just have a shirt (with rolled-up sleeves!) instead of layers, baby, layers.
This is probably a good time to link to "Three Ways of Looking at Howard Waldrop (and Then Some)" by Jed Hartman, et alia.
---
Tue 12 Nov 2013 - Filed under: Not a Journal., Howard Waldrop | Leave a Comment | Posted by: Gavin
Hey! It's been eight years since Howard Waldrop's last collection, Heart of Whitenesse. Too long! We're very happy to be publishing Horse of a Different Color: Stories today. (Howard promises us we'll have more to publish soon.)
Long time readers of Howard's amazing stories will know (and new readers will find out from his introduction to Horse) that a couple of years ago Howard's health took a turn for the worse. The good news is the VA and his family and friends have looked after him (are still looking after him!) and he is hard at work. And he promises to be back harder at work once he gets eye surgery. He's always been a great reader and we have great plans to get Howard to do the audio editions of his books. Great plans! but they do depend on him being able to read in comfort without the 4x microscope he used at Readercon this year.
Anyway. This book includes the best piece of Esperanto-based fiction I've read, "Ninieslando," first published—as so many of Howard's stories are in an anthology (Warriors) edited by his good friends, Gardner Dozois & George R. R. Martin.
It's a story of missed chances, as a few of these stories are, and sometimes I argue that Howard's career is one of missed chances. Not his: everyone else's. Why I'm not sitting down to Howard Waldrop's Missed Chances every Tuesday night at 9 p.m. I don't know. Well, nothing in the way of TV and movies ever goes easily. Fingers crossed Craig Ferguson will read the title story, love the pantomime horse act, get Howard on The Late Late Show and off Howard's career will go, boom, on a rocket, into space.
Whether that happens or not, we're very glad to be bring you these 10 stories of wolf-men, actors, pirates, fairy tales and more from the one and only literary mashup master, Howard Waldrop.
---
Mon 11 Nov 2013 - Filed under: Not a Journal., Alan DeNiro, Howard Waldrop, Susan Stinson | Leave a Comment | Posted by: Gavin
First, tomorrow, the lovely (well, in the USA), 11/12/13, we celebrate publication day of Howard Waldrop's Horse of a Different Color: Stories.
On Wednesday there are two readings for you to drop all and get your plane tickets for. How will you decide which to go to? Flip a coin?
For those nearer Massachusetts, Susan Stinson will be reading from Spider in a Tree at 8 pm at Amherst Books in Amherst. The Concord Monitor just chimed in with a lovely review thatcaptured the same sense of surprise I found in myself when I was grabbed by this novel of life in 1740s Northampton:
Massachusetts author Susan Stinson's Spider in a Tree: a Novel of the First Great Awakening surprised me. I knew the basic history of the period, including a bit about Jonathan Edwards, and frankly, thought it dull. But Stinson takes readers into Edwards's home, into the lives of his family, their slaves, neighbors, relatives, and yes, even the spiders and insects of colonial Northampton, Mass. Suffering and joy, religious ecstasy and secular sorrow, the conflict between formal theology and individual conscience all make vivid fodder for Stinson's story, which follows Edwards's trajectory from 1731, during the religious revival that gripped New England, to 1750, when his congregation dismissed him.
and you can read an interview with Susan on Bookslut.
For those in the middle or left side of the country, Alan DeNiro is also reading on Wednesday night. He is reading at 7 pm at SubText: a Bookstore in St. Paul, MN. Alan's second collection, Tyrannia and Other Renditions comes out next week and you can read an excerpt from "Walking Stick Fires" on tor.com.
Make your choice!
Susan Stinson
8 pm, Amherst Books, Amherst, Mass.
Alan DeNiro
7 pm, SubText: a Bookstore, St. Paul, Minn.
---
Fri 8 Nov 2013 - Filed under: Not a Journal., Kelly Link, Nathan Ballingrud, Sofia Samatar, Susan Stinson | Leave a Comment | Posted by: Gavin
Since Sherman Alexie first threw the Indies First idea out into the world, more than 375 authors have signed up to try their skills at handselling books at 300 bookstores.
Sofia Samatar, author of A Stranger in Olondria, will be Borderlands Books in San Francisco from 1-4 pm and Kelly Link will be at the Harvard Book Shop in Cambridge (where you can get Three Zombie Stories).
Some companies want to be your always and everything, these shops want to find you a good book. Ok, maybe sell you a mug, too!
Why are we posting this? Because we love the indie bookshops!
More here.
ETA: And Nathan Ballingrud will be at the excellent Malaprop's in Asheville!
---
Thu 7 Nov 2013 - Filed under: Not a Journal., Alan DeNiro | Leave a Comment | Posted by: Gavin
I'm delighted to see Alan DeNiro's new story "The Philip Sidney Game" is up on  Interfictions. When I asked Alan for more about the story, this is how he replied (posted with Alan's permission, of course):
Diving into the writing of "The Philip Sidney Game" was a strangely autobiographical process. I had to let my wife Kristin know that I was writing her as a character in the story. After she read it, she said that she didn't sound like herself. I probably didn't sound like myself either, but there was a version of me within the core of that story that was added to the many other layers of "me." That, too, is a speculation, just as much as Philip Sidney's use of magic. But as the rails fell off the story (by design) near the end, I entered a place where I wanted to write directly, as Alan DeNiro, to my readers—and a poem seemed to be the best way to do that. So it was fun to be able to incorporate that other side of me into a story.
---
Tue 5 Nov 2013 - Filed under: Not a Journal., Katharine Duckett, Where are they now? | Leave a Comment | Posted by: Gavin
In the years since reading slush and mastering the art of all-day tea drinking as a Small Beer Press intern, I've spent two years in Kazakhstan, two years in New York City, and a handful of months in climes between. It turns out that if you want to break into publishing, you should move to Central Asia, drink lots of vodka, and learn valuable, hands-on life skills, like how to rescue a dog from a trash pit using only an old door and a curtain. (You never know when you'll need to whip that one out at a job interview.) Then move to New York and start eavesdropping on well-respected authors at readings, which, if done correctly, will turn out to be more charming than creepy when they offer youa job as their assistant. That's how I ended up handling publicity for the lovely duo of Ellen Kushner and Delia Sherman, and eventually segued into my current position coordinating book and author coverage for Tor.com, the rocket ship division of Macmillan Publishers.
These days I'm engaged to a recent Oxford grad; we're taking Spanish classes in preparation for our Costa Rican honeymoon and painting our new Brooklyn living room a cozy shade of "yam." Around New York City, I write and read stories, perform in the occasional theater piece, and relive the glory of my post-Soviet days with trips to Brighton Beach and experimentation with borscht and dolma recipes.
Read more in the Where Are They Now series.
Photos ("Coney Island" and "Hyde Park") courtesy Laura Lamb.
---
Mon 4 Nov 2013 - Filed under: Not a Journal., magazines, VIDA, Zines | Leave a Comment | Posted by: Gavin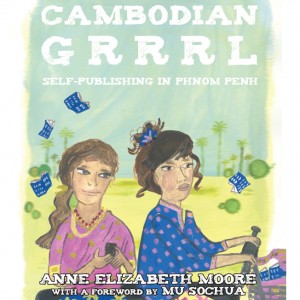 This post is inspired by two things: first, reading Anne Elizabeth Moore's fabulous zine Cambodia Grrl and an Indiegogo campaign to digitize the Clamor backlist.
I was just wondering the other day if there are magazines today similar to some I really miss: Clamor, Herbivore, Punk Planet, Venus. Not to mention Peko Peko, dammit!
I liked their mix of politics, food, and music. And since my New Yorker subscription is coming to an end and (boo hoo!) I'm not renewing it because of their pathetic Vida scores [Bylines, Briefly Noted, Overall], I'm looking around to see if I can find indie magazines coming from the edges of things, rather than bam! in the center.
I read a fair number of mags, but any suggestions are welcome because one thing I know, I am missing a lot, too!
---
Fri 1 Nov 2013 - Filed under: Not a Journal., John Crowley, Theo Fadel | 1 Comment | Posted by: Gavin
We are very happy to note that work continues apace on John Crowley's The Chemical Wedding, a book that in his introduction John calls "the first science fiction novel." His aim in producing this new version, he says, "was simply to make this, one of the great outlandish stories in Western literature, accessible to readers in the context of no context."
In January of this year John introduced us to the weird and fascinating woodcuts and prints of Theo Fadel and since then Theo has completed most of the illustrations (one for each day that passes) for the book.
We expect to publish The Chemical Wedding in 2015 in a number of states: 1) a slipcased signed, limited edition accompanied by a unique woodcut, and 2) a trade cloth edition. Depending on interest, we may produce a signed, lettered state with a portfolio of sketches and prints from the artist.
We will start taking preorders in mid-2014 once we have the whole book in hand.
In the meantime, here is the full title page:
THE CHEMICAL WEDDING by CHRISTIAN ROSENCREUTZ
A Romance in Eight Days
By
Johann Valentin Andreae
In a new version
by
John Crowley
Illustrated by
Theo Fadel
---
Thu 31 Oct 2013 - Filed under: Not a Journal., Kelly Link, Nathan Ballingrud, Susan Stinson | Leave a Comment | Posted by: Gavin
We hear there's an excellent review of Nathan Ballingrud's book coming up in Locus which reminded me that a great interview (and a story) with Nathan just went up. Which reminded me about two more good interviews. Luckily it's lunchtime here on the East Coast (today aka the East Ghost), a great time to sit down and enjoy an interview with your brains/candy/sweets/actual lunch:
Nathan Ballingrud at the Weird Fiction Review:
I think of horror as the literature of antagonism, and this is why it's so valuable to us. For me – and of course I speak entirely of my own preferences – a good horror story is upsetting. It does not reinforce the status quo. It's an act of hostility to some cherished assumption, whether it's the durability of familial bonds, the presumed benevolence of God, or even the basic decency of our own hearts. Horror fiction should harshly interrogate everything that makes us feel content. It's the devil's advocate of literature. We absolutely need that, and that's why it abides, whether we call it horror, or Gothic, or strange, or weird. It's all an interrogation.
Kelly Link at Gigantic:
I think I've hit a point with TV shows, maybe less so with books, where as soon as I have an idea of where the show is going, I would rather be doing something else. I'm not really so interested in shows that are realistic, or what passes for realistic depictions of how men are figuring out to be men, if the women are secondary characters: which rules out Mad Men, Breaking Bad.
Susan Stinson at Lambda Literary:
All of the characters in the book are outside of my time. As a white woman writing across lines of racial identity, I know that I have built-in biases that I've acquired from the culture. I think we all do, and that's one of the legacies of slavery. I didn't know when I started writing the book that Jonathan Edwards was a slave owner. Once I knew that, it became clear that I needed to enter as deeply as I could into the minds and lives of the characters who were slaves in the household. Anything else would be a terrible omission based on fear. Several characters in the book are slaves. Jonathan Edwards owned slaves, a historical fact that Edwards enthusiasts sometimes ignore. So, I did my best.
---
Tue 29 Oct 2013 - Filed under: Not a Journal., Felice Ling, Where are they now? | Leave a Comment | Posted by: Gavin
After graduation, I started teaching first-grade at a charter school in Memphis, Tennessee. That was a bit of a struggle… As a result of the school's financial problems, I only actually taught there for about half a year. The second half of that year, I took my magic, turned it into a street show, and brought it out onto the streets of Memphis. (I didn't quite join a circus—though I did befriend a clown—but it was a lot of fun). On a similar vein, I used that experience (more recently) to write an article for Genii, an international magic magazine for magicians, titled "Women Street Performers: We Know Who We Are In." That article is currently in review.
From Memphis, I flew all the way to Baoding, China (just south of Beijing) to teach English at a university. I was there for two years, traveling, teaching, and learning. In China, I quickly picked up on the presence of park performers: dancers, musicians, tai chi practitioners, Chinese yoyo enthusiasts, and—once—I even witnessed a group of five men tossing heavy sandbags among themselves.
So now I'm at the University of Chicago, working towards my Masters in Social Sciences, mainly because I am extremely curious about the lives of street performers in the US and in China. I'm not sure yet what I'll be doing next – but I guess that's what your 20′s are all about. I'm still writing (always) and still performing magic (always, as well). I've even started learning how to cook (or attempting to) so that I don't have to eat sandwiches everyday. That's actually what I miss most about SBP—lunches together and the tales we told while huddled over Easthampton cuisine.
Photo credits:
"Magic" (Felice Ling performing at the First Annual Shelby Forest Spring Fest) by KimbaWayne Photography.
"Street Food Stands," Felice Ling, Baoding, China.
———
Read more in the Where Are They Now series.
---
Thu 24 Oct 2013 - Filed under: Not a Journal., Susan Stinson | Leave a Comment | Posted by: Gavin
Great, huge article in the Daily Hampshire Gazette about Susan Stinson and her 10-years-in-the-writing novel Spider in a Tree.
What the interwebs version does not show is the lovely picture of Susan and her book.
Two more items about Susan today, one good, one not so!
The not so good news: we shipped some copies of Spider in a Tree to Susan in California for her readings this week. When she told me they hadn't arrived I checked with UPS and saw something I'd never seen in the "Activity" column: Train derailment(!). Hope all is well but I do not know if we will ever see those books again! Hmm.
The second, much better item, was an interview with Susan by her good friend Sally Bellerose on Lambda Literary. I've read a lot of interviews with Susan and I enjoyed this one the most!
Here's an excerpt from the article in the Daily Hampshire Gazette to go on with:
The experience led Stinson, who works as a writing coach and has published three previous novels, to begin lengthy research on Edwards, on local history, and on daily life in Colonial America. One of the novel's most interesting aspects is its portrait of a very different Northampton, with its abundant meadows and crops, its dusty (or muddy or icy) roads, and a smelly tannery, for some reason located in the center of town, just down the street from the Edwards house.
Edwards himself is something of an absent-minded professor, a man who lives a good deal of the time in his head, writing for hours and often neglecting his appearance. He's fascinated by science and nature, both charming and perplexing his wife in one scene in which a spider crawls onto his finger: "He was regarding the spider almost tenderly … with the look of a boy scratching the nose of his first horse. He was dear to her, but so strange."
---
Thu 24 Oct 2013 - Filed under: Not a Journal., Alan DeNiro | Leave a Comment | Posted by: Gavin
Watch out!
And in the meantime: "The Philip Sidney Game" is now live at Interfictions.
---
Wed 23 Oct 2013 - Filed under: Not a Journal., Spider in a Tree, Susan Stinson, Wikipedia | Leave a Comment | Posted by: Gavin
If you use Wikipedia as your source you will get a very strange take on slave ownership in the article about the preacher Jonathan Edwards:
In 1747 Edwards took in a slave, "a Negro girl named Venus". He purchased the girl for 80 pounds from a man named Richard Perkins of Newport. Edwards was well known for such acts of charity and hospitality (from Glaros, A History of New England, 1997, no longer in print).
Edwards paid a whole year's salary for the slave and then she worked for the family and was never freed. Slave owning has never been defined as an act "of charity and hospitality." Who did this? Eeek?
Wikipedia. Needs editing!
---
Tue 15 Oct 2013 - Filed under: Not a Journal., Susan Stinson | Leave a Comment | Posted by: Gavin
Great news for Susan Stinson: Spider in a Tree has just received its fourth trade review and the best was saved for last. Booklist's starred review goes out today:
"As a Puritan preacher who suspends listeners above the sulfurous fires of hell, Jonathan Edwards commands center stage in this compelling historical novel. With mesmerizing narrative gifts, Stinson exposes readers to the full force of Edwards' brimstone sermonizing. But she also lets readers hear Edwards' voice in other registers, giving compassionate reassurance to his troubled wife, extending tender forgiveness to a despairing sinner, reflecting pensively on how God manifests his wisdom in a lowly spider. But the Edwards voice that most readers will find most irresistible is his inner voice, laden with grief at a young daughter's death, perplexed at his spiritual status as master of a household slave. . . . An impressive chronicle conveying the intense spiritual yearnings that illuminate a colonial world of mud, disease, and fear."
Kirkus did not love the book. C'est la vie! Publishers Weekly gave it a very strong review and picked it as an Indie Sleeper. And Library Journal also just reviewed the book this week:
"Famous theologian Jonathan Edwards (1703–58) comes to life in this mid-18th-century story of the First Great Awakening, a revivalist movement that swept Protestant Europe and the American Colonies. . . . Weaving together archival letters, historical detail, and fictional twists, Stinson vividly resurrects this emotional historical period prior to the American Revolution."
The book is flying off the shelves in the Pioneer Valley and now we are seeing it beginning to be picked up regionally and nationally. Yesterday Susan read at the Yale Divinity School (where Edwards studied—check that photo above!) and tonight she is reading at the Stockbridge Library (where Edwards also lived) and with luck she will get either to sit at or take a photo of Edwards's desk.
The she is off to California—the most open of the events is at MCC-San Francisco before coming back here for readings at Amherst Books, Porter Square (with Kelly!), and KGB Bar and the Book Reading Series in NYC. Busy times!
October 15, 6:30 p.m. Stockbridge Library, Stockbridge, Mass.
October 23, 12 p.m., American Studies, Santa Clara University, Santa Clara, CA
October 24, 4 p.m. Religion, Politics, and Globalization Program, UC Berkeley, Berkeley, CA
October 25, 7 p.m. MCC-San Francisco. Reading and reception,150 Eureka Street, San Francisco, CA 94114
October 30, 2 p.m. reading, talk, Q&A, San Diego State University, San Diego, CA
November 13, 8 pm. Amherst Books, Amherst, Mass.
November 18, 7 pm. Porter Square Books, Cambridge, Mass. (with Kelly Link)
November 21, 7 p.m. Drunken Careening Writers series, KGB Bar, NYC (with Holly Hepp-Galvan and John Schuyler Bishop)
December 15, 5 p.m. Bloom Readings, Washington Heights, NYC
Author photo courtesy: Jeep Wheat.
---
Mon 14 Oct 2013 - Filed under: Not a Journal., naked commerce | Leave a Comment | Posted by: Gavin
Ok, perhaps it is the Boston Book Festival but doesn't the Boston Boo Festival sound more October?
Ok, again, so: this Saturday October 19 we will be at the Boston Boo(k) Festival in Copley Square selling books from 10 am – 5 pm. 
Susan Stinson is coming with us: come and get a signed copy of Spider in a Tree!
Just as at the Harvard Book Store Warehouse Weekend we are intending on selling books cheap! We want these books in readers' hands!
We're going to be at Table 48 on Dartmouth Street (between Sisters in Crime and Arts Emerson).
Besides cheap, cheap, cheap backlist we will also have Howard Waldrop's new collection Horse of a Different Color.
And!
For those who missed it at the Harvard Book Store Warehouse Weekend we'll be giving away a free chapbook to all buyers:
"The two story chapbook, North American Monster Stories, will never be for sale. The stories are the title story from Nathan Ballingrud's collection, North American Lake Monsters, and "Up the Fire Road," a story from Eileen Gunn's collection Questionable Practices."
Should be fun, hope to see you there!
---
Wed 9 Oct 2013 - Filed under: Not a Journal., Kelly Link | 7 Comments | Posted by: Gavin
So, the big news around here is that Kelly sold her next couple of books—and reprint rights to Magic for Beginners—to Noah Eaker at Random House. Yay!!
The first of the books is Get in Trouble*, Kelly's first new collection of stories since Pretty Monsters (2008). Get in Trouble should be out in early 2015. It will be followed at some point by the second book, Novel As Yet Unwritten**.
Thanks as ever to Kelly's fabby agent Renee Zuckerbrot of the Renee Zuckerbrot Literary Agency and to Kelly's new foreign rights agent Taryn Fagerness who has already sold Get in Trouble to Francis Bickmore at Canongate Books—who did such a great job with Pretty Monsters.
Here is the proper and official announcement as reported in Publishers Marketplace:
Author of Magic for Beginners, which was a Time Best Book of the Year and on Best of the Decade lists from the Village Voice, Salon, and The Onion and Stranger Things Happen Kelly Link's GET IN TROUBLE, another collection of short stories, and her first novel, to Noah Eaker at Random House, byRenee Zuckerbrot of Renee Zuckerbrot Literary Agency (NA).
Foreign rights: [email protected]
* Kelly assures me the cover design will not feature the word "Get" in tiny letters inside a huge "Trouble." I say wait and see.
** Not final title.
---
Mon 7 Oct 2013 - Filed under: Not a Journal., ebooks, Peter Dickinson, sale | Leave a Comment | Posted by: Gavin
Peter Dickinson's Death of a Unicorn is the Nook Daily Find and is $2.99 today only at bn.com.
It has jumped up the charts throughout the day and now it is sitting pretty at #30 besides two of Nora Roberts's books. Long may Lady MM rise!
ETA: #7!
It's a Top Ten bestseller!
---
Fri 4 Oct 2013 - Filed under: Not a Journal., Benjamin Parzybok | Leave a Comment | Posted by: Gavin
Next fall we are publishing Benjamin Parzybok's second novel Sherwood Nation and I am very happy to say that PNBA booksellers can get a very advance galley copy at the PNBA Trade Show Author Feast at the Airport Holiday Inn, Portland, OR, on Monday.
Sherwood Nation is a huge, amazing, scarily timely novel about a drought-stricken Portland, Oregon, and a nascent attempt to rebuild society from the grassroots up. If you read Couch, you'll already know that Ben is a hilarious and smart writer and in the five years(!) he worked on Sherwood Nation he's only gotten better. Everything he cares about is here: community, families (born and made), love, bicycling, doing good work, and looking after self, community, and the land we live on.
You'll be hearing more (ok, there's more below) about the book as 2014 comes on. With luck—and help from readers like you!—it will be one of the big books of next year!
We'll have more galleys and giveaways as the publication date approaches but I wanted to get the heads-up out there to the people who are most likely to read and love this book as much as we do.
In drought-stricken Portland, Oregon, a Robin Hood-esque water thief is caught on camera redistributing an illegal truckload of water to those in need. Nicknamed Maid Marian—real name: Renee, a 20-something barista and eternal part-time college student—she is an instant folk hero. Renee rides her swelling popularity and the public's disgust at how the city has abandoned its people, raises an army . . . and secedes a quarter of the city of Portland, Oregon.
Sherwood Nation is the story of the rise and fall of a micronation within a city.
Even as Maid Marian and her compatriots (a former drug kingpin, her ad-writer boyfriend, and many others) build a new community one neighbor at a time, they are making powerful enemies amongst the city government and the National Guard. Sherwood is an idealistic dream too soon caught in a brutal fight for survival.
Benjamin Parzybok's Sherwood Nation is a love story, a war story, a grand social experiment, a treatise on government, on freedom and necessity, on individualism and community. 
---