Tue 31 May 2011 - Filed under: Not a Journal., Carol Emshwiller | Leave a Comment| Posted by: Gavin
This week at Strange Horizons (copied wholesale because it is fantastic):
After a career of many phases, she's found a comfortable way to synthesize all of them, making her all over again the proverbial writer to watch. I don't know if there's another 90 year old author anywhere about whom that could be said.
Recently I've begun to notice elements, techniques, and viewpoints from Carol's writing in more places than my own stories. For decades, Carol has primarily been published as a science fiction writer. My impression is that, while always admired and often beloved, her work was seen as essentially idiosyncratic. Whatever it was she was doing, she was doing it alone, and off in her own brilliant little corner of the field. She is the sort of writer to whom the word "quirky" is applied. "A writer's writer." "A cult favorite."
Introduction to this week's reprinted story.
FICTION: After All, by Carol Emshwiller
I was thinking to write a story about somebody who needs to change (the best sort of character to write about), and all of a sudden I knew it was me who had to change. Always had been, and I didn't realize it until that very minute. So I have to be the one to go on a journey, either of discovery or in order to avoid myself.
tendrils of fiber optics from torn sheet metal / dripping visions of worlds to come
Monday: The Collected Stories of Carol Emshwiller, Volume 1, reviewed by L. Timmel Duchamp
Wednesday: Carmen Dog by Carol Emshwiller, reviewed by Paul Kincaid
Friday: Ledoyt and Leaping Man Hill by Carol Emshwiller, reviewed by Maureen Kincaid Speller
---
Mon 30 May 2011 - Filed under: Not a Journal., Cons, events, Publishing, readings, Small Beer Press, To Read Pile, Ursula | Leave a Comment| Posted by: Gavin
But we don't take any pictures. Not true. More like: we haven't yet uploaded any. Soon(ish).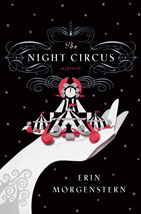 We're back from BookExpo (BEA) where we missed more than ever. At a convention that big you always know there's something you're missing. This time, even with lower attendance and fewer exhibitors than in the past, I missed more due to our own little chaos field: our 2-year-old daughter, Ursula. To a 2-y.o. kid, BEA is: lights, balloons, not a great place to nap, full of strangers—some are nice (some will give you books!), some scary. And unlike her parents, she did not want to be tethered to one spot, meet people, and talk about books. She wanted to go go go. So go we went. Which was great for catching up with other exhibitors and occasionally picking up a book: thanks to Frazer & Sally of Park Road Books in Charlotte we got a couple of indestructible books from Workman which, true to their name, have yet to be destroyed. Amazing how many books fall apart if they're read every day.
The one outside event I went to was an sf reading/q&a I MC-ed which was organized by Gina Gagliano of First Second Books and the New York Public Library. It was a fun night with readings by Lev Grossman, John "William Shatner" Scalzi,  Cat Valente, and Scott Westerfled. Brian Slattery and three other musicians accompanied the readings and there was a q&a afterward. I made a few mistakes: I thought it was the year 2911 and this was 1000th anniversary of the Stephen Schwarzman building and that I was introducing historians, not futurians. But it all seemed to work out ok. I don't know how the afterparty went as I had to slope off and put the kid to sleep. New Yorkers who like the sci-fi: NYPL has you covered this summer.
---
Thu 19 May 2011 - Filed under: Not a Journal., chapbook, Hal Duncan | Leave a Comment| Posted by: Gavin
This morning in our email newsletter we let go of a secret which we have been keeping (but not very well) for about four years: we are going to publish a beautiful little chapbook from Hal Duncan! And the orders have been pouring in! For which we thank you from the bottoms of our rusty old hearts!
Here's the announcement: This year we are bringing back our long-delayed chapbook series. We have one title here, another in the planning stages, and another in the idea stage. Seems like enough to be worth talking about. We're not taking chapbook subscriptions anymore, as the new chapbooks may vary in price more than the the previous titles. But subscribers will be emailed to see if they have moved and paperback chapbooks will be sent out to those lovely faithful readers.
The first chapbook is Hal Duncan's An A-Z of the Fantastic City, illustrated by Eric Schaller, and will come in 2 states: a beautiful signed and numbered limited hardcover and a regular trade paperback. We've been working on this for a couple of years and we're very grateful to Hal and Eric for sticking with is through the thick and thin of those last couple of years. Publication is approaching later this year with the final date TBA as we go over the final details of the cover.
---
Thu 19 May 2011 - Filed under: Not a Journal., Working Writer's Daily Planner | Leave a Comment| Posted by: Gavin
Some things to keep you busy before June comes from A Working Writer's Daily Calendar 2011. Almost done on the 2012 edition—so this is your last chance to send us suggestions.
June 1: Fourteenth Annual Poetry Contest
Prize: $1,500 + publication in Boston Review in the Nov./Dec. 2011 issue.
Eligibility: Any author writing in English is eligible, unless he or she is a current student, former student, or close personal friend of the judge.
Manuscripts: Up to 5 unpublished poems, max. 10 pages. Mailed manuscripts must be submitted in duplicate, with a cover note listing the author's name, address, email and phone number. No cover note is necessary for online submission. Names should not be on the poems themselves.
Fee: $20 ($30 for international submissions) payable to Boston Review.
Submit online or by mail to:
Poetry Contest, Boston Review
35 Medford St., Suite 302,
Somerville, MA 02143
---
Tue 17 May 2011 - Filed under: Not a Journal., Franciscan, Karen Joy Fowler, Karen Lord, Kelly Link, Tim Wakefield | Leave a Comment| Posted by: Gavin
What a morning we're having. But along with the other stuff, here's the great news:
Karen Lord's debut novel Redemption in Indigo is a finalist for the Mythopoeic Award. That's a really strong list of books—both the adult and children's—lit lists making it a real honor to be nominated.
Karen Joy Fowler's What I Didn't See and Other Stories gets a lovely review on Strange Horizons and both the book and the original story, "Booth's Ghost" are finalists for the Locus Award. That book is piling up the awards!
The third Karen moment today is that fabby Karen Russell who recommends Kelly's Stranger Things Happen on NPR. Wow! There's a link to
ETA: Want to go see Boston Red Sox pitcher Tim Wakefield . . . sign a book? That's what he'll be doing at [some future day at] one of our beloved indie bookshops, the Brookline Booksmith. [Event postponed because the guy has to go pitch!] The guy is a great player (or so I'm told, still not really up on the whole baseball thing, give me time) but he's also a great guy: at Franciscan Hospital for Children there's a lovely all-weather playing field behind the main building called the Wakefield because guess who funded it? That makes him awesome.
And: we got emailed asking whether we'd publish a book by an author we love. Wow. Fingers crossed.
---
Mon 9 May 2011 - Filed under: Not a Journal., Hal Duncan, Kathe Koja, steampunk, stuff to read | Leave a Comment| Posted by: Gavin
Dropped by the International Steampunk City yesterday and really enjoyed wandering around seeing hundreds of people dressed to kill (or at least to adventure). There were blacksmiths smithing (and explaining the meaning of "eldritch" to someone as we walked by), drummers drumming and belly dancers dancing, bootmakers, jewellers, a mummers parade, people riding penny farthings—and a ton of other things, most of which we missed as we were only there Sunday afternoon. We caught up with Riv from purpleshiny who we met at Boskone—she made a lovely thing (involving a watch and a piece of metal hammered on the ground to pick up the texture of Waltham!) while we watched. Makers making: excellent.
---
Wed 4 May 2011 - Filed under: Not a Journal., Free reads, Joan Aiken | Leave a Comment| Posted by: Gavin
Just posted a story for your amusement, "Girl in a Whirl" by Nicholas Dee Joan Aiken. It is, of course, from our new, posthumous collection by Joan. The stories in the book range from wildly funny to quite dark. (This story's one of the former type—fresh and funny fifty years later).
If you want a more nuanced consideration of the book, John Clute reviewed it on Strange Horizons. Here's a pull quote:
"Almost all the stories assembled in The Monkey's Wedding—except for the devastating title story itself, from 1996, and "The Fluttering Thing" from 2002, which is set on a journey towards Final Solution; it is even more terrifying than The Scream, also 2002—flow with a porcelain lucidity and gaiety that manifests the high energy of Aiken's early prime."
—John Clute, Strange Horizons
But the real fun is in the rest of his review (which is at the end of his column) where he skips the story summations (although his aside on the title story is absolutely accurate) and says of these uncollected stories, "It is a joy to recover them now." It's a joy to see someone able to express his enjoyment of these stories so well. (Much better than me! I just keep saying They're great! They're funny! They're great!)
---
Wed 4 May 2011 - Filed under: Free Stuff to Read, Short Stories | 2 Comments| Posted by: Gavin
Her name was Daisy and she was a smasher, the crispest colleen in Killyclancy. Only, as misfortune would have it, old Mr Mulloon said she was unlucky, he having met her once in the street and gone home to find his finest fowl drowning in a puddle; brandy had revived it, true, but anyway those looks weren't natural, Mr Mulloon said. Whoever heard of hair like spun milk atop of a pair of eyes black as sloes? Depend on it, the girl was an albinoess, cunningly covering up a pair of cherry-pink pupils with smoked contact lenses. And everyone knew albinos had the Evil Eye. Read more
---
Sun 1 May 2011 - Filed under: Not a Journal., Karen Joy Fowler, What I See | Leave a Comment| Posted by: Gavin
What I See, part 15 by Karen Joy Fowler
May 1, 2011
Happy International Workers Day! We pause here for a moment to remember that May Day is also the international distress signal. There's probably a story there.
Yesterday MJ and I saw a bobcat up at Natural Bridges, hanging about the visitor's center. Two years ago, while biking, I saw a cat in this same area, but he was much smaller. Possibly this then is the same cat, but all grown up. He was comparable in size to Mojito, looked at us briefly, and then took the ruined butterfly-viewing walkway to destinations unknown. MJ never noticed as MJ rarely takes in the big picture. Too busy nosing about for crusts of bread or discarded French fries to scan the horizon for predators. I'm curious as to how she would have reacted, but it is probably for the best. MJ doesn't know and doesn't need to know that the world contains cats of this size. I think it might shake her to the core.
A few weeks ago a friend described Mojito to me as a really smart dog. In fact, among those of us who know her best, MJ's intelligence is a subject much discussed. She rarely does anything she's asked to do, but it's never clear whether she doesn't understand what you want or whether your desires just carry very little weight with her. This latter possibility is the one I hold. It's annoying to me, because I never ask her to do something without a good reason.
I'm reminded of an incident many years back concerning my daughter and this same issue. I'd promised the children that we'd stop at Dairy Queen for a special treat. I parked and my daughter got out while I was working the belts on her little brother's car seat. As I was doing this, a truck pulled up next to us and man emerged. He was carrying a rifle. I told my daughter to get back in the car. I did this firmly, but quietly—I didn't want to draw the attention of the man with the gun.
Instant outrage. You SAID we'd get ice cream, my daughter told me and followed the man inside. I believe he held the door open for her.
And although nothing untoward happened, the man with the rifle merely bought himself whatever they were calling blizzards back then and went back out to his truck, it's still a memory I call on when I wish to feel misused and ignored. I don't order people about just to hear myself talk. Mojito is not a dog asked to do tricks or even to come unless she's genuinely needed.  It would be nice if she factored this in.
It would be nice if people stopped carrying guns about.
We are in a period of extremely bright sunshine and extremely strong winds. Much hilarity this morning, trying to keep my hat on my head.
——
Karen's latest story is "Younger Women" available on Subterranean Online. She is also moderating the Tiptree Book Club .
---