Sun 31 Jan 2010 - Filed under: Not a Journal., blind consumerism, ebooks, Publishing | 6 Comments| Posted by: Gavin
Er, yes, they're at it again. Yet another reason we don't have Amazon links on our site: who wants to deal with people whose sense of fairplay is somewhere in the vicinity of might=right?
First we'd like to point out that while Amazon dropped the buy links for all the MacMillan US titles from their site this weekend all of those books are still available on Powells, Indiebound, bn.com, etc., etc.
Amazon has been ok for us with ebooks: they use DRM and the books are tied into one device so it doesn't seem like the best way to buy a book, but others think differently. At the moment we give them an ebook price (say $15.95 on a new hardcover book) and they pay roughly half of that even if they sell the book at $9.99. No strong-arming there. (Yet? Maybe because we're not attempting to charge $24?)
We price the ebook editions of new hardcovers at $15.95 then drop them to $9.95 if/when a paperback comes out. If anyone wants to argue about these prices and claim that there are no costs to making ebooks please feel free to come on over and do the work for free. We are a small press and to format and upload different files to Fictionwise/bn.com, Google, Follett, Amazon, Scribd, (& our new site this spring) etc., is not a quick task. Nor is the information gathering for royalties—a bit of a  stinker, that. Although made somewhat easier with our nice generous 50/50 ebook royalties.
But back to the gorilla: Amazon sold a couple of thousand copies of our paper books last year—and we just don't care. They've negotiated horribly high discounts with publishers and distributors so that we, for example, receive about 34%* of the retail price of a book sold on their site. (So $5.44 on a $16 paperback to pay the printer, freight, author, artist, ads, etc., etc. Yep, that math works out well.)
When indie bookstore orders from our distributor we receive about 40% of retail ($6.40 on that mythical $16 paperback). That 6%/$1 a book sure adds up—only a couple of thousand dollars over the year for us (although it would be nice…); it adds up to millions to larger publishers.
Amazon have a pretty typical huge corporation business model: make low low prices happen by twisting the supplier until they break in a Cash register. Then twist some more. Maybe they're worried that won't work any more? Maybe they're worried about their closed-ecosystem ebook reader versus the Apple iPad/iBookstore/Nook/Que/every other reader? Maybe they're just seeing what the other big houses will do once they see that Amazon is willing to be a weekend berserker? Maybe that's just the way corporate capitalism is supposed to work? Blink.
(Via many sites! Esp. Gwenda, Kelly, NYT Bits, Scalzi, & more.)
* Since we're not telling you the split between their discount, their mandatory marketing fee, the "free freight" (i.e. we pay to ship them books), and our distributor's fee, we are not breaking the NDA's we signed about discounts.
---
Fri 29 Jan 2010 - Filed under: Karen Lord, Not a Journal. | 1 Comment| Posted by: Gavin
…so we're going to keep stoking the flames!
Coming in June 2010 is Karen Lord's fantastic and award-winning debut novel, Redemption in Indigo.
We like Karen's book because it's choc-a-bloc full of magic–trickster spiders, metamorphic spirits, and clairvoyant nuns, oh my!  An imaginative re-telling of a Senegalese folk tale, Redemption in Indigo tells the story of Paama, whose overweight and overbearing husband causes nothing but trouble and embarrassment.  When Paama abandons her husband and returns to her home village, the magic really begins.  Unbeknownst to Paama, she wields the Chaos Stick, a handy device that controls the course of Fate, and the Indigo Lord wants it back…
As you might remember, Karen won the 2008 Frank Collymore Literary Prize in Barbados for Redemption in Indigo–then she just won it again for her novel "The Best of All Possible Worlds."
If you aren't impressed yet, Nalo Hopkinson called Karen's book "The impish love child of Tutuola and Marquez. Utterly delightful."
We think so, too.  It's a perfect read for the summer weather (though it's possible the Chaos Stick is wreaking havoc on our weather patterns here in Massachusetts!).
Updated to add: more coverage of the award in The Barbados Advocate and The Nation.
More news of delightful reads to come…
---
Thu 28 Jan 2010 - Filed under: Not a Journal., Small Beer Press, Stories of Your Life, Ted Chiang | 14 Comments| Posted by: Gavin
Working back from January 2011, we're exceedingly happy to announce that in October 2010 we will bring Ted Chiang's first collection, Stories of Your Life and Others, back into print. The title story alone is a knockout and then there are those seven other stories, which together have received a ton of awards and make this one of the strongest collections ever published.
Stories of Your Life and Others has been out of print for a couple of years so we are very excited to bring it back. Don't go paying $100 for it now, wait until October and pay $16! Stories will be published in trade paperback and the table of contents is:
Tower of Babylon
Understand
Division by Zero
Story of Your Life
Seventy-Two Letters
The Evolution of Human Science
Hell is the Absence of God
Liking What You See: A Documentary
Story Notes
And for those readers (us!) waiting for new stories from Ted, the good news is that he just handed in a longish story to Bill Schafer at Subterranean Press. So, two books to look forward to!
ETA: That long story has now been published.
---
Tue 26 Jan 2010 - Filed under: Not a Journal., 2011, Kelley Eskridge, Small Beer Press, Solitaire | 2 Comments| Posted by: Gavin
Where? There!
It's time we announced some of the books we have lined up for 2010 (and '11) — we're going to be hard to keep up, we're moving so fast, shining so bright. (Now, where are my slippers?)
First up (although not in calendric order): a reprint of Solitaire by fabby writer and editor Kelley Eskridge, a novel we really enjoyed when it first came out which we jumped at the chance to reprint. Who else likes it? One of our favorite people:
"Solitaire brilliantly explores…the dubious boundary between 'virtual reality' and the act of imagination—all in the ageless story of a bright, risky kid trying to find out who she is and where her freedom lies."
—Ursula K. Le Guin
and, me!
Solitaire is coming your way in January 2011: a year away—which seems like tomorrow in publishing terms. Better get on that cover and see what Kelley likes!
We've just signed up a bunch of books, more later. (It's time for tea, you know.)
---
Mon 25 Jan 2010 - Filed under: Not a Journal., Big Mouth House, Free reads, Holly Black, Short Stories, The Poison Eaters | 1 Comment| Posted by: Gavin
Today at BSC Review: read the very first story in Holly's first collection: "The Coldest Girl in Coldtown." It's a total knockout — and may give second thoughts to anyone who thinks they might be attracted to vampires!
---
Thu 21 Jan 2010 - Filed under: Not a Journal. | 3 Comments| Posted by: Gavin
Not adding anything to the topic—the topic being Bloomsbury again using white models on books featuring people of color—except a big WTF?
First (was it first? Not sure if there are others) it was Liar by Justine Larbalestier, now it's Jaclyn Dolamore's Magic Under Glass. (via Jezebel and every other site in the world)
Your task this week: buy a book with a person of color on the cover.
---
Tue 19 Jan 2010 - Filed under: Not a Journal., Books, Interviews, LCRW, To Read Pile | 4 Comments| Posted by: Gavin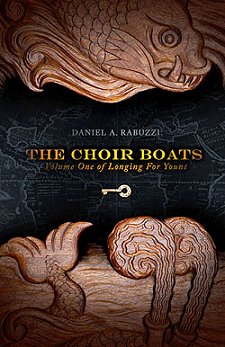 Computer troubles and the new year intervened but, here, at last, gingerbread and tea at the ready, is our promised interview with past-LCRW contributor Daniel Rabuzzi whose first novel of The Choir Boats, Volume One of Longing for Yount, was recently published by Chizine Publications. The Choir Boats is great fun: Rabuzzi's characters are original and as the book leaves London behind the reader is off into a fresh and lively new world.
Daniel keeps a blog where he interviews artists and writers, reports on readings (and what he's reading) and what he and his wife, wood carver Deborah Mills, are up to so it only seemed fair to put him on the other side of the paper:
Let's start with the basics: how long did it take you write The Choir Boats?
Bits of The Choir Boats come from my journals and sketchbooks going back as far as junior high school. Then, one Sunday in May, 2002, I sat down to write my brother a letter and instead Barnabas, Sanford, Sally and Tom appeared in the house on Mincing Lane… quite unforeseen, I must tell you, but very welcome!   I delivered final edits on the manuscript in May, 2009, so I needed seven years for The Choir Boats.
You live in NYC, why did you set the novel in London?
Ah, a great question…I think of NYC and London as half-twins: we have a Chelsea and a Soho, they have a Chelsea and a Soho, and so on (alike, and yet so very different).  I have spent about a year in total in London over the past few decades: on business in the City, researching at the British Library, visiting friends, spending hours in the Charing Cross bookstores and at the V & A…and always tramping around the quirkiest precincts I can find– small streets in Lambeth or Maida Vale, a prospect from Chalk Farm, lanes in Whitechapel, and so on.  Always I find in London a sense of secrets– some good, some less so– marshalled behind the facades, tucked away just around the corner of the mews…whereas here in NYC, what you see is usually what you get, for better or worse we are much more "in your face."  For me, fantasy is about sensing and pursuing the hidden, the secretive, so London feels much the b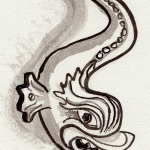 etter fit for converse with Yount.  (Also, I fell in love in London with my wife and creative partner, Deborah Mills, who was at the time studying there.)   Having said that, NYC makes a cameo appearance in The Choir Boats (as a waystation for Maggie and her mother), and might just play a more central role in later books about our world and Yount.  Delia Sherman has certainly shown how effectively NYC can serve as a portal for fantasy in her Changeling books!
What kind of research did the novel involve?
I earned my PhD in modern European history…the research for The Choir Boats stems largely from my doctoral work on 18th- and 19th-century merchants in northern Europe.  I often feel like Pierce Moffett, the idiosyncratic historian in John Crowley's Aegypt Cycle, asking whether the world has more than one history.  Or the protagonists in the works of Umberto Eco and of A.S. Byatt, hunting for clues in a rebarbative and ever-branching history.
You obviously love playing with language. Who are your favorite writers and what stream of fiction do you think influenced your novel?
Austen,  Blake, Dickens, Hesse, Borges and Mann are deep influences, as are Meryvn Peake and Ursula K. Le Guin.  Pope, Dickinson, Hopkins, Moore, Hughes, Heaney.  Lately I have been reading Z. Z. Packer, Elise Paschen, Sarah Lindsay, Alice Oswald, Nathaniel Mackey, Andrea Barrett, Nnedi Okorafor.  I especially like the writers I loosely call 'the New Stylists": Theodora Goss, Cat Valente, Sonya Taafe, JoSelle Vanderhooft, Sandra Kasturi, Naomi Novik, Susanna Clarke.  "Neo-Romanticists" might be a better label, as their various uses of language evoke Endymion, Alastor, Tieck's Fantasus and Novalis's search for the blue flower.  Greer Gilman and Ellen Kushner are the pioneers here, their wordplay (simultaneously lush and incisive) an inspiration to the most recent cohort.  Sarah Micklem and D.L. Cornish are two other writers whose prose sings to me.
As the book goes on you include an increasing number of literary characters and play more with the idea of stories. Will these characters ever cross over from story to our world?
Yes, though precisely how is still being marinated in my night-kitchen.  I do know that a certain Elizabeth Darcy (born Bennett) will play a minor but necessary role in The Indigo Pheasant, or, A Tax from Heaven, the sequel to The Choir Boats. Careful readers will recall that Elizabeth is a friend of Sally's through Elizabeth's City relatives.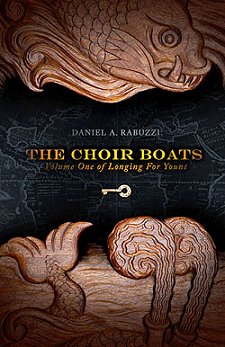 What beverage and snack should readers have ready to read your book?
A rich black tea with lots of milk and sugar, and gingerbread or almond cookies.  The Dutch and Flemish make a ginger-cinnamon-nutmeg cookie for the winter holidays called speculaas that would be particularly appropriate.
Mmm. Thanks Daniel!
---
Tue 12 Jan 2010 - Filed under: Not a Journal., Apple, blind consumerism, stuffed | 7 Comments| Posted by: Gavin
Yon trusty MacBook was listening to the previous post and promptly gave up the ghost. Which is somewhere between utterly crap and mildly crap and I wondered if there's anyone out there who can help? (Either in the comments or gjgrant at the google behometh.com, thanks!)
Of course my backup system, a hodgepodge of very careful and not so careful is now coming back to bite me. Hilariously I had just bought Snow Leopard so that I could automatically continuously back up our laptops. Ha.
I'd been running OS X 10.4 and I'd cloned the 80GB hard drive onto a backup drive (a Time Capsule, but not using Time Machine as it does not work with 10.4). I upgraded it to Snow Leopard (10.6.2) and it ran for a day or so then cra-cra-crashed. I ran it along to the Apple store in Boston who, telling me this was a known issue for that drive and this laptop replaced the drive with a new one (for free) and were going to recycle the drive. Today I went in and rescued the old drive as the cloned hard drive is either corrupt or not working (or I did it wrong) and can't be opened.
Some of my files are on the office machine, some are backed up using SugarSync but there is some stuff on this dead drive that, if the clone is really useless, I'd love to get at.
The Apple guy here suggested buying a disc enclosure at Best Buy and some data recovery service. I'm thinking I will get a disc enclosure, take it home, see what happens—which will take care of the next couple of hours. I'm in Boston tonight, will be in Easthampton seeing what's on the backup drive there tomorrow.
---
Tue 5 Jan 2010 - Filed under: Not a Journal., blind consumerism | 1 Comment| Posted by: Gavin
Looks more and more like my trusty MacBook laptop would like to be shipped off to retirementland so I've been thinking about what I need to replace it and I think the answer is easy: a huge new iMac for when Ursula is home and I work there and a shiny Shiny tablet-thingy for the nonce. Because surely, besides making toast and training me how to play the oboe and getting me to exercise and keep to a budget, it will run InDesign, right? Dum de dum de dum. Not a magpie. Not distracted by shiny things.
---
Mon 4 Jan 2010 - Filed under: Not a Journal., Greer Gilman, Holly Black, Joan Aiken, Kelly Link, Poppy Z. Brite, Ursula | Leave a Comment| Posted by: Gavin
It's kind of odd to hit a year-change with no Year's Best duties but I've been enjoying reading many other Best of Year/Decade lists—and the odd squeak about how this isn't the end of the decade, dammit! I will miss the year-in-summary but I certainly couldn't write it this year—or any year soon.
Apparently by the end of the world (2012) we will have "golden fleece' lozenges" containing "interferon alpha, a protective protein made naturally by the body when attacked by a virus" which would mean not being hit with a grotty cold-like thing first thing in the year. Can't come fast enough. Blech.
Also, maybe by 2012 Apple will have developed a power cord that doesn't break every couple of years. How often do you see this rating in the Apple Store:
Customer Ratings Based on 1139 reviews
Bah. Hard to get excited about the iSlate while our two old MacBooks are sharing a cord!
So, given that the the last couple of days have been cold-days here is some catch-up blathery mostly from the old year so that, maybe, just maybe, after this ohnine will be deid and ohten will not be the new year, it will just be the year.
First: thanks! Our fundraising sale raised just under a $1,000 for Franciscan Hospital for Children—so we made up the difference and will be dropping a check in the mail this week. A good piece of that total came a buck at a time but there were many people who paid retail price. Yay! We have a fundraiser reading coming in March in Boston which should be fun. Will, of course, keep you posted,
Second: Joan Aiken's The Serial Garden is a finalist in the Cybils Awards in the Middle-Grade Fantasy & Science Fiction category. Yay for the Armitage family! (Did we mention it was chosen as one of the best books of 2009 by the parenting part of Toronto Star? 2008, 2009, who cares when it came out: we all know it's a great book.)
And more: Much love was apportioned to Greer Gilman's Cloud & Ashes at the end of year multi-critic list at Strange Horizons. It's not a book for every reader but for those it hits, yep, it is the thing.
Poppy Brite's Second Line continues to get coverage at home. New Orleans Magazine says, "Her novels Liquor, Prime and Soul Kitchen have introduced readers to the wild world of Chefs John Rickey and Gary "G-man" Stubbs. The couple lives for food and the art of making it as many New Orleanians do. The two stories in Second Line serve as earlier and later chapters in the steamy soap opera saga."
Holly Black was interviewed by Veronika about spooky dolls, what's coming up, and so on. We're getting her book ready to send to the printer—it will be our biggest book for a while, so it's pretty exciting.
Kelly's second collection Magic for Beginners made two other Best of the Decade lists: HTML Giant and the Village Voice—both of these make pretty great To-Read lists. Also weird and great to find on the web was Bryan Lee O'Malley enjoyed "Magic for Beginners." Huh and wow. Maybe after Scott Pilgrim 6 is done he'll do MFB as a comic. Cough. But then the comments today include infinite boners, so readers beware. In wandering about his site I downloaded one of his albums (recorded as Kupek)—it's no Sex Bob-omb (cough, again) but it's worth checking out.
For new stuff, ah, come back tomorrow or next week. And in the mean time,  cheers!
---
Mon 4 Jan 2010 - Filed under: Not a Journal., Working Writer's Daily Planner | Leave a Comment| Posted by: Gavin
Of course you are always welcome to pay $2,010 for any one (or, I suppose, all) of our books but we just dropped the price on A Working Writer's Daily Planner from an already-scandalously low $13.95 down to $9.95 including shipping in the US.
We've had great fun with this shipping out hundreds and hundreds before the new year and since, it's good for a year, still shipping it out.
Soon we'll be working on 2011's so comments and suggestions are welcome!
---