Mon 30 Nov 2009 - Filed under: Not a Journal., St. Andrew's | Leave a Comment| Posted by: Gavin
Almost forgot (even though, yes, it's noted in our Daily Planner—but, hey, that's for 2010, not 2009)—to wish everyone Happy St. Andrew's Day: a perfect excuse (as if one were needed) to have everyone over for a haggis dinner!
(Thanks to Karen Lord for the reminder!)
---
Wed 25 Nov 2009 - Filed under: Not a Journal., Alan DeNiro, Bruce Sterling, Henry Jenkins, Hound, Interfictions, Interfictions 2, John Kessel, The Baum Plan, Vincent McCaffrey, Zines | 1 Comment| Posted by: Gavin
Publishing seems to take today off as part of the Thanksgiving holiday—maybe everyone on NYC is taking the day off to empty the oven of books so that they can try and cook a turkey?—but we in indie press land don't recognize your bourgeois concept of "holidays." All days are holidays here!
And in the meantime, coming up soon we have an interview with Daniel Rabuzzi author of The Choir Boats and we're looking forward to the new issue of Xerography Debt (with a few reviews by yours truly).
Hilarious post by Elissa Bassist: What We Were Really Saying:
Me
I verb you.
Him
I similarly feel for you in this way, but I'll never say the word verb in front of you or even behind your back to my friends. I have feelings only sometimes, and only when I feel like it.
Elsewhere, tangentially related to SBP: Alan DeNiro (Skinny Dipping…) is celebrating the release of his first novel, Total Oblivion, More or Less, by hosting a fundraiser for MercyCorps—and if you donate and send Alan an email he'll send you a piece of postapocalytic ephemera.
Bruce Sterling gives the Wired thumbs up to Henry Jenkins intro to Interfictions 2: "Man, Henry Jenkins is the guru."
Hound is a leisurely mystery, the action is secondary to the pace of life, the thoughtfulness, the focus on books and things literary. This isn't fast-paced, action-filled. The story develops at it's own pace, not to be rushed but rather to be savored. Indeed, the crime-solving is secondary to the portrayal of Henry, the sensitive bibliophile's efforts to make sense of life. This is a "literary" novel with a mystery inside. It's full of asides and memories of the character's youth. The reader needs to relax and enjoy. Initially, I wasn't sure I was going to like this, but my affection for this book and it's characters grew as I read, until by the end I was quite satisfied. I look forward to the next in this different, intriguing series.
This generic image should make people rethink getting shiny new electronics for Xmas:
John Kessel (The Baum Plan…) is interviewed at Marshall's Sekrit Clubhouse (shh, it's a secret!) and can be seen on UNC TV's Bookwatch here:
---
Tue 24 Nov 2009 - Filed under: Not a Journal.| Posted by: Gavin
December 2009
9781931520584 · Spiral bound · 6 x 9 · 144 pp · Multiple-copy discount
"I am ticking off the days until I can get my Working Writer's Daily Planner. All work is at a complete stop until its arrival."
—Karen Joy Fowler, author of The Jane Austen Book Club
A Working Writer's Daily Planner 2010 is made by writers for writers—all kinds of writers. Whether you're published or not, a poet, a bestselling novelist, retired, in school, an academic, a short story writer, or you are researching your nonfiction magnum opus, you'll find that this calendar is a powerful motivational tool which easily integrates into the workday. You'll find inspiration in the stimulating exercises  along with the daily and weekly structure you need to get the work done.
Download a Free Sample: March 2010 | Scribd.
Every week has its own page with  a handy list of upcoming deadlines, writing contests, information on where to apply for residencies, as well as inspiring quotations or writing prompts and exercises and suggestions, Federal Holidays (extra writing time!), and, at least once a month, a suggestion for a magazine (or other market) to submit your work to.
A Working Writer's Daily Planner is first and foremost a practical resource: Each deadline or residency application is accompanied by a website address so that you can go straight to the source for more information. However, most listings also have all the information you need to apply or to send in your submission as well as a simple code so that you can tell immediately if a program, award, or market is appropriate.
Each month has a page for notes which you can use to plan ahead and at the back, you will find a handy Submissions Tracker to keep track of where and when you sent your work out, as well as many other features for you to use and enjoy throughout the year.
And, courtesy of our friend Abby Denson, for that time when you just need a total break from it all: there are paper dolls!
A Quick Index to A Working Writer's Daily Planner 2010
Finding an MFA Program
Kelly Link, "Beyond Competent and Accomplished: A Call to Action for Workshoppers"
How to Format a Manuscript
Kate Wilhelm, "Trivia Vs. Writing Real Stories"
Persevere
Contest and Award Fees
Goal Planner
Further Resources
CLMP Contest Code of Ethics
Paper Dolls
Submission Tracker
Photo and illustration credits
Reading Lists
Early Spring, Late Spring, Summer, Late Summer, Winter
Writing Exercises
Quick, Truth Or . . .?, Fifty First Sentences, Clichés, Soundtrack First
Writing Prompts
Spotlights
Grants, Science Fiction & Fantasy, Poetry, Independent Magazines, State Arts Focus, Younger Writers, Residencies, Online Writing Classes
Inclusion of events, workshops, conventions, conferences, magazines, contests, websites, and anything else in this calendar in no way constitutes an endorsement by Small Beer Press who shall not be held accountable for any ­­­changes since the date of publication or reliance upon this information by readers. Please check the websites listed for full information on residencies, journals, grants, and so on. Small Beer Press received no payment or consideration in any form for any information included in this calendar. This is a work in progress and will be updated for 2011. We love to hear from readers so if there is something you would like to see included in next year's calendar, please contact us at the address below.
A Working Writer's Daily Planner 2010 is available at a discount to workshops, groups, companies, or for use as a premium. Please contact us for more information, thank you.
"Each week is given a full page with enough space to jot down interview times, for example, or to make note of those awful looming deadlines…. But there's much more in here than the birth dates of writers who are far more famous than most of us will ever be. The facing pages are packed with information about writers' residencies, writing prizes and awards in fiction, non-fiction, and poetry, writing fellowships, writing prompts and exercises, practical tips on formatting manuscripts and links to writing blogs and other online resources—and words of inspiration."
—The Daily Hampshire Gazette
Instant Discounts (includes Media Mail shipping in the USA):
2 copies: $9
3 copies: $13
4 copies: $15
5 copies: $18!
Made by Small Beer Press in 2009.
Printed on 100# Boydon Gloss by United Graphics, Inc. of Maltoon, IL.
Text set in Cochin.
---
Mon 23 Nov 2009 - Filed under: Not a Journal., Kelly Link, Magic for Beginners, Stone Animals | 1 Comment| Posted by: Gavin
Nice surprise: Kelly's story "Stone Animals" is excerpted at NPR.org.
---
Mon 23 Nov 2009 - Filed under: Not a Journal., beer, Working Writer's Daily Planner | Leave a Comment| Posted by: Gavin
It's a hive of activity (punctuated by Sierra Nevada holiday ale!) here shipping out the Writer's Daily Planner (and perhaps still following the Hq stuff…!)
Here are a couple of random shots of it — it's great to have it (at last!) and be able to heft it around. Stores will be receiving it soon and we're sending it out to writing programs and all kinds of things.
---
Sun 22 Nov 2009 - Filed under: Not a Journal., Harlequin Horizons, Oh come on, Satire, Scams, Vanity Press, Writer Beware, Yog's Law | 41 Comments| Posted by: Gavin
Opening up new horizons to all writers is where we are at! We understand that just over the horizon is where dreams are made! We are down with your writerly ambitions! We understand, as we is writers ourselves.
And, so, having no interest in the bottom line, after all we are publishers and everyone in publishing is in it for the art not the money, we are announcing the formation of a new, er, imprint? Vanity press? Bold, New, Shiny, Revolutionary, Don't Watch Our Hands, Lots of Small Type in the Contract, Type of Publishing:
Easymark Books
We're not interested in monetizing the slushpile, we're interested in getting you to pay to publish it for our profit!*
Let us help you get your book out to your real readership: your family and friends.
See you book on bookshelves (if not in bookstores—see #1).
For a mere $599 we will send you 5 copies of your book printed on our state of the art Print on Demand system. (Which sounds just like Lulu.com but isn't, ok?) It will even have a color picture on the cover—with, and sit down because this is about to get awesome,

Your Name Right There On the Cover!

Our premium Marketing Fuss package includes faxes to people who don't care as well as our ninja street team who will sneak your book into bookstores and, sometimes, even into the right section!
In our super-premium "Booksellers" package—Usually $5 million, Today Only $2 million—we come to your town, open a bookshop, and stock your book. We will throw a launch party and have you do a reading and for a small additional fee we will throw in a couple of bottles of that sparkly Portuguese wine and some cubed cheese (which seem like such a good idea in the grocery store and look so sad on display) in the somewhat forlorn hope that people will come.
Know nothing about publishing? Don't worry, we'll treat you right. Remember Yog's Law and money. Then quickly forget it.
* This is an example of an unproofed sentence with a comma splice. If you pay for our Aspirational package (Usually $5,999, for this month only $1,995!) we will proof your book. Your unedited, uncopyedited, and unproofed sentences will become more like this:
We're not interested in monetizing the slushpile. We're interested in getting you to pay to publish it for our profit!*
* Or even this: We need to hit up the uninformed and rip them off before anyone else gets the idea.
And if Easymark isn't for you, how about:
Upchuck Press
Because money, like beer, should always flow toward the writer. Unless we can get you to disgorge some first.


FAQ
Here are some common questions we thought we'd answer ahead of time:
Is this program for me?
No.
But I think my book could be a bestseller in this program.
It won't.
Is this a vanity press?
Yes.
Is this just a way to part the uninformed from their money?
Yes.
Will my book sell? And if it does, will you publish it for reals?
No. Unless you buy a metric ton of it and sell it out the back of you car at flea markets. Which, as every writer knows, has in fact worked about three times in the last thirty years.
I have a lot of money and I want to write.
Hmm. Oddly enough those two things have nothing to do with one another.
Also, as to the latter: bum on the seat.
I don't have quite as much money as that last questioner. Will you still publish my book?
Well, we have a super discount program where for $49 we read your manuscript and offer you more services for more money. How about that?
What is an "editorial review"?
One of our unpaid but enthusiastic interns will run spell chekc on your novel and recommend that you cut out most of the adverbs.
How will you publicize my book?
Well, it will be listed on our PaytoPlay website, not emailed to our email list, not mentioned on any of our websites, and not included in anything related to our press.
However, have you ever heard of "blogging"?
What price will my book be?
All our state of the art trade mass market paperback hardcovers are priced to sell at $22.89. You automatically get 5 free copies! (For the price of shipping.) In accordance with our publishing philosophy, author copies can be acquired at 200% of retail price. No royalty is paid on author copies.
Is this "the cynical use of a respected brand to legitimize a business model which has long been associated with predatory tactics, in the guise of inventing a shiny new business model for those brave enough to dream big. And pay through the nose, presumably"?
No! No. Er. Yes.
Will my book be a Small Beer Press book?
Are you daft? Of course not!
---
Sat 21 Nov 2009 - Filed under: Not a Journal., Franciscan, kids | Leave a Comment| Posted by: Gavin
Got kids in the Boston area? Drop by Jordan's Furniture in Avon, MA, on Sunday, November 29th, 2009, 9:00 AM – 11:00 AM for The Enchanted Village fundraiser for Franciscan Hospital for Children. And, yay!
Click Here To Order Siver Tickets Online
Call 1-617-254-3800 Ext 5430 To Order Your Silver Tickets By Phone
Experience an exclusive private viewing of the iconic Enchanted Village during its inaugural year at Jordan's Furniture in Avon! Walk through the yesteryears of the display, take a picture with Santa, be transported by the Polar Express 4D Ride, and see the all-new Holiday Laser Light Show Spectacular in the MOM Theater!
---
Sat 21 Nov 2009 - Filed under: Not a Journal., A.L. Kennedy, Alan DeNiro, Alasdair Gray, Gwenda Bond, Karen Lord, Sex, Small Beer | 3 Comments| Posted by: Gavin
Mini-io9 linkdump:
One of our authors Karen Lord's debut novel Redemption in Indigo makes a list of 20 SF books to look forward to. And they are right! (Although it is the first edition, not only the first US edition. Hey, but rights are available… ) Anyway, it's great and great fun and wethinks you will enjoy it.
SBP gets hauled out in a list of publishers reinventing publishing. Don't know about that but it's a list with some great people on it. (We all make that face when we pick up the mails as it is always the bills.)
-> Have you see Jeremy's letter in Locus about getting to use a Richard Powers cover? (Ah, googlefound here) It is awesome and Eclipse 3 is on the the TBR list.
-> We will start an ebook store at some point and reinvent publishing. We will move from selling ideas on paper to just painted electrons on that gadgety new Apple tablet thing that we're all going to get in spring.
Mini-Scotsman linkdump:
Mini-Guardian linkdump:
Various people write and talk about France being handed a win against Ireland and we worry that since now England and Ireland have lost to the magical handball will Scotland (and Wales) get the same treatment?
Mini linkdump:
---
Fri 20 Nov 2009 - Filed under: Not a Journal., popp, Poppy Z. Brite, Second Line, stuff to read | Leave a Comment| Posted by: Gavin
Just posted an excerpt from Poppy Z. Brite's wonderful short novel The Value of X, which can be found in our new book Second Line.
You can read the start of the second short novel, D*U*C*K, at the BSCreview.
---
Thu 19 Nov 2009 - Filed under: Free Stuff to Read, Novel Excerpts | Leave a Comment| Posted by: Gavin
From Second Line by Poppy Z. Brite.
The Value of X
"Awright," said Mrs. Reilly to her eleventh-grade algebra class, "if Y equals thirty-six, who can tell me what X equals?"
Surveying the class slumped in their desks, she could not blame them for their apathy. Though it was only April, the weather was already hinting at another brutal New Orleans summer. For public schools to be without air conditioning in 1990 was a disgrace, but such things were usual in this little corner of the United States that might be more properly called part of the Third World. Mrs. Reilly suddenly felt hopeless and decided to call on her one dependable student. "Gary?"
But this time there was no answer.
"Gary Stubbs? Are you paying attention?"
---
Thu 19 Nov 2009 - Filed under: Not a Journal., Small Beer Press, Working Writer's Daily Planner | Leave a Comment| Posted by: Gavin
The somewhat slightly maybe perhaps a teensy-bit delayed Working Writer's Daily Planner has shipped from the printer! It'll arrive on Friday at our distro's distroing HQ (in Jackson, go comb your hair, Tennessee) and from there head out into the wide world. It may not hit stores by the No Shopping Friday-After-Thanksgiving but it should be getting out the week after. Wild cheers will greet any pics sent in of it out there in the wild.
---
Thu 19 Nov 2009 - Filed under: Not a Journal., 51%, Books, national book awards, the world | Leave a Comment| Posted by: Gavin
1 guy, 2 guys, 3 guys, 4 guys. Plus: 2 extra guys.
---
Tue 17 Nov 2009 - Filed under: Not a Journal., Captain Kirk, William Shatner, wtf, YouTube | Leave a Comment| Posted by: Gavin
---
Mon 16 Nov 2009 - Filed under: Not a Journal., Art, Interstitial Arts | Leave a Comment| Posted by: Gavin
Check out the art inspired by stories from Interfictions 1 and 2 here — you can make it yours, too, if you want. And today Publishers Weekly says of the book:
Interfictions 2: An Anthology of Interstitial Writing
Edited by Delia Sherman and Christopher Barzak.
This anthology celebrates its cross-genre concept as much as its content, with a lengthy introduction, contributor notes, and afterword. Will Ludwigsen's lovely, melancholy "Remembrance is Something Like a House" combines paranormal and true crime elements. Alaya Dawn Johnson's dystopian "The Score" reads like a post-9/11 Twilight Zone episode. A scientist tries to prevent a world war in Elizabeth Ziemska's winsome "Count Poniatowski and the Beautiful Chicken." Stephanie Shaw's strong and earthy writing grounds her story of dragons and a four-headed obstetrician in "Afterbirth." . . .  Fans of the first Interfictions anthology will dig it."
---
Sun 15 Nov 2009 - Filed under: Not a Journal., ebooks, Publishing | Leave a Comment| Posted by: Gavin
There are two Future of Publishing/Ebooks are Fun/Wow, Look at That conferences on in New York in Jan/Feb and we are wondering which one is worth going to and why?
There's the O'Reilly Tools of Change, Feb. 22-24, and there's:
We're working on an ebook store which will sell our books and some others and which should launch in time for everyone who buys the new Apple gadget to make it their homepage so we've been doing a little research and so on and if anyone thinks we should go to one or the other of these we'd love to know.
---
Sun 15 Nov 2009 - Filed under: Not a Journal. | Leave a Comment| Posted by: Gavin
Talks with (the indefatigable?) Charles Tan. And if you like that, go read his blog.
---
Fri 13 Nov 2009 - Filed under: Not a Journal., To Read Pile, YouTube | Leave a Comment| Posted by: Gavin
Go read Going Bovine. But first, watch this (old but excellent short):
---
Tue 10 Nov 2009 - Filed under: Not a Journal., Greer Gilman, Kelly Link, Pop, Publishing, writing | 1 Comment| Posted by: Gavin
BSCreview has 3 free copies of A Working Writer's Daily Planner 2010 to give away.  Want Want Freebies?
Lev Grossman included Kelly's Magic for Beginners in a list of "the six greatest fantasy books of all time." Ladies and Gentlemen, start your arguments.
Richard Nash calls out BEA (via Shelf Awareness) on their rather silly decisions not to have a big party and not to let in the grand reading public. BEA is dying and no one seems to care. The American Booksellers Association has sensibly started a new thing, the very successful Winter Institute where publishers and booksellers get to meet in peace. Book fairs (hello Brooklyn!) do tremendously. ComicCon is spinning off secondary fairs like no one's business. Kids are lining up to get into manga fairs. Someone else is going to take up the slack (hello again, Brooklyn, LA, Washington DC, Miami). Putting publishers in front of the public is no bad thing. We went to a huge indie book fair in Italy that was 4 days long and bigger than the Javits Center. People love that stuff — come on BEA, get like AWP and other smarter conferences, let the people in.
Hal Duncan has songs (with Neil Williamson) and a successful pay-per-view (or whateveryoucallit) going on on his site.
There have been two fascinating reviews (one website, one blog—there are many on the blogs but I just happen to be posting right now) of Greer Gilman's Cloud & Ashes: Paul Kincaid on SF Site,
Time and again, in innumerable different ways, we see hints about the ways that the stories we tell shape the actions we take…. This is where the circle is broken, and if events drive us incessantly towards tragedy as stories must, it is a very different tragedy from what has gone before.
Cloud and Ashes is not an easy book to read, but it is incredibly worth while making the effort. Any sense I have given of what goes on here is inevitably only partial, there is so much I have had to omit, major characters, significant plot lines. Above all, I have barely hinted at how much it plays with gender roles, how much it has to tell us about the role of women in shaping the world, indeed how every potent active character is female. It is a book you will barely grasp, but it is a book whose hold on your mind, on your memory, is assured. It is a story about story, and stories are what we are all made of. Abandon hope all ye who enter here.
And She Who Must on LJ:
I loved it, and it still took me about a month to read it; it's quite long, and very, very rich. After a few pages I'd have to stop and digest what I'd read. I don't think that's a bad thing – indeed, I was in no hurry to reach the end, I didn't want it to be over.
---
Tue 10 Nov 2009 - Filed under: Not a Journal. | Leave a Comment| Posted by: Gavin
Received by email today from one of the trade review journals after we queried them in September about reviewing our current books:
Dear Gavin,
Thank you for your inquiry regarding the title "XXXXXXXX."
Unfortunately, this title was not selected for review by XXXXXXX
as it did not fit our present needs. However, we would
encourage you to send your future titles to us for review consideration,
and we look forward to receiving them.
Best,
Oh well. Next time.
---
Tue 10 Nov 2009 - Filed under: Not a Journal., Interfictions, Interstitial Arts | Leave a Comment| Posted by: Gavin
First once-was-MIT honcho Henry Jenkins heads for LA, now he's writing about interstitialism (fantastic intro here), and now tonight there's a huge event tonight in LA.
La what? No! L.A.! Don't miss the latest Interfictions event tonight in LA (and then on Friday in Boston) with a huge selection of readers, musicians and so on. Here's the info straight from the horse's mouth:
To celebrate the launch of Interfictions 2, we've been arranging a number of interviews with the contributors, which will be posted to the new Interviews page in the Interfictions 2 section of our site. The first of these is with none other than a host of (and a featured performer at) tonight's Interfictions 2 Reading in Los Angeles – Cecil Castellucci!
In addition to being the author of the Interfictions 2 short story "The Long and Short of Long-Term Memory", Cecil is the author of three YA novels, Boy Proof, The Queen of Cool, and Beige, with a fourth, Rose Sees Red, coming in 2010 from Scholastic; two YA graphic novels, The PLAIN Janes and Janes in Love, illustrated by Jim Rugg; and numerous short stories. She is currently working on a hybrid novel and the libretto for a multimedia opera. She has played in bands, produced and directed a feature film, a few one-woman shows, a play, and does the occasional confessional stand-up comedy gig. She is always on the lookout for new ways to tell stories. Having lived on both coasts and both sides of the 49th parallel, she appreciates a well-coordinated snow removal operation but wisely hides out where none is needed. For more information, go to www.misscecil.com or visit her blog at castellucci.wordpress.com.
For those of you in or around Los Angeles, here's the rundown on tonight's event:
LOS ANGELES
Tuesday, November 10, 2009 from 8 to 10 PM
@ M Bar – 1253 Vine (at Fountain)
Liz Ziemska and Cecil Castellucci invite you to an evening of readings from INTERFICTIONS 2: An Anthology of Interstitial Writing edited by Delia Sherman & Christopher Barzak!
Performances by: Patty Cornell, Dave Foley, Kimberly Huie, Michael O'Keefe, Rasika Mathur, Darcy Martin, & others reading stories by Cecil Castellucci, Elizabeth Ziemska, Brian Francis Slattery, Ray Vukcevich, Peter Ball, Nin Andrews, and Stephanie Shaw.  Directed by: Flint Esquerra.  Musical accompaniment by: Jonathan Stearns.  No Cover + $10 food minimum.  Reservations are strongly encouraged: 323-856-0036.  Books will be for sale available courtesy of Skylight Books
http://castellucci.wordpress.com/2009/10/22/interfictions-2-anthology-reading-los-angeles/
Sounds like quite a party! Until then, though, why not check out the interview? And stay tuned – we also have interviews with Jeffrey Ford, Alaya Dawn Johnson, Ray Vukcevich and others coming soon!
---
Mon 9 Nov 2009 - Filed under: Not a Journal., Canongate, Feeebies, Kelly Link, Pretty Monsters | Leave a Comment| Posted by: Gavin
Ganked wholesale from BellaandEdward.com(!):
BAE UK Book Contest: Win Pretty Monsters by Kelly Link!
We at BAE know how much you guys like books, and thanks to Canongate in the UK, we have a pretty cool Halloween contest for you.
Pretty Monsters is a great collection of horror short stories, and is a good crossover book that teenagers and adults will love. I really enjoyed it!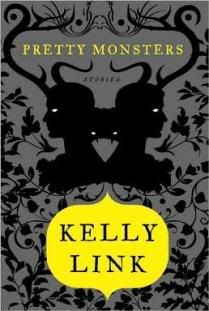 UK Competition:
Canongate Books is pleased to offer BellaandEdward.com prize copies of Pretty Monsters.
---
Sat 7 Nov 2009 - Filed under: Not a Journal., food, the world, To Read Pile | Leave a Comment| Posted by: Gavin
Jonathan Safran Foer's new book Eating Animals is causing a nice ruckus on the Huffington Post — and lots of other places. Nice to see people thinking about their impact on the world. I think it would be a great bookclub pick. For those interested in the numbers, United Poultry Concerns posted a list of the numbers of animals slaughtered for food (US only):
Chickens
Total number died for food: 8.13 billion (7.67 billion for meat, 458 million for eggs)
Average number killed per American meat-eater: 27.5 (26 for meat, 1.5 for eggs)
Average number consumed per American lifetime: 2,147 (2,028 for meat, 120 for eggs)
…
ALL ANIMALS
Total number died for food: 80 billion
Average number consumed per American meat-eater: 270
Average number consumed per American lifetime: 21,000
---
Sat 7 Nov 2009 - Filed under: Not a Journal. | 2 Comments| Posted by: Gavin
I just like exclamation points.
---
Thu 5 Nov 2009 - Filed under: Not a Journal., Poppy Z. Brite, Second Line, stuff to read | Leave a Comment| Posted by: Gavin
The good folk at BSCreview just posted an excerpt from Poppy Z. Brite's D*U*C*K which is the second half of our new books, Second Line: Two Short Novels of Love and Cooking in New Orleans. Starring lovable chefs Rickey and G-man and their assorted crew of hard working, fun loving restaurant crew the first novel, The Value of X, introduces Rickey and Gary (as he is known in his pre-G-man years!) and tells the story of their first years together. D*U*C*K jumps past the intervening years (chronicled in the novels Liquor, Prime, and Soul Kitchen) to when the guys have their own restaurant but Rickey can't resist a challenge and takes on an outside gig to cater the annual Ducks Unlimited banquet.
Also: we're working on printing up a menu for the banquet for Poppy to sign and if it does work out we'll be selling them here with or without copies of the book.
In the mean time, read on:
Everything you've heard about summer in New Orleans is true. The only tourists who visit during that infernal season are hardy Germans and Australians, who can weather anything, and people from Alabama, Mississippi, and Texas, who are used to it and don't have far to drive. The deepest pits of Hades have nothing on your average August day in the Crescent City. (You can say Crescent City if you like, because the Mississippi River cups the city in a crescent shape. Say "the Big Easy," or, worse, "N'Awlins," and people will know you're a tourist.)
---