Fri 5 Jun 2009 - Filed under: Not a Journal., To Read Pile | Leave a Comment| Posted by: Gavin
but zombies, "talking animals, mermaids, a book that writes itself, a race of tiny people — whose lives are filled with pathos and tragedy — searching for their lost homeland, the ancient and massive ship of the series title; myths and legends from all and sundry, and haunting them all, a mad king who once declared himself a god. . . .
I reviewed Robert V. S. The Red Wolf Conspiracy for the Los Angeles Times and really enjoyed it. If you're looking for a big, smart, summer read, try this.
---
Fri 5 Jun 2009 - Filed under: Not a Journal., the world, To Read Pile | 2 Comments| Posted by: Gavin
When GM goes into bankruptcy hope someone fires the people in the US who decided that is ok to make cars for Europe that get 71/59 mpg but not sell them here…. Autobloggreen reports on the latest Vauxhall Corsa:
It's not a hybrid and it doesn't have a plug, but Vauxhall's new Corsa ecoFLEX is the company's most fuel efficient production vehicle ever: on the UK's extra urban fuel cycle the car is rated at 71 mpg (U.S.); the combined rating is 59 mpg (U.S.). This is a boost of 13 percent compared to the previous high-mpg Corsa….
Want to go work on an indie film in Canada? Jim Munroe's latest project sounds fantastic—and you can be a part of it—a movie of a documentary series from 2040 when:
a generation of Torontonians have grown up after the economic collapse of the west. The movie consists of episodes of a documentary series popular in mainland China about the bad jobs some white people have — the plucky and resilient souls unlucky enough to be born into the slums of North America.
Follow the link for the casting call.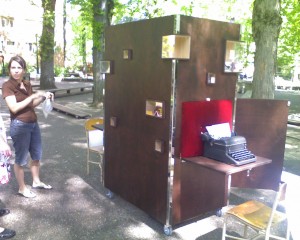 Add your memory object to Laura Moulton's new project Object Permanence which has an actual real world component as well the webpage. The Object Mobile is on the ground in Portland: track it down and add your own object.
Henry Wessells's Temporary Culture is producing another beautiful book:
HOPE-IN-THE-MIST
The Extraordinary Career & Mysterious Life
of Hope Mirrlees by Michael Swanwick
Hope-in-the-Mist is the first book-length study of British author HOPE MIRRLEES, whom Virginia Woolf described as "her own heroine — capricious, exacting, exquisite, very learned, and beautifully dressed." Raised in Scotland and Zululand, Mirrlees studied with the great classical scholar Jane Harrison and later lived with her in Paris and London. Mirrlees wrote one major poem, Paris (1920), the missing link between French avant-garde poetry and her friend T. S. Eliot's The Waste Land (1922) ; her novel Lud-in-the-Mist is an acknowledged classic of fantastical literature. An earlier version of Hope-in-the-Mist was published in the journal Foundation in 2003.
We're down for a copy. Maybe the trade paperback, but we're open to receiving copies of this edition:
30 copies, hand bound in chartreuse Asahi book cloth with Ann Muir marbled endsheets, signed by Michael Swanwick and Neil Gaiman, and with the frontispiece signed by Charles Vess.
Five copies lettered A – E, for presentation.
Subscribers issue, 25 numbered copies : $300 in U.S. ; foreign $325 (includes shipping and a copy of the trade issue).
And, Fred Pohl (on his great blog) outs himself as a photic sneezer. How about you?
---
Thu 4 Jun 2009 - Filed under: Not a Journal., Greer Gilman | Leave a Comment| Posted by: Gavin
Locus Online has posted Faren Miller's review of Cloud & Ashes:
But by the time you've explored the many forms (physical and metaphysical) of Unleaving, spent time with various incarnations of Ashes, and seen just what Margaret could become after childhood's left behind, it shouldn't be all that hard to show a little patience with her adolescent uncertainties, plus subplots and further arcane references. And the payoff is immense. I finished Cloud & Ashes almost tempted to write a thesis that compares it favorably to what James Joyce did in Ulysses and tried in Finnegan's Wake, yet feeling like I'd lived through it all.
You can also read Greer's Locus interview in the August issue:
"Many people have used ballads as sources of literary fantasy. I use ballads, but in shreds and patches, along with things I've read, word etymologies, a lot of dialect — my writing is both folk and baroque. I've got these great slabs of rhapsody and blots of vernacular. I think I use a fairly low percentage of Norman French-Latinate English, simply because I love the old root stock of the language. There are a scattering of words in my books I've made up on models from root stock. I love words passionately! (Maybe I should have been a philologist.) I discovered the Oxford English Dictionary at college, and spent all my time in the English students' lounge reading their copy.
---
Mon 1 Jun 2009 - Filed under: Not a Journal., Publishing, Small Beer Press | Leave a Comment| Posted by: Gavin

Hey, we didn't mail anything out today (we are still [sorry!] behind from our almost-cleared-out warehouse sale, yay!) because there was a glitch in our mailing systems. So we emailed the mailing company, Endicia, and within a couple of hours they returned our call, apologized, and credited us a with a couple of months service free.
Wow.
We used to use P*ney-Bowes and they were awful. Every time we ordered supplies it was like stepping up to someone and asking to be punched in the face. No, wait. Punched twice. There was even a service charge for buying postage. When we bought $400 of postage at the post office it cost $400. When we buy it from Endicia it costs $400. When we bought it from ShtnyBws it cost $418.99. Why?
They introduced some kind of completely useless rewards or points program, they insisted on sending us a stupid magazine (and then tried to charge for it!) and basically made us feel that they could do without us more than we could do without them and we should watch it otherwise they might drop us. Or raise yet another esoteric fee on us.
So: Endicia, what a breath of fresh air. Thanks for the credit!
This message (and recommendation to switch) brought to you by the letters h a p p y and a complete lack of behind-the-scenes-sponsorship.
---