Tue 31 Mar 2009 - Filed under: Not a Journal., Benjamin Parzybok, Benjamin Rosenbaum, Elizabeth Hand, Geoff Ryman | Leave a Comment| Posted by: Gavin
Random links, mostly to reviews of our books. Why would you read this? It's coming near to the end of the day and the teleprompter isn't working and really, who is watching CNBC right now anyway? Might as well read out a bunch of reviews and see if any of the books catch your eye. Go on, newsreader, have some fun.
Brian Slattery enjoys Geoff Ryman's The King's Last Song in The New Haven Review:
As sensitive and humble toward the subject matter as the author could be, yet manage also to tell an unflinching, wrenching story involving some deeply, deeply flawed people who are nonetheless searching for a way out.
Nice short piece on Venus Zine about Anne Elizabeth Moore and Cambodia.
Jedediah Berry's book is getting a bunch of nice notices, including in the Boston Globe. See his site (or our calendar on this page) for more of his upcoming readings.
Rambles looks at Generation Loss:
The reader will find it difficult to put down. The multiple levels of mystery, the setting and the characters work together seamlessly. In Generation Loss, Hand proves that real life can be scarier and stranger than fantasy.
The Seattle Times on The Ant King: (and Howard "Yay!" Waldrop and Cory Doctorow):
The Ant King and Other Stories shows just how strange and wonderful the microcosms he creates can be.
More readings from Ben R. are coming soon: watch out!
A bunch of people are out there on the couch reading the eponymous couch. It gets two shots from The Daily Evergreen from Andrew and Jessica Schubert McCarthy—who both like it, which is good news for us.
The essential message of Couch appears to be that the world and our lives would be better if we all got off our couches (literal and metaphorical) a bit more often.
—Zone SF
Charles Tan interviewed Ben Parzybok:
I enjoy multi-tasking – I find it a kind of high – and yet I don't believe it's good for me. When I wrote Couch I was in a small apartment in Ecuador with no Internet access, and it was a tremendous boon to productivity.
Gavin reviews Alison Goodman's Eon: Dragoneye Reborn and Ray Bradbury's We'll Always Have Paris for the LA Times: "In recent years, Ray Bradbury has settled comfortably into his role as the wacky grandfather of American letters…."
---
Fri 27 Mar 2009 - Filed under: Not a Journal., bookshops | Leave a Comment| Posted by: Gavin
Look: Indiebound gets on the crafty/etsy/pretty bus! Local bookshops celebrate spring, yay! (Now if they could only help our snowdrops come up, that would be excellent.)
---
Mon 23 Mar 2009 - Filed under: Not a Journal., Greer Gilman | Leave a Comment| Posted by: Gavin
We're about to send this book to the printer and PW has just published the first review of Greer Gilman's Cloud & Ashes:
Cloud & Ashes: Three Winter's Tales Greer Gilman. Small Beer, $26 (448p) ISBN 978-1-931520-55-3
Almost two decades after the publication of her debut novel, Moonwise, Gilman returns to the fantasy realm of Cloud with a trilogy of interconnected narratives. 2000's Nebula-shortlisted "Jack Daw's Pack" follows an otherworldly traveler as he creates a rich tapestry of myth in the cards he throws down. 2003's "A Crowd of Bone," which won the World Fantasy Award, is a decidedly nonlinear tragedy about child witch Thea, who flees her goddess mother and a foolish love-struck mortal. The novella "Unleaving," the original piece of the trinity, revolves around Thea's daughter, Margaret, who "unravels" the heavens and, in turn, much of the mythos of Cloud. Though the sublimely lyrical Jacobeanesque dialect is challenging, readers who enjoy symbolism and allusion will cherish Gilman's use of diverse folkloric elements to create an unforgettable realm and ideology. (May)
---
Wed 18 Mar 2009 - Filed under: Not a Journal., Writer's Daily Planner | 6 Comments| Posted by: Gavin
In response to our call for suggestions for A Working Writer's Daily Planner 2010: Your Year in Writing Kristin had a fantastic idea:
How about something targeted to the young fantasy/science fiction/mystery writer in all of us?
How far can a horse travel in a day?
Carrying two riders when one is an elf and one is human?
What is the minimum amount of oxygen content/gravity/sunlight able to sustain human life?
How do you allow for time dilation?
A ratio for ambient temperature to body temperature for establishing time of death.
Which led us to supply a few more:
How about how many old ladies visiting your town does it take to produce a murder?
An adverb removal tool to convert your text into noir?
Which then led to the thought: there's a curiously large internet's worth of writers out there. Any conversion tables you'd like to see?
---
Tue 17 Mar 2009 - Filed under: Not a Journal., Benjamin Parzybok | Leave a Comment| Posted by: Gavin
Ben Parzybok is tearing up the west coast this week on another tour. Here's a flier, here's an interview at Powell's, here's an ugly couch competition at Auntie's Books in Spokane (come on, surely all the couches are beautiful in the west?) and here are the dates!
Olympia, WA
March 17th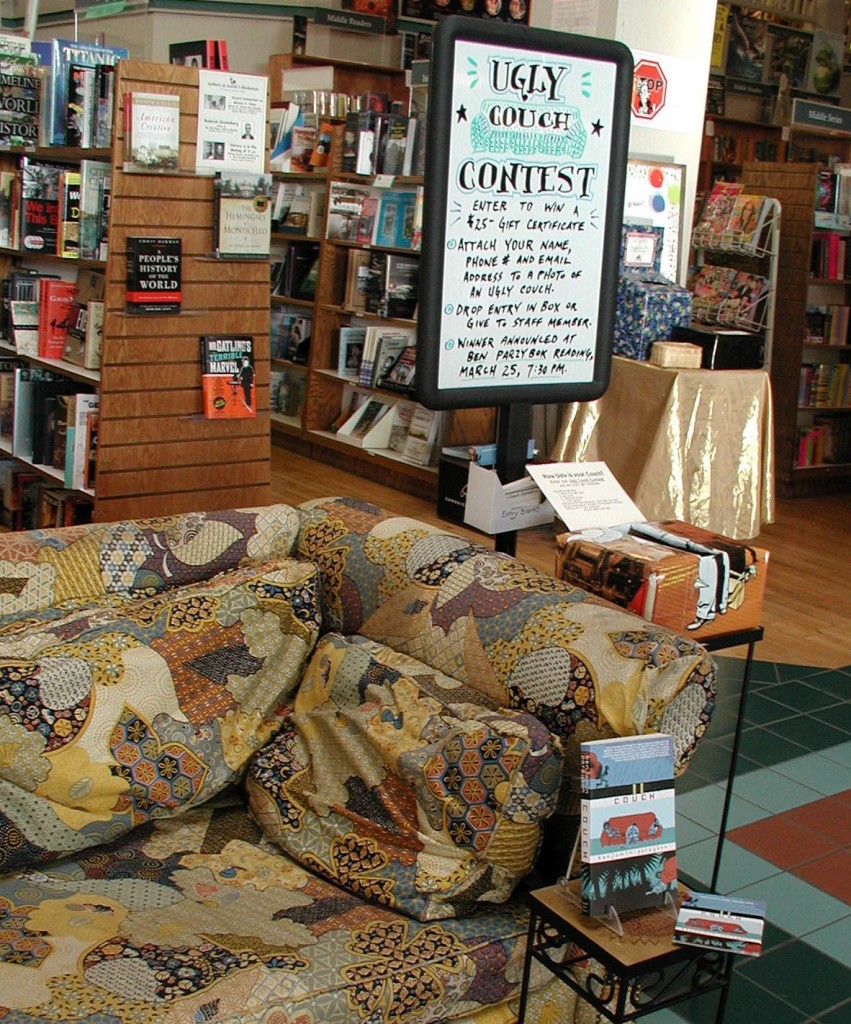 , 7 PM
Orca Books
509 E. 4th Ave., Olympia, WA 98502
Tacoma, WA
March 18th, 7 PM,
Garfield Book Company at PLU
208 Garfield St S., Tacoma, WA 98444
Seattle, WA
March 19th, 6.30 PM,
Ballard Public Library
5614 22nd Ave. N.W., Seattle, WA 98107
(sponsored by Secret Garden Bookshop)
Bellingham, WA
March 21st, 7 PM,
Village Books
1200 11th St., Bellingham, WA 98225
Missoula, MT
March 23rd, 7 PM,
Fact & Fiction
220 N. Higgins & University Ctr., Missoula, MT 59802
Dillon, MT
March 24th, 7 PM
The Bookstore
26 N. Idaho St., Dillon, MT 59725
Spokane, WA
March 25th, 7.30 PM
Auntie's Books
402 W. Main Ave., Spokane, WA 99201
St. Helen's, OR
April 7th, 7 PM
St. Helen's Book Shop
58527 Columbia River Hwy. St. Helens, OR  97051
---
Mon 16 Mar 2009 - Filed under: Not a Journal., Literary Beer | 8 Comments| Posted by: Michael
If you came to the Manual of Detection release party, you may have had the chance to sample my latest brewing experiment, the Legendary Black Beer of Aaaargh!–a first attempt at recreating a long-extinct style of medieval herb beer, flavored, in this case, with rosemary and sage as a substitute for hops. If you were one of the intrepid few, I thank you. It came as quite a shock to me how many compliments the black beer got, considering half the reason for the silly name was the reaction I expected it to get. The experience has given me hope that people are a lot more open-minded about their beer than the world's brewing industry would have us believe.
That in mind, I'm going to talk some about how and why this style of beer went extinct, and how and why I might go about bringing it back.
---
Fri 13 Mar 2009 - Filed under: Not a Journal., ebooks, LCRW | Leave a Comment| Posted by: Gavin
Maybe it was the Utne Reader, maybe it was something else, but we're out of stock on the paper edition of LCRW 23! You can still buy the ebook at Fictionwise or Lulu (or a pdf from us) or there's the swanky trade paperback at Lulu…! We printed a few less than before (hey, it's a recession), but these went fast. Maybe we'll go make more. For now subscriptions will get LCRW 22 or 24 as their first ish.
---
Mon 9 Mar 2009 - Filed under: Not a Journal., Books, Writer's Daily Planner | Leave a Comment| Posted by: Gavin
In August we're going to publish something different: the first in what we're hoping will be an annual series of . . . desk calendars(!) with
A Working Writer's Daily Planner 2010: Your Year in Writing. (You can preorder it using that Paypal link or here.) We figured there was a gap for something like this, so why not go for it.
The calendar will be published in August so we're almost finished putting it together and we've been having great fun adding all the things we would like to be in a calendar.
And then we thought: there's a whole big internet of people who might, just might, have some opinions on this, too, so here we go: what are you looking for in a planner/calendar/diary? What is the killer app (as it were, this is a book, there may be an online component of it later, we're not sure) that would make this irresistible to you—or for someone else as a gift? Is it phases of the moon? Birthdays of interesting people? Converter tables between liters and pints, inches and centimeters, parsecs and kilograms?* Market information? Blank space?
Some of these will be in the calendar, some won't. We're looking for your help to make this better and we're looking forward to your suggestions. So, please, send in what you'd like in it and feel free to repost this on anywhere else.
* That's a tough one. May need a physicist or two to help us there.
---
Fri 6 Mar 2009 - Filed under: Not a Journal., ebooks, LCRW | 1 Comment| Posted by: Gavin
March 11 update to update: Nice write up in Utne Daily blog:
The latest issue of Lady Churchill's Rosebud Wristlet (LCRW) fairly buzzes with vibrant, intelligent writing….
Alex Wilson's story, "A Wizard of Mapquest," from LCRW 23 was a nominee (which maybe means finalist/honoree or something, or it was nominated by someone else?) for the 2nd Annual Micro Award.
We've added an option to buy the trade paperback of LCRW 23 from Lulu on that page.
And, at last, we've managed to upload LCRW 23 to Fictionwise.com. Sorry: could not do it and needed a lot of help! Happily, it is easy to find, right there on the front page. Er, just below the big sign that says Fictionwise has just been acquired by Barnes & Noble. (Although if you go to bn.com, there's no mention yet of Fictionwise.) Fictionwise delivers ebooks easily, cheaply, and well, and their customer and publisher interfaces have been very user-friendly, so we will hope it continues that way and congratulate Steve and Scott Pendergrast, the founders of Fictionwise, Inc., for having built the company so well and hope that they do indeed get to "run the Fictionwise websites as a separate business unit within Barnes & Noble."
---
Sun 1 Mar 2009 - Filed under: Not a Journal., Audio out, ebooks | 2 Comments| Posted by: Gavin
Happy to see PW reporting that Amazon backed down on the text-to-speech debacle. It's not that the robotic voice reading a book aloud is a huge problem now, but letting it go now would create huge problems later when contextual reading widgets will allow text-to-speech to sound more human. (10 years? More like 5?):
In a surprising about-face, Amazon has decided to give publishers and authors the choice over whether or not to enable the Kindle 2's text-to-speech function…. Despite protests from the Authors Guild, Amazon's move came as a surprise since the company rarely reverses a policy once it is in place….
Amazon are the 800lb gorilla everyone in publishing deals with and they own so many parts of the book business that we have to be careful with every move they make. No doubt we are missing some of the ramifications of their actions right now….
Their market share isn't that high, but it is enough that they can dictate terms—and they are not particularly kind. It's a relief to see IndieBound getting more creative and useful, being able to link to individual titles should have been available years ago, but at least it's available now.
---