Fri 30 Jan 2009 - Filed under: Not a Journal., Greer Gilman | Leave a Comment| Posted by: Gavin
Today we mailed out review copies of Greer Gilman's second novel, Cloud & Ashes, to the trade mags who want it early, early, meaning it is one step closer to actually being a book. The review copies are uncorrected proofs as there a few tiny things that will change. They're also shorter than the actual book will be, leading to an odd feel in the hand. But since the finished book will be a hardcover it should be ok.
We publish trade paperbacks and hardcovers and the format decision is a complicated piece of flummery. Cloud & Ashes is a hardcover for many reasons but the most important was that we wanted it to stand up to the many readings that we and other readers will give it.
Anyway, a few lucky readers get these copies early next week. In the meantime: smiling cats and cake!
---
Thu 29 Jan 2009 - Filed under: Not a Journal., the world | Leave a Comment| Posted by: Gavin
Rove, poster boy for rewriting government in his own image, has a new column of Huge Import today in the Wall Street Journal in which he discovers that it's hard to fill that white space. Rather than take notes from by-the-word science fiction from the 1930s, he's taken to whining. And it is Hilarious. (Note to the WSJ management: if you fire Rove, you'll save some money and maybe the paper will be able to keep affording you!)
My old, modest-sized office has been carved into four cubicles…. Mr. Obama's tendency to work late into the night will also pose problems. Politico.com reports that the White House staff is "preparing for a return to long nights, heavy weekend shifts." Requiring a senior staff that meets at 7:30 a.m. to work until 11 p.m. or 12 a.m. will quickly cause burnout and diminish the quality of advice and oversight.
---
Thu 29 Jan 2009 - Filed under: Not a Journal., YouTube | Leave a Comment| Posted by: Gavin
One day (and it will have to be a very long day), we will go and re-watch all the Tom Baker and Jon Pertwee Doctor Whos. (I think we'll skip Benny Hill.) Until then, Metafilter (I think), has provided this to tide us over:
---
Tue 27 Jan 2009 - Filed under: Not a Journal., Hope, Pop | Leave a Comment| Posted by: Gavin
Neko Case has a new album* coming out on March 3rd and a single, "People Got a Lotta Nerve," (opens iTunes/whatever you have) out now. On her myspace page there's this:
PEOPLE GOT A LOTTA NERVE" – Blog It For A Worthwhile Cause Today, we are especially happy to bring you "People Got A Lotta Nerve," the first single from Neko Case's forthcoming album Middle Cyclone (out March 3), because for every blog that reposts the song and/or iLike user who adds it to their profile, Neko Case and ANTI– will make a cash donation to Best Friends Animal Society.
But the imeem thing seems to be blocked by many blog host sites. So, anyway, new Neko and some support for animals. Seems worth it. Good song, great cover.
Order it from your local indie record* store now.
* Album and record still seem like useful terms for a group of songs all released at the same time. The latter especially as vinyl sales keep rising.
---
Mon 26 Jan 2009 - Filed under: Not a Journal., workshops | Leave a Comment| Posted by: Gavin
We are very sad to say that due to circumstances beyond our control, we've had to pull out from teaching the last two weeks of the Clarion South workshop.
The stalwart organizers of Clarion South, Kate Eltham and Robert Hoge, didn't blink (well, we were on the phone, so who could tell?) and within a day or two lined up two super-capable replacements, Trent Jamieson and Jeff VanderMeer, who will be teaching week 5 and week 6 respectively. We're really going to miss out on the sun, sand, and short stories.
Also, congratulations to a couple of Australian writers: Margo Lanagan's Tender Morsels is a Printz Honor Book and the winner of the award this year is Melina Marchetta's Jellicoe Road—both of which are great, weird books. (And the latter of which was given to us by none other than Kate Eltham!)
---
Mon 26 Jan 2009 - Filed under: Not a Journal., Big Mouth House, Joan Aiken | Leave a Comment| Posted by: Gavin
Yay! In his latest Astral Weeks column, Ed Park says:
"The Serial Garden" is my happiest discovery this year. I say this without being influenced in the least by what happens to Mr. Armitage in "The Frozen Cuckoo." As I conclude my hymn of praise, I am certainly not thinking of how, shortly after Mr. Armitage pans A. Whizzard's "shockingly bad book on spells and runes," the incensed author requisitions the Armitage house, then turns him into a bird that later gets trapped in an ice cube.
---
Tue 20 Jan 2009 - Filed under: Not a Journal., the world | Leave a Comment| Posted by: Gavin
Great speech from the new president. What a joy it is to say that. The last 8 years have been a dark period for this country where the administration was determined to reshape the country and at the same time hide what they were doing. President Obama uses the language of inclusion, it is a brave and beautiful attempt to reshape the world: Yay!
We reject as false the choice between our safety and our ideals…. We are a nation of Christians and Muslims, Jews and Hindus—and non-believers. We are shaped by every language and culture, drawn from every end of this Earth; and because we have tasted the bitter swill of civil war and segregation, and emerged from that dark chapter stronger and more united, we cannot help but believe that the old hatreds shall someday pass; that the lines of tribe shall soon dissolve; that as the world grows smaller, our common humanity shall reveal itself; and that America must play its role in ushering in a new era of peace….
To the people of poor nations, we pledge to work alongside you to make your farms flourish and let clean waters flow; to nourish starved bodies and feed hungry minds. And to those nations like ours that enjoy relative plenty, we say we can no longer afford indifference to suffering outside our borders; nor can we consume the world's resources without regard to effect. For the world has changed, and we must change with it.
---
Mon 19 Jan 2009 - Filed under: Not a Journal., Benjamin Parzybok | Leave a Comment| Posted by: Gavin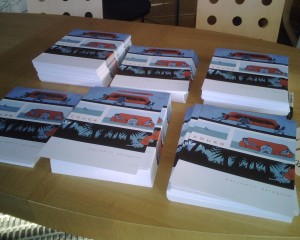 Hey, if you're in Portland, OR, and wondering what to do tonight (apart from make appetizers for your Inauguration Party tomorrow (YAY!)), go drop by Powell's Indiespensable Happy Hour with Paul Harding (and Ben Parzybok) at the Someday Lounge, 125 NW 5th Ave, (503) 248-1030:
Paul Harding's debut is only now arriving in bookstores, from a small publisher affiliated with NYU's School of Medicine, and already Tinkers is the talk of the literary world. PW calls it "an especially gorgeous example of novelistic craftsmanship." Pulitzer Prize winner Marilynne Robinson raves, "It confers on the reader the best privilege fiction can afford, the illusion of ghostly proximity to other human souls." Join Harding, author Benjamin Parzybok (Couch), and members of Powell's staff for a literary happy hour at Someday Lounge as we celebrate Indiespensable: Volume 8.
Ben's posted about the poster we made him sign—you can ask him for one here—most of those will be going to indie bookshops, maybe some will go out with orders or something.
We should know what we're going to do with them but we are all in a tizzy about things: signing up new secret books and the Inauguration. Are we ready to be challenged by Obama to step up and create a better world? Yes we are!
---
Sat 17 Jan 2009 - Filed under: Not a Journal., YouTube | Leave a Comment| Posted by: Gavin
A bit of early anime with decent, not great, animation, a bit of Mr. Roboto in the theme tune and a great story (well, an old one, at least), all made for a great show to watch as a kid. Will now go see if it is on DVD.
It is the 31st century. Ulysses killed the giant cyclops when he rescued the children and his son Telemachus. But the ancient gods of Olympus are angry and threaten a terrible revenge.
---
Thu 15 Jan 2009 - Filed under: Not a Journal., To Read Pile, travel | Leave a Comment| Posted by: Gavin
If all goes well we'll be at Molly Gloss's reading at Porter Square Books in Cambridge, MA, at 7 PM tonight. (But it's snowing and there are always complications, so who knows!)
Molly is a fabulous writer, one of Kelly's favorites. Her latest book, The Hearts of Horses, just came out in paperback. Her previous novel, Wild Life, is a great northwestern read (don't read the flap copy, just read the book) and won the Tiptree Award and was one of the first books to be chosen for those This City Reads This Book programs. Molly is a great reader and lovely person, so it will be delightful to catch up and to hear her read.
---
Wed 14 Jan 2009 - Filed under: Not a Journal., the world | Leave a Comment| Posted by: Gavin
Vice Magazine is consistently surprising. Sometimes in a good way, sometimes, well, Regret Is Us.
Sure, Guernica Magazine ("A magazine of art and politics") had an interview (done by the local and lovely Alexander Chee in Feb. 2008) with one of our favorite writers, Ursula K. Le Guin, but wherever this link to a new interview came from (sorry), it was one of those happy surprises that show the universe is a lot better organized than expected.
I tend to go off like a firecracker when people seem to be trying to force my work into a belief box, especially the monotheistic one, where I do not belong and do not want to be. Sorry!
---
Tue 13 Jan 2009 - Filed under: Not a Journal., Books, Publishing | Leave a Comment| Posted by: Gavin
Here's a book we've been looking forward to publishing for a while: Hound, the debut mystery from long-time Boston bookseller, Vincent McCaffrey, which we'll be putting out in hardcover in September.
Vincent is working on the on the final draft (as well as a follow-up novel, always good news for mystery readers), then there'll be review copies going out, at some point there'll be a cover—maybe even by BookExpo in May, hey, you never know—then he'll meet some other booksellers at the New England Indie Bookseller Association trade show in September, and the book will come out (set in Baskerville type, as requested by the author!), and readers everywhere will get to enjoy this slow-burning mystery.
Vincent owns the Avenue Victor Hugo Bookshop (AVH) and has a great new website where he's posting good pieces on the state of publishing, bookselling, and all those good things. AVH is now an online bookshop and we still get to see Vincent when he comes out to the Northampton book auction (a dangerous place). We (Gavin & Kelly) met while working there. Long before our time he had published a series of magazines, Fiction, Gallileo, even managing one issue of Galaxy, with help from writers and editors such as Charlie Ryan, Floyd Kemske, and contributors such as Connie Willis and John Kessel.
In the last couple of years, since moving the bookshop out of Boston, Vincent has been writing up a storm and we've been enjoying reading his novels as they've been sent out our way. It's been good to work with Vincent again and we're looking forward to getting his old-fashioned mystery out there to readers.
---
Mon 12 Jan 2009 - Filed under: Not a Journal., Year's Best Fantasy & Horror | 152 Comments| Posted by: Gavin
Sad to say we have bad news about The Year's Best Fantasy and Horror: there will be no volume this year after all.
It is a simple truth that no book exists without much unseen work, so we'd like to thank the people at St. Martin's who published the series for twenty-one years, the readers, writers (of the fiction, poetry, and the various annual summations), our co-editor Ellen Datlow, the packager Jim Frenkel, cover artist Tom Canty, and all the booksellers, librarians, and readers who supported the series over its lifetime.
It has been an honor and a thrill to work on these books over the past six years. We edited five anthologies and were part way through the sixth when we got the news about the 2008 volume and we'd like to thank (and apologize to) all the editors, publishers, readers and writers who helped us by sending and recommending material.
At this point in the year we're usually deep in final reading and we can give the usual report: 2008 was a great year for fantasy. Over the next couple of months we'll try and post more about what we read, recommendations, and so on.
New incarnations of the book may appear, there will be further announcements as the year goes on.
Again, thanks,
Sincerely,
Gavin J. Grant & Kelly Link
---
Thu 8 Jan 2009 - Filed under: Not a Journal., ebooks, LCRW | Leave a Comment| Posted by: Gavin
LCRW 23 is now available in lovely trade paperback form (or as an ebook) from Lulu. It's not available yet from Fictionwise and we're not sure why. Will investigate and see if we can fix that.
Having these books on Fictionwise means that you can buy all our ebooks for the iPhone, iPod Touch, or any other ebook reader/smart phone/headchip you may have installed.
Ror those that are following these things, our ebooks sales in 2008 were just about 1% of our total sales—that includes all sales from Fictionwise, titles on the Kindle, and from our site. (Why, yes, we did sell some of those handy flash drives with all our books on them!)
Our ebook bestsellers were:
And by the time we're there, we're down to pretty low sales—and lots of our titles are grouped there, which is sort of great—backlist and so on selling—but the royalties, dur, what a lack of fun this year, but now we have a Better System in place, so if we survive the recession, it should be better, faster, sleeker, lighter of foot, etc.
Also, back to LCRW 23: the first review is up at SF Revu, "Combines literary quality and good storytelling very effectively. I highly recommend it." And if you have a story in there, you now have a blurb you can use.
---
Thu 8 Jan 2009 - Filed under: Not a Journal., Benjamin Parzybok, Benjamin Rosenbaum, Geoff Ryman, LCRW, To Read Pile | Leave a Comment| Posted by: Gavin
Everyone know they're out there and now there's photographic proof: "'Big cats' caught on camera prowling forest."
A couple of days ago we opened a box from Seattle to discover the latest wonder from Payseur & Schmidt: at last, someone has sent us a jigsaw puzzle. Oh yeah, and a book, too. You can read more about the genesis of the project on Jacob McMurray's blog or go find out more about Paul DiFilippo's novel, Cosmocopia or see the puzzle in it's finished state.
The King's Last Song gets the once-over from Rain Taxi:
Ryman weaves together ancient legend with a gritty view of modern Cambodian life, and the pattern that emerges is surprising. The novel conveys not merely a story, but the light and darkness, despair and hope, tradition and Westernization that is Cambodia itself.
and on S. Skrishna's Books:
Richly layered, comparing past and present day Cambodia and is full of details and tidbits about Cambodian life that any reader will enjoy. It's definitely piqued my interest in the country and I will be trying to find more books about it in the future.
White gibes with something Geoff told us: that the book was selling well at airports in Cambodia. How did he find out? He was told by readers. So maybe it will spur further reading about Cambodia and maybe get some more people over there.
Couch gets reviewed on SF Site:
The story gets stranger and stranger as the adventurers find themselves riding the rails on an electric cart, drifting on the couch in the Pacific Ocean, stowaways on a freighter bound for the Ecuador, and carrying the couch through the jungles of South America on a cart with a fog propeller. In between there is action, philosophy, violence, sex, drinking, fishing, terrorists, shadowy cabals, fishing and gluten intolerance.
The New Podler Review on The Ant King:
A surrealist masterpiece of fantasy that's hilarious and macabre, reflecting our strange reality in its mind-bending world, The Ant King is filled with soul-shuddering wisdom. This brilliant collection is about integrity, love, belonging, the loss of place of the male in the social order, Jewish Diaspora, God, good and evil, and being alone in a universe that is ambivalent, unavailable, incomprehensible and filled with suffering. Rosenbaum begins in fantastic places, then adds on more layers of fantasy besides and before long you seem to lose your footing, carried along on a fun house ride through the absurd landscape of the human experience
---
Wed 7 Jan 2009 - Filed under: Not a Journal., Kelly Link | Leave a Comment| Posted by: Gavin
Hey, due to inclement weather (2″ of ice and more falling from the ice hills masquerading as clouds above) Kelly's reading in Portsmouth tonight has been postponed until March 11th. Sorry!
---
Fri 2 Jan 2009 - Filed under: Not a Journal., bookshops | Leave a Comment| Posted by: Gavin
23rd Ave Books is for sale. Or it's going to close.
Go on, it's a beautiful city and you've always wanted to run your own bookshop.
---