Wed 31 Oct 2007 - Filed under: Not a Journal., To Read Pile | Leave a Comment| Posted by: Gavin
5 spooky books for Halloweeen from Kelly; 5 not-so spooky from Gavin.
---
Tue 30 Oct 2007 - Filed under: Not a Journal., Carol Emshwiller, LCRW | Leave a Comment| Posted by: Gavin
The new LCRW is at the printer—so we should have it (fingers stiff from still being crossed) in Saratoga. In the table of contents there are names familiar and surprising (as per).
In fiction we have stories from authors new (to us) such as Adam Ares, Alice Sola Kim (whose story "The Mom Walk" is also fantastic) the Stephanie Brady Tharpe (first publication!), the redoubtable Garbo (aka Matt Cheney), Corie Ralston, Benjamin Parzybok, and Kirstin Allio (whose novel Garner appropriately garnered much praise).
Returning to us are Jeanette Westwood (LCRW 18), Brian Conn (LCRW 10), and Carol Emshwiller (LCRW 8, 19)—who will be a guest of honor this coming weekend at the World Fantasy Convention in Saratoga Springs and who we think is completely fabby.
We only have one poet (again, new to us) this time, Lauren Bartel. Happily Dear Aunt Gwenda is back and we have a short piece from the World Sci Fi Convention in Japan. We twisted Abby Denson's arm until she sent us a comic with cats and dolls and we have Suzanne Baumann's tiny drawings all through.
The cover is by the fantastic Tatsuro Kiuchi.
There is a lack of zine reviews, so maybe they will appear on the site later.
We updated the subscription page for this issue and added the Google Map of LCRW stores (so few! won't your store carry this zine?) to the main LCRW page.
And as an aside, you can order it (and now The Best of LCRW as well as many other things) here.
LCRW 21 should be mailing out to authors, artists, poets, subscribers, shops, shoppes, and preorderers, in the first week of November. Chocolate is actually here ahead of time and if it isn't eaten first will be in your happy hands within 2 weeks. Or so. You know mailing on time is our weakness.
Fiction
Alice Sola Kim, The Night and Day War
Adam Ares, The Curmudgeon
Matthew Cheney, The Lake
Stephanie Brady Tharpe, On a Dark and Featureless Plain
Jeannette Westwood, Two Variations
Kirstin Allio, Clay
Brian Conn, The Postern Gate
Benjamin Parzybok, The Coder
Corie Ralston, Maps to God
Carol Emshwiller, Sanctuary
Poetry
Lauren Bartel, Two Poems
Nonfiction
Gwenda Bond, Dear Aunt Gwenda
Mamoru Masuda, A Primer on New Wave and Speculative Fiction in Japan
Comics
Suzanne Baumann, The Blokes of Ball Point
Abby Denson, The Mysterious Mr. M.
Cover
Tatsuro Kiuchi
---
Tue 30 Oct 2007 - Filed under: Not a Journal., Interstitial Arts | Leave a Comment| Posted by: Gavin
If you're in NYC and aren't sure if the short story is dead, get along to the INTERFICTIONS READING & SIGNING tonight at McNally Robinson (look at the pretty pictures!), 52 Prince St., New York City, and see the revivified form burst to life with editor Delia Sherman, and contributors Veronica Schanoes, Matt Cheney, and K. Tempest Bradford.
Tuesday October 30, 2007
7:00 pm – 8:00 pm
McNally Robinson
---
Mon 29 Oct 2007 - Filed under: Not a Journal., Cons | Leave a Comment| Posted by: Gavin
Maybe see you there? We'll have a table in the dealer's room with some interesting extras besides our books and (fingers crossed) a new issue of LCRW.
Kelly's schedule is:
Friday, 2:00 PM, City Center C: M.R. James and His Successors.
Christopher Roden, John Langan (m), Kelly Link, Ramsey Campbell, Barbara Roden

Saturday, 9:00 PM, City Center C: The Legacy of Shirley Jackson.
Charlaine Harris, Kathryn Cramer, Alexandra Sokoloff, James Frenkel (m), Kelly Link
Gavin is on the judges panel (bring chocolate, not rotten cabbages, it was such hard work!) at some point on Sunday afternoon after the banquet.
---
Fri 26 Oct 2007 - Filed under: Not a Journal., Literary Beer | 8 Comments| Posted by: Michael
(Episode 0 explains the conceit.)
The word 'traditional' is here meant to indicate that I'm not using added sweeteners (which could range from raisins to honey to plain white sugar, and would increase the resulting alcohol content) or other mitigating elements (such as campden tablets, fruit pectin, fruit enzyme or packaged yeast, which would ensure a more reliable fermentation, but would require me to expend more money and effort). This article gives a good overview of the terminology for the different styles of cider and their composition.
A caveat: I've been brewing successfully for awhile now, but I have never made cider before. What follows is largely an experiment (albeit a meticulously researched one), whose results will hopefully lead to further experimentation and refinement in years to come.
---
Thu 25 Oct 2007 - Filed under: Not a Journal., To Read Pile | Leave a Comment| Posted by: Gavin
Apparently the only way Forbes magazine can think about the future is to ask 5 guys to write science fiction. So is this future of short SF highly paid magazine slots? Excellent. (Cory's story is fun, haven't read the rest yet.)
Five authors tackle the same scenario: "It's the year 2027, and the world is undergoing a global financial crisis. The scene is an American workplace."
---
Wed 24 Oct 2007 - Filed under: Not a Journal., Zines | Leave a Comment| Posted by: Gavin
There's a new issue of Xerography Debt—"the review zine with perzine tendencies." Available at Atomic Books, Quimby's, etc! It's a great place to find new things to read which haven't been okayed by Rupert Murdoch, etc.
You can order it here or, if you like that PDF thing, you can get the Whole Thing for Free. Which means you saved some $$ you can go spend on other zines, right?
---
Tue 23 Oct 2007 - Filed under: Not a Journal., Kelly Link, workshops | Leave a Comment| Posted by: Gavin
Clarion South have just announced the 2009 tutor line up:
We're going back to Brisbane! You can come too—for 6 weeks of writing workshop! The workshop was incredibly impressively put together and we're very much looking forward to Clarion South '09.
Brisbane! Riverboats, wine, museums, Aurealis Awards, koala petting zoos(!), more fun than you can carry back on a 24-hour flight. Wonder if Virgin Airlines can take us there….
Q. Wasn't it hot there?
A. Yes. But there was knee-high snow at home, so it seemed like a good idea.
A(2). Besides, it's Australia!
Q. Are there any good bookshops in Brisbane?
A. Funny you should ask (and why wasn't this the first question?). Pulp Fiction is a wonderful spec fic shop (now with added Press), there are a bunch of Dymocks, there's the Avid Reader Bookshop in the West End. Oh, there's tons.
Q. Will you faint if you meet Margo Lanagan.
A. It would be nice to manage not to for once but it's probable.
Q. 17 students, 6 instructors. Is that cricket?
A. Cricket is the one with wickets (do all sports have rhyming components?). This will be more like rugby, but with water guns, red pencils, barbecue, and accents.
Q. Can only Australians go?
A. We're not Australian. The more nationalities, the better! It would be great to see writers from all over Asia, Oceania, Antarctica, etc.
Q. Tell me more!
A. Ok, from their site:
Applications will close at the end of June 2008. Applications submitted by the Earlybird Date of Wednesday, April 30th may be eligible for a $100 discount if you are accepted to the workshop.
There is a maximum of seventeen places available for Clarion South 2009. Participants will be selected by a panel of industry professionals based on the quality of their written submissions.
---
Tue 23 Oct 2007 - Filed under: Not a Journal., website bumph | Leave a Comment| Posted by: Gavin
Just signed up for Tour Filter (should be one word, all lower case, of course) which does seem rather groovy and very much like something we've been waiting for the web to deliver (we don't program: we wait).
Yay! Cut and pasted tons of bands from our this-empty-space-is-a-social-experiment-really myspace page and Voila! Tracking tons of bands. Could be good, as it grows, to check out cities where we have to go for conventions: LA in June, anyone?
Also signed up for Book Tour. You can subscribe to authors (they're still adding people so not everyone is there), check by zip code or city, and look for books. That last one seemed the weakest link and it doesn't have the fastest search engine, but it could become a good site. Anything that makes keeping up easier. May add our authors to this—or see if someone else will!
Read Around New England took a shot at this previously, but maybe didn't have rss feeds (Or Chris Anderson or "Chief Evangelist" [religion, it's everywhere] Kevin Smokler).
It's the personalizationableness (ha!) of both of these things that will determine their survival.They're both nice, simple sites at the moment—although the above-mentioned mycrap site shows that simplicity and good design aren't actually necessary to pull people in—and if they can keep that and resist the Amazonian urge to mess with their recommendation engines, they'll be huge.
Now, can someone write a site like these for TV? How about short fiction? Vegetarian restaurants? Nonleather shoes? Every petty little need and want?
At the other end of the spectrum on Monday we got a call from a large literary organization (whom we like a lot so no names) asking if we would like to pay $395 a year to have a profile on their site.
Could be the wrong answer (hope we're not in the bad books for this) but, um, thanks for the opportunity, but no thanks. $395 is a lot of beer. And what's the point of paying for a profile? Either the website is edited/curated and the profiles mean something, or they're paid for and it's just a link farm moneymaker.
---
Mon 22 Oct 2007 - Filed under: Not a Journal., LCRW | Leave a Comment| Posted by: Gavin
There's a new ish of LCRW almost ready to go (the people chewing on old rags to make paper are a little behind but it should still go out on time). In the meantime we're considering adding a new subscription level: the LCRW-engraved iPod! We just need 250 people to sign up….
---
Mon 22 Oct 2007 - Filed under: Not a Journal., Literary Beer | Leave a Comment| Posted by: Michael
People not familiar with the publishing world tend to look at me askance when I tell them I'm an intern at a place called "Small Beer Press". It's the beer part that throws them, I think–knowing me and my fondness for froth, they suspect me (not unfoundedly) of jerking them around. And I must admit that upon first presenting myself at Small Beer Press, I was a tiny bit disappointed that beer didn't play a more important role in the proceedings.
Well, I am here to remedy that.
Gavin invited me to blog about brewing. Brilliant idea! Can't think of why it never occurred to me before, except that I've only been brewing for just over two years–a relative newbie compared to some of the hoary old beerheads with whom I consort. But given such a fine opportunity, I am more than happy to have a go at combining my two not-so-disparate passions–writing and brewing.
What, I have at times been asked, can the brewing of beer possibly have to do with the business of books? Ha! I am often inclined to respond (though I resist). Ha!
Fill with mingled cream and amber
I will drain that glass again
Such hilarious visions clamber
Through the chambers of my brain.
Quaintest thoughts — queerest fancies,
Come to life and fade away:
What care I how time advances?
I am drinking ale today.
–Edgar Allen Poe (copied from the bathroom wall of a pub in Washington, DC)
I most recently came across the term "small beer," used in its original sense, in a lovely annotated edition of R.L. Stevenson's Kidnapped that I picked up at a library book sale. The year is 1751. David Balfour, our orphan boy hero, arrives at the home of his last living relative, an uncle, only to be greeted with the blunt end of a blunderbuss and promptly sent packing. Not so easily deterred, and with no other ready prospects, our hero persists, and at last the old coot begrudges him a seat at his table, a miser's share of homemade porridge, and half a pint of small beer from his personal stash. What does this mean, exactly? It means the old coot is too much of a miser to go trading his precious coin for a dram of the pale when he can cook up his own on the cheap. Homebrew!
As a synonym for homebrew, "small beer" went out of wide use in this country during Prohibition, when all beer was small beer because it was illegal, and nobody bothered making beer anyway because it was far more profitable to make hooch. Not until 1979 (tellingly, the year of my birth) did the brewing of single batch beer in the comfort of one's kitchen cross back into the good graces of the Man. Since then, it has become popular to refer to small beer by its trendier synonym, "microbrew".
It so happens that the independent publishing of striking and unusual speculative fiction has quite a lot in common with the meticulous small-batch brewing of delicious alcoholic beverages. First, that DIY spirit. Second, an under-the-radar uniqueness. Third, a sense of satisfaction, accomplishment.
And finally, an exhilarating hint of the supernatural.
My friend and beer ally Scott Andrews once pointed out the link between the fantastic and the alcoholic. Human civilizations have been built around the brewing of spiritous drink for four thousand years and longer, but the existence of yeast wasn't discovered until 1680, and its role in the fermentation process wasn't understood until the mid-nineteenth century. So from the drunk slaves who built the pyramids right up to the merry pumpkin-ale-brewing wenches of frontier New England, nobody really knew how the spirit was getting into the drink. You filled an open vat with soupy, starch-and-sugar-infused liquid, looked away for one waxing and waning of the moon–and by magic, when you looked back, the same stuff not only tasted better, it made a hard life easier to bear. Belgian monks in the middle ages attributed the fermentation process to an act of God. A myth dating from the Egyptian Early Kingdom conflates beer with the blood of Hathor, a vengeful war goddess who, after Osiris got her drunk, was transformed into a kind and nurturing goddess of motherhood and fertility. For most of the history of recorded literature, the art of brewing was a branch of sorcery.
Right then. Unless I get into my cups at the keyboard, that will probably be it from me as far as ruminations on the sublime nature of beer. Though if I come across any other great beer myths or beer lit, I'll pass them along. And I'm not swearing off the occasional dabbling in beer history. But other than that, it'll be DIY from here on out.
Up next: my first-ever effort at hard cider.
---
Mon 22 Oct 2007 - Filed under: Not a Journal., Uncategorized | Leave a Comment| Posted by: Gavin
We completely missed the best fantasy of 2006: The Amazing Mrs. Pritchard. It was shown in the UK in 2006 and just started on PBS.
[Spoilers] Jane Horrocks plays a supermarket manager who starts a new political party and pulls off a democratic revolution basically replacing all the grey old men in power with women and not really commenting on that aspect of it.[/Spoilers]
Wikipedia says it could be all down hill from the first couple of episodes, but who cares? Some reviews like it. Could there be a independent revolution in the USA? Um, only dreaming, guv, no need to bring up Guantanamo Bay.
Other stuff:
Also: saw The Jane Austen Book Club the other day. Hey, not bad! And someone pointed us to this picture of the author, the screenwriter, and that guy from Buffy.
United Airlines has a nice call out to Interfictions in their inflight mag Hemispheres. (Thanks Ellen!)
A review of Iain Banks' new novel The Steep Approach to Garbadale.
On Library Thing someone has the pretty pretty Romanian cover of Magic for Beginners.And Mario Guslandi  flexes his brain around The Best… in the Agony Column.
Somehow missed Colleen Cahill's review of The Best of LCRW in SF Revu (found due to noodling around Library Thing!). She notices our penchant for:
". . . poetry with intriguing titles, as in Sunshine Ison's "The Posthumous Voyages of Christopher Columbus," and "Lady Shonagon's Hateful Things" by Margaret Muirhead. . . .

Eclectic, heart-warming, cautionary, funny, informative, and most of all enthralling best describe this book. You will find no better place to explore this outstanding and unique publication: I highly recommend you pick up a copy today."
---
Mon 22 Oct 2007 - Filed under: Not a Journal., Art | 1 Comment| Posted by: Gavin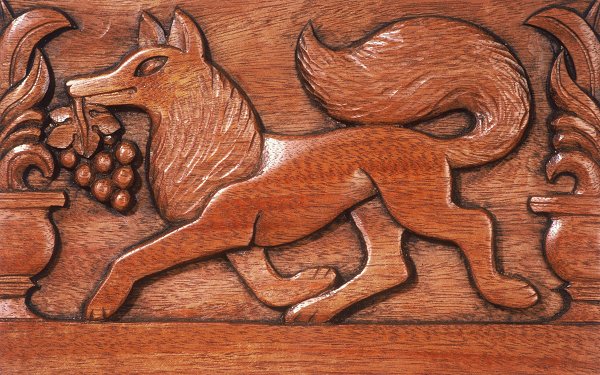 What would we like for a present? Oh, you're too kind! How about something like this panel carved by Deborah Mills. We found Deborah's work through Daniel Rabuzzi (who had a story in LCRW 19) and have been admiring it online. Need to go see it one of these days.
---
Mon 22 Oct 2007 - Filed under: Not a Journal., Art | Leave a Comment| Posted by: Gavin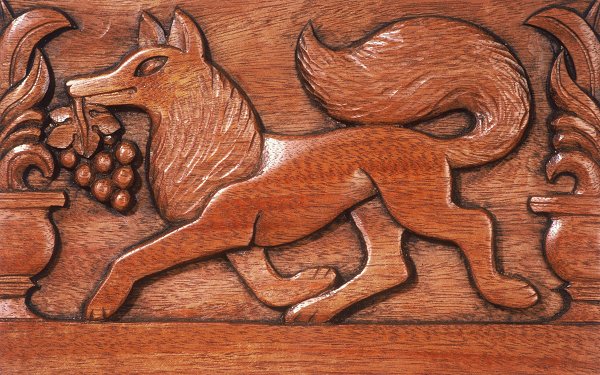 What would we like for a present? Oh, you're too kind! How about something like this panel carved by Deborah Mills. We found Deborah's work through Daniel Rabuzzi (who had a story in LCRW 19) and have been admiring it online. Need to go see it one of these days.
---
Fri 19 Oct 2007 - Filed under: Not a Journal., Books | Leave a Comment| Posted by: Gavin
Hey kids, if you asked for a Small Beer book when you supported Strange Horizons during their recent fund raiser, well, that book May Be On Its Way!
Thanks for supporting them!
---
Fri 19 Oct 2007 - Filed under: Not a Journal., Publishing | Leave a Comment| Posted by: Gavin
This (from Shelf Awareness)  is pretty exciting:
The organizers of the Man Booker Prize are negotiating to make the six shortlisted titles this year available in their entirety and for free online, the Times of London reported. The idea is to reach areas, particularly in Africa and Asia, where the books might not be available. "The downloads will not impact on sales, it is thought," the paper wrote. "If readers like a novel tasted on the internet, they may just be inspired to buy the
actual book."
The publisher of the Man Booker winner, The Gathering by Anne Enright,  said he prefers "a partial reproduction."
---
Thu 18 Oct 2007 - Filed under: Not a Journal., Kelly Link | Leave a Comment| Posted by: Gavin
Someone pointed this out to us a while ago (sorry, was it you?) and this is us just getting around to posting it.
On November 2, 2005 a woman named Jamie Ann apparently posted Kelly's story "Some Zombie Contingency Plans" on her blog, Haunted Love (subtitled "My Stories & Poems Page") under the title "Contingency."
The best part about this is that if you double-click on the page up pops a warning (see 2nd image) which says:
The page at http://windsource3.blogspot.com says:
Copy protected! — If you want a copy of this, please e-mail me!
Quite.
We tried emailing Jamie Ann a couple of times but received no reply. So if you haven't read "Some Zombie Contingency Plans" go read it now before Blogger/Google take it down.
Many of Kelly's stories are online—the latest is "Origin Story" on A Public Space's website (used to be an excerpt, now it's the full story). Stranger Things Happen is available online under the Creative Commons Attribution-Noncommercial-Share Alike 3.0 United States License.
"Some Zombie Contingency Plans," like the other stories in Magic for Beginners, was published under regular old copyright. At some point we hope to make it available under a Creative Commons Copyright—but even then, doing what Jamie Ann has done is pretty weird. Flattering, but weird.
---
Tue 16 Oct 2007 - Filed under: Not a Journal., Books, Laurie J. Marks | Leave a Comment| Posted by: Gavin
Ok, this is cool. Someone — who just joined After Ellen a couple of days ago and was a Tiptree judge (so we could probably work out who, but where's the fun in that? —has a list of The Top 11 Lesbian/Bi Moments in Sci Fi and Fantasy and after Xena, Buffy, and so on, the top one is
1. Zanja Awakens Karis — Fire Logic (2002)

Who hasn't felt the earth move in that first explosive skin-to-skin meeting with a lover? For Zanja and Karis in Laurie J. Marks' Fire Logic, the earth not only moves, it actually begins to heal, and I'm not talking about metaphor here. That's why this scene tops my list of the best lesbian/bi moments in science fiction and fantasy.
Cool!
---
Tue 16 Oct 2007 - Filed under: Not a Journal., Books | Leave a Comment| Posted by: Gavin
and he's coming to visit us (almost) at the Odyssey Books (one of our awesome localish bookstores) in South Hadley, Wed., Oct 17th, 7 PM.
This is at the same time as KGB will be packed with a Halloween-ish reading with Thomas Tessier and F. Paul Wilson. Where will you be?
Hey: Joe gives us a shout out!
If you get a chance to stop by a bookstore in the next week or two, and grab a copy of 20TH CENTURY GHOSTS, my thanks to you as well. And if you have a couple bucks to spare, I hope you'll throw 'em down to pick up one of the few remaining short story magazines on the rack (Lady Churchill's and McSweeney's are two good ones that come to mind), or take a couple minutes in front of your computer at home to browse the online offerings of the small presses like PS and Subterranean. I don't ask you to do it out of charity, or because it'll be good for you in the way eating cauliflower is good for you, and certainly not out of pity for struggling under-the-radar writers. I suggest it because magazines like Lady Churchill's Rosebud Wristlet and publishers like PS are helping to get out some of the most entertaining and electric fiction in print, and if you read for pleasure – for the thrill of it – you'll find your money was well spent.
Although at least some of us like eating cauliflower, esp. in Indian food. And reading is good for you if your decision matrix is something like this:
a) read a book
b) record comeback album with Gary Glitter
c) vote Republican
---
Tue 16 Oct 2007 - Filed under: Not a Journal., Howard Waldrop, Waldrop: Blog Like Me | Leave a Comment| Posted by: Howard Waldrop
"Since you write with fountain pens," I hear you cry, "on what do you write?"
The answer is, almost anything.
My paper of choice is loose-leaf, three-hole punch notebook filler paper, college-ruled, which comes around, back-to-school time, this time of the year, for as little as 18¢ for 150 sheets (limit 4, but there are lots of Walgreen's and CVSs to stop at, aren't there?) Usually they want about 2¢ a sheet for it—the rest of the year it's @ $2.98 for the 150 sheets.
In my many years of cruising garage-and- going out-of-business sales, I've ended up with some really great stuff. Some of the best I picked up at a garage sale on Airport Blvd.—it was leftover letterheads from a one-person insurance agency on 49 ½  St ( by then, all residences ) that must have gone out of business in the early 1960s, before ZIP codes. It had a slightly crinkled finish ("with a nice tooth" as we say) and was printed on 50% rag content paper. It was still as white as the day it came from the printer, and this was in the early 1980s. A full real of it, to he best of my memory, cost me 35¢. I used it for years, but finally ran out around 1986 or so.
Them Bones was written, the whole manuscript ((More in a minute)) on the back of a 365-Day 8 ½" x 11" Kliban Calendar Notebook. The cartoons were printed on a slightly pulpy creamish-colored paper, and once again had a fine tooth for the fountain pen to grab and really flow, without, pulp appearance to the contrary, spreading or smudging which is what happens when you put ink to most construction-paper-looking stuff.
((I read Them Bones the same way the reader did, the first time I opened the book. I'd written all the sections separately. I shuffled the sections together after I typed it all up—section at a time—and put the page numbers on it by hand just before I sent it off to the late Terry Carr. All I knew when I started assembling it was that Leake VIII followed The Box VIII and both had to come after Bessie VI etc. etc. When I read the printed book, I was astounded by how much resonated referring back to the other sections as I wrote it.))
I wrote "Man-Mountain Gentian"—which I had to read at a convention in Dallas at 6 pm—sitting on my suitcase in the aisle of a packed Greyhound Bus (the bus was full—I said "I have to get to Dallas on this bus; I'll stand up til someone leaves"—that turned out to be Waco, 100 miles away) on a Snoopy pad, the only writing surface they had for sale in the Austin bus depot. The pad was auctioned off for charity at the convention—Lew Shiner bought it (I'd had to go across the street from the hotel and pay, if I remember, 35¢ a page to copy it so I'd have a mss to type from when I got back to Austin Monday—I found a ride back so I didn't have to stand up 100 miles again…).
I usually have my own paper with me when I'm doing that, i.e. finishing a story to read at a convention. Microperfed wireless notebooks are a godsend—you can write in them, or tear the pages out (without all those spiral notebook hanging-chads coming out all over the place with them).
I have written on and in some of the goddamdest places and things invented by man. Choice of course, is on my own knocked-together desks in my own room, wherever that is. I have written on friend's desks; various in-laws (and woulda-been in-laws if the ladies and I had been married) kitchen tables during blizzards; more hotel-room little writing escritoires and tables than you can imagine; in people's borrowed hotel rooms an hour before a reading—Thanks, Pat Cadigan, at least a couple of times—in a papa-san chair in George R. R. Martin's office where he has one of The Best Ergonomic Office Chair for a Healthier Workplace.(as he, quant suff. wrote "Meathouse Man" in 1976 in Grand Prairie, TX, in my living-room, and as we wrote "The Men of Greywater Station" in a hotel room shared by 13 fans in Kansas City in 1972, between visits to the Playboy Club up on the roof, the only decent overpriced bar in the place…).
I've written on the fold-down trays on jets AND typed them up, back in the days of typewriters, on my old blue portable stripped down and mounted on a thin wood base with a handle on it so I didn't have to take the case and cover. (Usually the typing waited for the hotel room, unless I had a reading at, like three hours later, after I got to the convention.)
I wrote something on an electrical wire cable spool in Lake City, CO. I've written on top of an old Singer treadle sewing machine.
I'm getting old. I'd really like to finish my work in plenty of time, on the paper of my choice, at my very own desk.
Wouldn't it be pretty to think so." as Hemingway said.

Next blogs somewhere: Howard re-encounters The Sugar Creek Gang in a mano-a-mano TX barbed wire death match after 50 years!
---
Mon 15 Oct 2007 - Filed under: Not a Journal., nothing | Leave a Comment| Posted by: Gavin
Hilarious site which we missed in March, April, May, June, July, August, September, and just saw now. (Thanks Janna.)
---
Mon 15 Oct 2007 - Filed under: Not a Journal., John Crowley | Leave a Comment| Posted by: Gavin
Greg Feeley writes up the Aegypt series in  The Philadelphia Inquirer:
With Endless Things, John Crowley brings to a conclusion the quartet of novels, acknowledged by his present publisher as a single sequence titled Ægypt, upon which he has labored for the last 20 years. A highly ambitious meditation on fantasy and desire, mythopoeia, secret histories, and the greater significances (if any) behind the texture of everyday life, Crowley's series began publication, with new volumes appearing every six or seven years, from a highly commercial publisher that maintained (for a time) the belief that his books could be not merely intensely loved by a small body of readers, but bought in large numbers.
---
Mon 15 Oct 2007 - Filed under: Not a Journal., Interstitial Arts, website bumph | Leave a Comment| Posted by: Gavin
Thanks to Michael this page you are looking at is cleaner and prettier, thanks Michael!
Now you can actually tell where the links are, there's a groovy link to some of our author's posts (may re-org that later). That was inspired by something seen on the Mumpsimus—thanks Matt!—but we didn't want to have to go to the trouble of "sharing" other people's posts, rather this is an automatic scrape of what they've written. The WordPress plug-in for it seems a bit buggy and doesn't seem to love all the blogs we put in, but maybe it will sort itself out.
Our links are still laughable, but there's a good page of them elsewhere.
The other useful Google ap here is the calendar which should have been on this page ages ago.
Indented text isn't as ugly.
What people are looking for: still not here.
Maybe this page should be the front page of the site? Don't know. Doesn't have any book covers on it!
Michael is also the guy putting together the really neat Interfictions teaser podcast series, where every month they're posting the first 10 minutes of an author reading their story. This month: Vandana Singh.
---
Sun 14 Oct 2007 - Filed under: Not a Journal., Kelly Link | Leave a Comment| Posted by: Gavin
Ateh Theatre's great fun adaption of "The Girl Detective" returns at the Crown Point Festival. More info on the fest. website and below:
The Girl Detective plays the following unique schedule as part of the festival:
October 28 at 8PM
November 8 at 8PM
November 13 at 8PM
November 17 at 8PM

The Crown Point Festival
Film Theater and Music at its Finest
October 27- November 17
Abrons Art Center, LES, New York City

---